What Should an Older Woman Wear to a Beach Wedding
There's a lot of outfit options for what to wear to a beach wedding over 50. I'm sharing 10 beach wedding guest outfits for older women whether you're a woman over 40, woman over 50, or older. In addition, I've included some styling tips for women over 50 and will show you how you can apply these to the perfect beach wedding guest outfit.
This blog post contains affiliate links which means when you make a purchase using my affiliate links, I earn a commission at no additional cost to you. See my Privacy Policy.
---
Follow me on Instagram: @styledbymyfavehello
Follow me on Pinterest: @myfavehello
Follow Me on LikeToKnow.It: @myfavehello to shop all my outfits!
Don't Miss a Post. Sign up for emails.
---
Style Tips for Women Over 50
I am a firm believer that you can wear whatever you want, especially if it makes you look and feel confident and comfortable. However, you may not always know what to wear, so I'm sharing a few styles tips for older women to get you started, taking my cue from these style secrets shared by Town & Country.
Don't be afraid to embrace bright and bold colors.
While bold prints are sometimes known for looking "like something my grandma would wear," bright and bold colors look especially good on older women. Bold colors instantly brighten your skin, which makes you appear youthful and happier. Bright colors are also very chic and sophisticated, and help you stand out from the crowd while being fun and easy to wear.
Don't be afraid to show some skin, but also don't be afraid to cover up.
As an older woman, you don't want to look like you are trying too hard to look young. You might want to keep shorts and skirts to a longer length, such as below the knees, for an age appropriate look. Longer lengths on a wedding guest dress is also perfect for winter. Be intentional in what skin you show, and what you're comfortable with, but I know many older women like to keep their knees and shoulders covered. Balance is key, and if you are going to show off your legs, keep your shoulders covered to offset.
Fit is key
At any age, the fit of your clothes is one of the most important style tips. Great fitting clothes instantly look better and are also flattering to your body. A great fit can also define the areas you want to show off such as your waist. No matter how cute or how expensive your outfit is, it won't look good if the fit isn't right.
Wear the Right Undergarments
Although no one can see them, don't forget about your undergarments. You want to make sure you have the right type of bra, especially for your neck line or sleeve style. If you are wearing shapewear, make sure it's the right fit to ensure a smooth and flattering foundation under your clothes.
Wear shoes you can walk comfortably in
I'm to going to tell you to wear a flat or lower heel just because you are an older woman. But I will tell you to wear a shoe and heel height you can comfortably walk in. You don't want to look like you're trying to hard, and you definitely don't want to be the older woman that falls. Wear a sensible heel height, if that's a flat or a 4-inch heel, that you'll be able to wear without thinking about.
Don't forget your accessories
An outfit doesn't stop at your clothes. Don't forget to pay as much attention to your accessories like your jewelry and handbag. These accessories can add what you need to elevate your style and your outfit, and can also be a subtle way to add some additional glam and fun to your look.
Wedding Outfits for Older Female Guests
Now that we've gone through some beach appropriate wedding looks and style tips for women over 50, let's put these together and apply them for some fun and stylish looks you can wear as a wedding guest.
For a beach wedding look for older women, try these suggestions, and check out the outfits I created in this post for some major fashion inspiration that you can shop:
Flowy Maxi Dress
A maxi dress is perfect for a beach wedding because it's flowy, effortless, and perfect for beach weather. A maxi dress is especially good for an older woman because it provides some coverage of the legs without looking too conservative or frumpy.
These are the dresses I use in the outfits below. You can shop them by clicking on the image.

Sheath Dress
A sheath dress that fits well is perfect for a wedding guest outfit. A sheath dress is flattering and sophisticated. Try one in a bold and bright color to keep the look chic for the beach, instead of the office.
These are the dresses I use in the outfits below. You can shop them by clicking on the image.

Two-Piece Skirt and Blouse
A two-piece outfit with a skirt and blouse is a very stylish and practical option for a wedding outfit for over 50s. Use different fabrics and prints to create an outfit that is visually interesting. Try a structured blouse with a loose skirt for a fun look for a beach wedding.
These are the skirts I use in the outfits below. You can shop them by clicking on the image.

Jumpsuit
A jumpsuit is really fun to wear, and it can make putting together an outfit super easy. Just add some accessories to complement the look. Jumpsuits are extremely flattering because most of them will provide definition at your waist.
These are the skirts I use in the outfits below. You can shop them by clicking on the image.

Structured Layer
A structured layer like a blazer works really well over a simple dress. It's an easy way to change up a look or add some additional coverage to an outfit for an older woman.
These are the blazers I use in the outfits below. You can shop them by clicking on the image.

Structured Separates for a Beach Wedding
Slip Dress and Blazer for a Beach Wedding
Try a structured blazer over a simple slip dress for a classy outfit for a wedding. Keep the slip dress flowy and pick a satiny fabric for a dressier affair. The simple slides with a small heel is perfect for a beach wedding, especially if you are on the actual beach and will be walking through sand. A belt can be used to cinch the look at the waist for a tailored look that is perfect for a beach wedding guest outfit.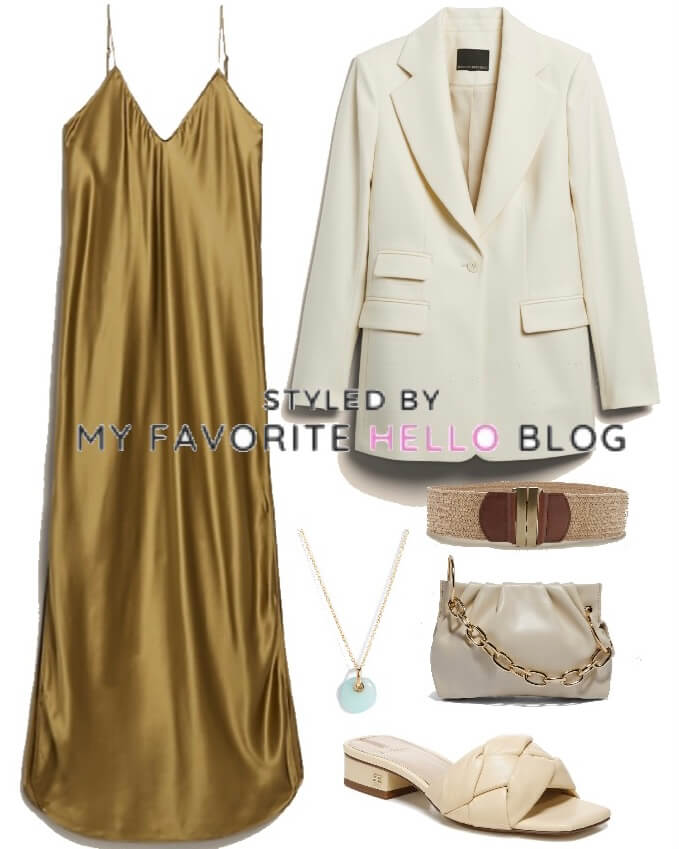 Wide Leg Pants for a Wedding
A pair of wide leg pants can be perfect for a wedding guest outfit especially if you choose a lighter color. This satiny blouse dresses up the look for a look that is more dressy and less office ready. Add some mid-height heels and gold accessories to complete this look that is perfect for an woman over 50.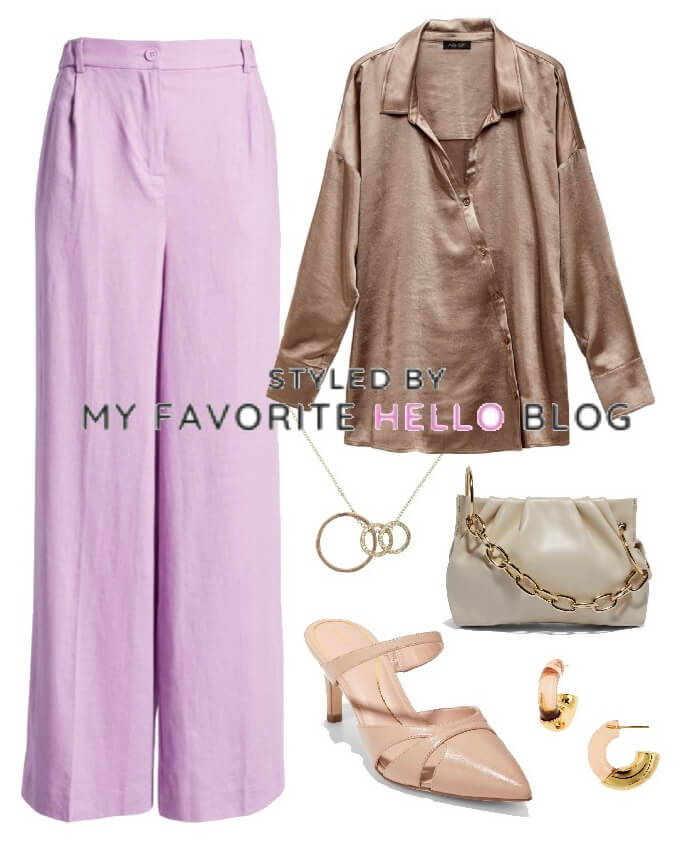 Sheath Dress for Older Women
Bold Sheath Dress and Flats
This sheath dress in a bright pink color is very flattering for every skin tone and body type. The flowy short sleeves are perfect for any older woman that wants some shoulder and arms coverage. Finish this pink dress with some gold accessories to complete the look. Add these pretty bow flats for a comfortable and romantic pair of shoes you can wear on the beach.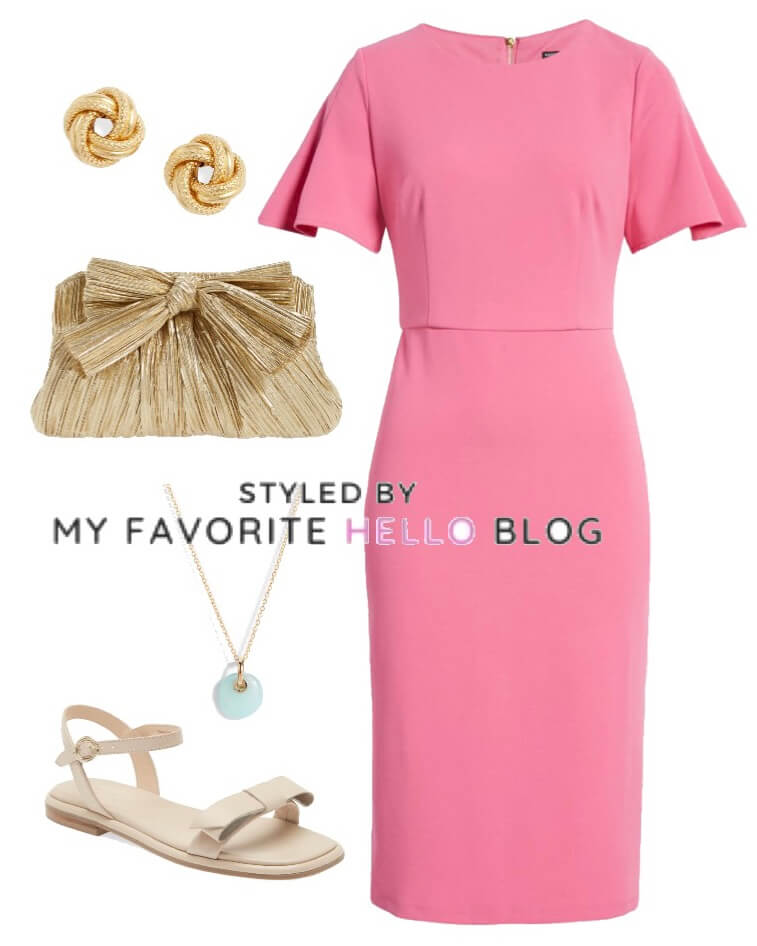 Fitted Sheath Dress for Older Females
This fitted sheath dress is lovely for a wedding and is perfect for anyone that wants to cover the shoulders. Add a purse and some sparkly jewelry for a glamorous outfit.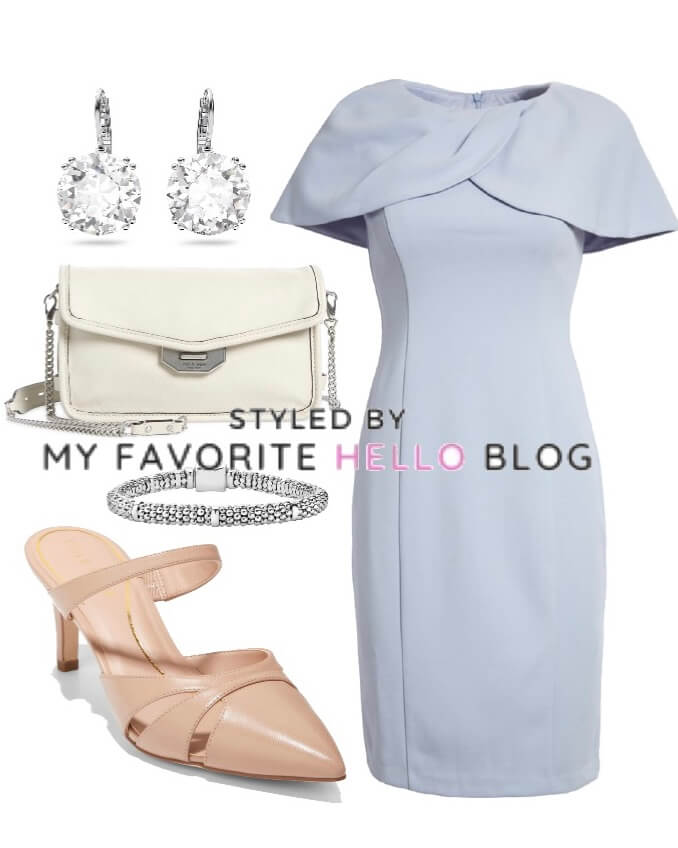 Boho Beach Wedding Guest Dress
Boho Maxi Dress and Heels
If you're looking for a longer dress, try this boho style maxi dress. It provides a lot of coverage without looking frumpy or too conservative. If you want to wear heels, these strappy heels have a reasonable 3-inch heel. Add a designer bag to elevate the look. These gold accessories complement the color of this dress perfectly. You can add a heavy jacket for a winter wedding outfit for over 50.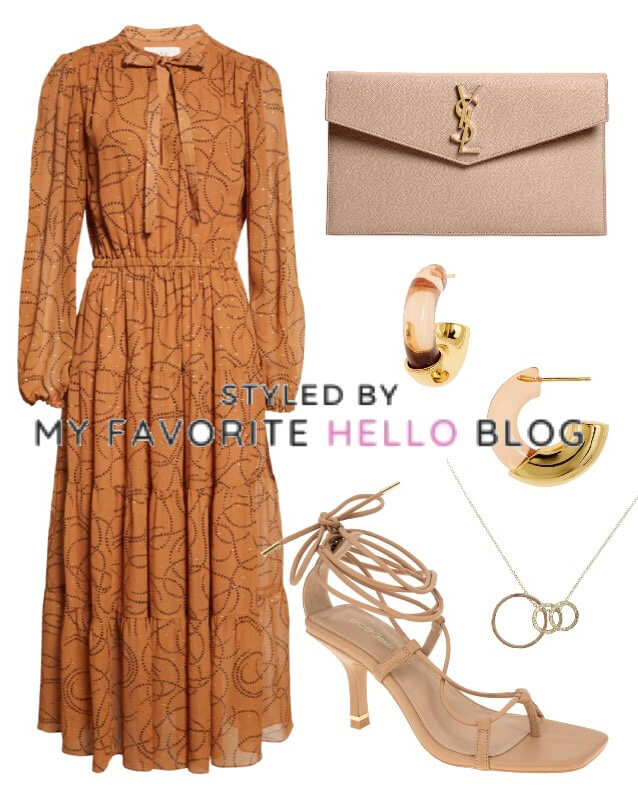 Maxi Dress and White Slides
A maxi dress is a perfect choice for a wedding guest dress for older women. These white slides are perfect for the beach with its smaller and wider heel.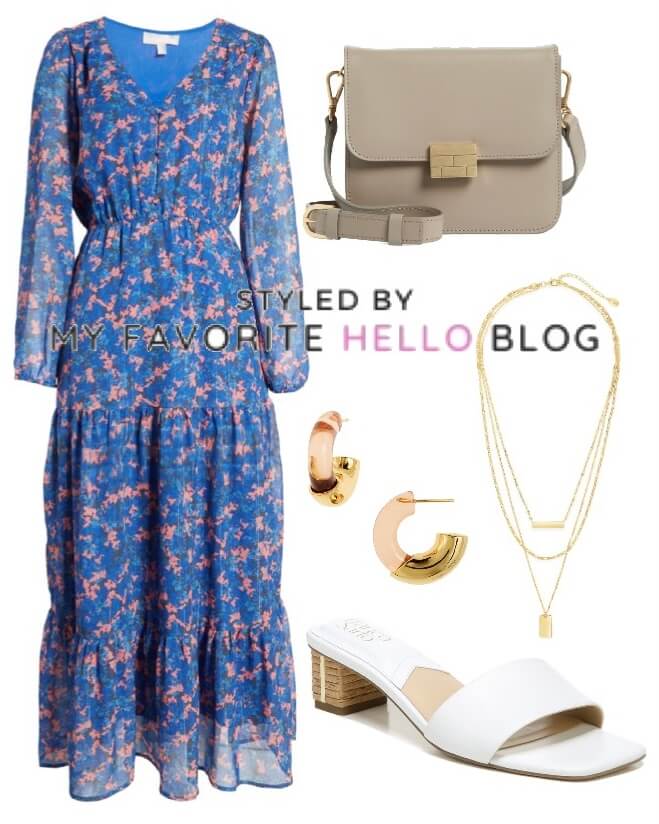 Jumpsuit Wedding Guest Outfit for Over 40 or 50
Floral Wide Leg Jumpsuit
For a more formal beach wedding, try a floral jumpsuit which is both comfortable and stylish. If you want an additional layer or more coverage, try adding a shawl or scarf.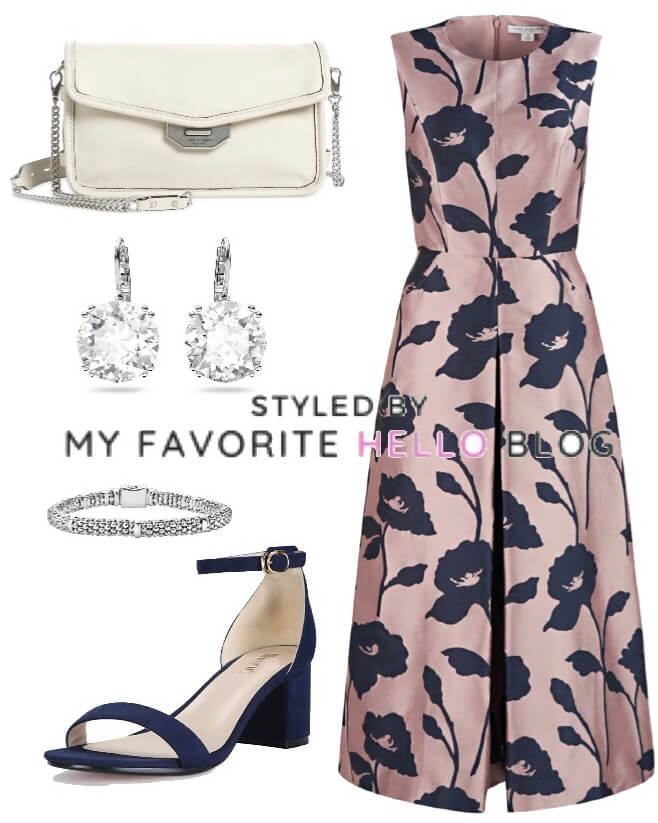 Jumpsuit and Flats
For a full-length jumpsuit, try this one instead. It goes perfectly with a pair of sensible but stylish flats for a look that can easily go from day to night.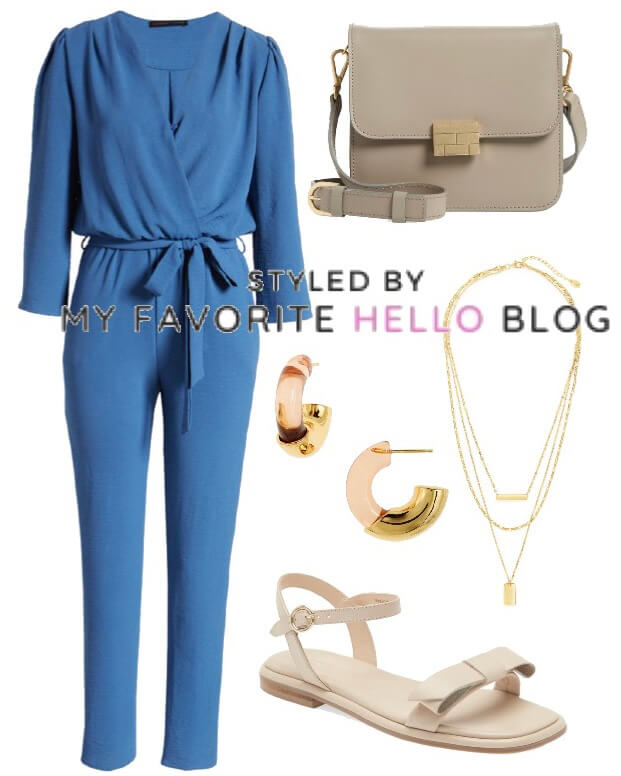 A Skirt Outfit for a Beach Wedding
Printed Skirt and Blouse
I love this outfit for an older woman, especially if you love wearing a bold print. Try it with a match top and purse and a low heel slide for a look that is perfect for wearing on the beach.

Pleated Skirt and White Blouse
A flowy pleated skirt is another fashionable option for a beach wedding outfit. Add a fluttery blouse and flats to complete the look.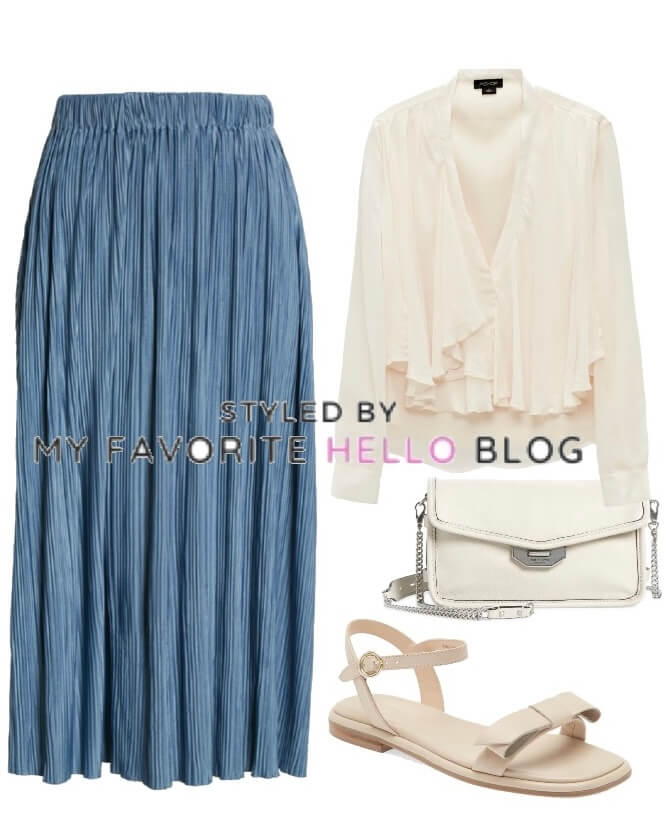 Being an older woman doesn't mean you have to give up being fashionable and stylish. While there may be different styles and trends to wear at an older age, there's still limitless amounts of options for older women. I hope these beach wedding guest outfits for older women inspired you for your next event!
Which outfit would you wear to your next beach wedding?
You May Also Enjoy Reading: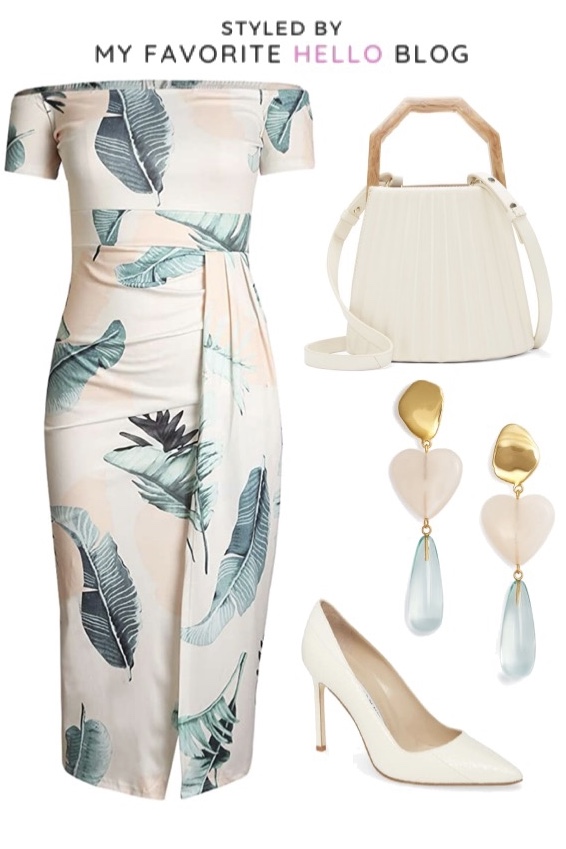 You May Also Enjoy Reading: