What to Wear with Navy Pants for Women
When it comes to what color shoes to wear with navy pants, there are really so many different options. Navy pants can be considered a staple piece in your wardrobe and are especially perfect for work. However, I will show you how to style a pair of navy pants not only work, but also vacation, and for the weekend. There are so many colors of shoes that can be worn with a navy pants outfit, so think outside of black and white, and have some fun with your shoes! Keep reading for 11 navy pants outfit ideas for so many different occasions.
This article includes affiliate links which means when you make a purchase using my affiliate links, I earn a commission at no additional cost to you. See my Privacy Policy.
What Color Shoes Do You Wear with Navy Pants
Although navy can almost go with anything, it may not be easy to decide what color shoes to wear with navy pants, especially if you are looking for a bolder fashion choice beyond black and white (although I have created outfits with those colors, as well).
These are the 11 colors that match a pair of navy pants. Keep reading for full outfit ideas that I have personally styled with these colors, including shoes, handbag, and jewelry.
What Colors Match a Pair of Navy Pants
Black
Beige
Brown
White
Pink
Yellow
Animal Print
Nude
Tan
Orange
Red
My Favorite Stores to Buy Navy Pants
Navy pants can be found at almost any online clothing retailer. However, I really love shopping at Nordstrom, and Amazon for clothes, including navy pants. Find more of my go-to retailers on my Shop My Looks page.
If you like the navy pants featured in the outfit inspiration styled below, you can shop for them using these links.
What to wear with navy pants for work: Navy pants are a must-have for any work wardrobe. It's a classic look that is polished and professional, and can easily go from the office to happy hour. I really like this pair of navy pants because of the impeccable tailoring and fit.

What to wear with navy pants for a vacation or cruise outfit: These printed navy pants are so stylish. The flowy fit for both of these pants are perfect for wearing on vacation or on a cruise.

What to wear with navy pants for a casual outfit: These navy pants are perfect for a more casual outfit. The oversized pockets and wide, straight leg keep the casual look but still polished and comfortable.

Navy Pants Outfit Ideas
A pair of navy pants can be styled so many different ways. I have styled 11 full women's outfits to show you firsthand how to wear navy with different color shoes.
If you are looking for more style inspiration and outfit ideas, check out my other posts in this series: what shoes to wear with a green dress, white dress, gold dress, blush dress, black dress, purple dress and royal blue dress where I share outfit ideas for these specific colored dresses.
1. Navy Pants and Black Shoes
Is it okay to wear black shoes with navy pants? Of course! Contrary to what you may have heard, black can definitely be worn with navy. Try a pair of statement black shoes for a bold and edgy look. In this outfit, I take these traditional navy slacks, and a pair a leather moto jacket and open toe platform heels for a stylish and trendy outfit that can easily transition from day to night.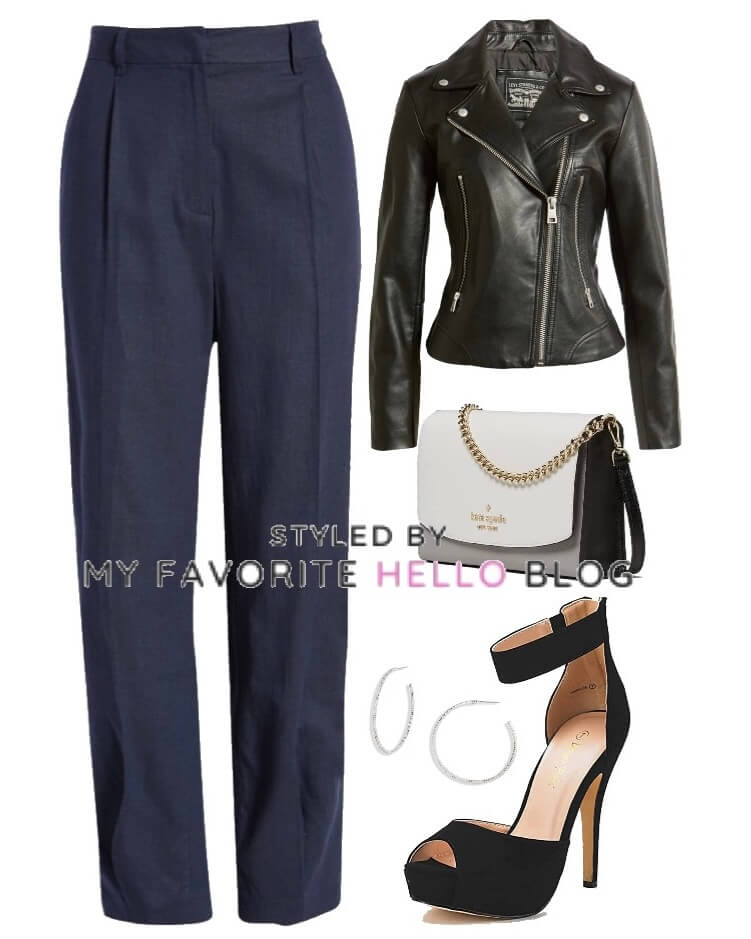 2. Beige Shoes with Navy Pants
This navy pants outfit with beige shoes is perfect for a vacation outfit. It can easily go from the beach to an evening out. Here I styled the navy pants with a brown corset top, but you can easily swap it with a swimsuit to wear these lighweight pants as a coverup. The beige sandals are easy to slip on and off. Complete the look with the zebra print clutch for a fun touch to this outfit idea.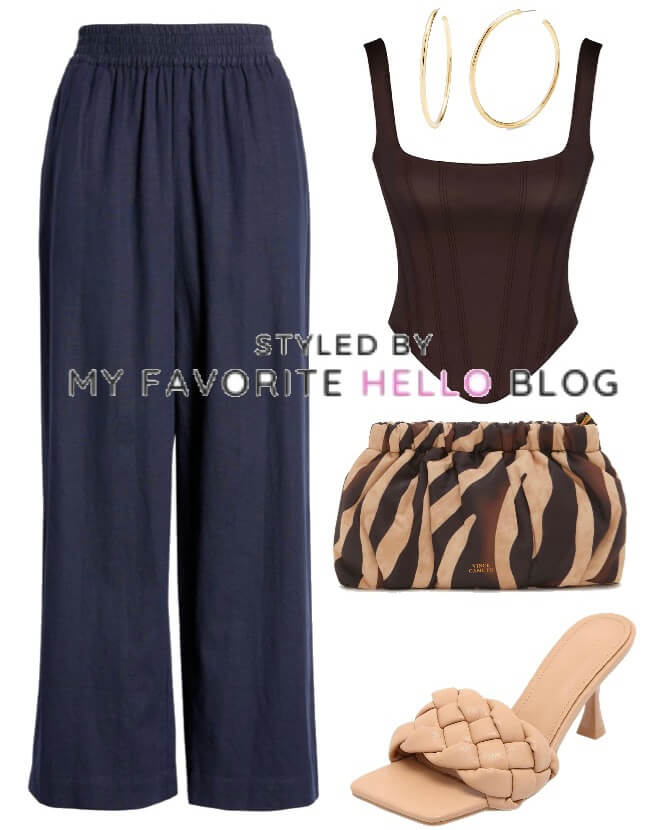 3. Navy Blue Pants and Brown Shoes
This navy pants and brown platform sandals is so polished and sophisticated. A simple white top with puffy sleeves completes the look for an outfit is perfect for a casual weekend. It's comfortable and wearable for almost any occasion. I love the printed bucket bag to carry your essentials. This navy pants outfit will not go out of style, and the pieces are classic to mix and match for multiple outfits.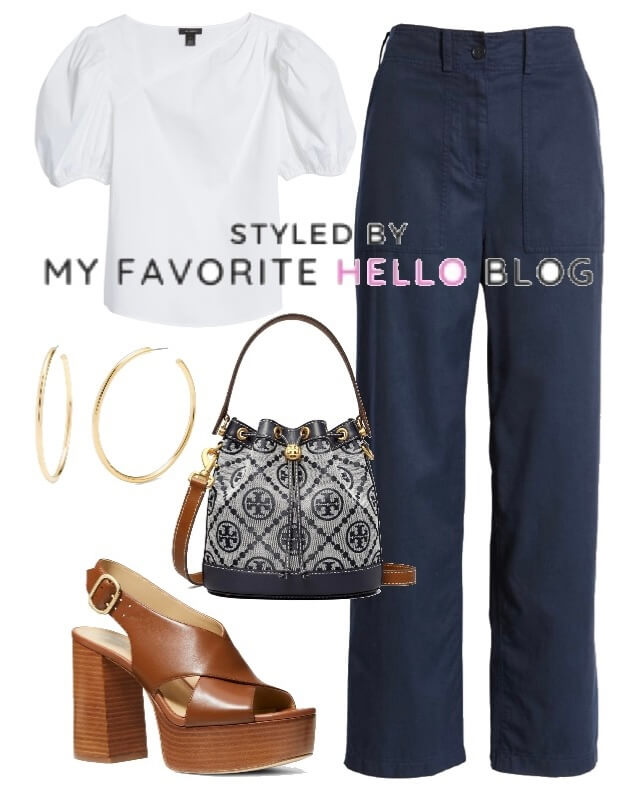 4. Navy Pants with White Shoes
I love the look of white shoes and accessories to complement a pair of navy pants. Elevate these casual pants with a pair of strappy white heels and flutter sleeve top for a look that is perfect for a summer evening out. This outfit is so versatile and can be worn almost anywhere for a pretty and feminine look. You can also try a pair of white boots for a spring outfit.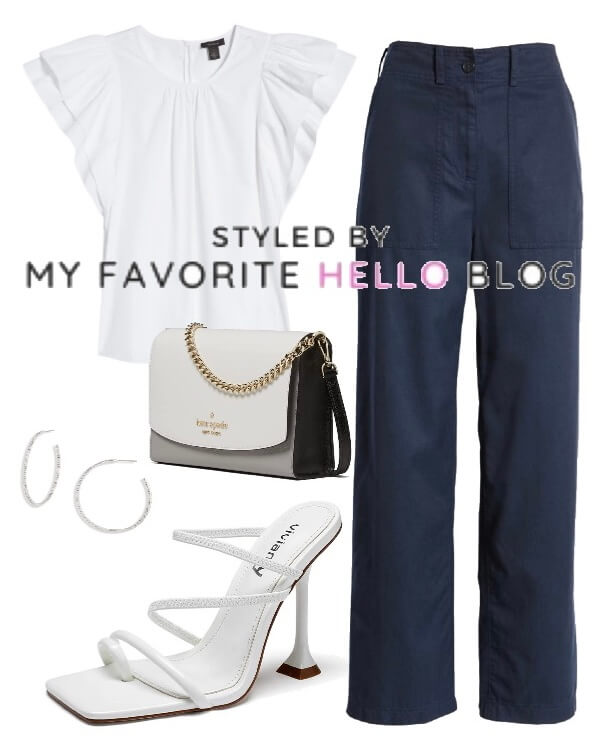 5. Navy Pants Outfit with Pink Shoes
These bright pink heels add the perfect pop of color to this navy and black outfit. The pants and blouse are a perfect combination for work, but the pink heels add a hint of style and personality to an otherwise simple look. I love the tailored look of these pants and slim leg which automatically draws your eye down to these fabulous pair of shoes.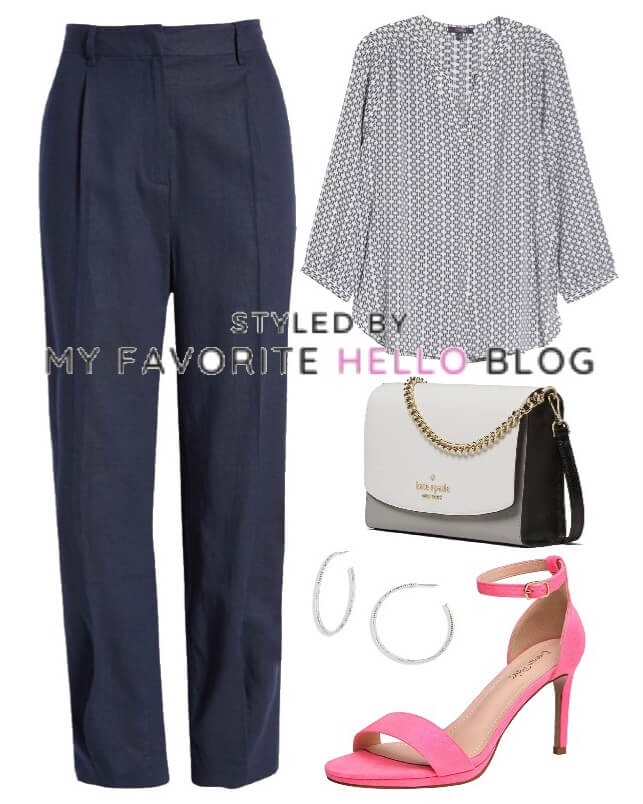 6. Navy Pants with Yellow Shoes
This outfit idea is so much fun with the printed navy pants. Yellow is a great complementary color to navy, and this outfit feels very pulled together and bold in an understated manner. Try they yellow sandals with the cropped mustard top and flowing pants for a styled but comfortable and easy outfit that can be worn from day to night. It's perfect for an evening out.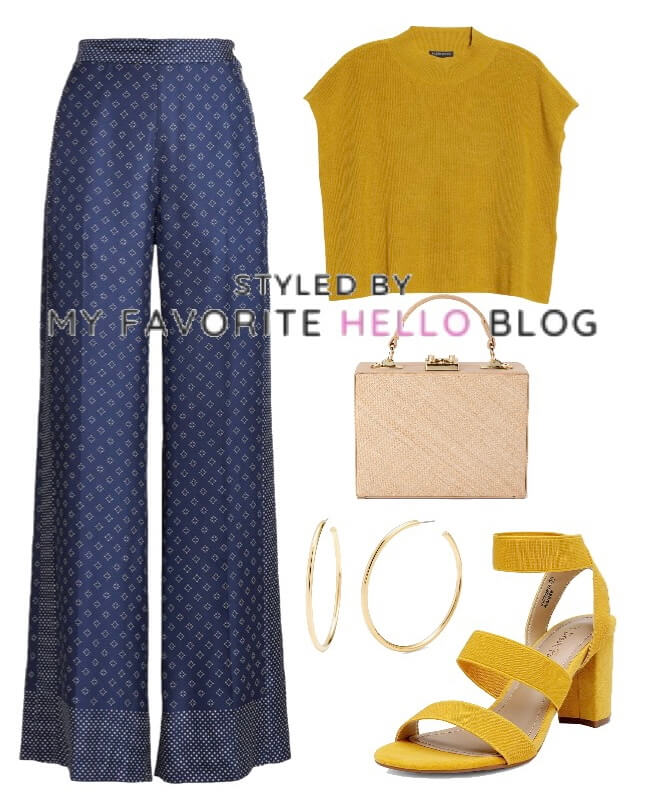 7. Navy Pants with Animal Print Shoes
Here is another outfit idea for work with navy pants and animal print shoes. The light pink top is a perfect addition to this outfit that lets the shoes stand out. The purse is also a fun touch. This outfit will be great for a day at the office and is also perfect for transitioning from summer to fall.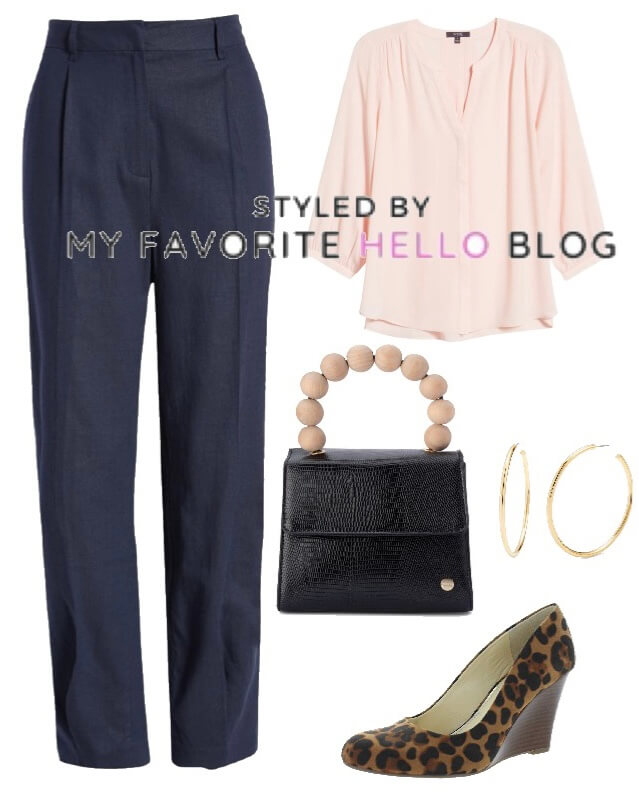 8. Navy Pants with Nude Shoes
These navy pants are the perfect choice for vacation. Try them with a simple white tank top and these platform sandals for a casual and comfortable look that doesn't look like you are trying too hard. This outfit is perfect for a casual weekend or on a vacation exploring a new city.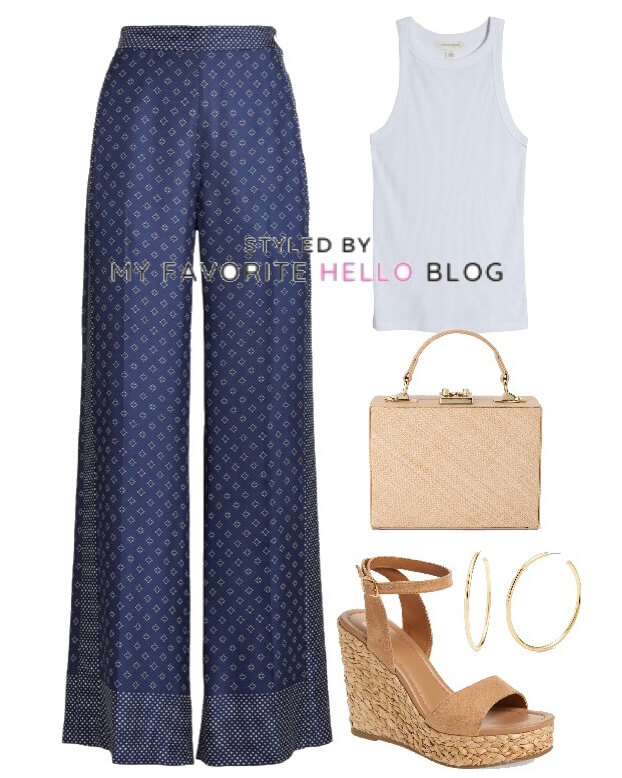 9. Navy Pants with Tan Shoes
Here is another summer outfit with flowy navy pants and tan sandals. The handbag gives this outfit a beachy vacation vibe that is relaxed and stress free. Try this outfit or a similar one with cream pants for a summer vacation or just a relaxed summer weekend look.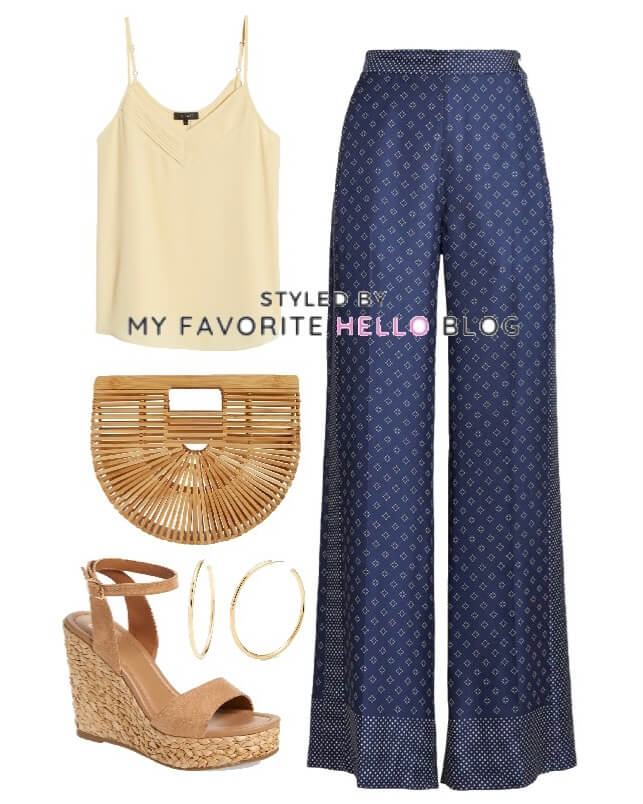 10. Navy Pants with Orange Shoes
These navy pants and orange flats are a perfect look for the office. It's comfortable, polished and professional. The blue printed top pairs nicely with the orange flats, and the colors complement each other perfectly, without competing for attention.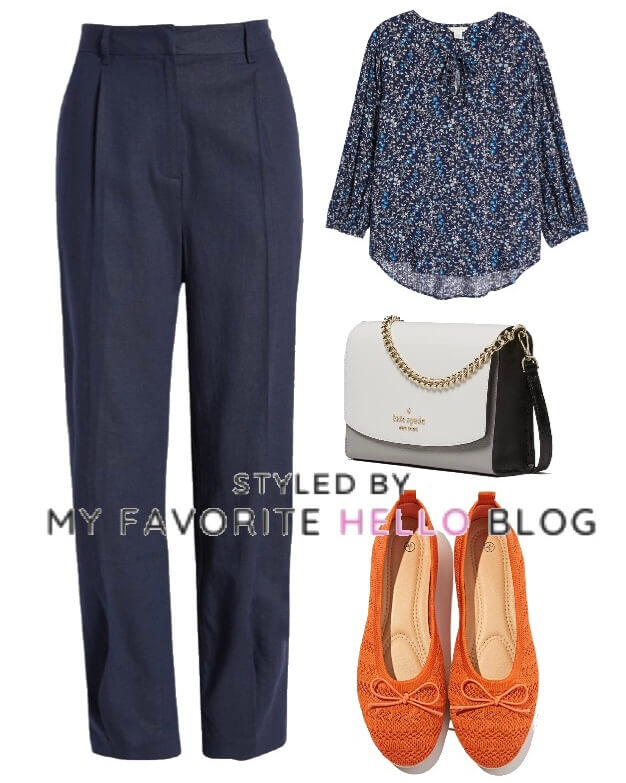 11. Navy Pants with Red Shoes
I love these red heels with these navy pants and black designer bag. This navy pants outfit is elegant and sophisticated, yet so simple to put together. This red shoes outfit is perfect for going from the office to a happy hour to a dinner date.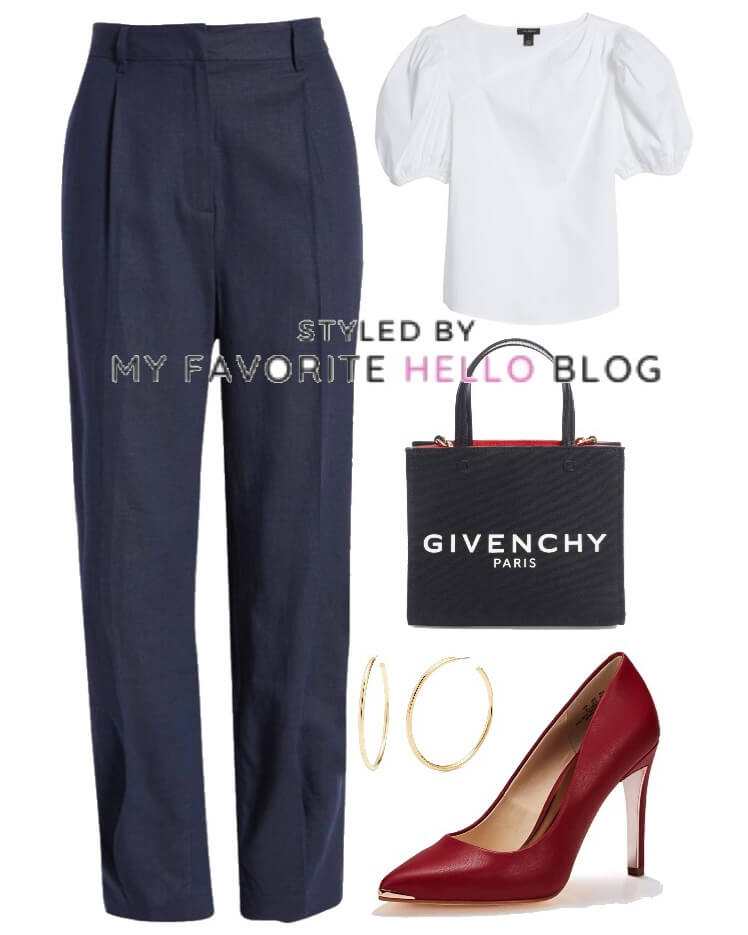 I loved styling these outfit ideas with navy pants and different colors of shoes. Hopefully, it gave you some outfit ideas to inspire you to try something new. Go ahead and wear those pink shoes!
Which outfit with navy pants would you wear?
Creator of My Favorite Hello and Author of this Article
Amy has 10+ years of experience in fashion and beauty launching digital products for global brands Fenty Beauty, Glossier, Marc Jacobs, Men's Wearhouse and Stitch Fix. She also worked previously as a Senior Stylist at Stitch Fix, and currently as an independent virtual stylist, styling men and women for various occasions from everyday outfits, special occasions, to curating a complete closet. Amy is using her styling experience, fashion and beauty expertise to provide style inspiration and outfit ideas so you can shop for yourself and put together stylish outfits that make you feel confident and beautiful. @styledbymyfavehello
You May Also Enjoy Reading:
13 Looks: What to Wear with Yellow Pants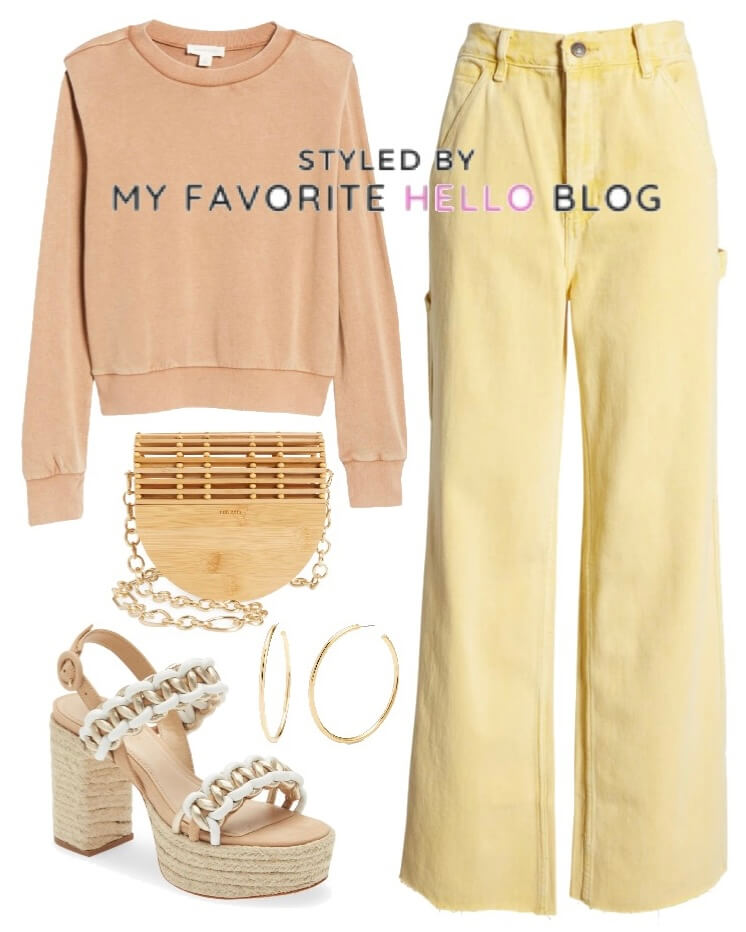 You May Also Enjoy Reading:
Outfits to Show You What to Wear with Cream Pants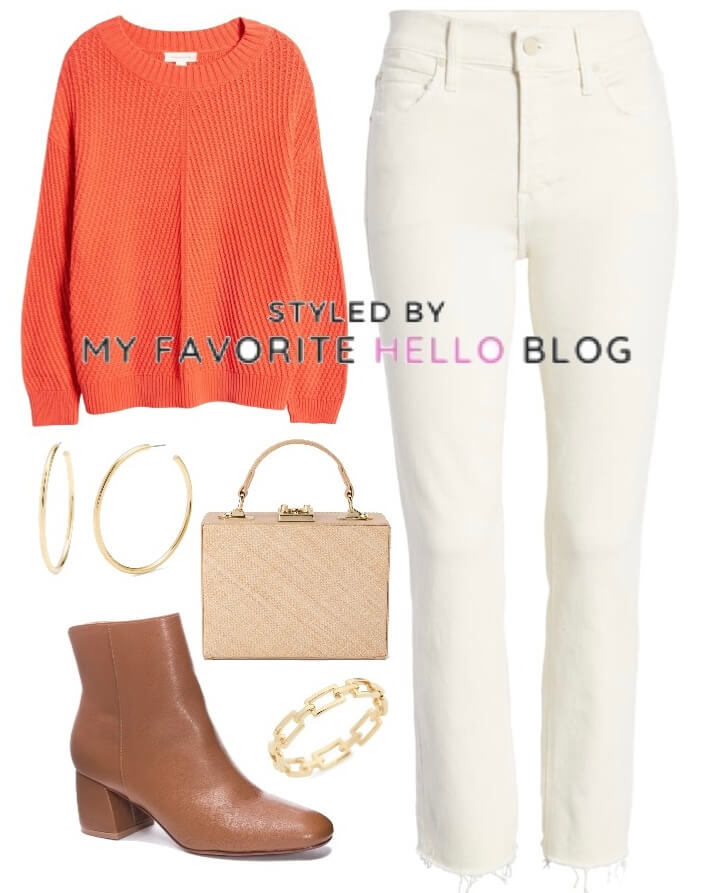 You May Also Enjoy Reading:
Closet Must: How to Wear a White Denim Jacket