What to Wear for Spring if You Are Age 40+
It's spring, the sun is shining, and you are ready to refresh your closet with some spring outfit inspiration. If you are a woman over 40, check out my age appropriate and stylish spring outfit inspiration. I have styled 10 different outfits for women over 40, and you can shop every spring look.
This article includes affiliate links which means when you make a purchase using my affiliate links, I earn a commission at no additional cost to you. See my Privacy Policy.
Fashion Tips for Outfits for Women Over 40
Just because you are a woman over 40 doesn't mean you can't still dress stylish and fashion forward. In fashion there are no rules, and you should wear what makes you look comfortable. However, here are some fashion tips for women over 40 and for women over 50.
Don't be Afraid to Wear Bright Colors
Bright colors are flattering on almost everyone, and they instantly make you look happier and more youthful. Wear bright colors such as orange, pink, yellow and more. Below I have styled a few outfits with kelly green, light blue, and coral to instantly brighten your day and your outfit!
Wear Skirts and Shorts at a Longer Length
Knee length skirts and shorts are extremely flattering for older women. A short skirt just screams you are trying to hard, and can look tacky in some instances. A midi is very classy and polished looking. Try a midi skirt like the one I styled below. The same can be said for shorts. While shorts that hit above the knee are perfectly fine, you may want to stay away from booty shorts, even if you have a nice behind. Bermuda shorts are a good length for older women, that provide coverage while still being perfect for hotter summer weather.
Avoid High, High Heels
If you can wear high heels, then wear them! However, once you reach a certain age, it might be time to retire 5-inch heels. Flats or smaller heels don't have to be frumpy. I've styled below in my outfits for women over 40, looks with really cute flat sandals, mid size heels and wedges. Not only are they cute and stylish, but also comfortable and practical to wear.
Outfits for Women over 40
I have styled 10 outfits to give you ideas of what to wear over 40. The looks are still stylish, trendy or classic (depending on your preference), and ultra-flattering to an older woman. These outfits include casual weekend looks, looks for the office, a night out, and more. Check them out and let me know which one is your favorite.
1. White Denim Spring Outfit Inspiration
It's spring so it's time to finally bring out those crisp white denim jeans. Add a coral colored top for a fun pop of color. Keep your look clean with white accessories for a spring outfit that is cute and comfortable. You can also try a pair of white boots instead for another spring or summer outfit.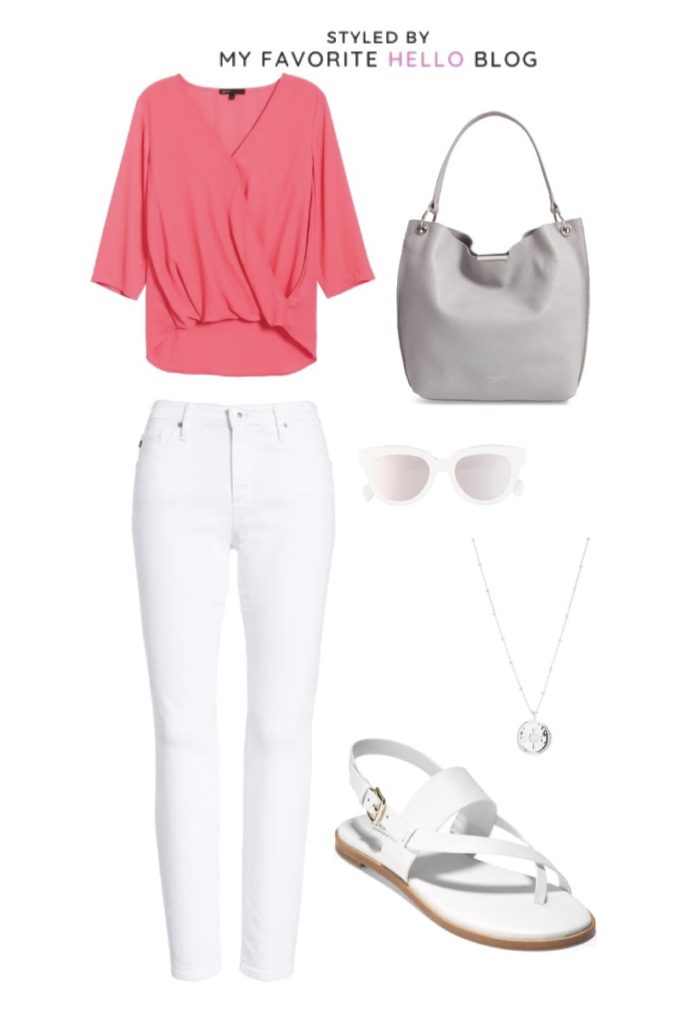 2. Spring Look with a Colorful Midi Skirt
A colorful midi skirt is the perfect anchor piece for a spring outfit if you are over 40. Try it with a pair of fun yellow flat sandals for a stylish and comfortable look for a stylish spring look with a skirt that hits below the knees.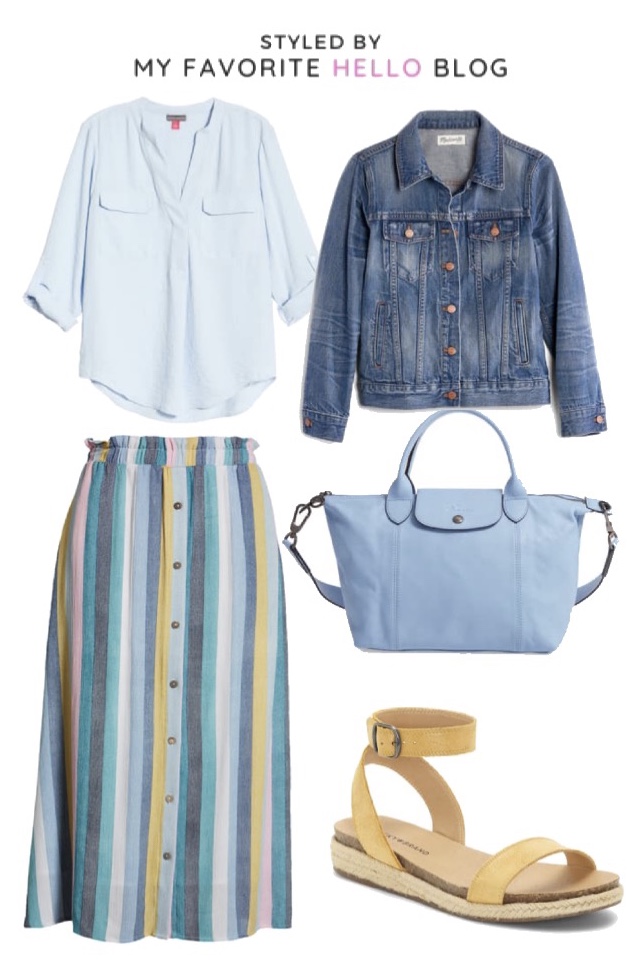 Pin the Look: https://pin.it/7ZWoHko

3. Floral Top Spring Inspiration
A pink blazer and chevron purse is the perfect addition to skinny jeans for a spring ready outfit. Try a floral top and a pair of wedges for an outfit that can go from day to night. Add a designer bag to complete the look.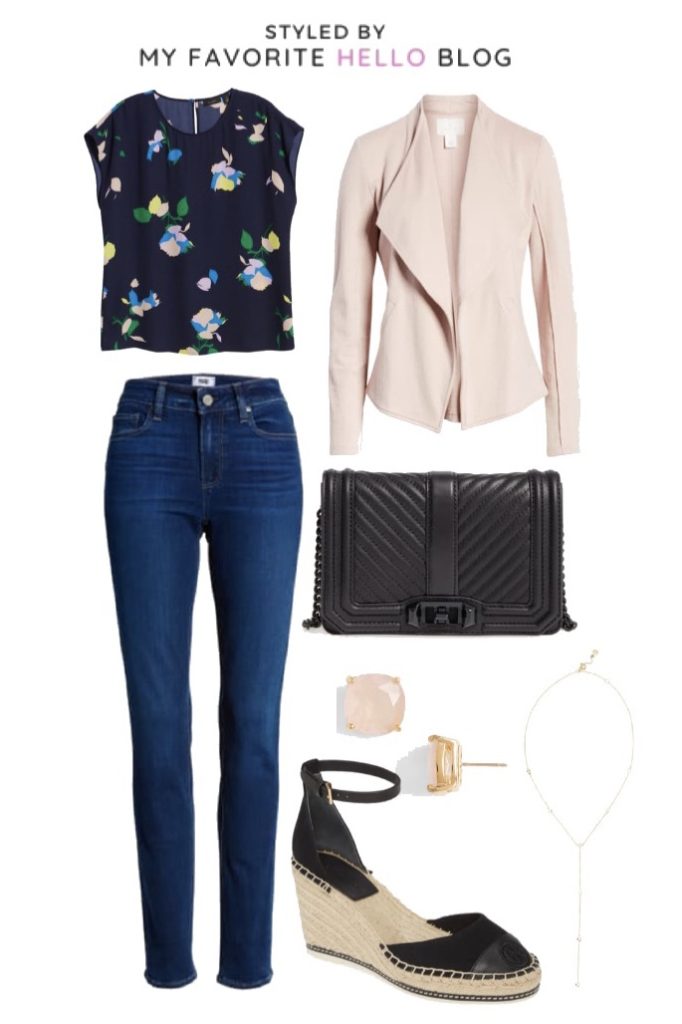 4.
Casual Spring Weekend Outfit
Try a chambray shirt with olive joggers for a casual spring weekend outfit. If you're over 40, you'll love this look for running errands.

You May Also Enjoy Reading
10 Ways to Style the Tory Burch Miller Sandals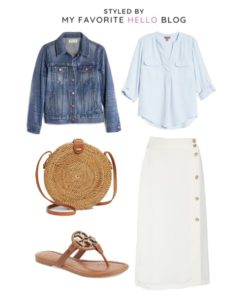 How to Style Cozy and Cute Sweater Outfits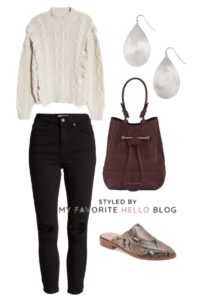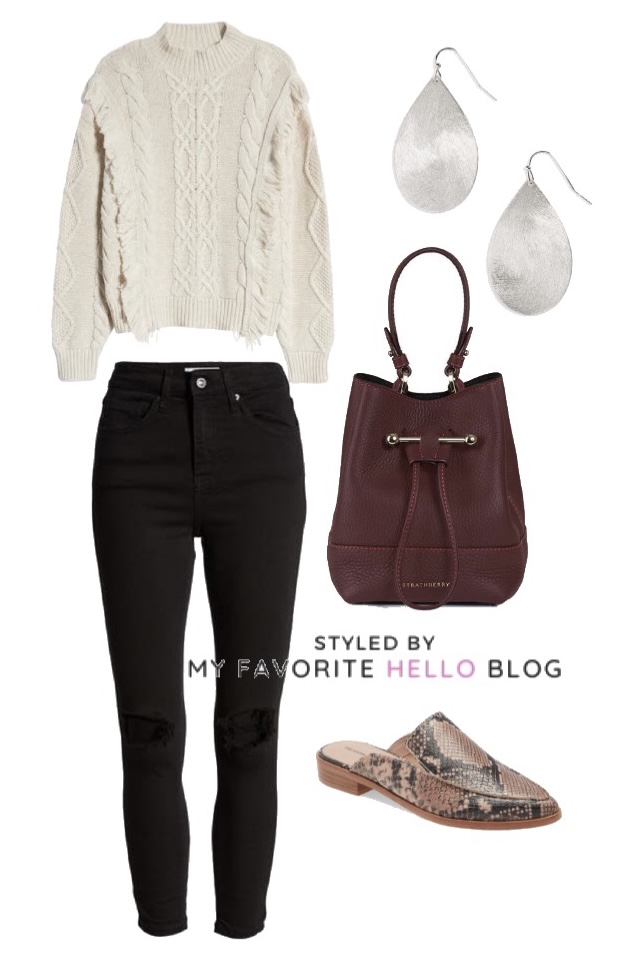 5.
Edgy Animal Print for Spring
Who says a woman over 40 can't wear animal print? No one! Try an animal print skirt with some classic black accessories for an edgy spring outfit.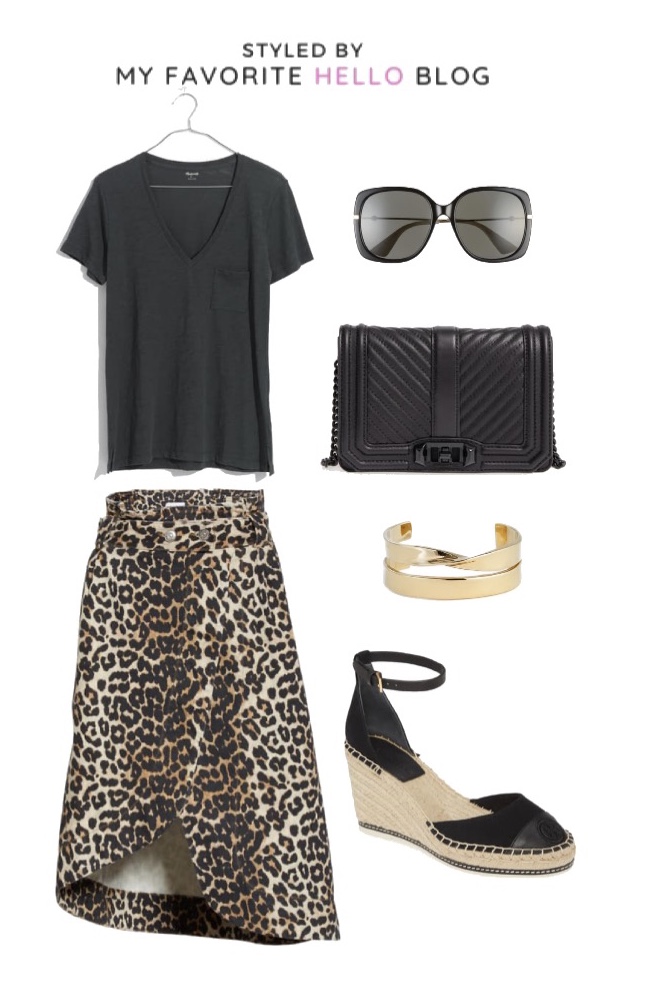 6. Pink and Neutrals for Spring
Try some neutral looks like a (faux) suede jacket and flat slingbacks for spring style inspiration. An embroidered tank keeps the look fun and age appropriate.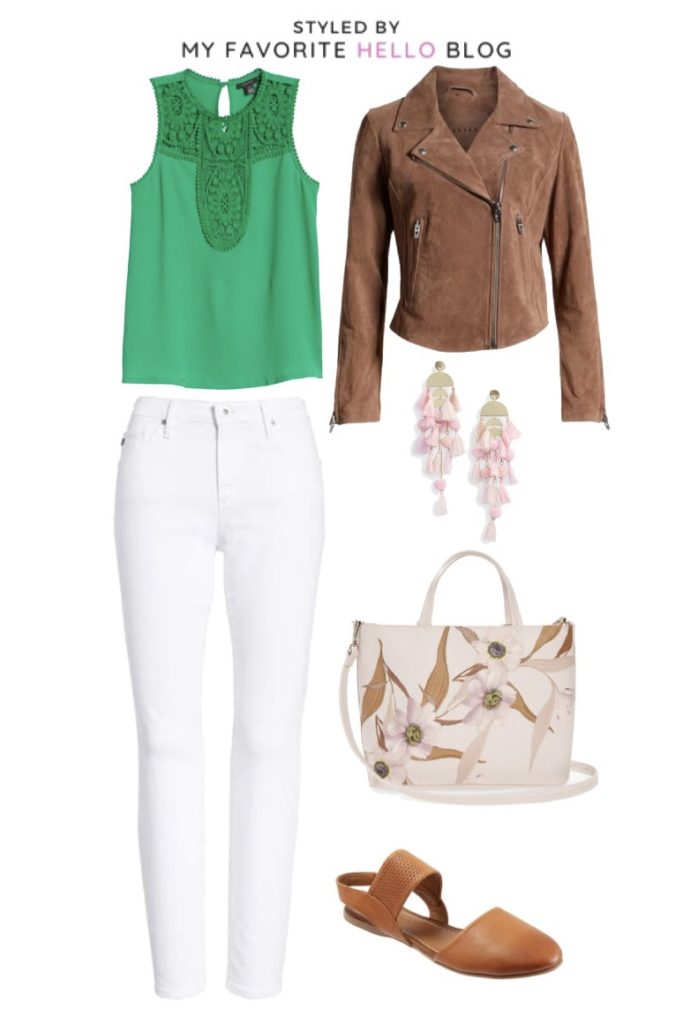 7. Spring Work to Weekend Transition Outfit
Be spring ready for the office with some plaid pants and a grey cardigan. Take the look into the weekend with a pair of pale pink sneakers for a casual spring outfit.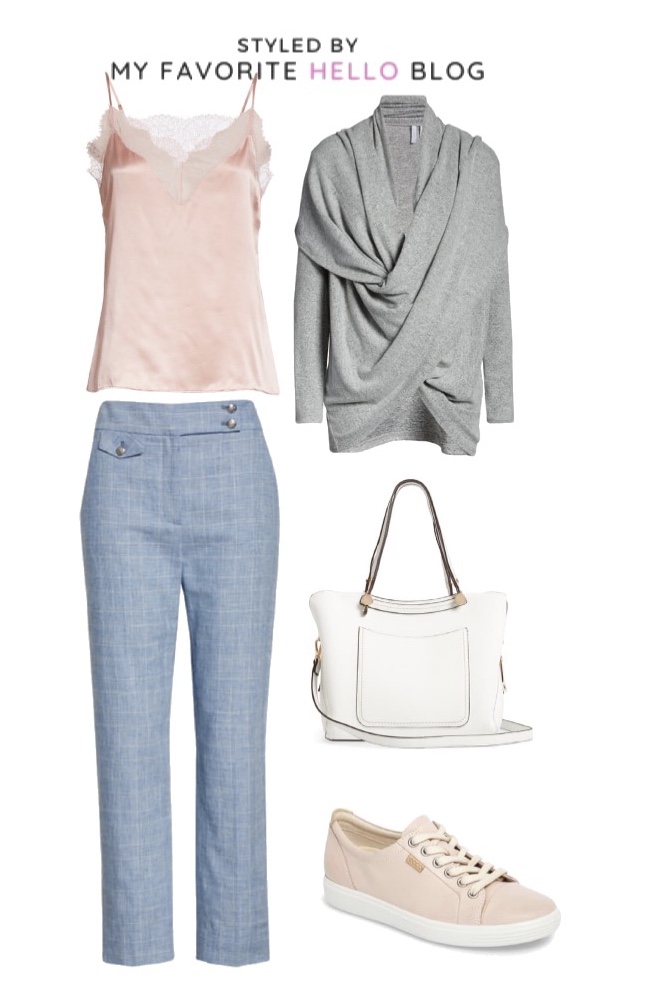 8. Boho Outfit for Women 40+
I love a boho inspired blouse with a pair of skinny jeans for style inspiration for spring. Add a pair of ankle booties and a hat for more spring style over 40.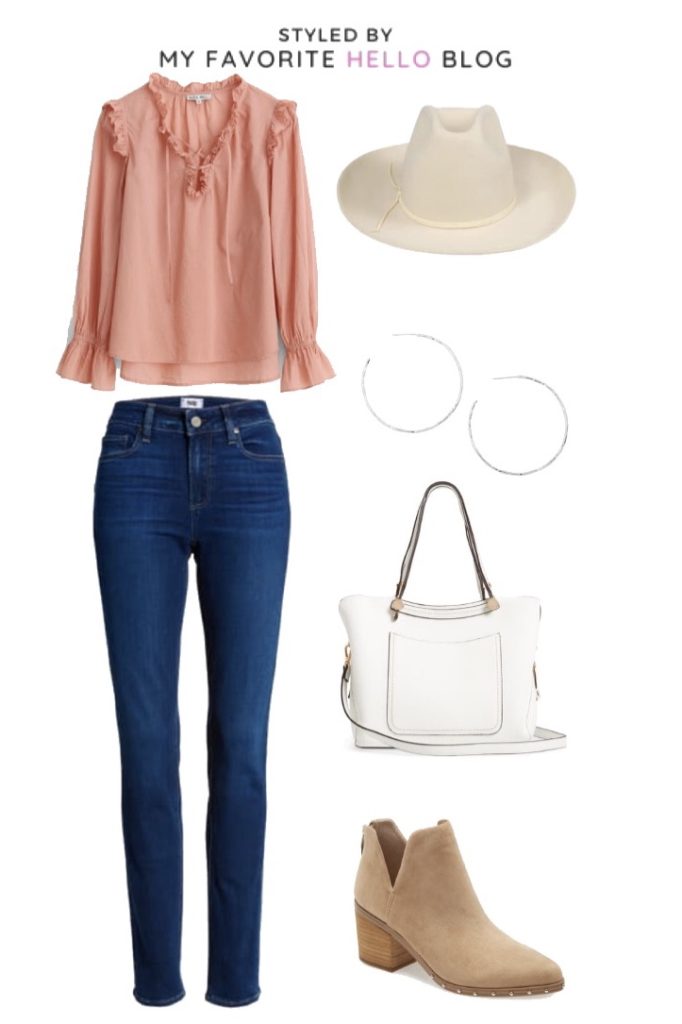 9. Wedding Guest Outfit Over 40
Keep it sexy and fun with a floral dress and a pair of nude heels. This outfit is also perfect for a beach wedding guest outfit over 50.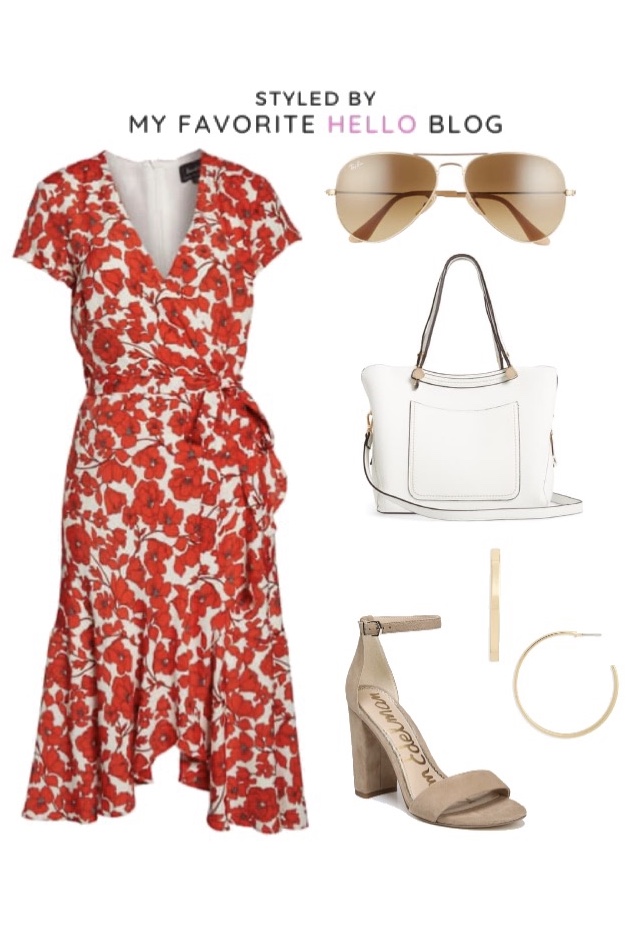 10.
Comfy Casual for Spring
Add some flat espadrille sandals to a pair of light wash jeans for a comfy and casual spring look. Add a floral bag for a fun pop to your look.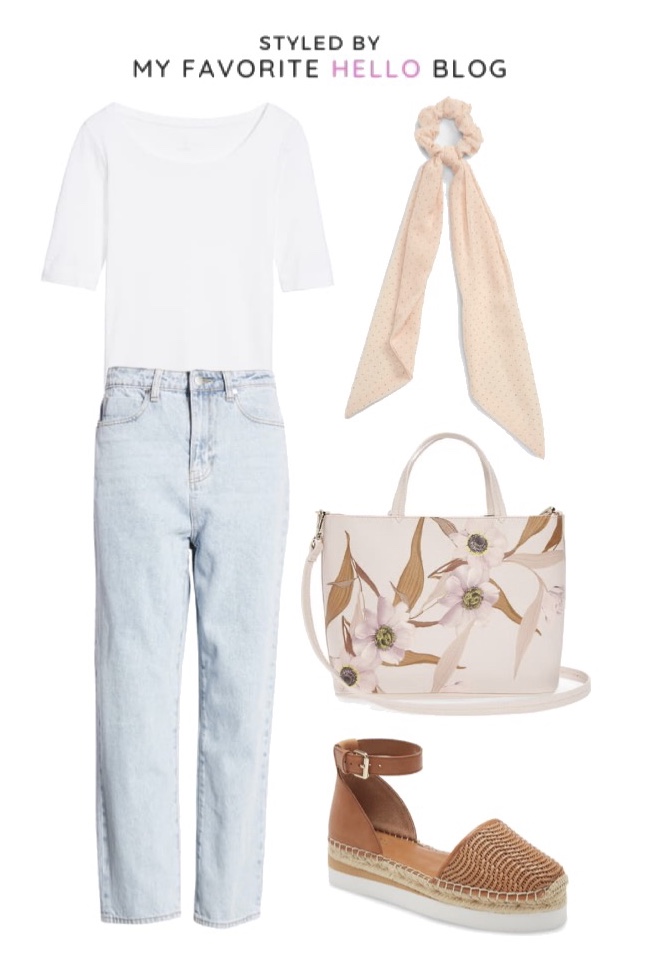 I hope you loved these outfits I styled. Don't be afraid to try something new!
Creator of My Favorite Hello and Author of this Article
Amy has 10+ years of experience in fashion and beauty launching digital products for global brands Fenty Beauty, Glossier, Marc Jacobs, Men's Wearhouse and Stitch Fix. She also worked previously as a Senior Stylist at Stitch Fix, and currently as an independent virtual stylist, styling men and women for various occasions from everyday outfits, special occasions, to curating a complete closet. Amy is using her styling experience, fashion and beauty expertise to provide style inspiration and outfit ideas so you can shop for yourself and put together stylish outfits that make you feel confident and beautiful. @styledbymyfavehello
You May Also Enjoy Reading:
Transition from Winter to Spring Capsule Wardrobe: 30 Outfits with 21 Pieces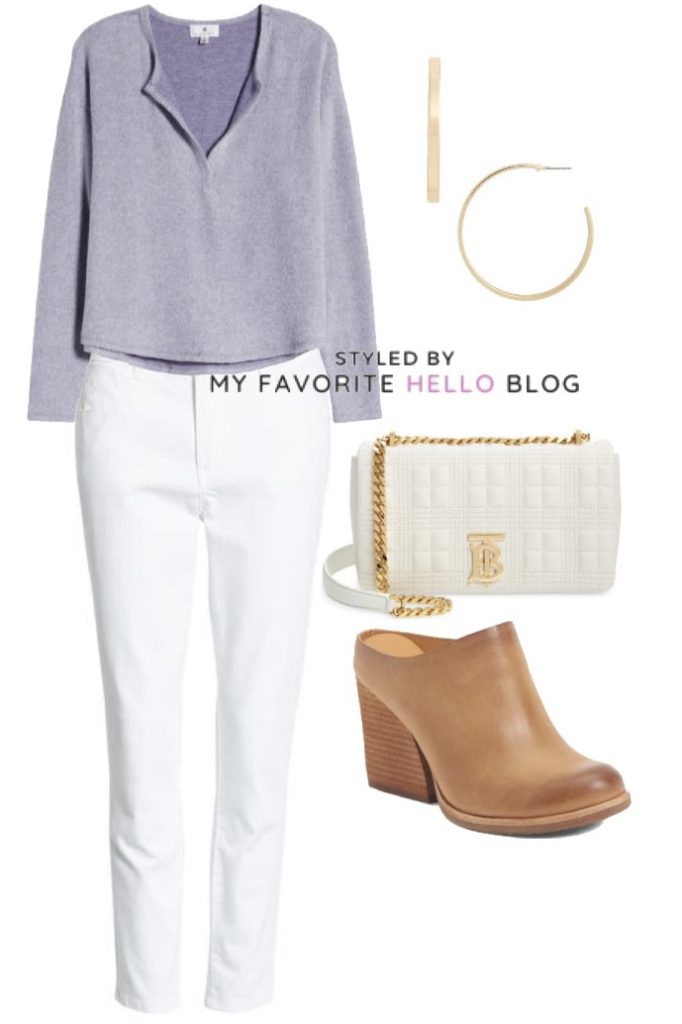 You May Also Enjoy Reading:
What to Wear Instead of Shorts When You are Over 50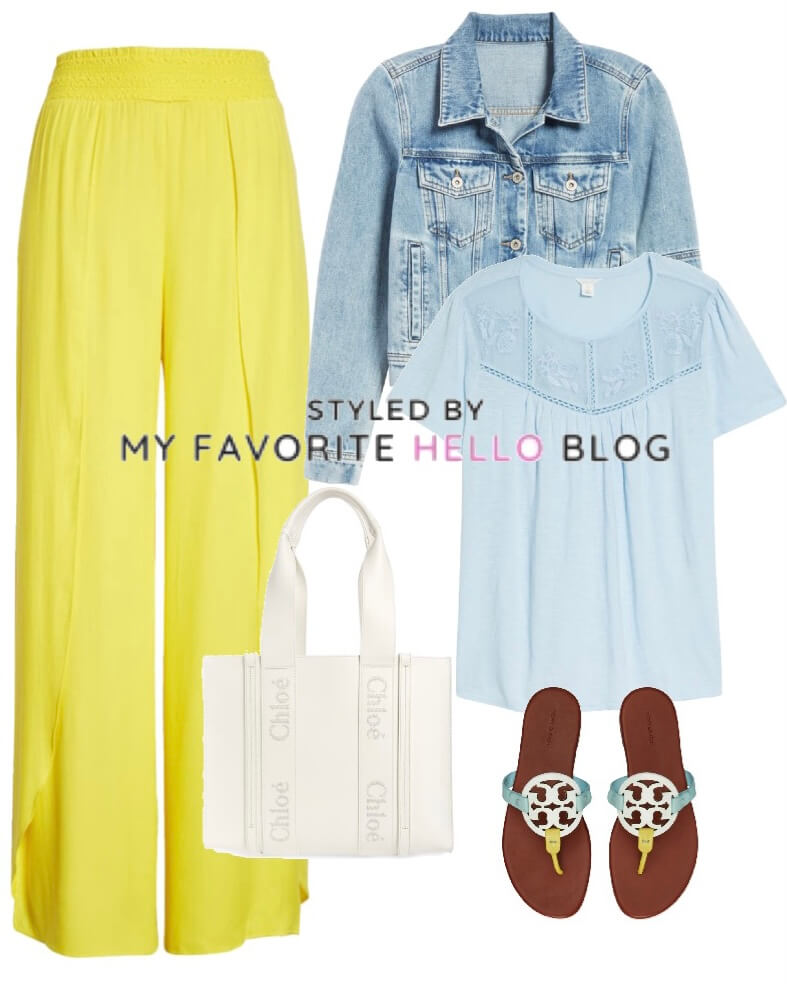 You May Also Enjoy Reading:
11 Ways to Style Tory Burch Sandals Outfits