What color shoes should I wear with a blush dress?
Are you wondering what color shoes to wear with a blush dress? Are you tired of pairing all of your dresses wtih silver, black or gold shoes? Then keep on reading, because there are truly so many different shoe color options when it comes to a blush dress. As a virtual stylist, I am sharing with you 12 different outfits with 10 different colored shoes with a blush dress, and will tell you my recommendations for where to wear these outfits. I've got you covered no matter what the occasion!
This blog post contains affiliate links which means when you make a purchase using my affiliate links, I earn a commission at no additional cost to you. See my Privacy Policy.
---
Follow me on Instagram: @styledbymyfavehello
Follow me on Pinterest: @myfavehello
Follow Me on LikeToKnow.It: @myfavehello to shop all my outfits!
Don't Miss a Post:
---
What Color Shoes to Wear with a Blush Dress
A blush colored dress is a universally flattering color for any skin tone. Like a neutral, you can wear almost any color shoes with a blush dress.
I've previously shared what shoes to wear with a royal blue dress , what shoes to wear with a red dress, what shoes to wear with a black dress, what shoes to wear with a gold dress, and what shoes to wear with a green dress. In this article I am showing you how you can pair 10 different color shoes, including nude, rose gold, silver, black, navy, champagne, red, white, gold and animal print. I've prepared full outfits so you can see not only what shoes to wear with a blush dress, but how to accessorize it with your handbag and jewelry.
Where Can You Wear a Blush Dress?
Because of its versatility, a blush dress can be worn anywhere from a casual weekend, vacation getaway, girls night out, date night, a wedding party or guest, and many more occasions.
Keep reading for ideas on where to wear the blush dress outfits I have put together below.
Where Can You Buy a Blush Dress?
A blush dress is so common you can find them at almost any retailer that sells dresses. Below are the blush dresses I feature in the outfits below. You can shop them at Nordstrom, which I buy almost all my dresses. Find more of my go-to retailers on my Shop My Looks page.

10 Outfits with Different Color Shoes with a Blush Dress
Nude Shoes with a Blush Dress
Nude shoes can really go with any colored dress, including a blush dress.  They are the perfect closet staple. Nude is the right neutral for an understated and simple outfit. I recommend a mini dress with nude heels for a summer date night out. I love how feminine, flirty and pretty this outfit is, especially with the barely-there heels.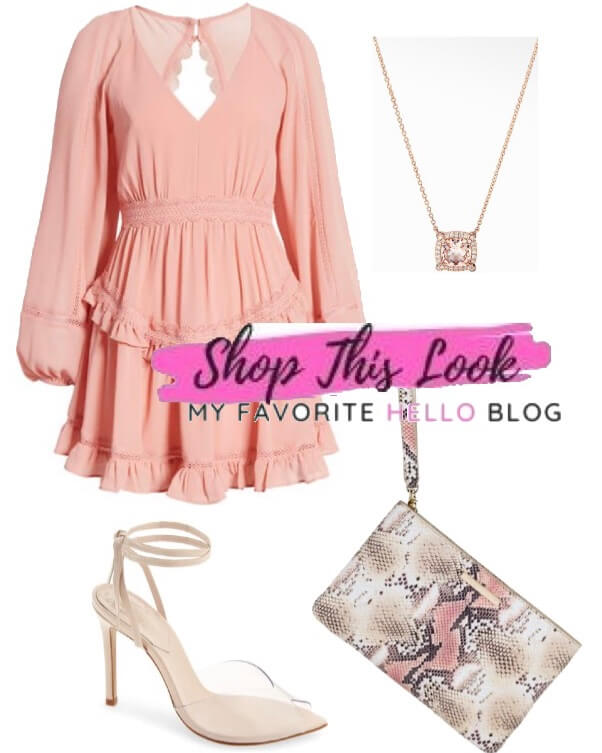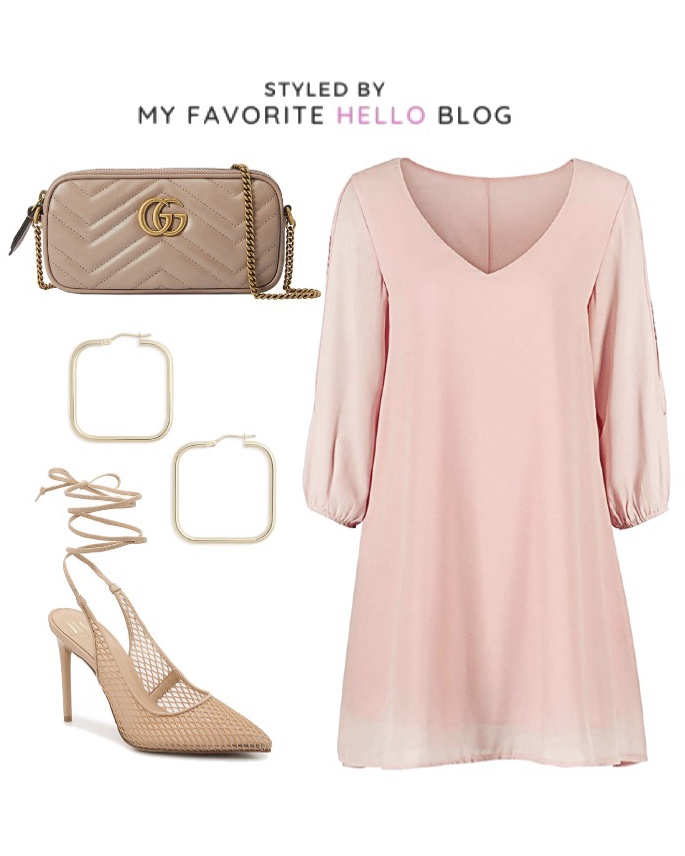 Rose Gold Shoes and Blush Dress
For an ultra feminine outfit, try a blush dress in a soft and satiny finish. Satin fabric is also good for a dressier event. I recommend a pair of rose gold shoes and matching earrings and necklace to complement the satin texture for a feminine and pretty outfit that is great as a wedding guest or formal event like prom or a wedding shower.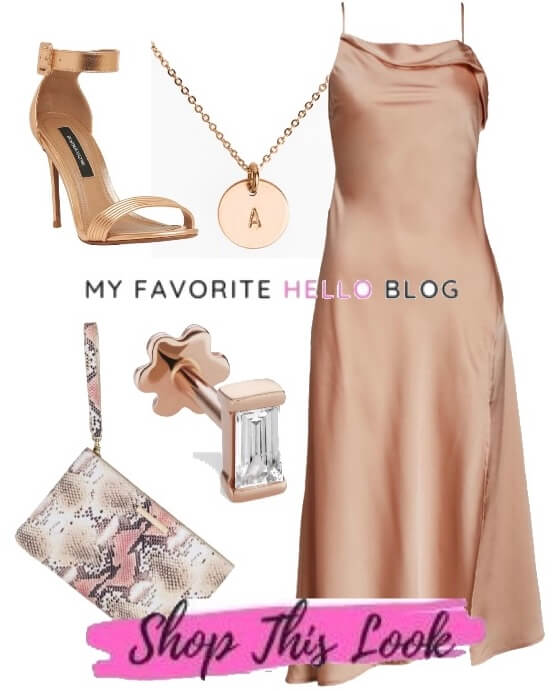 Silver Shoes and Accessories
Silver shoes are a go-to, and go with almost anything, including a blush dress. A pair of silver Tory Burch sandals with a lightweight midi blush dress can be the perfect outfit for a vacation look. Complete the look with a grey dress and matching silver earrings. This look is not only stylish, but also so comfortable. I recommend wearing this outfit for a casual weekend of running errands.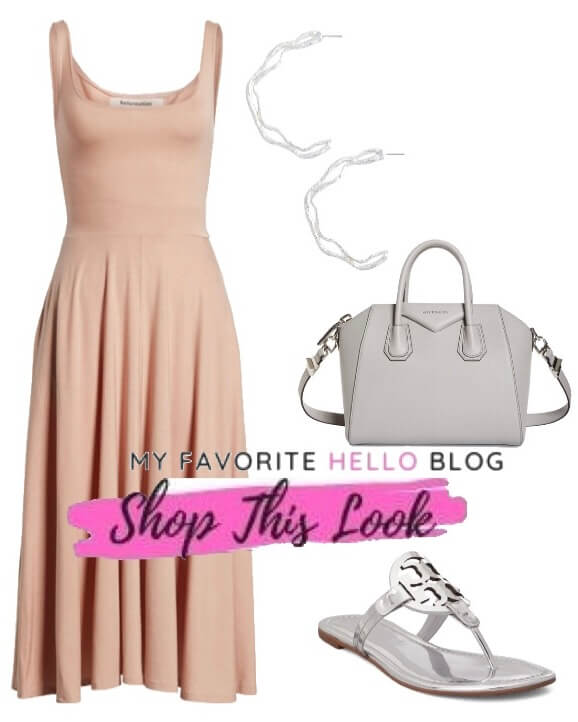 If you want a blush dress outfit with silver shoes that is dressier, then I recommend this outfit instead. I love the sparkly earrings and heels. The white handbag remains understated. This outfit is perfect to wear to a wedding or a baby shower.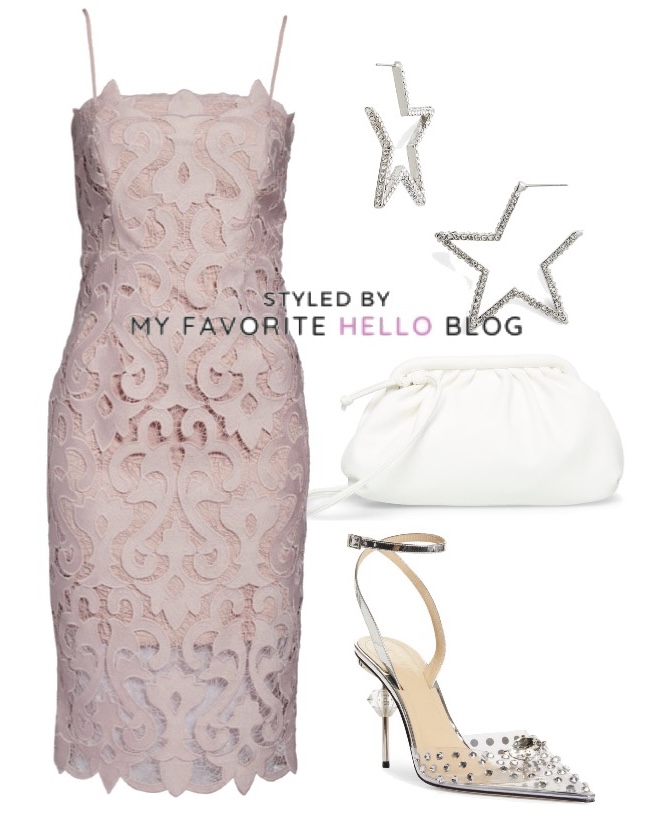 Black Edgy Outfit with Blush Dress
Black shoes with a blush dress is the go-to color for an edgier look.  Pair your black shoes with a black leather jacket to complete the outfit. I recommend a girly dress offset by leather accents for a look that can be worn on a girls night out.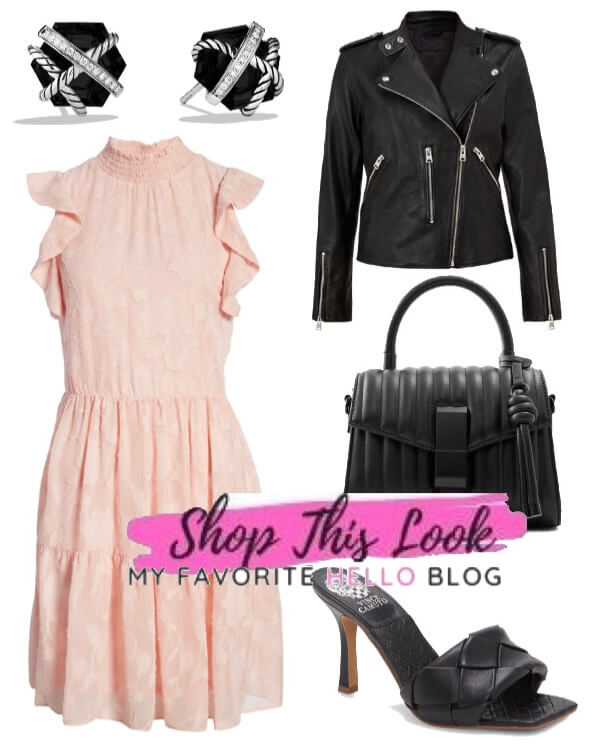 Navy Pumps
Navy shoes with a blush dress is a great choice when you want to make a statement with a bold look. I recommend navy shoes with a matching blazer for a polished and professional look that can be worn to work. Navy and pink are so classic, and look even better together!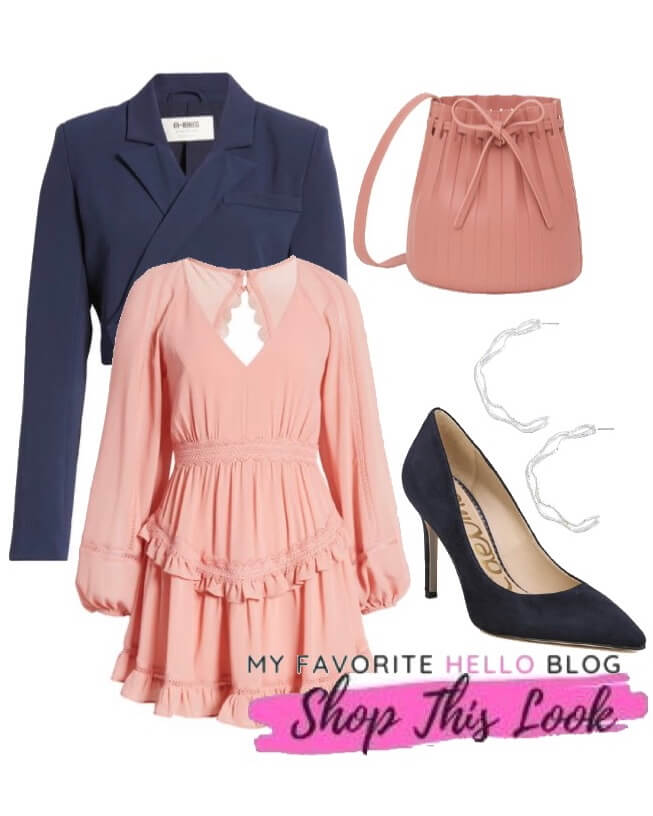 Champagne Heels
Champagne is a great color with a blush dress, especially for a formal event such as prom or a wedding. For more wedding guest outfit inspiration, check out Wedding Guest Dress Outfit Ideas. This outfit is so beautiful, and has just the right about of sparkle while still looking classy.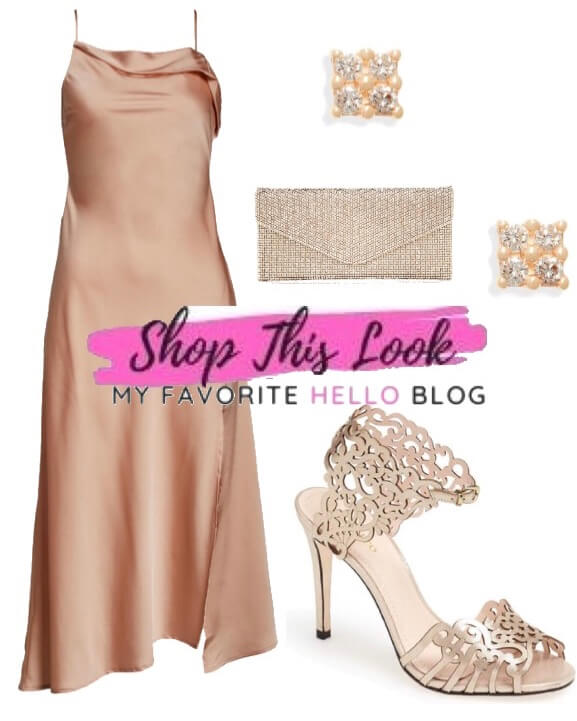 Red Heels
A blush dress and red shoes is another bold look. Add a red lip for a head to toe statement-making look. This dress looks so comfortable and with its simplicity is the perfect background for statement making accessories like these red heels.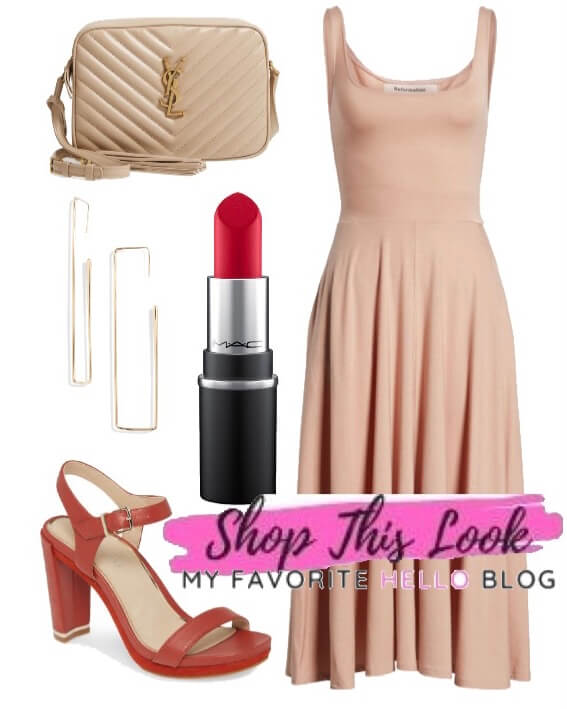 White Boots
White shoes with a blush dress is a great option for spring and summer.  I love a pair of white boots with a mini blush dress for a fun and flirty option for a summer weekend out. This is also a great transitional look for those chillier days at the end of summer.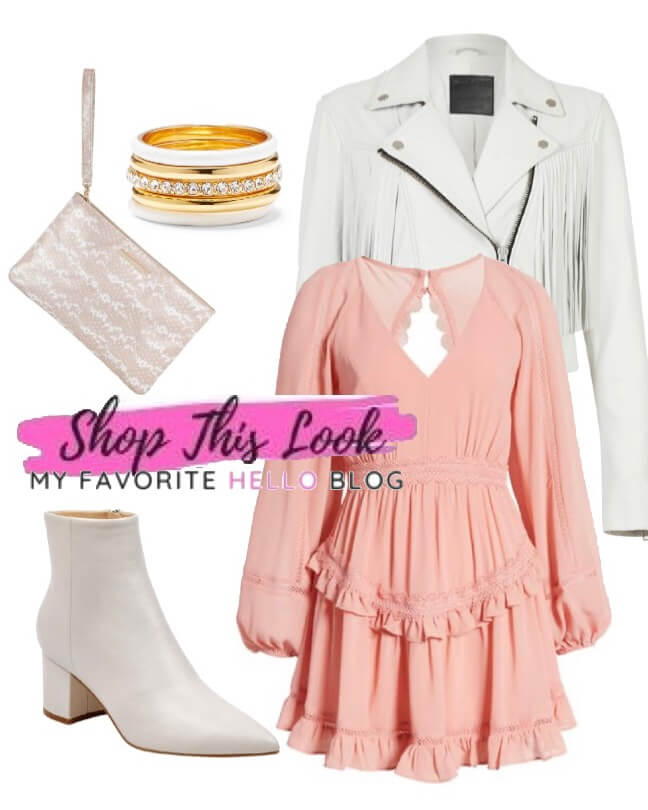 Gold Heels
Gold is another option that is perfect for a formal event such as a wedding party. This girly and pretty outfit is perfect for a baby shower or any other party. The gold accessories go perfectly with this light pink tone. It is so feminine and effortless.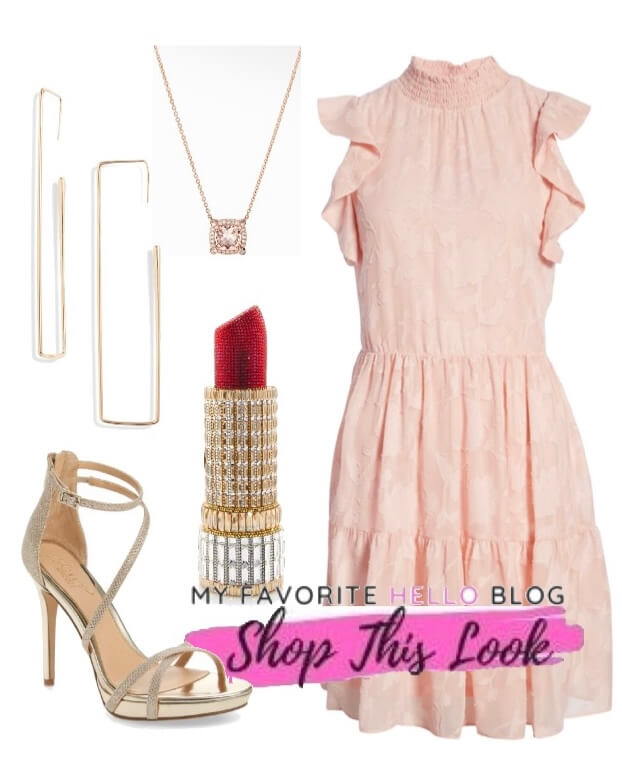 Animal Print Sandals
Animal print with a blush dress is a great option for going from day to night.  These animal print sandals are perfect with this blush dress for a casual weekend or a quick getaway. Such a pretty look that is still comfortable.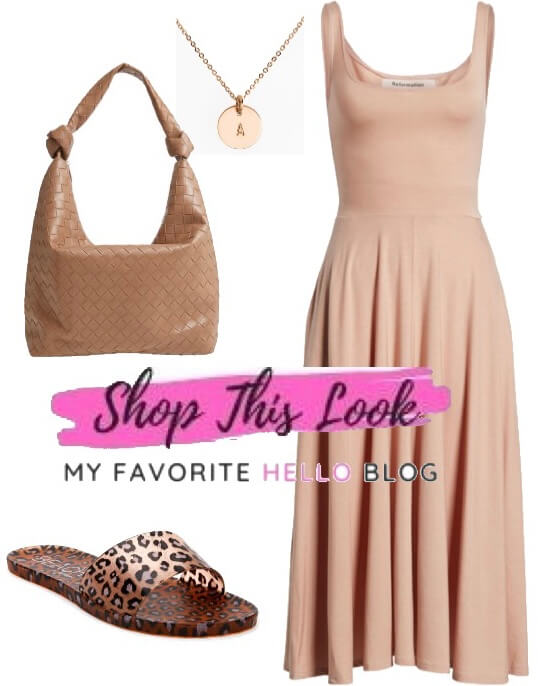 More Blush Dress FAQs
How do you accessorize a blush pink dress?
Add matching earrings, a handbag, and a colored lip to accessorize a blush pink dress.
Does blush pink look good on everyone?
Blush pink is a universally flattering color and can go with any skin tone. If you feel like blush pink is washing you out, add some bold colored accessories or makeup to balance out the muted color.
What colors go with a blush dress for a wedding?
A blush dress can go with any color. For a wedding, champagne, rose gold, black, and gold are all perfect for a wedding.
For your next baby shower or night out, try one of the outfits for a more daring but effortless look. A blush pink dress can be worn so many ways, and is perfect for that feminine look you are striving for. Keep reading for more outfit inspiration!
Which shoe color to wear with a blush dress is your favorite?
About the creator of My Favorite Hello, and author of this post:
Amy has over 10 years of experience working in beauty and fashion. She previously launched digital products for fashion and beauty brands Fenty Beauty, Glossier, Marc Jacobs, and Men's Wearhouse and Stitch Fix. She also worked previously as a Senior Stylist at Stitch Fix, and currently moonlights as an independent virtual stylist, styling men and women for various occasions from everyday outfits, special occasions, to curating a complete closet. Amy is using her styling experience and expertise to provide general style inspiration and outfit ideas so that you can shop for yourself and put together stylish outfits on your own that make you feel confident and beautiful.
You May Also Enjoy Reading:
10 Looks: How to Style White Boots Outfit Ideas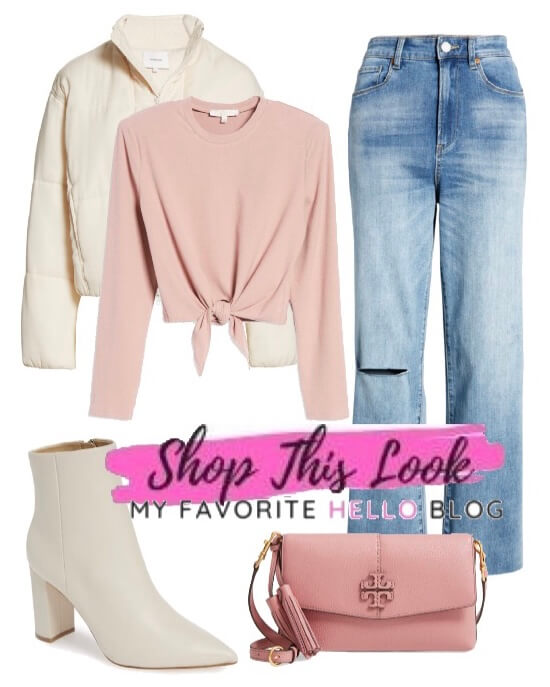 You May Also Enjoy Reading:
How to Style a Tulle Skirt for Every Occasion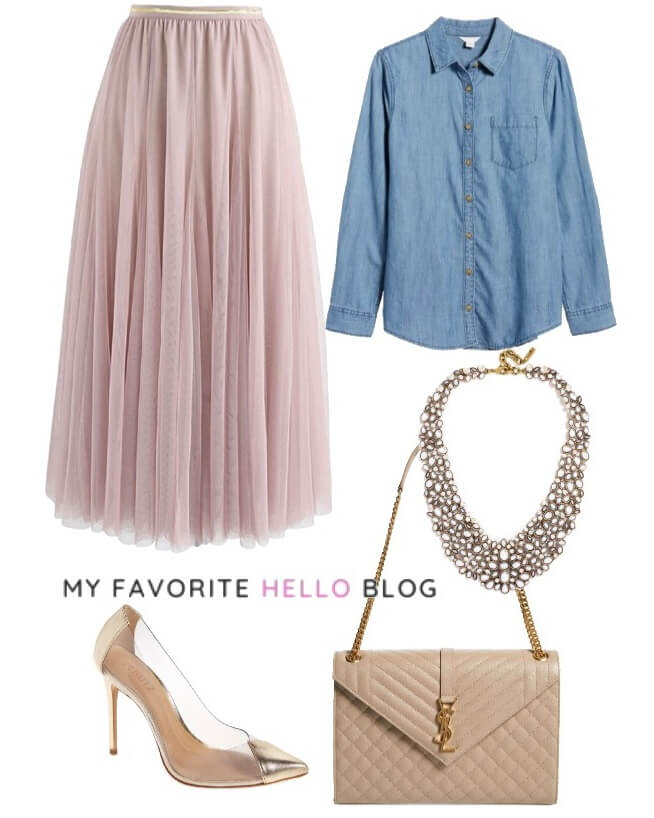 You May Also Enjoy Reading:
10 Best Stores for Dusty Rose Bridesmaid Dresses