How to Style Wedding Guest Dress Ideas for Summer
It's wedding time! I've styled 13 wedding guest dress outfits for summer. Whether you are going to a formal wedding, garden wedding, or a day wedding, I have styled 13 different formal and cocktail dresses for wedding guest outfit ideas. Check out this post for some serious wedding guest outfit inspiration! Best of all, all of these wedding guest outfits are completely shoppable.
This article includes affiliate links which means when you make a purchase using my affiliate links, I earn a commission at no additional cost to you. See my Privacy Policy.
Wedding Outfit Ideas
Being the guest at a wedding is an honor, and you want to be sure to look and feel your best. Regardless of whether you are the wedding guest at a day wedding, garden wedding, evening wedding or formal event, you want to ensure you wedding guest dress matches the location and occasion.
I have styled 13 different wedding guest dress outfits to inspire your next weeding look.
Summer Wedding Guest Dresses
If you want to shop any of the wedding dress ideas styled in any of the outfits featured in this article, you can check them out here:

1. Pink Wedding Guest Dress
If you are looking to wear a pink or blush dress to a wedding, try this pretty in pink outfit. The neutral accessories perfectly complement the blush pink drink, and are so much fun and feminine for a day to night wedding guest outfit that is perfect for semi formal or cocktail attire.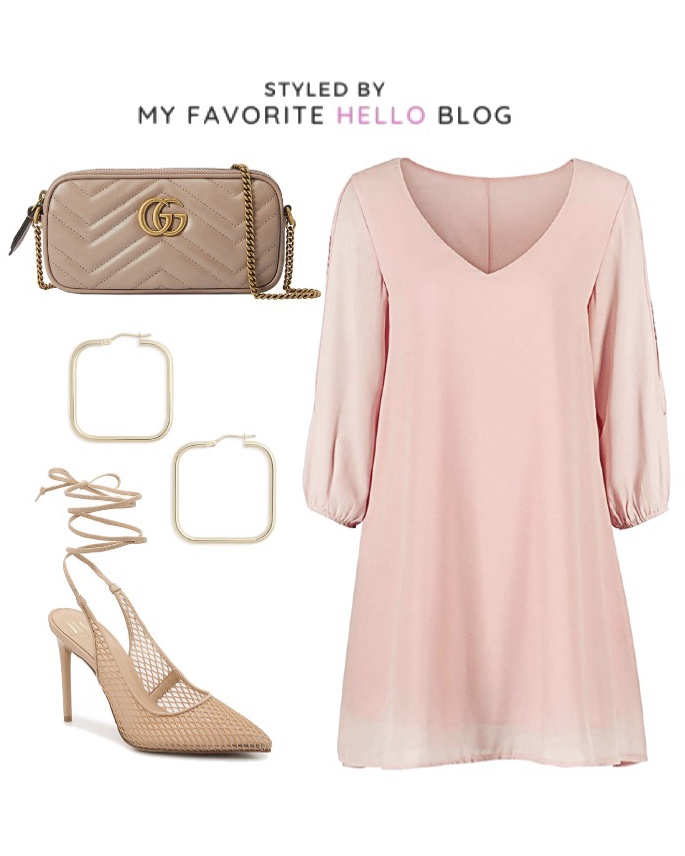 2. Summer Wedding Guest Outfit
Blush pink and gold heels are perfect for a summer wedding outfit. Accessorize the look with gold jewelry and a bold red lip for a flirty and feminine look. Find more style inspiration with a blush dress to see how different color shoes can be added to create different looks.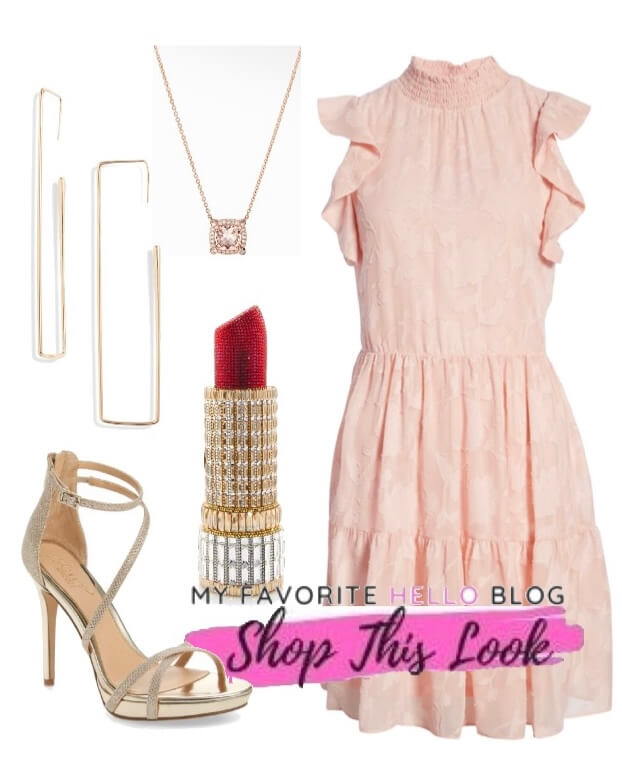 3. Rose Gold Dress for Wedding
Try a rose gold dress for a wedding for a glamorous look for a semi formal event. These sparkly gold accessories turn up the glam another notch for an easy and simple look that will still standout from the crowd.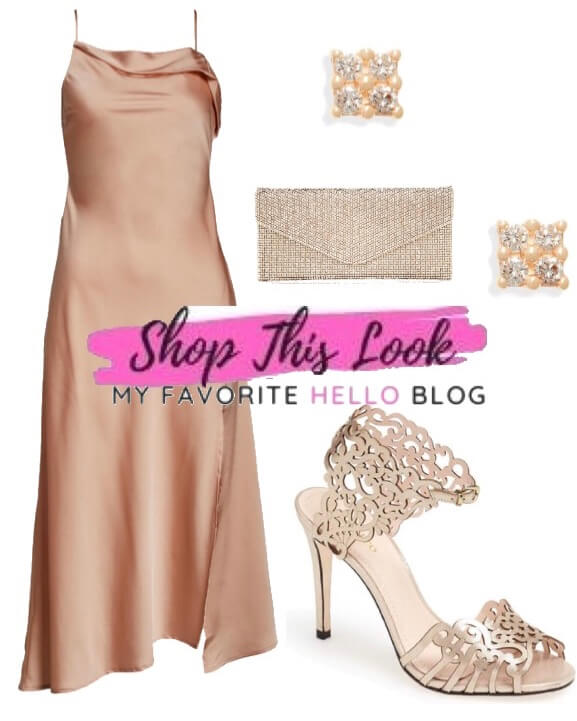 4. Day Wedding Outfit Idea
A bold color with white accessories are fabulous for a day wedding. Try this royal blue dress for a polished and chic look that can easily be worn to a day wedding. For more style inspiration check out 10 Looks: What Color Shoes to Wear with a Royal Blue Dress for ideas on what color shoes to add for different occasions.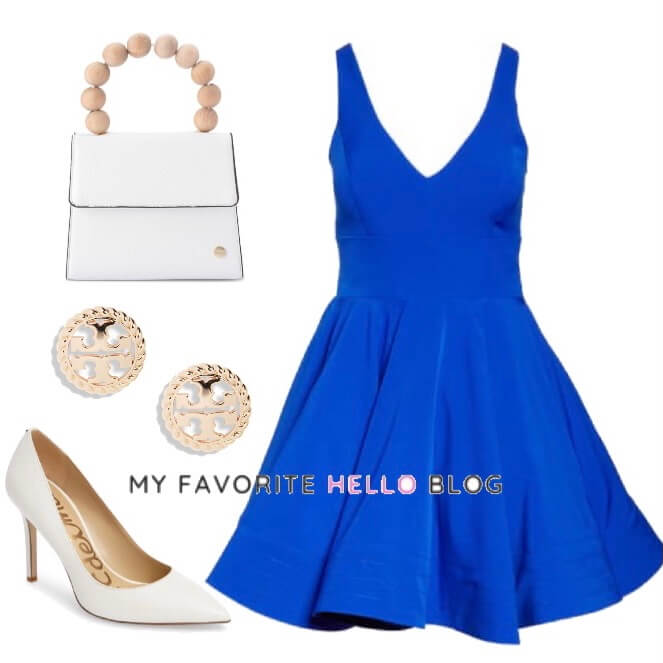 5. Cocktail Dress for Wedding Guest
If you are looking for a cocktail dress to wear to a wedding, try a lacy sheath for a polished and classic look. Add some sparkly silver heels and accessories to complete the outfit. An outfit like this is also perfect for wearing in Vegas for a glam evening look.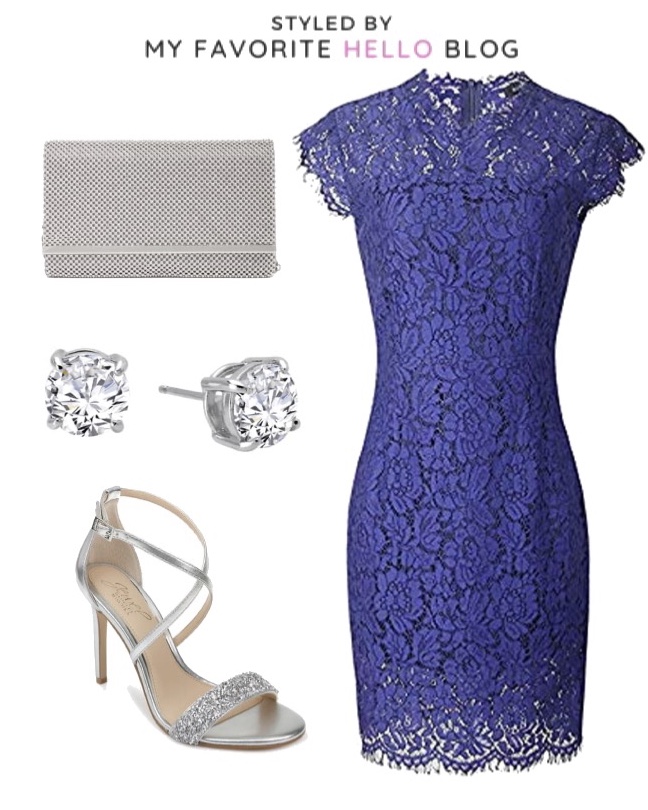 6. Outfit Idea for a Summer Garden Wedding
Try an off a shoulder dress in a subtle peach and green for a garden wedding guest outfit. The cream colored heels and handbag perfectly offset this lovely dress.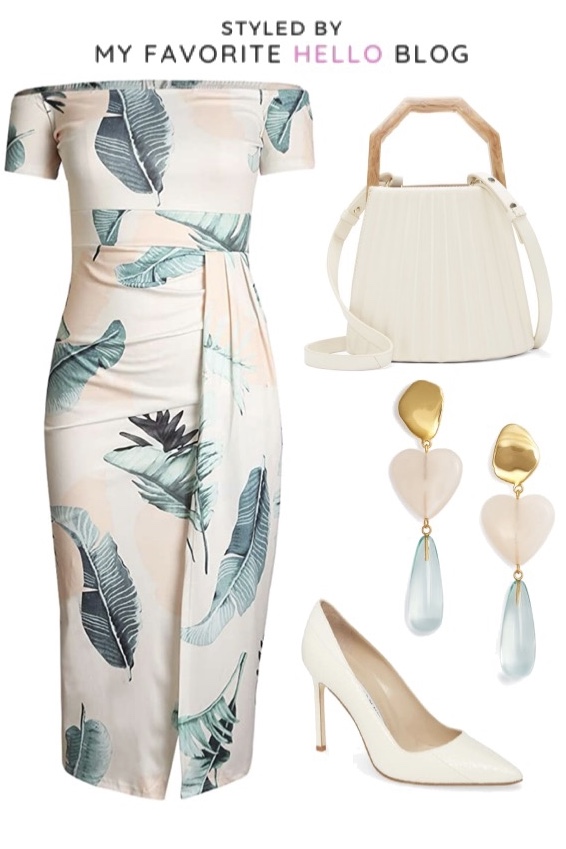 7. Edgy Bandage Wedding Guest Dress
Try a light purple bandage dress for a glam wedding guest outfit that is bold and edgy, while still feminine and wedding appropriate. Add some luxe nude heels and handbag to let the dress stand out.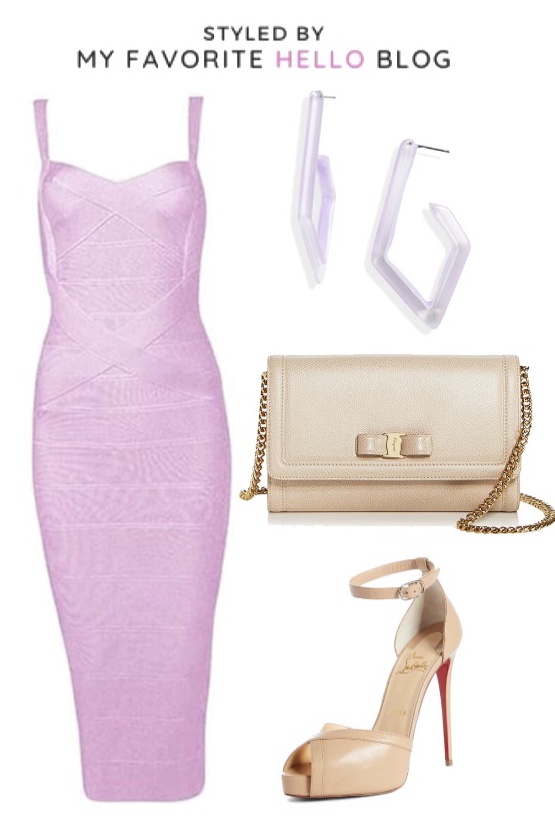 8. Outdoor Wedding Outfit
A fun print for a wedding guest dress is perfect for an outdoor wedding outfit. Try it with some summery cream color accessories to complete the look for a comfortable and stylish look.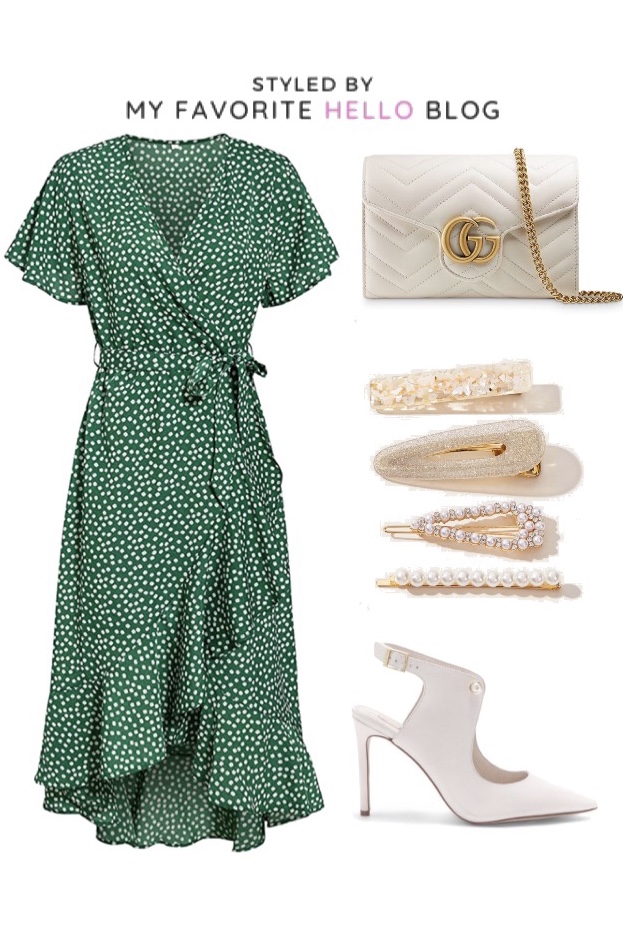 9. Statement Maxi Dress
A pretty maxi with a statement designer purse is perfect for a day to night wedding guest outfit idea. I love the bright and bold handbag for a fun pop of color to complement this stunning floral dress.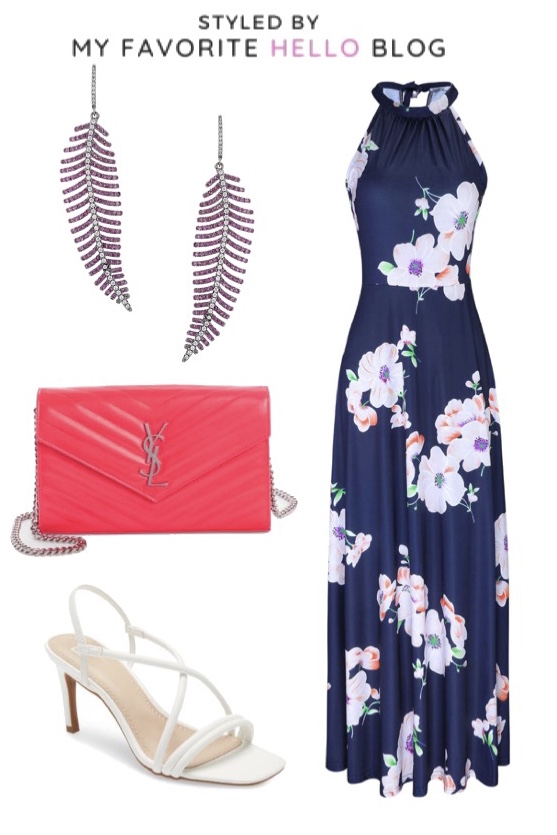 Follow My Pinterest Boards:
10. Evening Wedding Guest Outfit Idea
A sparkly cocktail dress with bold gold accessories is sure to make a statement at an evening wedding.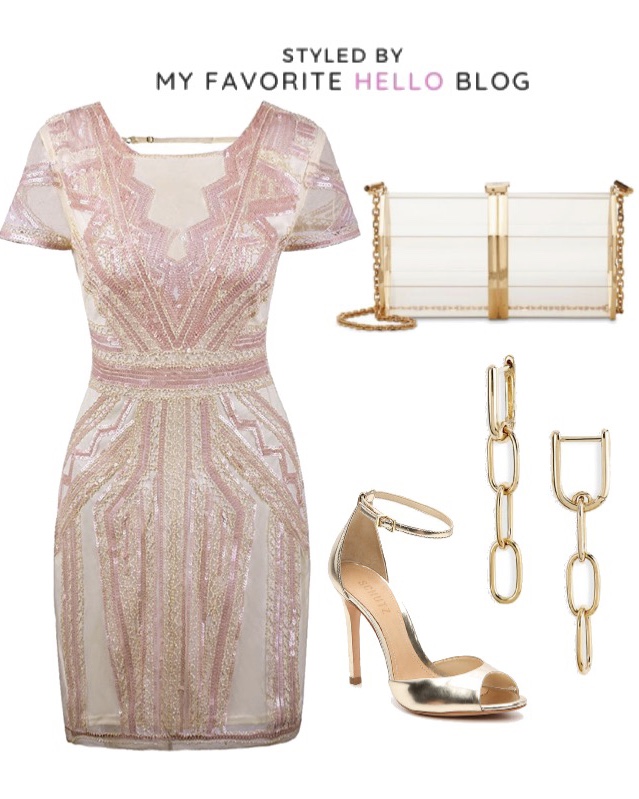 11. Romantic Floral Dress
Try this fun and romantic floral dress for an outdoor wedding. It's so chic and comfy for a more casual outdoor wedding.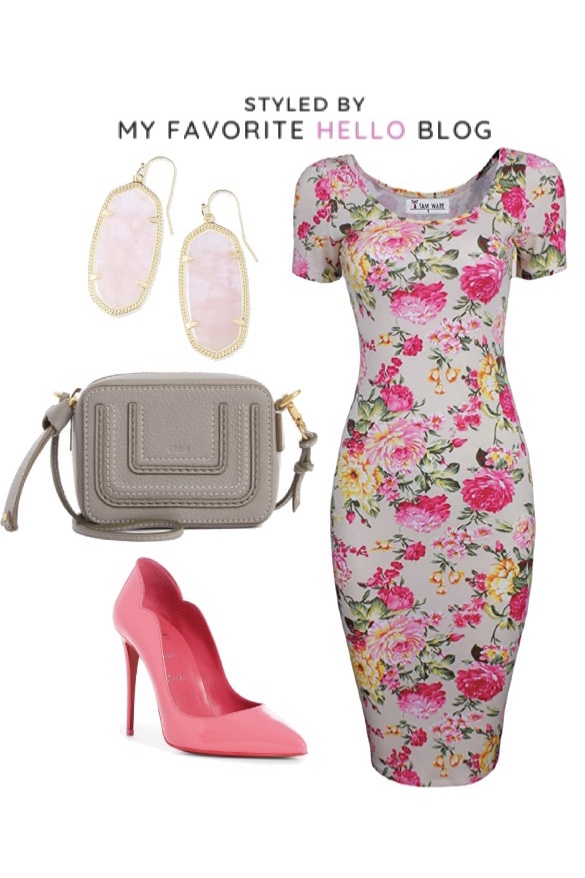 12. Bright and Bold Statement Dress
Try a wedding guest dress in a bright and bold color like the one below for glamorous look that can easily go from day to night.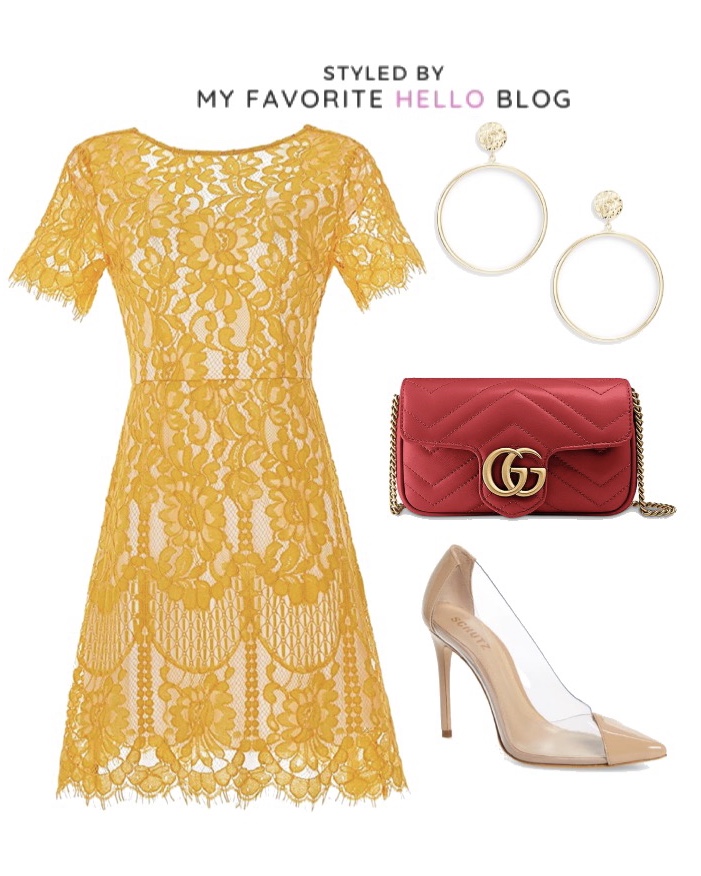 13. Coral Dress Outfit for a Wedding
Try this coral dress outfit to wear to you next spring or summer wedding. The coral dress and beige heels combination is a classic look for a wedding.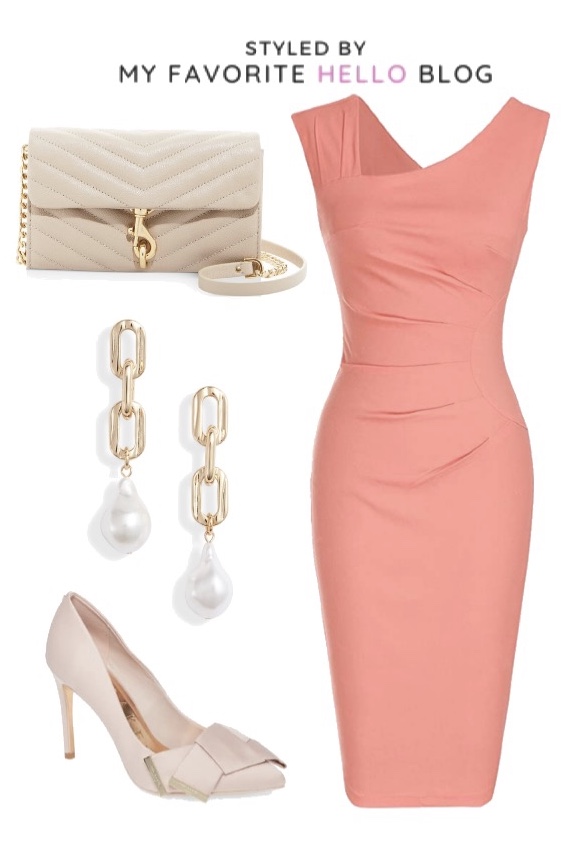 I hope you loved these wedding guest outfit ideas. No matter what the dress attire, or location, any of these wedding guest dress ideas will be sure to turn heads!
If you like these outfit ideas, check out more in my styling series such as how to style cream pants, pink shorts, and more!
Which wedding guest dress outfit is your favorite? Let me know in the comments!
Creator of My Favorite Hello and Author of this Article
Amy has 10+ years of experience in fashion and beauty launching digital products for global brands Fenty Beauty, Glossier, Marc Jacobs, Men's Wearhouse and Stitch Fix. She also worked previously as a Senior Stylist at Stitch Fix, and currently as an independent virtual stylist, styling men and women for various occasions from everyday outfits, special occasions, to curating a complete closet. Amy is using her styling experience, fashion and beauty expertise to provide style inspiration and outfit ideas so you can shop for yourself and put together stylish outfits that make you feel confident and beautiful. @styledbymyfavehello
You May Also Enjoy Reading:
What to Wear to a Beach Wedding Over 50: Cute and Comfortable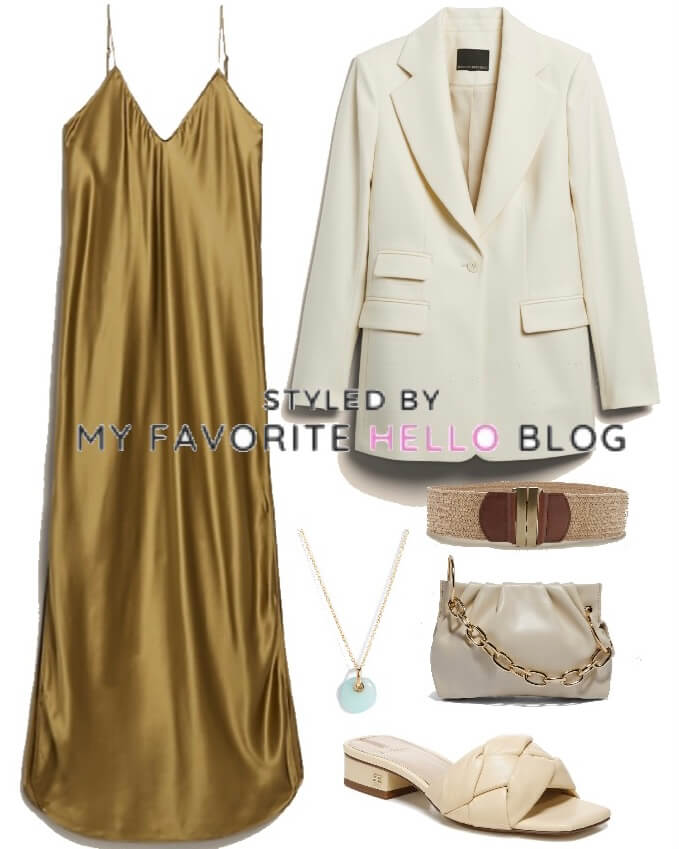 You May Also Enjoy Reading:
How to Wear a Sequin Skirt 12 Ways: Glam, Casual, or Bold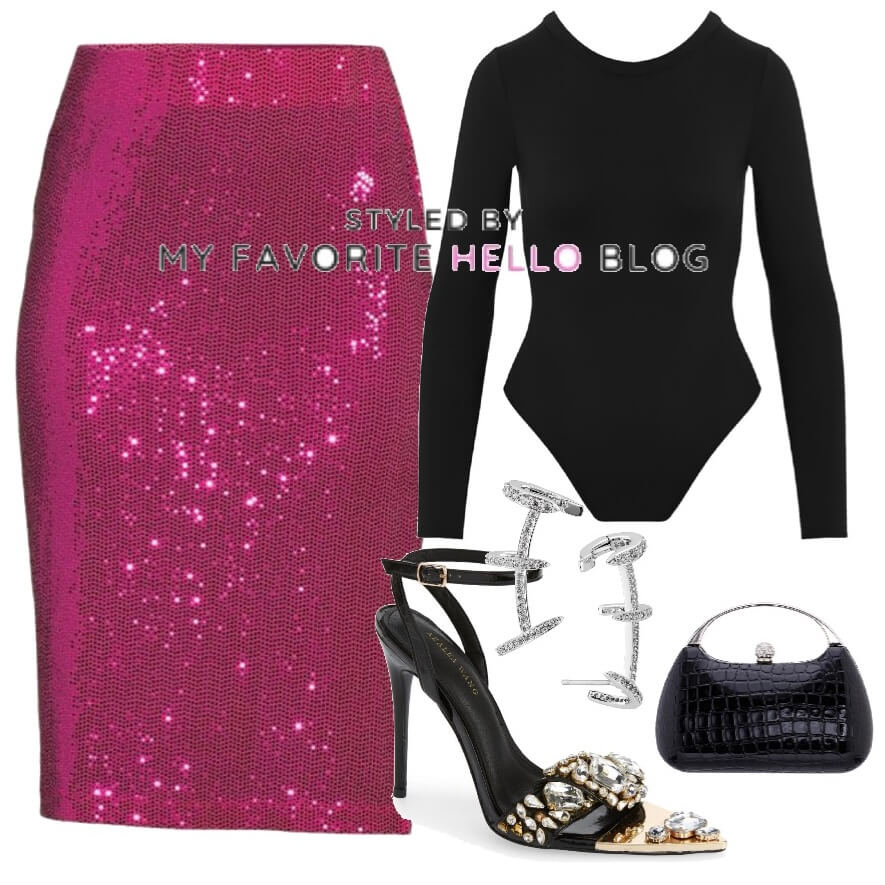 You May Also Enjoy Reading:
10 Outfits: What Color Shoes to Wear with a Gold Dress