What to Wear in Vegas if you are a Woman Over 50
In this article, I am sharing 10 outfits for what to wear in Vegas over 50 so you can look and feel fabulous on your Vegas trip. From chic daytime outfits for exploring the city to sophisticated evening looks that are perfect for attending shows and fine dining, I am providing you style inspiration. Keep reading for outfit inspiration for your Vegas vacation.
This article includes affiliate links which means when you make a purchase using my affiliate links, I earn a commission at no additional cost to you. See my Privacy Policy.
Understanding the Vegas Vibe
Vegas is known for its vibrant nightlife, world-class dining, and entertainment options. As a woman over 50, you may be wondering how to dress stylishly and comfortably for the unique Vegas atmosphere. By understanding the Vegas vibe, you can choose outfits that work for various occasions in Sin City. In Vegas, fashion trends tend to lean towards bold, glamorous, and eye-catching styles. However, I recommend being comfortable since you'll likely be on your feet exploring the city, attending shows, or dining out.
Here are some aspects of Vegas fashion to consider when choosing your outfits:
Luxe Fabrics: Opt for silky, flowy, or textured materials that add visual interest to your outfits, like satin, lace, or velvet. Ensure your clothing feels comfortable and fits well.
Statement Accessories: Accessories can elevate your outfit and add a touch of Vegas flair. Try a chunky necklace, bold earrings, or an embellished purse for some extra sparkle.
Comfortable Footwear: Whether you're in a casino, at a show, or walking along The Strip, comfortable shoes are crucial. Look for stylish flats, wedges, or low heels that provide support throughout the day and night.
By understanding the Vegas vibe and incorporating these fashion tips, you'll be able to plan outfits that make you feel confident and stylish during your Vegas visit.
10 Outfit Ideas for Vegas Over 50
It's essential to strike a balance between comfort and style when choosing your Vegas wardrobe. In these outfits I have styled for you, you'll notice that each one not only looks fabulous but also ensures that you feel comfortable and confident during your Vegas trip.
1. Glamorous Evening Wear
When planning a night out in Las Vegas, consider opting for a glamorous evening outfit that combines elegance with a touch of sparkle. One stylish option I recommend for women over 50 is a well-fitted and midi-length dress. 
To elevate your outfit and add some glamour, look for subtle embellishments like sequins, embroidery, or lace, like the dress I chose below. These details will catch the light and add a touch of glamour to your outfit, perfect for catching a show or enjoying a fancy dinner with friends. 
Complete your glamorous evening look with a pair of statement earrings. A sleek clutch purse in either a complementary or contrasting color will not only fit your essentials but is also an elegant addition to your overall look. Lastly, don't forget to wear a comfortable and stylish pair of heels for a night of dancing and fun in Vegas.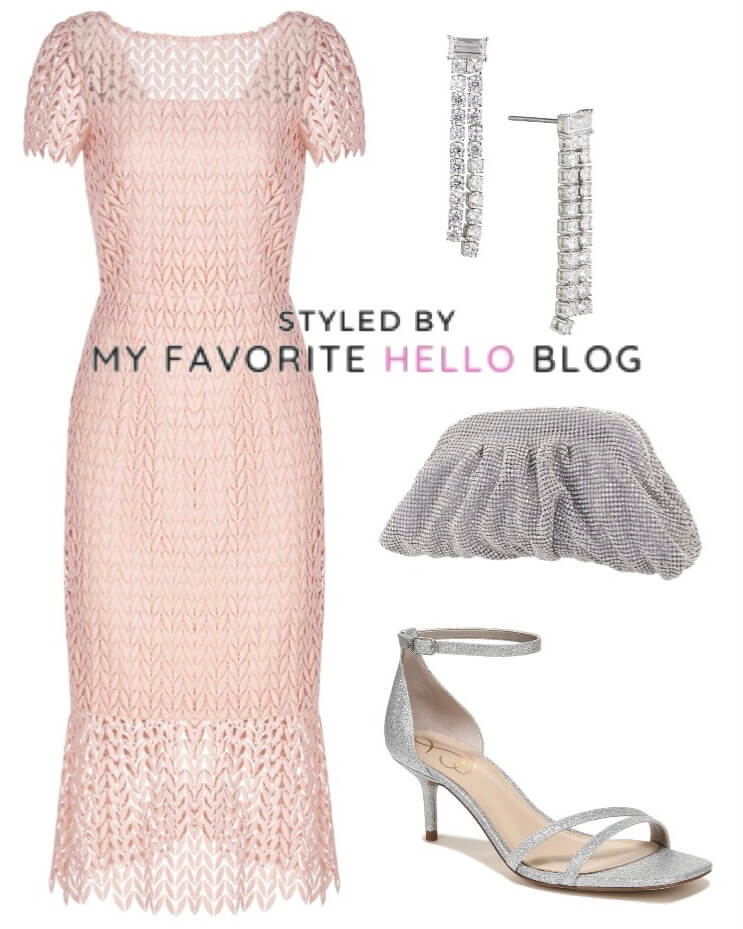 2. Chic Casual Daywear
A couple of key components of a Vegas daytime outfit are breathable and lightweight fabrics, specifically in the summer when the temperatures are hot. Pair your blouse with comfortable capris or a skirt. I also recommend a linen skirt as an alternative to shorts if you are over 50 like the outfit below.
Accessorize your outfit with versatile flats or sandals, which are perfect for walking along the Las Vegas Strip or exploring nearby attractions. A stylish crossbody bag in a complementary color will not only add a touch of sophistication but also provide ample storage for your essentials.
I recommend completing your chic casual day look with simple jewelry. Consider layering a few delicate necklaces, wearing a sleek watch, or adding a pair of understated earrings to elevate your outfit.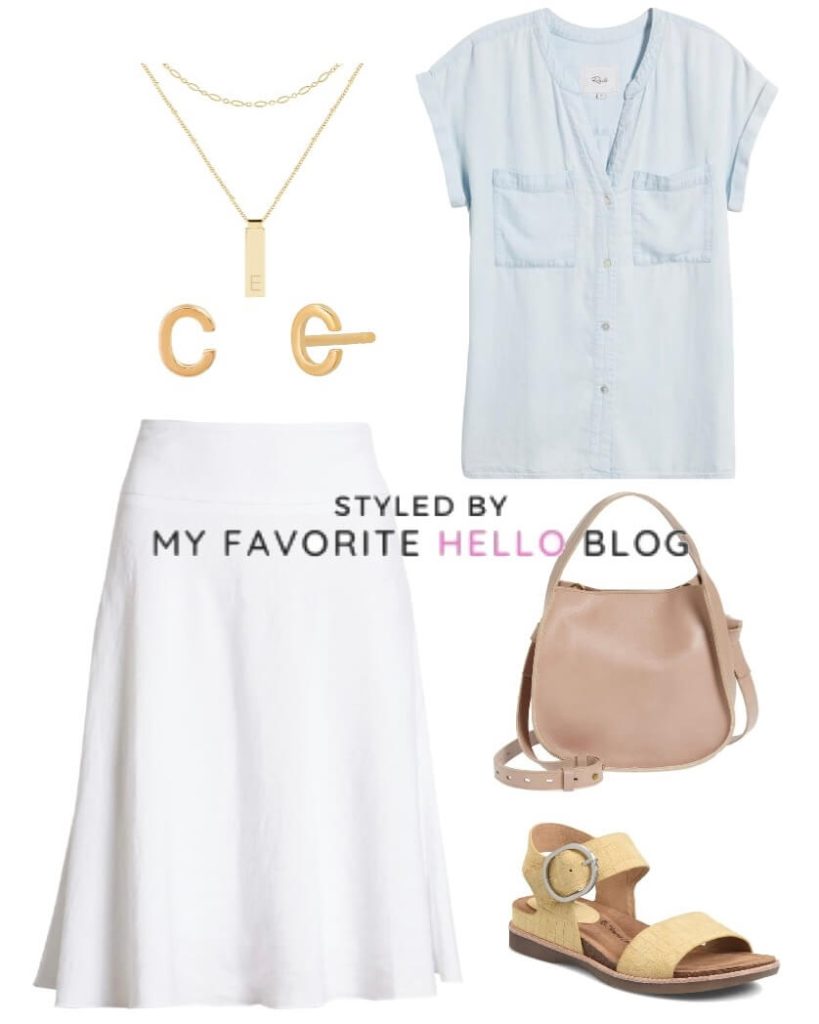 3. Poolside Elegance
Enjoy a day by the pool in true Vegas fashion with this chic and comfortable outfit for women over 50. This elegant poolside look will keep you feeling fabulous while relaxing under the sun. I styled this outfit with a stylish one-piece swimsuit, which offers a flattering fit and some coverage. Choose one with unique features like ruching, cutouts, or interesting patterns and colors, so you stand out in a crowd. In this outfit, I chose an animal print swimsuit.
Pair your swimsuit with a lightweight, semi-sheer cover-up or maxi dress. I recommend a fun print or bright color to complement the vibrant Vegas atmosphere. An essential accessory for your poolside attire is a wide-brimmed hat to protect your face from the harsh sun.  Complete your look with some comfortable and fashionable sandals or flip-flops. For a touch of glam, accessorize with oversized sunglasses and a simple pendant necklace. Keep your jewelry minimal and lightweight so that it doesn't interfere with your ability to relax and enjoy your time by the pool.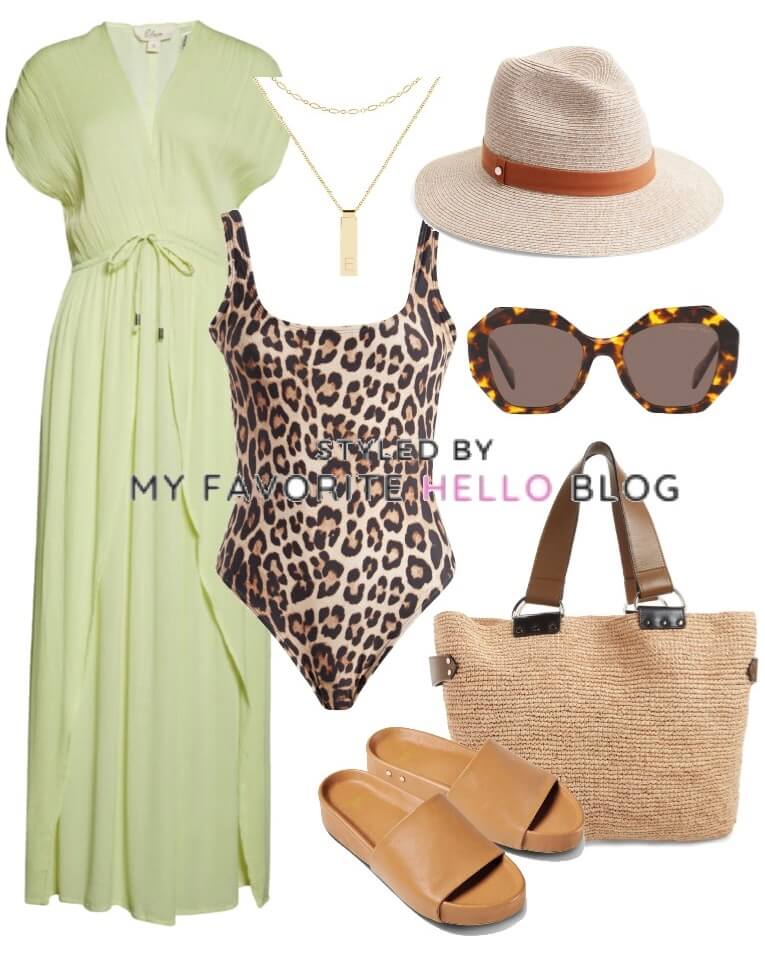 4. Sassy Nightclub Look
If you're heading to a nightclub in Las Vegas and want to look elegant but sassy, I recommend a sophisticated outfit combination with a dress, clutch, heels and accessories. A well-fitted blazer or a faux fur wrap can be used as an additional layer if the temperatures drop later in the night. Don't be afraid to experiment with different textures, such as lace or velvet, to elevate this nightclub look.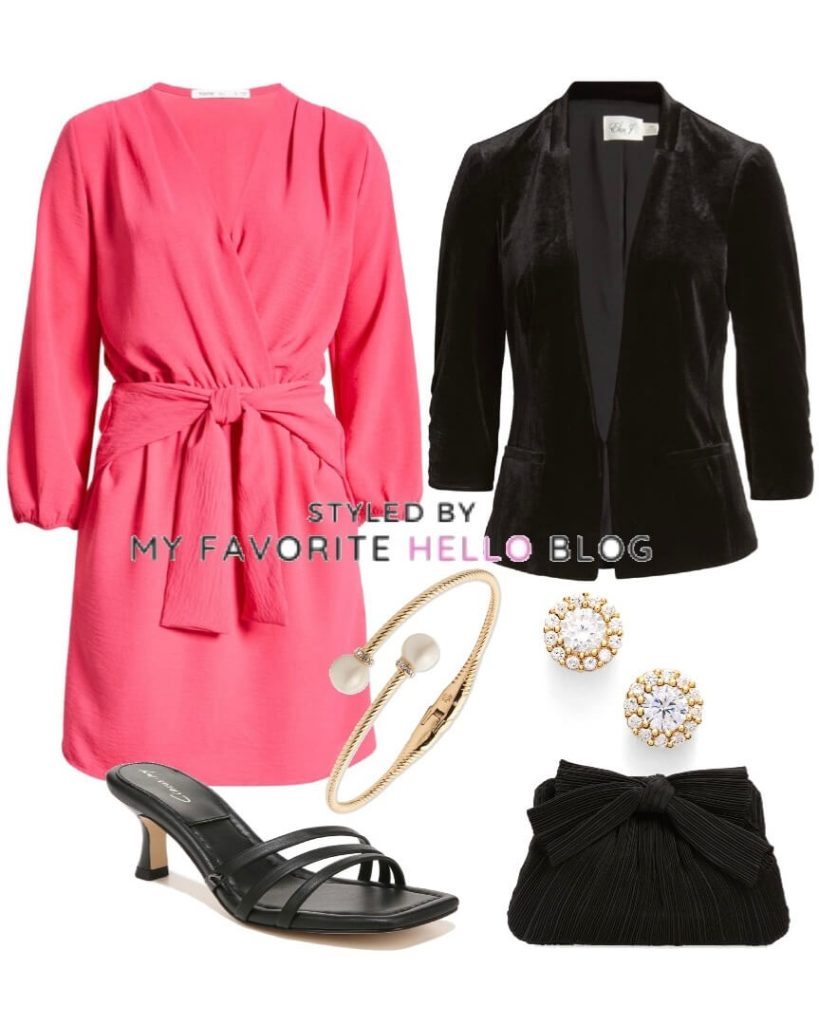 5. Classy Casino Attire
A classy casino outfit allows you to look elegant and sophisticated while still maintaining a comfortable outfit for a night of gaming. For women over 50, it's all about finding the perfect balance of style and comfort, which I recommend a jumpsuit is perfect for as I have styled in the outfit below.
When it comes to footwear, opt for comfortable yet stylish shoes, like low-heeled pumps or flats. Remember that you'll be on your feet for a while, so comfort is key. Accessorize with simple jewelry, such as a classic watch to add a touch of glamour to your outfit, and to also help you keep track of time (most casinos don't have clocks or windows).A chic blazer or lightweight cardigan can complete the outfit and provide an extra layer in case the casino gets chilly.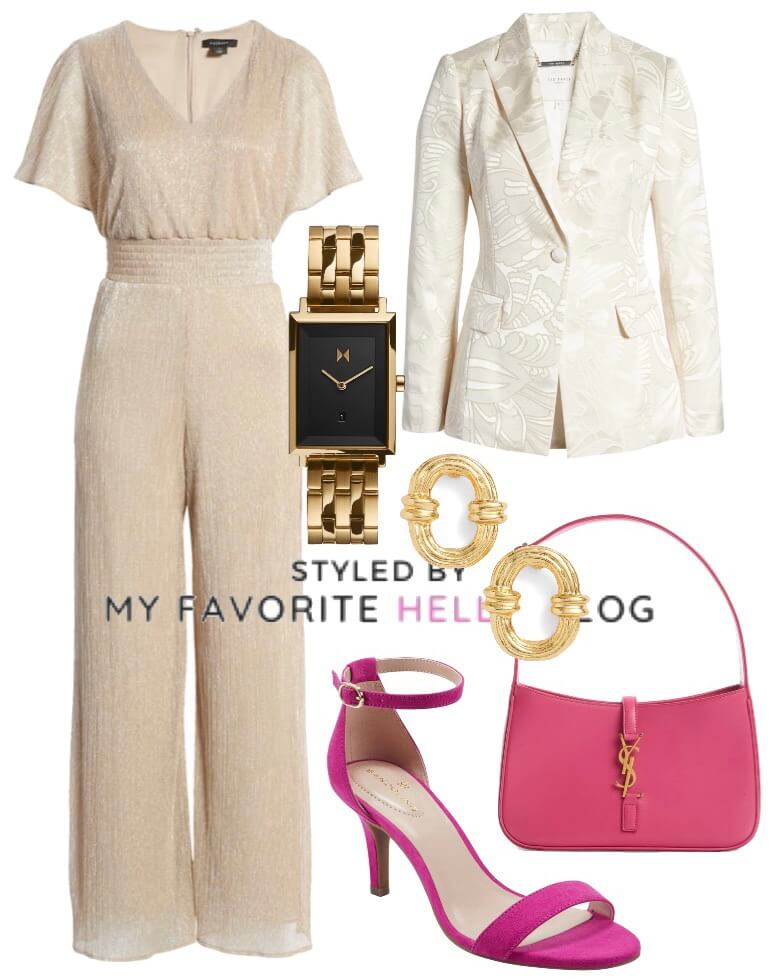 6. Comfortable Shopping Outfit
For a day of shopping in Vegas, comfort is key as you browse the stores and make your purchases. Start with a well-fitted pair of jeans as in the outfit I styled below. These provide the perfect base for your outfit and will keep you comfortable while walking the Vegas Strip. Pair your bottoms with a loose, flowy blouse or a casual tunic in a lively color or pattern. Remember, it's essential to consider the Vegas heat, so opting for breathable fabrics like cotton or linen will make your shopping experience much more pleasant.
When it comes to footwear, consider stylish flats, loafers, or sneakers that support comfort and practicality for extended periods of walking. As a final touch, accessorize your outfit with timeless and tasteful pieces such as a statement necklace or a pair of bold earrings. Complement the look with a practical yet elegant tote or crossbody bag suitable for carrying any shopping finds during the day.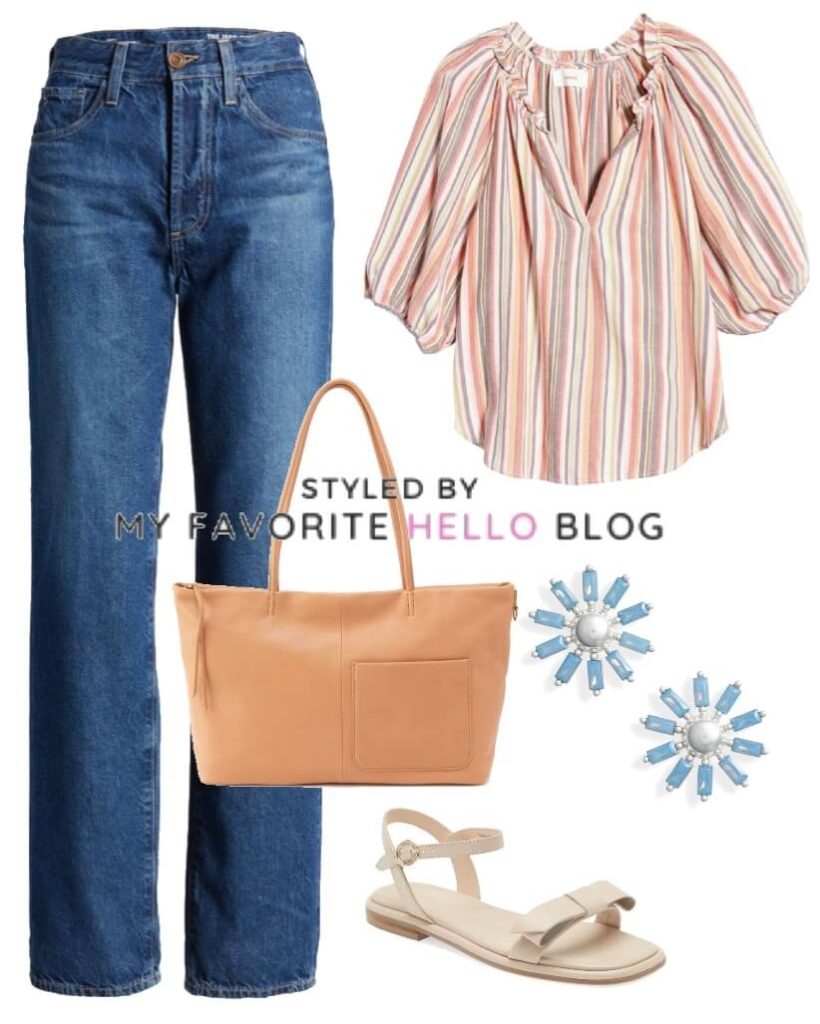 7. Edgy and Elegant Dining Outfit
For an elegant dining experience in Vegas, women over 50 can turn heads with a classic little black dress, a wardrobe staple that never goes out of fashion. I recommend pairing it with a leather jacket for a hint of edginess.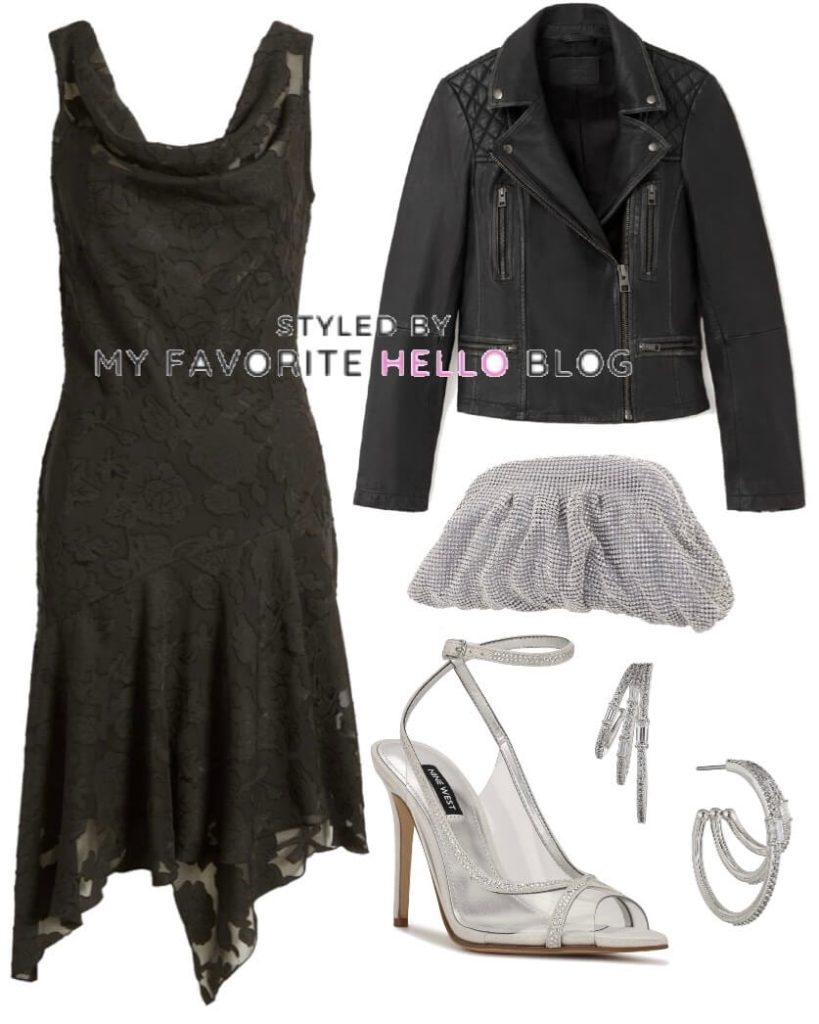 8. Stylish Showtime Outfit
For a night out at an elaborate Vegas show, I recommend an elegant dress that transitions from a restaurant to the theater to a club. A cocktail dress can make a strong style statement for women over 50. 
Don't forget to incorporate practical elements into your outfit, such as undergarments to ensure comfort and support throughout the night. Confidence shines through when you feel comfortable and fabulous in your chosen attire.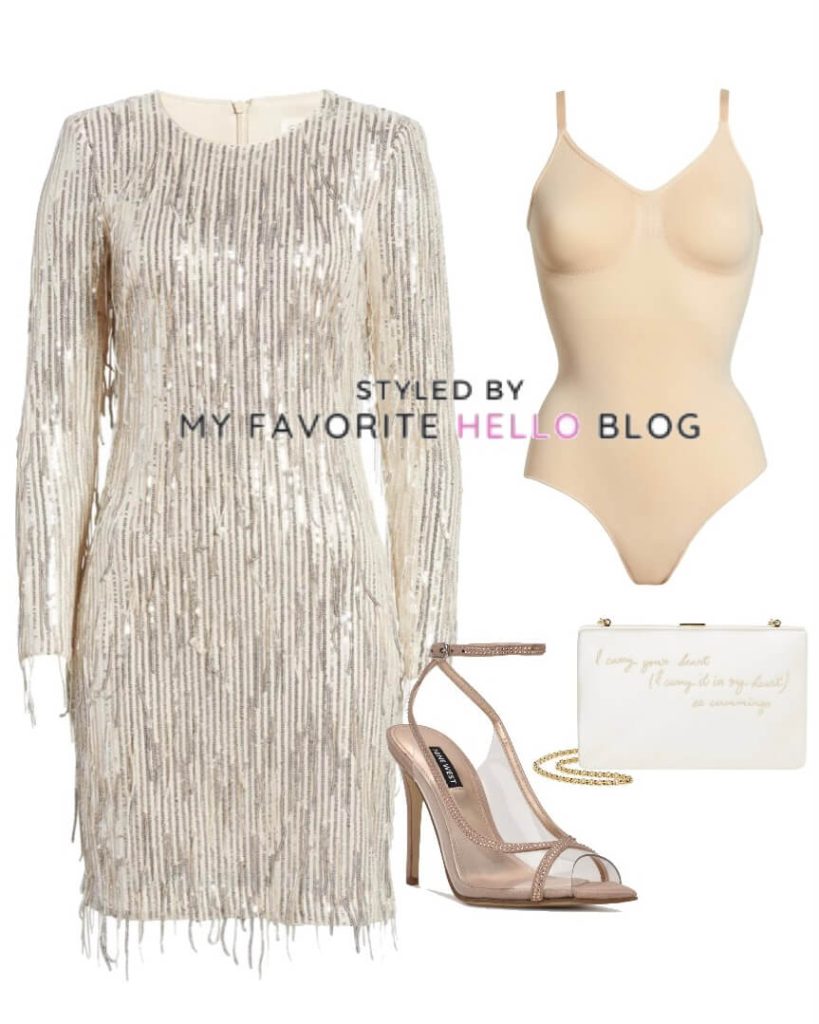 9. Trendy Sightseeing Look
A trendy sightseeing look is perfect for women over 50 exploring the vibrant city of Las Vegas during the day. Start with a comfortable yet stylish base like a lightweight summer dress. Choose a flowy and feminine style in a print or pastel color to add a touch of flair to your daytime outfit. A pair of supportive sandals will ensure you can easily walk around and explore the city.
With this trendy sightseeing look, you'll feel confident and stylish while exploring the best that Las Vegas has to offer.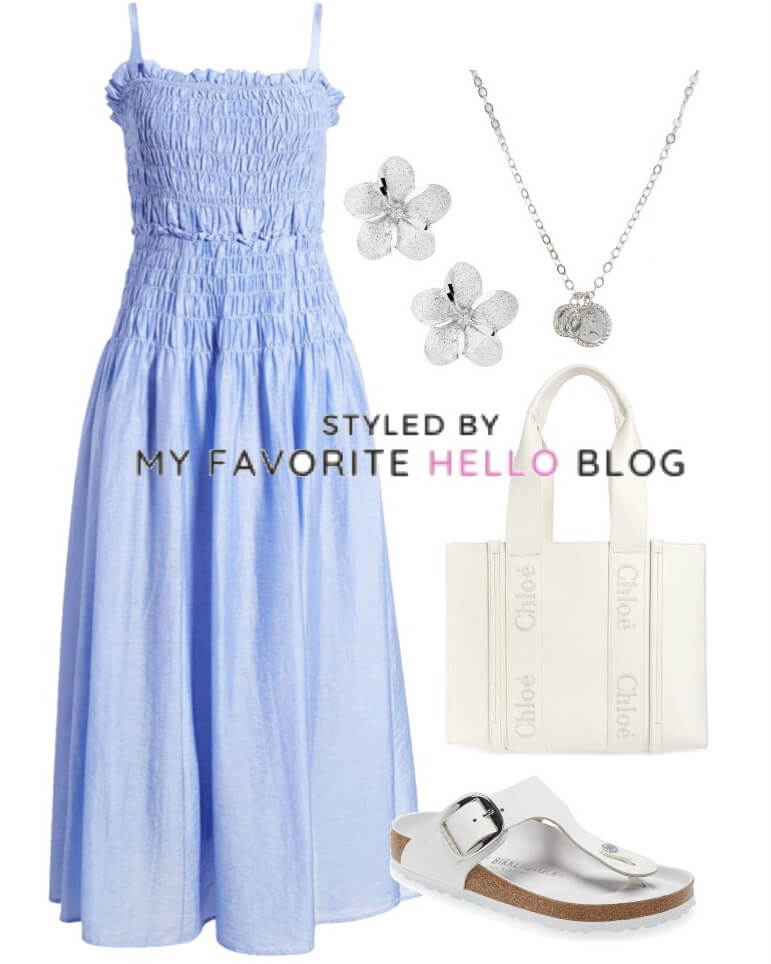 10. Casual Lounge Outfit
A casual lounge outfit is perfect for the day after a late night out. Try a pair of shorts with sneakers and a basic tee.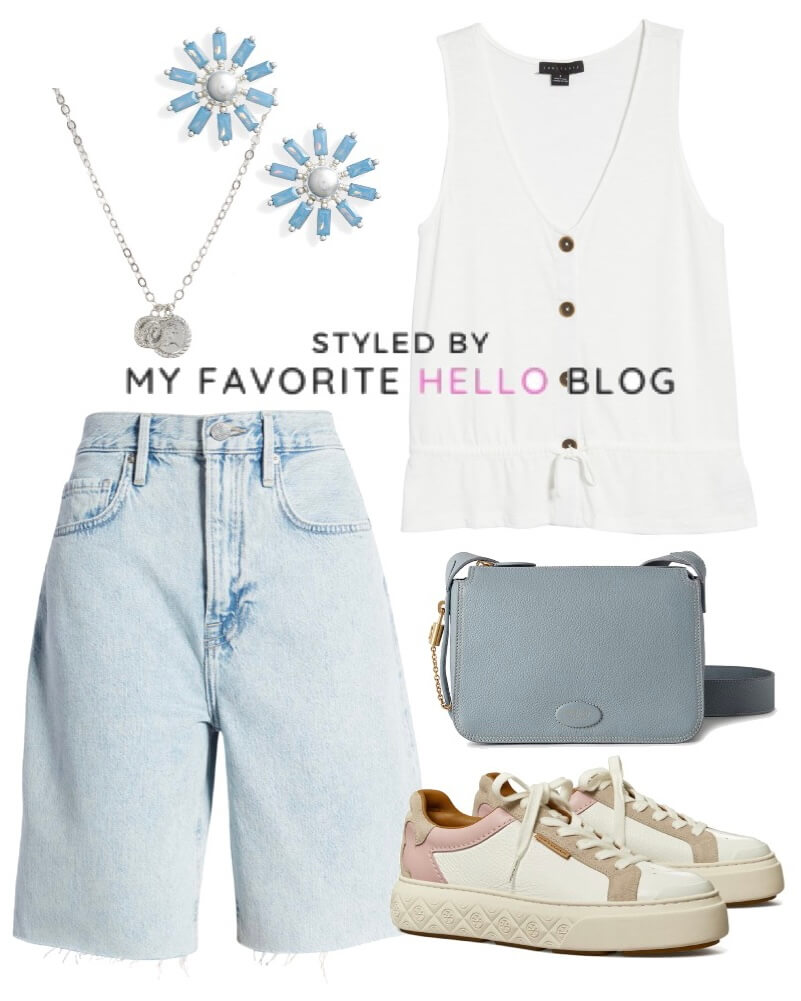 Las Vegas is a vibrant and exciting destination that welcomes people of all age groups. For women over 50, it's essential to strike a balance between comfort and style when selecting outfits for a Vegas trip. With these ten outfit ideas that I've styled for your style inspiration, you'll be well-prepared for various activities, from shows and restaurants to casinos and poolside lounging.
Which outfit is your favorite for a woman over 50 to wear in Vegas?
Creator of My Favorite Hello and Author of this Article
Amy has 10+ years of experience in fashion and beauty launching digital products for global brands Fenty Beauty, Glossier, Marc Jacobs, Men's Wearhouse and Stitch Fix. She also worked previously as a Senior Stylist at Stitch Fix, and currently as an independent virtual stylist, styling men and women for various occasions from everyday outfits, special occasions, to curating a complete closet. Amy is using her styling experience, fashion and beauty expertise to provide style inspiration and outfit ideas so you can shop for yourself and put together stylish outfits that make you feel confident and beautiful. @styledbymyfavehello
You May Also Enjoy Reading:
What to Wear Instead of Shorts When You are Over 50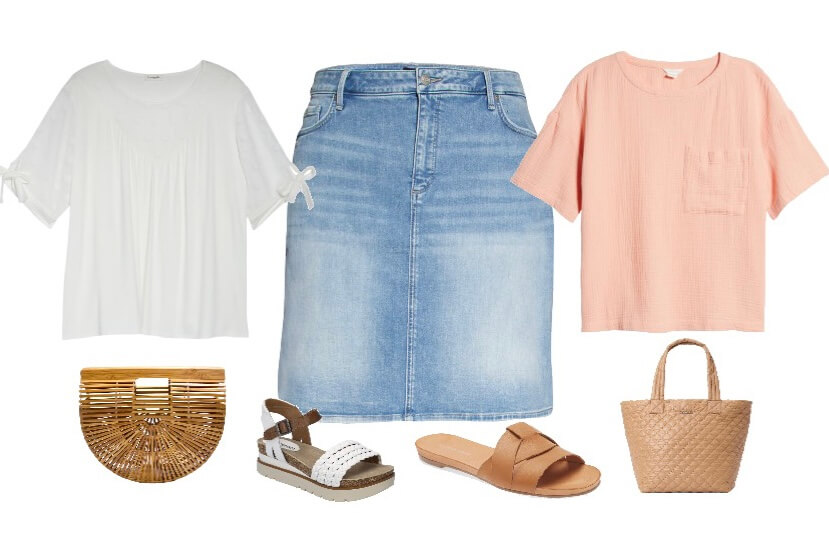 You May Also Enjoy Reading:
What to Wear to a Beach Wedding Over 50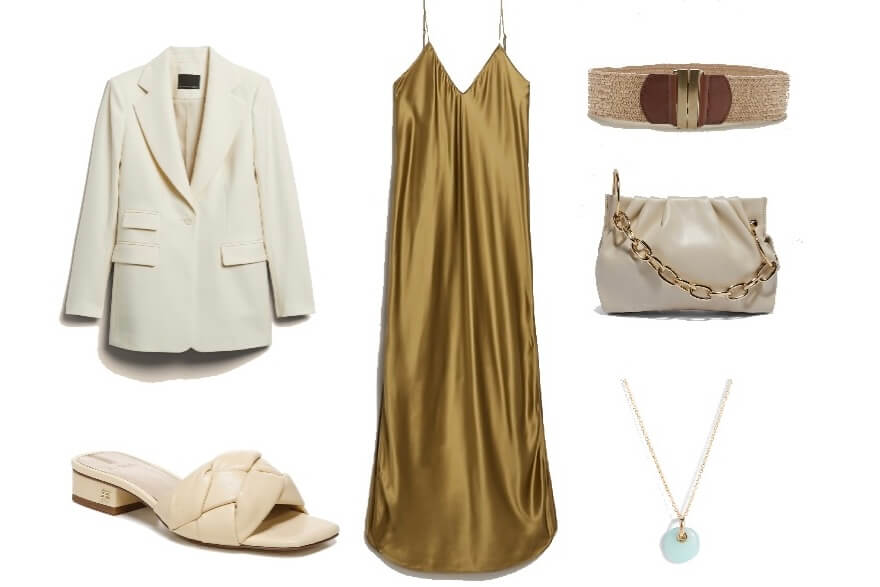 You May Also Enjoy Reading:
Spring Outfits for Women Over 40