How to Wear Yellow Sweatpants Outfits
Sometimes there is nothing more comfortable than wearing sweatpants. While comfortable, sweatpants can still be stylish and trendy. They are comfortable and versatile, which means you can wear them with a variety of different tops and sneakers for an outfit that is casual or dressed up. A pair of yellow sweatpants is especially fun to wear as they can be a statement piece in your outfit. Here are 10 examples of what to wear with yellow sweatpants for a variety of occasions.
This article includes affiliate links which means when you make a purchase using my affiliate links, I earn a commission at no additional cost to you. See my Privacy Policy.
What to Pair with Yellow Joggers
So you just got a new pair of yellow joggers and you're not sure what to wear with them. Don't worry, we've got you covered. Here are a few ideas for outfits that will complement your new joggers. Check out these 10 outfits with yellow sweatpants for some style inspiration.
For a casual look, try pairing your joggers with a T-shirt and a hoodie. This combo is perfect for running errands or hanging out with friends.
If you want to dress up your joggers, try pairing them with heels and a lace camisole. This outfit is perfect for going out on a weekend night.
Another option is to pair your yellow joggers with a tank top and some sneakers. This look is perfect for summer days spent at the beach or the park.
What Colors Match with Yellow Sweatpants Outfits
Yellow is a versatile color but also stands out. When wearing yellow sweatpants, it is perfect to match with white, black, pink, and animal print to keep the yellow sweatpants center stage, and to still look stylish and trendy. Check out the 10 outfits with yellow joggers below for some ideas of what colors can be worn with yellow sweatpants.
Can you Dress Up Yellow Sweatpants?
There's no getting around it: sweatpants are comfortable. And when they're a bright yellow or lime color, they can also be cheerful. But is it really possible to dress them up? The answer is yes! With a few simple styling tricks, sweatpants can go from lounging around the house to out and about town.
Start by adding a dressy top – something with a bit of lace is perfect. Statement jewelry like a pair of hoop earrings or statement sunglasses adds the finishing touch. Choose a pair of heels instead of flats, and you're good to go!
If you're not quite ready to take your sweatpants out on the town, there are still plenty of ways to style them casually for everyday looks. Check out the 10 examples of yellow jogger outfits below.
Where to Buy Yellow Joggers
There are so many retailers that sell yellow joggers in different cuts and styles. I really love shopping at Nordstrom, and Amazon for yellow sweatpants. Find more of my go-to retailers on my Shop My Looks page.
Here are the yellow sweatpants featured in the outfit ideas.
These yellow sweatpants have a bold gold tone, and a cute smiley face for an added touch of fun.

These yellow sweatpants have a lime undertone.

These muted yellow sweatpants are the perfect backdrop for an outfit with yellow sweatpants.

Yellow Sweatpants Outfit Ideas
Sweatpants are a comfortable and versatile clothing item that can be dressed up or down. Here are a few ideas for how to wear yellow sweatpants.
1. Yellow Sweatpants with Black High Top Sneakers
For a casual look that will have you feeling your best, combine a bright yellow pair of sweatpants with some black high top sneakers. The contrast of colors will make you stand out from the crowd, while the comfort of the outfit will keep you feeling great all day long. Whether you're running errands or just lounging around at home, this is a sweatpants outfit that you'll love putting on.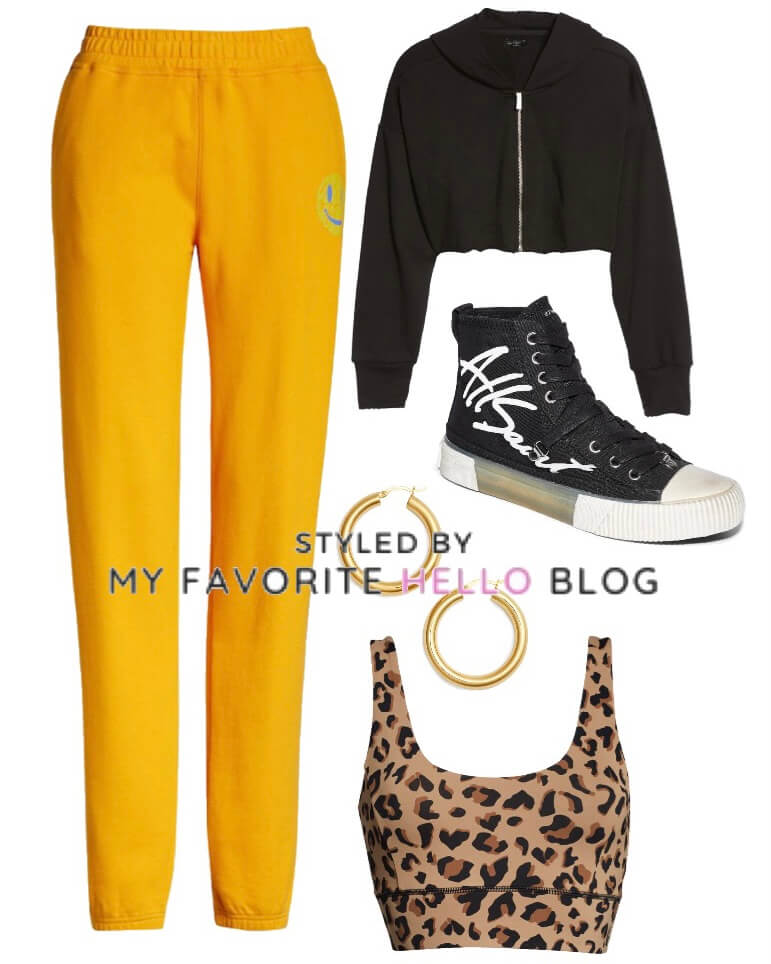 2. Casual Outfit with Yellow Sweatpants
A casual outfit can be spiced up with a pop of color, as shown in this look with yellow sweatpants. The pants are comfortable and easy to wear, making them perfect for a relaxed day or weekend. A grey tank and sneakers complete the ensemble. This outfit is perfect for going from the gym to running errands.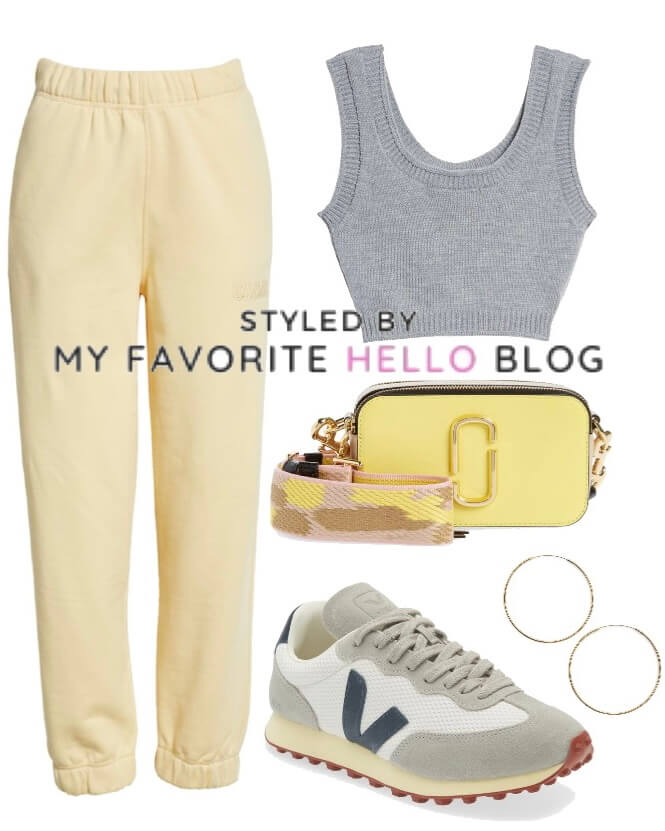 3. Yellow Joggers and Cropped Hoodie Outfit
These yellow joggers and cropped hoodie outfit is perfect for spring. The outfit is very comfortable to wear and it's perfect for the spring weather while still being stylish and casual.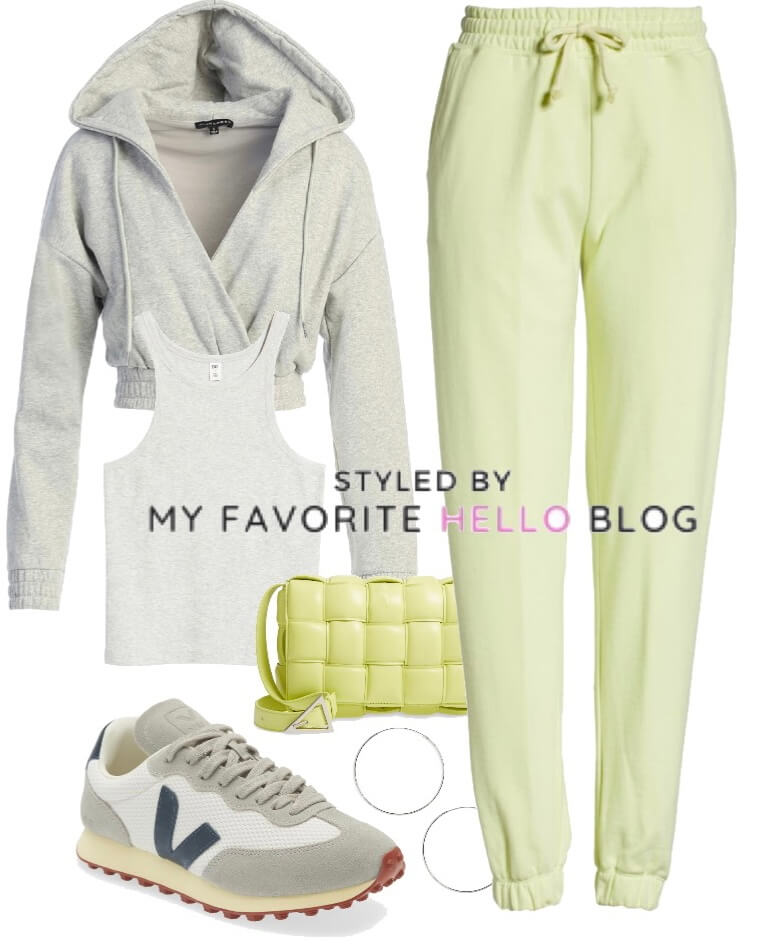 4. Sweatpants with Heels and a Baby Tee
Sweatpants with heels and a baby tee is perfect if you want to dress up your sweatpants. The sweatpants will keep you comfortable, while the heels and baby tee add a touch of glamour. This outfit is perfect for when you want to feel stylish and relaxed at the same time.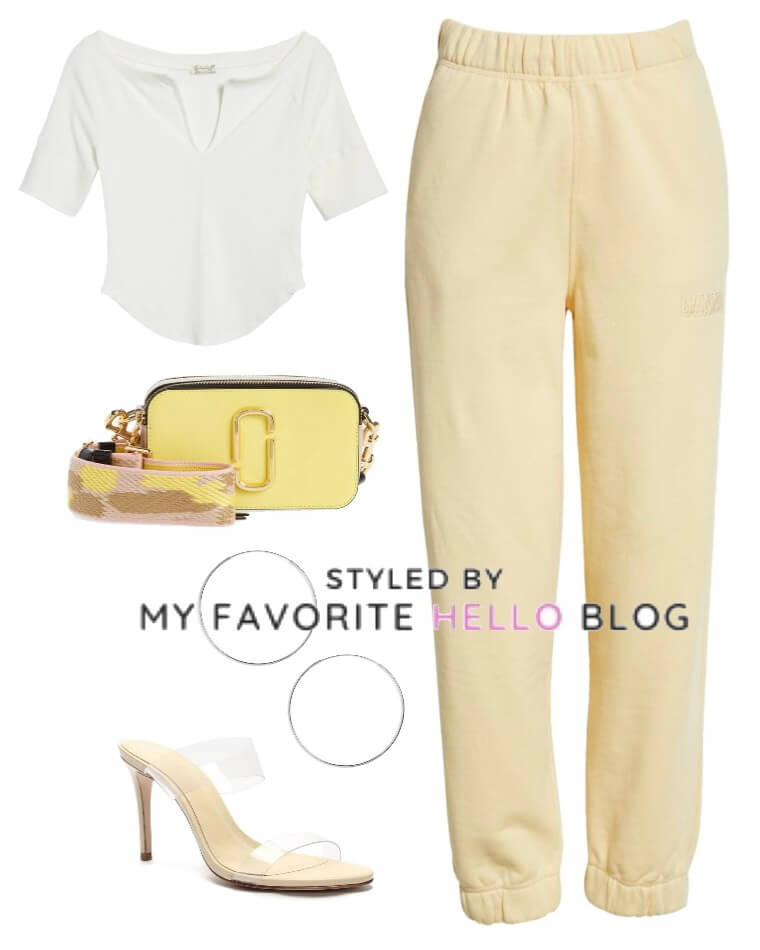 5. Yellow Sweatpants for the Gym
Are you looking for a yellow sweatpants outfit that look stylish while going to gym that you can also work out in. Try these yellow joggers with an animal print sports bra and black cropped hoodie for a stylish and practical outfit.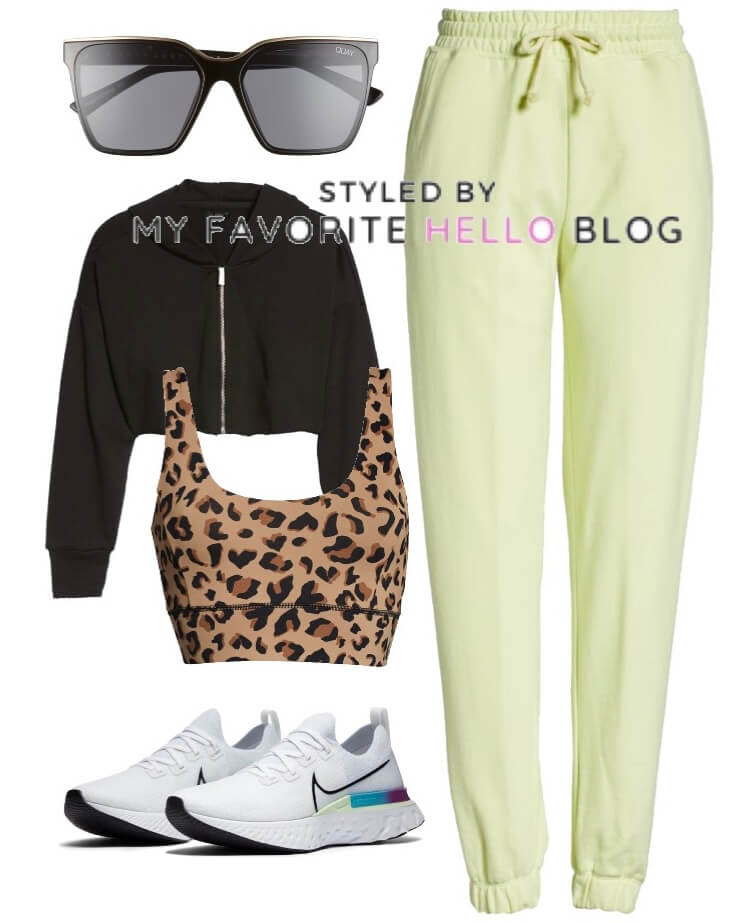 6. Casual Outfit with Yellow Sweatpants and White Sneakers
Try these yellow sweatpants with a pair of white sneakers and a matching white hoodie for a casual, everyday look that is perfectly comfortable yet polished.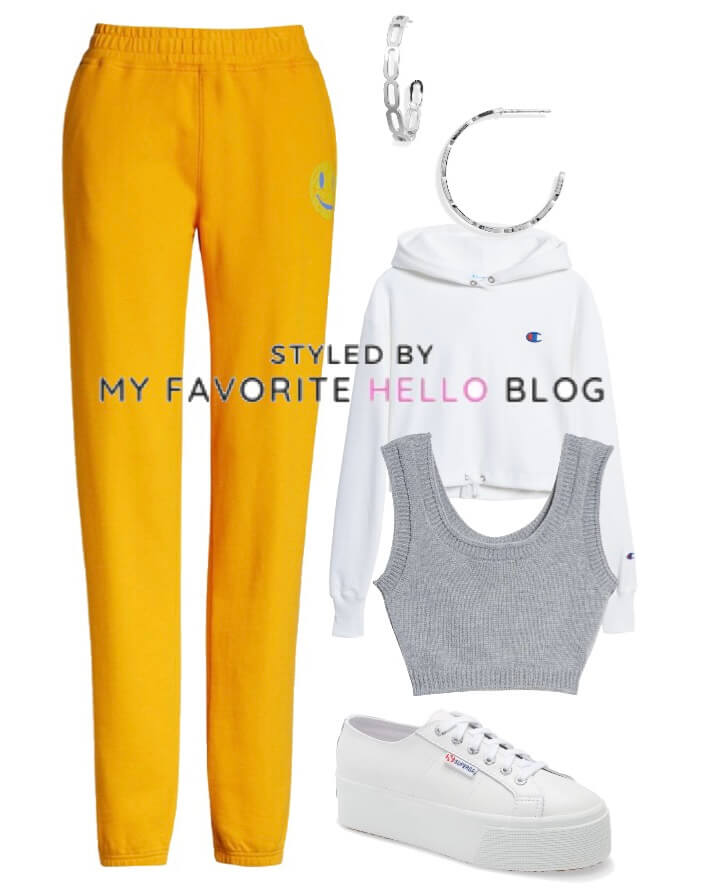 7. Yellow Sweatpants with Black Everything
The color yellow has a range of meanings, including happiness, optimism, and sunshine. For many people, wearing yellow signifies a happy and carefree feeling. This is the perfect outfit for when you want to feel confident and stylish. The black jacket offsets the brightness of the yellow pants and brings together the look. You can wear this outfit with any type of shoes, but try a black pair for an all black everything.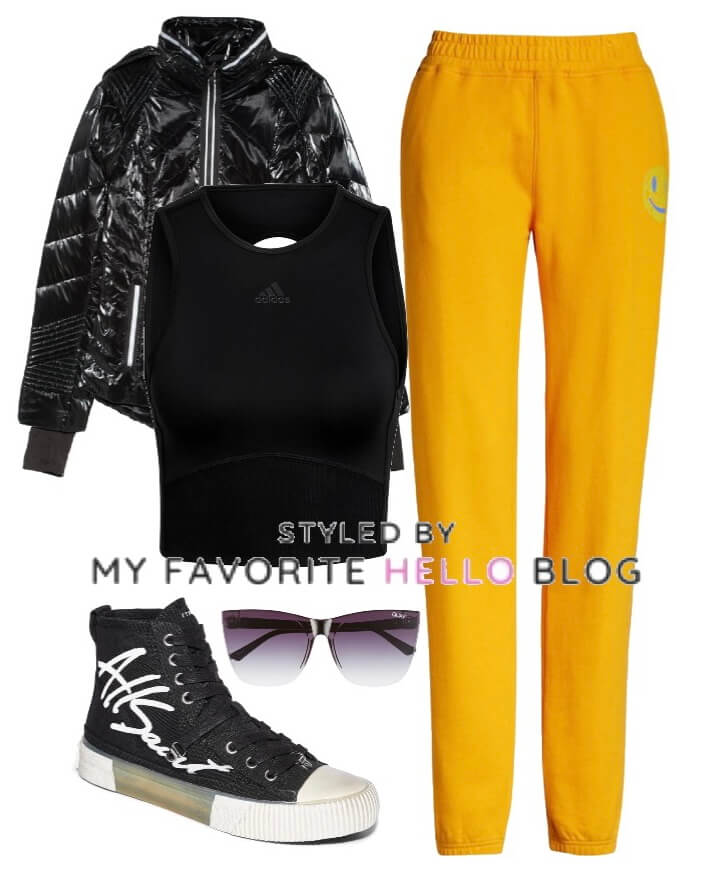 8. How to Dress Up Yellow Sweatpants
Sweatpants are a comfortable and casual clothing item, but can also be dressed up with the right accessories. One way to dress up sweatpants is by wearing a lace camisole with them. A lace camisole adds a touch of femininity to sweatpants and makes them look more polished. Finally, adding a statement necklace or earrings can also dress up sweatpants. Statement jewelry adds personality and glamour to an outfit, and can make even the most basic clothing look chic. With a few simple additions, sweatpants can be transformed from casual to elegant!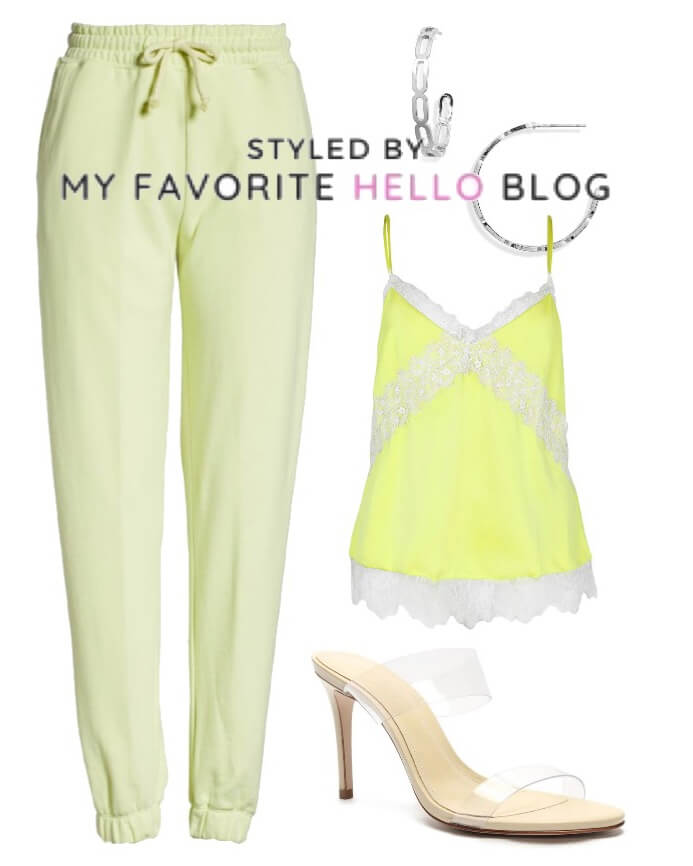 9. Pink and Yellow Jogger Outfit
There are so many color combinations you can wear when it comes to jogger outfits. For a fun and flirty look, try a pink and animal print combo. Start with a pair of yellow joggers and add an animal print top and a powder pink jacket. This look is sure to turn heads, while being extra warm and cozy!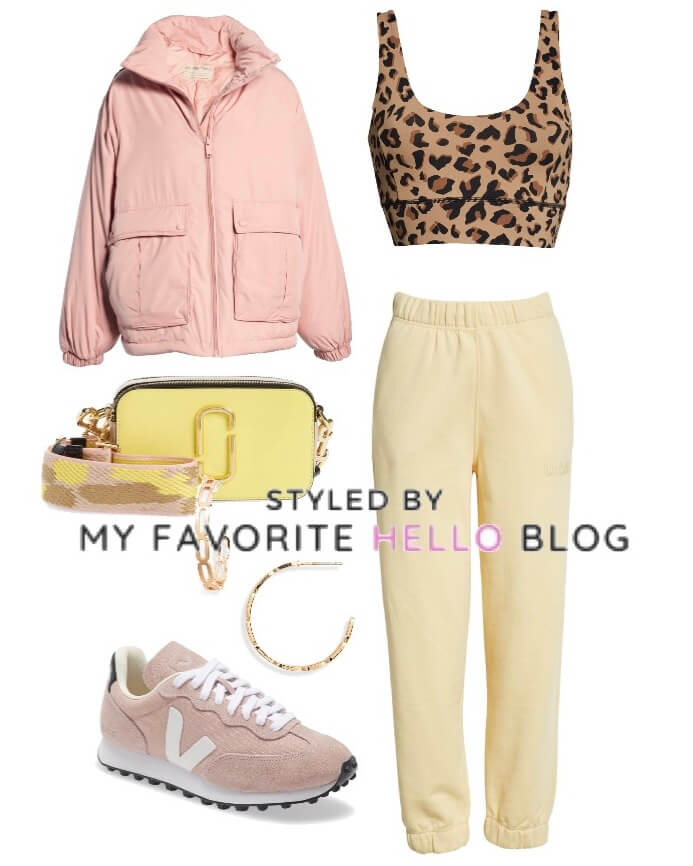 10. Joggers and a Graphic Tee Outfit
A popular outfit choice for a casual day is joggers and a graphic tee. This outfit is comfortable and can be dressed up or down, depending on the accessories you choose. For example, if you want to dress it up a bit, add heels and a statement necklace. If you're going for a more casual look, try sandals or sneakers. Joggers are available in a variety of styles and colors, so you can find the perfect pair to match your graphic tee. This combo is perfect for running errands, going to school, or just hanging out with friends.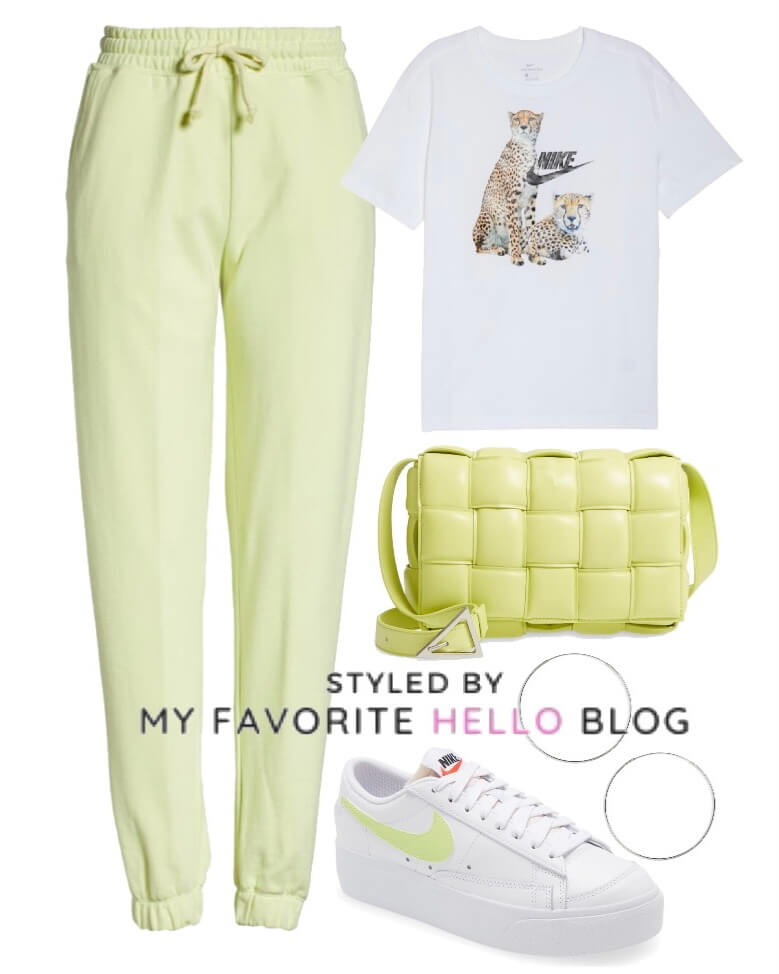 Which outfit with yellow sweatpants is your favorite?
Creator of My Favorite Hello and Author of this Article
Amy has 10+ years of experience in fashion and beauty launching digital products for global brands Fenty Beauty, Glossier, Marc Jacobs, Men's Wearhouse and Stitch Fix. She also worked previously as a Senior Stylist at Stitch Fix, and currently as an independent virtual stylist, styling men and women for various occasions from everyday outfits, special occasions, to curating a complete closet. Amy is using her styling experience, fashion and beauty expertise to provide style inspiration and outfit ideas so you can shop for yourself and put together stylish outfits that make you feel confident and beautiful. @styledbymyfavehello
You May Also Enjoy Reading:
How to Style Cute Sweatpants Outfits 12 Ways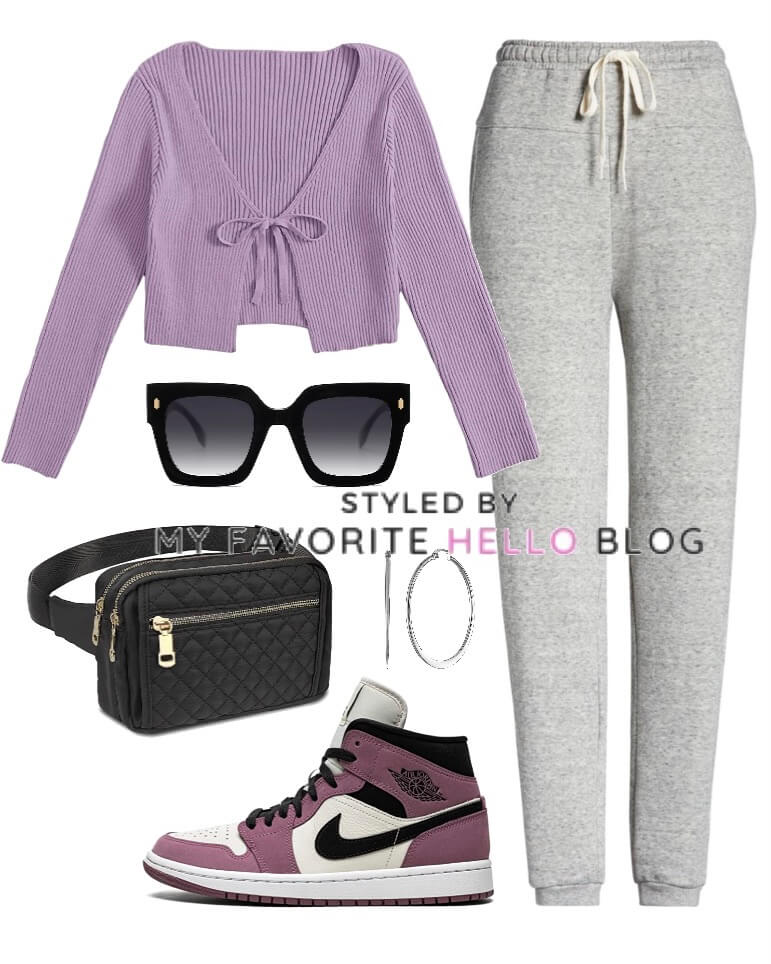 You May Also Enjoy Reading:
10 Casual Leggings Outfit Ideas