Everything You Need to Know About Comparing Stitch Fix and Wantable
Stitch Fix is probably the most well-known styling subscription box with millions of customers that love the service. However, Stitch Fix has many competitors and alternatives, such as Wantable. However, is Wantable better than Stitch Fix? This blog post will compare Stitch Fix vs Wantable on every aspect that you need to know!
This blog uses affiliate links, which means when you make a purchase with my affiliate link, I earn a commission at no additional cost to you.
---
Follow me on Instagram: @myfavehello
Follow me on Instagram: @styledbymyfavehello
Follow me on Pinterest: @myfavehello
Follow Me on LikeToKnow.It: @myfavehello to shop all my outifits!
---
Overview of Wantable vs Stitch Fix
Stitch Fix is an online personal styling service. Stitch Fix is a try before you buy retail model that blends technology with expert Stylists. It's goal is to help you find clothing tailored to your taste, budget, shape & lifestyle.
Wantable is a subscription clothing box, delivering signature looks and brands to your doorstep. Wantable uses a combination of stylists and technology to handpick apparel or active gear based on your budget, size and style. Wantable allows you to try on the clothes before buying so you can keep what you want, and return what you don't, and only get charged for what you keep.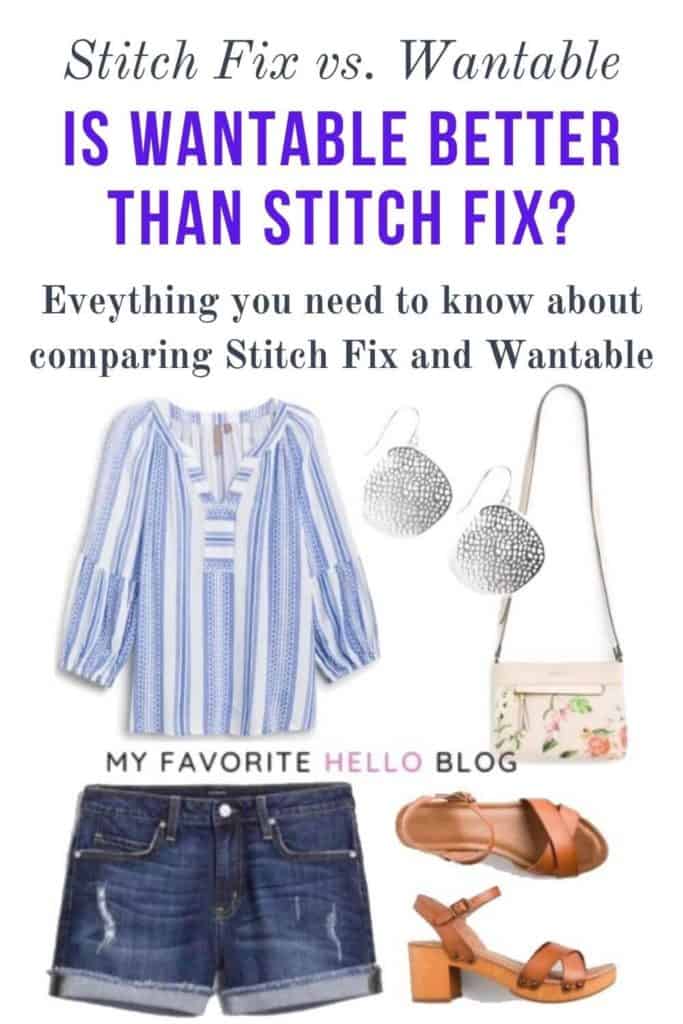 Who is Stitch Fix and Wantable for?
Women's Fix: A women's Fix is for women and includes all types of apparel and accessories.  A women's Fix is also for petite, plus size, and maternity.
Men's Fix: A men's Fix includes all types of apparel and accessories. A men's Fix can also include tall sizes.
Kid's Fix: A kid's Fix is for kids apparel and shoes for sizes 2T to 14.
Wantable refers to its clothing boxes it sends out to clients as "Edits." There are three edits that you can pick from: Style Edit, Active Edit, Men's Active Edit. Wantable is for women looking for apparel, accessories and athleisure or workout clothes and for men looking for loungewear or activewear.
Keep reading for exact sizing information for both Stitch Fix and Wantable.
The winner in this section: Stitch Fix and Wantable

Stitch Fix caters to kids and maternity whereas Wantable does not. However, I love that Wantable does a box specific to Active or Sleepwear.
How Do Stitch Fix and Wantable Work?
Getting Started with Your Profile
Stitch Fix: To get started with Stitch Fix, you will want to fill out your style profile so that Stitch Fix knows what types of styles, sizes, and price points to send you. You will provide the follow information:
Height, weight, dress size, shirt & blouse size, bra size, skirt size, pants size, jeans waist, shoe size
Proportions: arms, shoulders, torso, hips, legs
Preferred fit on top and bottom
Types of jeans you prefer: style, rise, length
Flaunt or downplay: arms, shoulders, back, cleavage, midsection, rear, legs
Rate 12 looks
Frequency of occasions: work/business casual, cocktail/wedding/event, laid-back casual, date night/night out
Where do you typically buy your clothes?
Adventure level of Fix
Which styles do you want to incorporate?
Accessories and jewelry style: classic, statement, both
Preferred tone of jewelry: silver, gold, both
How often would like to receive categories: tops, blazers, jackets & coats, pants, jeans, shorts, dresses, shirs
How often would you like to receive the following accessories: bags, scarves, earrings, necklaces, bracelets, shoes
Would you wear the following shoes: heels, wedges, booties, flats, sandals, fashion sneakers
Avoids: colors, prints, fabrics
Price preferences: accessories, bottoms, dresses, jewelry, outer layers, tops, shoes
Luxe categories interested in
Birthday, occupation, parent, objective
Pinterest board, instagram handle, twitter handle, linkedin
Wantable: The first thing you will do to start Wantable is complete your style profile. You will take a comprehensive quiz on your size and style preferences so Wantable can get to know you.  You can expect to provide the following information.
Height, weight, jacket size, bra size, shirt size, bottom size, shoe size, dress size
Proportions for shoulder width, arm length, torso length, hip width, leg length
Body Shape (choose one): pear, straight, hourglass, apple, or full bust 
Occasions frequency: Trendy items, business casual/work, laidback/casual, date night/night out
Rate different styles: classic, glam, rock, boho, casual chic, 
Rate clothing fit: dress length, top half, pant length, pant rise, pant style, highlight body parts
Price ranges: Top, bottoms, sweaters, jackets, denim, dresses
Apparel Would like to receive: dresses/jumpsuits, tops, bottoms, denim, sweaters, jackets, accessories
Type of types would like to receive: Sleeveless, short sleeve, long sleeve
Denim would like to receive: denim, distressed
Types of bottoms would like to receive: skirts, shorts, pants
What you think of various colors
What patterns you prefer
What you think of various materials
Types of accessories you would like to receive: earrings, scarves, necklaces, bracelets, handbags
Price ranges: scarves, handbags, jewelry
What you think of metal tones: sliver, gold, multi
Prefer long or short necklaces
Account Note
The winner in this section: Wantable

While Stitch Fix and Wantable have comparable style profiles, I appreciate that Wantable gathers more information regarding clothing fit preferences. With a style box, the biggest challenge will be fit for your unique body, and with the additional information that Wantable asks for, I think they will get closer to a better fit.
Try Wantable with my referral link and receive a $25 account credit towards you first Wantable Edit. It applies to your first Style, Active, Sleep or Men's Edit.
Cost, Discounts, and Sales
How Much Does Stitch Fix Cost?
Stitch Fix charges a $20 styling fee for each Fix. If you buy any items from your Fix the $20 styling fee will be applied to your purchase. If you buy nothing from your Fix, you lose the $20 styling fee.  The only discount Stitch Fix offers is a "keep all" discount; if you keep all 5 items, you will receive an additional 25% off your entire Fix. Shipping and returns are free always free. The 25% discount does not apply to items bought directly from the Stitch Fix app.
You can select to automatically receive Fixes in these frequencies: every 2-3 weeks, every month, every other month, every 3 months, or on demand (schedule when you want one). You can skip or cancel anytime online or in the app.
What is the Stitch Fix Style Pass and how do you get a Style Pass?
Some Stitch Fix clients are offered a Style Pass. A style pass is $49 per year and allows you to order a Fix as many times as you want during the year without having to pay the $20 styling fee regardless of whether you keep anything or not from your Fix. The $49 cost of the style pass is applied to your first purchase in the year, so as long you buy at least $49 worth of clothes, you are basically ordering Fixes for free.
It is not certain how a client qualifies for the Style Pass. It seems to be offered randomly to customers based on discussions in Stitch Fix groups, but I think it's probably triggered after you buy a certain amount of items in your Fixes.
How Much Does Wantable Cost?
Each Wantable Edit has a $20 styling fee that is applied towards anything you buy from that Edit. In addition, if you buy 5 or more pieces, you'll receive a 20% discount on your entire purchase.
You can select to receive an edit automatically in these frequencies: ongoing (or back to back), every month, every 2 months, or every 3 months. You can cancel anytime easily online under your plan settings. Like Stitch Fix, shipping and returns are always free.
Does Stitch Fix have Sales?
No, Stitch Fix does not have sales, and individual items do not go on sale. The only discount currently provided is the 25% keep all discount for keeping all 5 items in your Fix, which has historically never been increased, even temporarily.
Does Wantable have Sales?
Yes, Wantable has periodic sales. It is not certain how often sales occur, but I wrote about the Wantable Clearance Edit that occurred last year, which offerred up to 75% off (increased from the normal 20% off) depending on the number of items you keep. Wantable also occasionally marks down individual items which you will see in red on your invoice.
Referral program
Stitch Fix and Wantable both have a referral program.
The standard Stitch Fix referral bonus is $25 for both you and the person that signs up using your referral link. Wantable only give a referral bonus to the giver, and the person signing up does not get any referral link. Keep reading for my referral link just for my readers which does give you $25 off your first edit!
The winner in this section: Stitch Fix

While Stitch Fix doesn't have sales like Wantable, the 25% "keep all" discount is higher than Wantable's 20% discount. In addition, if you are lucky enough to get a style pass, I like that you basically get the style fee waived, which means you can try Fixes completely risk free. Stitch Fix also has the superior referral program that gives a referral bonus to both the giver and receiver.
What Can You Expect to Receive?
How Many Items Do You Receive?
Each Stitch Fix box includes 5 items. However, you can choose to include "add-ons" which are usually underclothes or pajamas which will be shipped with your Fix.
Wantable includes 7 items in an Edit.
What Types of Items?
Stitch Fix and Wantable both carry clothing, accessories and jewelry. Expect the usual categories such as tops, sweaters, bottoms, outerwear, activewear, handbags, necklaces, and bracelets. In addition, Stitch Fix offers shoes, while Wantable currently does not.
What Brands Do Stitch Fix and Wantable Carry?
Stitch Fix claims to carry 1,000+ brands, including their own exclusive labels. I have compiled a comprehensive list of Stitch Fix brands.
According to Wantable, they partner with hundreds of premium brands such as Hudson, Cupcakes & Cashmere, Kensie, Kut From the Kloth, Lyssé, Onzie, Beyond Yoga, Wear it to Heart, Rhone and Alternative Apparel. Check out this page to get an idea of the brands Wantable carries.
What Sizes are Carried by Stitch Fix and Wantable?
Stitch Fix carries the following sizes:
Womens: XS-XXL, and plus sizes in 14W-24W, 1X-3X. Petite and maternity sizes
Kids: 2T – 14
Mens: XS-3XL, 28-48-inch waists, 28-36-inch inseams, and shirts and blazers in tall sizes
Wantable carries the following sizes:
Women: XS-3X (0-24W). Petite sizes. Does not carry maternity.
Men: S-XXL
How Much is an Average Stitch Fix or Wantable box?
Stitch Fix offers a range of prices, but they claim the average price is $55. In my experience most tops, blouses and sweaters are usually around $68-78 and jeans around $78-98. If you are a client at a lower price point, then you can receive tops around $38-44 and jeans around $58-68. Luxe prices are usually around $198-398. Stitch Fix does not restrict sending items to only your preferred budget selected in your profile.
Individual Style items typically fall within a $50-$100 range, but can be as low as $30. Individual Active and Men's Active items are typically $30-$70 each. Wantalbe will only send you items in the price ranges you've "loved" or "liked" in your quiz. Check out The Stream to get a better of idea of their prices.
Both Stitch Fix and Wantable will price match items if you find them cheaper from another retailer.
The winner in this section: Stitch Fix

Stitch Fix is the clear winner in this section. They cater to a much more robust range of styles, sizes, and budgets.
Other Cool Features
Stitch Fix lets you buys directly from their app so you can shop for yourself, instead of waiting for your next Fix. The only downside is that when you shop directly, you pay full price, as there is no discount for buying 5 items. Shipping and returns are still free.
Wantable does let you mark in The Stream which you would like to receive in your Edit, but you cannot buy their items outright. However, Wantable does offer various Themed Edits which is really fun. I like the idea of themed edits because you are guaranteed a full box with items that follows the theme or season.
Wantable released 7 new themed edits for summer: Summer Miles, Out of Office, Summer Hours, Summer Selfies, Great Outdoors, Sip & Sunset, Sky's the Limit. Hurry, these are only available for a limited time!
The winner in this section: Wantable

Stitch Fix usually has issues during seasonal transitions, but Wantable always has Themed Edits that follow the season so you are guaranteed a full 7 items that are season appropriate.

A couple of common Stitch Fix complaints is that the clothes are expensive, so while it's great you can buy directly from their app, I don't like the idea of paying full price. In fact, I think you can find many Stitch Fix brands on sale elsewhere online, and I highlight many of these sales in this post: Stitch Fix Brands On Sale This Week!
My First Wantable Review
Check out my full review of Wantable in My First Wantable Edit | My Experience & Review which includes what I received in my first Style Edit.
In summary, I was pleased with my first Wantable Edit. It was a fall Edit, and I felt what I received aligned very well with my style and size profile and requests, although I would like to have received more cozier sweaters. I do appreciate that I asked for no floral prints and received solid colors and everyday, classic styles as I requested.
For my next Wantable Edit, I plan to ask for lower priced items to see what they send. Stay tuned for this review on the blog soon.
Overall Summary: Is Stitch Fix or Wantable Better?
Stitch Fix wins in most sections above, and offers more variety, styles, and sizes. They have also put a lot of work into creating an excellent customer experience, from their responsive customer service to their interactive app where you can shop directly from. Stitch Fix is a must try if you are looking for a style subscription service.
However, Wantable is a close second to Stitch Fix, and does a great job of matching style and size based of your profile. Therefore, while Wantable may not yet have the robust offering of Stitch Fix, it still is a must-try clothing subscription service!
Try Stitch Fix and Wantable Now!
If you enjoyed this head-to-head comparison of Stitch Fix vs. Wantable, and want to try either clothing subscription service, please consider using my referral link to sign up.
If you sign-up for Stitch Fix using my referral link, you will receive $25 towards your first Fix which will cover the entire $20 styling fee, plus leave $5 towards the rest of your purchase!
I also have a Wantable referral link, which will provide $25 off your first Edit, including Style, Active, Sleep or Men's Edit. You will receive a notification after clicking my referral link that says: Your $25 credit has been applied.
Bonus Section: How to Improve Your Stitch Fix Experience
Check out these additional posts if you're wondering how to have a better Stitch Fix experience. A positive experience with Stitch Fix and Wantable depends a lot on YOU! Make sure you are leaving a note that is worded clearly to help the algorithm and the stylist find what you want. It's also best to be realistic about your expectations. I go over my tips and tricks for the Best Stitch Fix experience in the following blog posts. Although written specific to Stitch Fix, much of these tips and tricks apply to both Stitch Fix and Wantable!
10 Tips for the Best Stitch Fix Experience
How to Write an Effective Stitch Fix Note
10 Tips for Creating an Effective Stitch Fix Pinterest Board
Let me know if you have any questions either on Stitch Fix vs Wantable in the comments.
You May Also Enjoy Reading:
Stitch Fix vs. Trunk Club: More Style and Quality for Your Money
Stitch Fix vs. Fashom | How They Compare