My First Wantable Review
I have been a long-time client of Stitch Fix, an online styling service. So when I heard about Wantable, a styling service similar to Stitch Fix, I couldn't wait to try it. For my first edit I asked for cute and cozy tops and sweaters.  Keep reading for my first Wantable review and why you should try it too if you like online styling services. Keep reading on why you should try a Wantable edit now and use my referral link for $25 towards your first Edit! 
This article includes affiliate links which means when you make a purchase using my affiliate links, I earn a commission at no additional cost to you. See my Privacy Policy.
How Wantable Works
Before getting into my first Wantable review, here's some information on the Company and ordering your first Edit.
Wantable is a personal styling service that uses a combination of stylists and technology to handpick apparel or active gear based on your budget, size and style. Here is how you get started with ordering an Edit.
Choose a Style Edit or Active Edit using my Wantable referral link and receive $25 towards your first Edit!
STEP 1: Choose the edit type you want. Try more than one if you want!
Style Edit: Curated apparel and accessories in styles you love
Active Edit: Athletic and athleisure styles
Men's Active Edit: Performance and loungewear
STEP 2: Take the style quiz.
Take a short style quiz on your size and style preferences so they can get to know you.
STEP 3 (optional step): Visit the stream
Check out the stream for styles that match your preferences. Request items you love.
STEP 4: Order for delivery
Order your personally styled edit and receive your edit in 10-17 days after ordering. The styling fee is $20 and is applied to what you keep.
STEP 5: Try it on at home
Receive 7 handpicked pieces to try on in the comfort of your home.
STEP 6: Keep what you love, return what you don't
You're only billed for what you keep, and your $20 styling fee is applied to your purchase. If you keep 5 or more items, you will receive 20% off your entire edit! Return the rest in the pre-labelled bag.
Choose a Style Edit or Active Edit using my Wantable referral link and receive $25 towards your first Edit!
What is a Wantable Style Edit?
The Style Edit is latest styles and trends. Need cute tops and bottoms for the current season? Your personal stylist will curate an Edit just for you. Get seven expertly-styled pieces and advice on how to put looks together.
What are you waiting for?!
Order Now: STYLE EDIT
What is an Active Edit?
The Active Edit is an edit with fitness and athleisure gear. An early morning workout can lead to toddler wrangling and webcam calls. Get looks that make sense: seven handpicked pieces that work as hard as you do.
What I Received from Wantable in my First Edit
I requested cozy tops and jeans for fall. Here is what I received.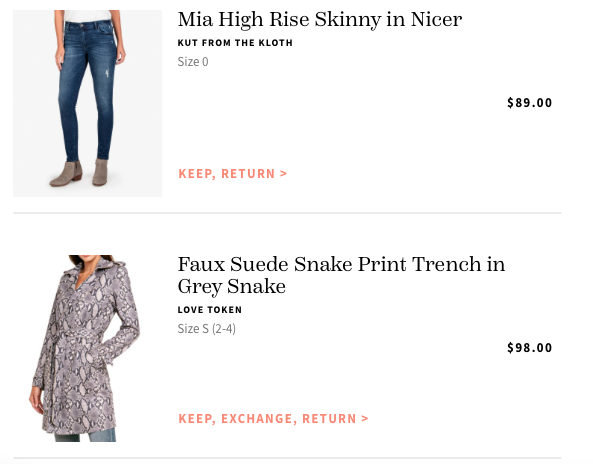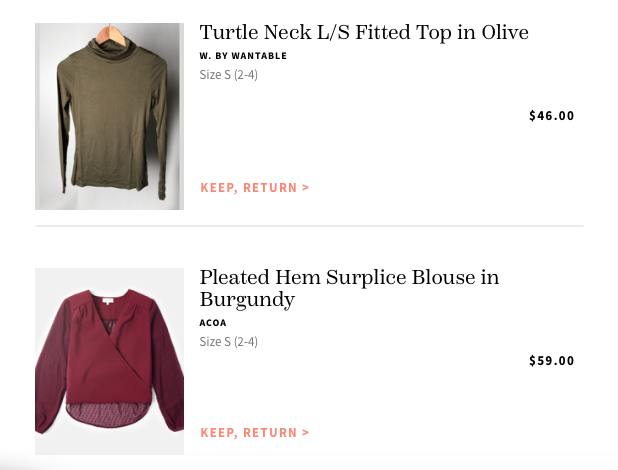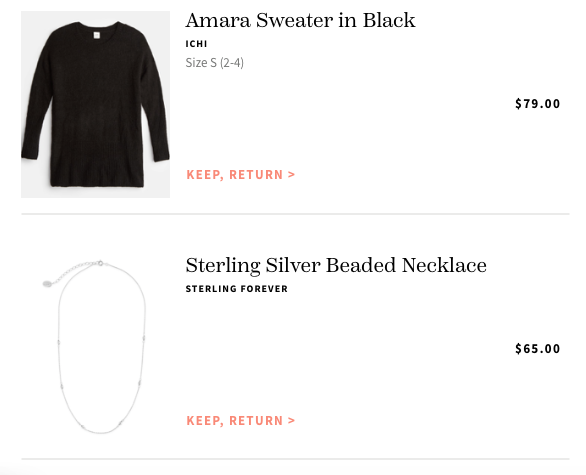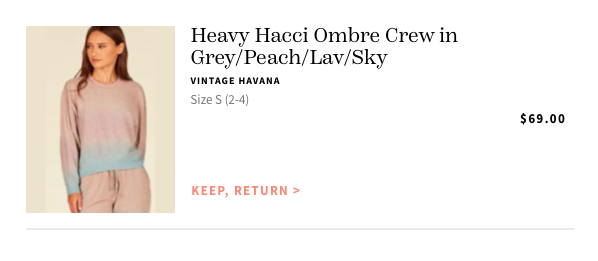 My Honest Wantable Review
It was very easy to fill out the style quiz, and it was very comprehensive of my style and fit. They asked a lot of good questions regarding fit such as my body type, and what I like to flaunt or hide. It was very easy to order an Edit, and to track it's delivery. It came in about 7 days after I ordered it.
I would have to say that Wantable did a good job on this first Edit. I asked for tops and jeans for fall, and felt that what I received was aligned with my request, profile style preferences, and price ranges. However, I was hoping for some cozier sweater styles, but appreciate the variety of items I received. Wantable sent me classic but still stylish looks, in solid colors, which I prefer and requested.
The Kut From The Kloth Mia high rise jeans, ICHI Amara sweater, and ACOA blouse were the best items in the box. The jeans are also something I can usually find on sale at Nordstrom or Macys, and since I wasn't receiving any discount on the price I passed on these as well. I would have kept the black sweater, but decided I didn't need another black sweater in my closet. I probably would have kept the ACOA blouse, but I'm trying to lose weight, and decided I can wait.
I don't wear turtlenecks so that was a pass, but I did find it to be good quality for it being Wantable's own brand. The Love token trench and Vintage Havana crew were both cute and my style, but I felt the quality wasn't high enough to justify the price.
The prices were a bit high in my opinion, but still within reason given the budgets I provided, so they did stay in my budget ranges. I'm also a huge sale shopper, so I rarely pay full price for my clothes, and can usually find similar clothes on sale. Compared to Stitch Fix, however, the prices are pretty similar for these brands. For a full comparison check out Stitch Fix vs. Wantable: Is Wantable Better?.
It was very easy to return what I wasn't keeping in a prelabelled bag after checking out online. I paused my subscription, and it was very easy to do it online, as well, which I really appreciate.
I definitely recommend giving Wantable a try, especially if you like Stitch Fix. It's very similar in my opinion to Stitch Fix.
Summarizing My Wantable Review: Wantable did a good job listening to my requests and following my quiz profile. The styles and fit were on point. Ordering, tracking and checkout were super easy online. I'll be interested in doing another Edit with a smaller budget specified to see what they send me next.
Choose a Style Edit or Active Edit from Wantable now and use my referral link for $25 off your first Edit!
A Cheaper Alternative
If you are looking for a cheaper alternative to Wantable, check out Nadine West. I recommend Nadine West for anyone looking for a budget-friendly style subscription service.
Creator of My Favorite Hello and Author of this Article
Amy has 10+ years of experience in fashion and beauty launching digital products for global brands Fenty Beauty, Glossier, Marc Jacobs, Men's Wearhouse and Stitch Fix. She also worked previously as a Senior Stylist at Stitch Fix, and currently as an independent virtual stylist, styling men and women for various occasions from everyday outfits, special occasions, to curating a complete closet. Amy is using her styling experience, fashion and beauty expertise to provide style inspiration and outfit ideas so you can shop for yourself and put together stylish outfits that make you feel confident and beautiful. @styledbymyfavehello
You May Also Enjoy Reading:
Miss Trunk Club? Try These Alternatives You'll Also Love
Honest Nadine West Review: Who Will Like It
Front Door Fashion Review: Love the Style and Quality!