Everything You Need to Know About the Wantable Active Edit
I am a big fan of trying Wantable, and have previously reviewed their Style Edit and compared it to Stitch Fix. I have recently increased my workouts (trying to lose those last 15 lbs!), and thought now is the perfect time to try Wantable's Active Edit for workout and loungewear clothes, not to mention for working from home. Here is my full review of my first Wantable Active Edit, and why I like it even more than the Style Edit. Keep reading to find out if you should try it, too!
This article includes affiliate links which means when you make a purchase using my affiliate links, I earn a commission at no additional cost to you. See my Privacy Policy.
Overview of Wantable & the Active Edit
Wantable is a subscription clothing box, delivering signature looks and brands to your doorstep. Wantable uses a combination of stylists and technology to handpick apparel or active gear based on your budget, size and style. Wantable allows you to try on the clothes before buying so you can keep what you want, and return what you don't, and only get charged for what you keep.
Wantable refers to its clothing boxes it sends out to clients as "Edits." There are three edits that you can pick from: Style Edit, Active Edit, Men's Active Edit. Wantable is for women looking for apparel, accessories and athleisure or workout clothes and for men looking for loungewear or activewear.
A Style Edit is for women and curates apparel and accessories, including petite and plus size. I have shared my first Wantable Style Edit Review and fully compared it to Stitch Fix in Stitch Fix vs. Wantable: Head To Head Comparison.
An Active Edit is for women looking for athleisure, workout outfits, loungewear, or comfortable looks for working from home. I will be reviewing my first women's Active Edit in this article.
A Men's Active Edit is for men's loungewear or workout gear.
Try a Wantable Active Edit now by signing up with my referral link to receive $25 off your first Edit. The $25 account credit applies to the Style Edit, Active Edit, Sleep & Body Edit, and Men's Edit!
Getting Started with a Wantable Active Edit
Step 1: Sign up for Wantable Active Edit here. A Style Edit will receive a $25 account credit. An Active Edit does not receive an account credit, but your $20 styling fee will be applied to your purchase.
Step 2: The first thing you will do to start Wantable is complete your Active style quiz so Wantable can get to know your style, fit, and budget preferences.  You can expect to provide the following information.
Sizes in tops, bottoms, undergarments, outer layers and shoes
Budget for each category
Types of items you prefer to receive
Color preferences
Occasion
Order Note, Pinterest Link, and Account Note
Step 3: Checkout and complete your order. You will be charged a $20 styling fee, which will be applied to anything you purchase. Keep reading for more cost information.
Step 4 (optional): Check out The Stream to mark any items you would like to request in your Active Edit.
Step 5: Receive. your Edit in about 7-10 days. Try on everything in the comfort of your home. You have 7 days before your unwanted items are due back.
Step 6: Check out online. Leave feedback for each item, and let Wantable know which items you are keeping and which you are returning.
Step 7: Package your unwanted items in the mailer provided and drop it off at either USPS or UPS, depending on your carrier of choice. You can also schedule a pick-up depending on carrier and where you live.
How Much Does a Wantable Active Edit Cost?
Like the Style Edit, each Wantable Active Edit has a $20 styling fee that is applied towards anything you buy from the Active Edit. In addition, if you buy 5 or more pieces, you'll receive a 20% discount on your entire purchase.
You can select to receive an edit automatically in these frequencies: ongoing (or back to back), every month, every 2 months, or every 3 months. You can cancel anytime easily online under your plan settings. Shipping and returns are always free.
Try a Wantable Active Edit now by signing up with my referral link to receive $25 off your first Edit. The $25 account credit applies to the Style Edit, Active Edit, Sleep & Body Edit, and Men's Edit!
What Can You Expect to Receive?
Price Range for Active Items
According to the style quiz, you can choose the following budget preferences. You will only receive items in the price ranges you select.
For tops, you can choose to receive items in Up to $59, $60 to $79, and/or $80+.
For bottoms and jackets, you can choose to receive items in Up to $79, $80 to $99, and/or $100+.
Wantable will price match if you find items cheaper at another retailer. Even better, they will mark-down the item for all clients going forward.
How Many Items Do You Receive?
Wantable includes 7 items in an Edit. You can choose to receive pullovers, outer layers, undergarments, tops, bottoms, and/or shoes.
What brands are included in a Wantable Active Edit?
Wantable includes brands such as Alternative Apparel, Herizon, Beyond Yoga, Thrive Societe, BB Dakota, Good Hyouman, Jessica Simpson, MPG, and many more.
Check out The Stream to get a better of idea of their prices, brands, and styles Wantable carries.
My First Wantable Active Edit Review
In summary, I was very impressed with my first Wantable Active Edit. It was very quick and easy to fill out the Active Edit style quiz, about 10 minutes. I also spent about 5 minutes requesting items from The Stream. In my note, I requested sports bras with extra support, high-waisted leggings, and loungewear.
I loved everything I received in my Active Edit, and thought everything was really cute and versatile, so I could go from the gym to running errands.
I received two sports bras, a pair of leggings, two tank tops, a pair of joggers and a long-sleeve crop top. Here is what I received in my first Active Edit.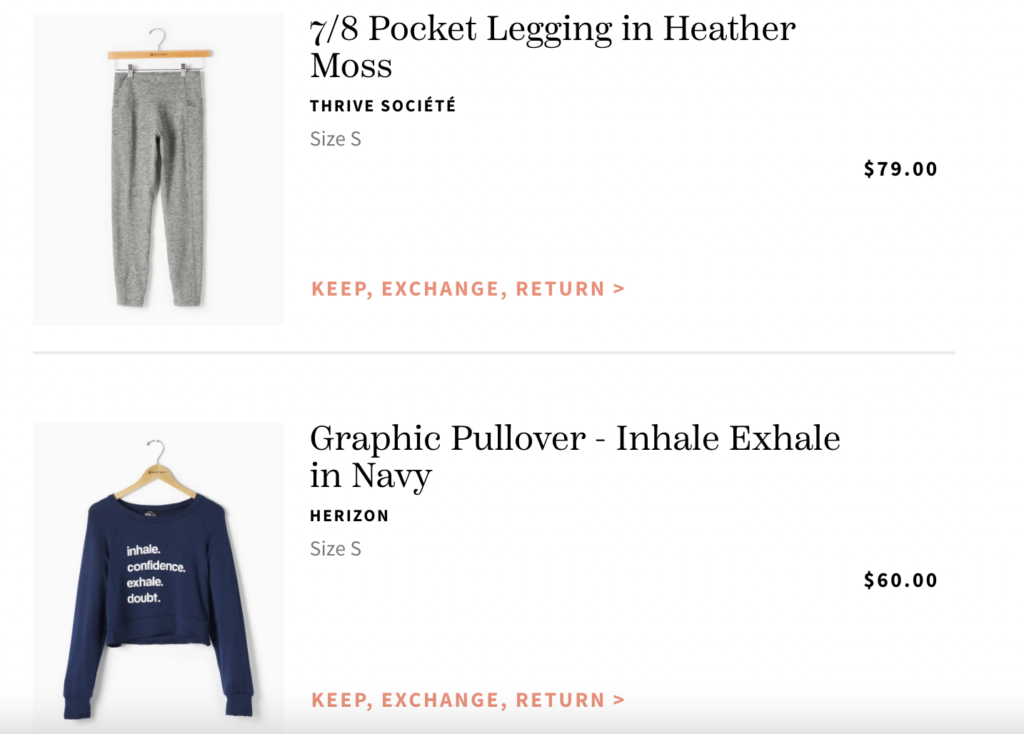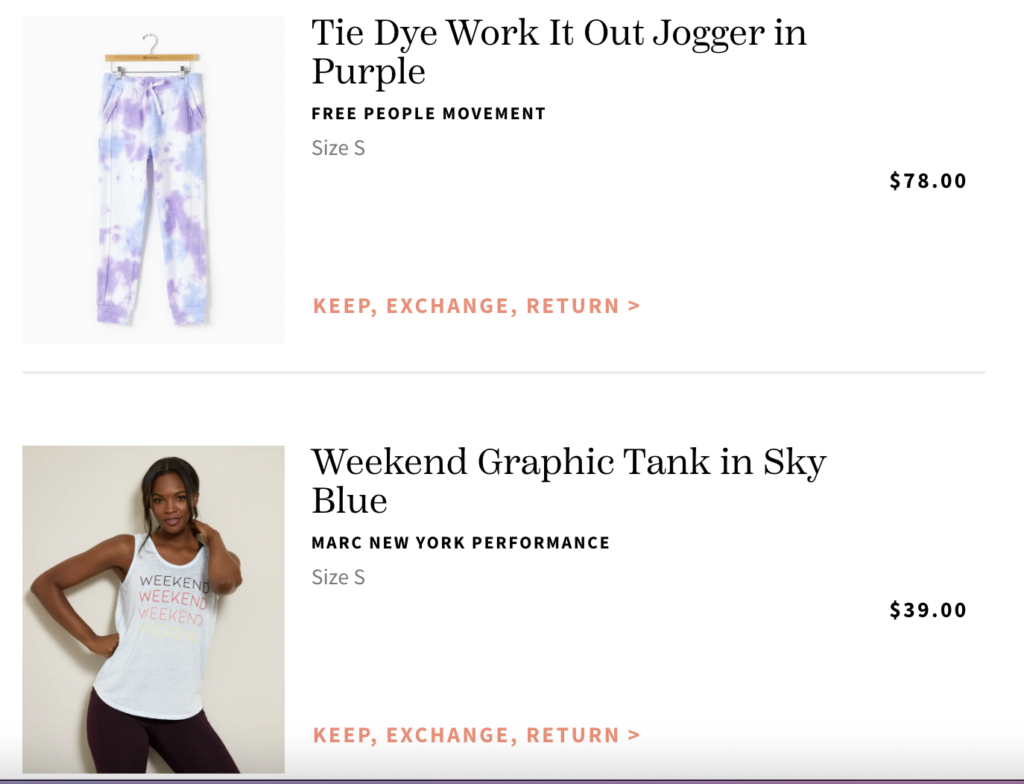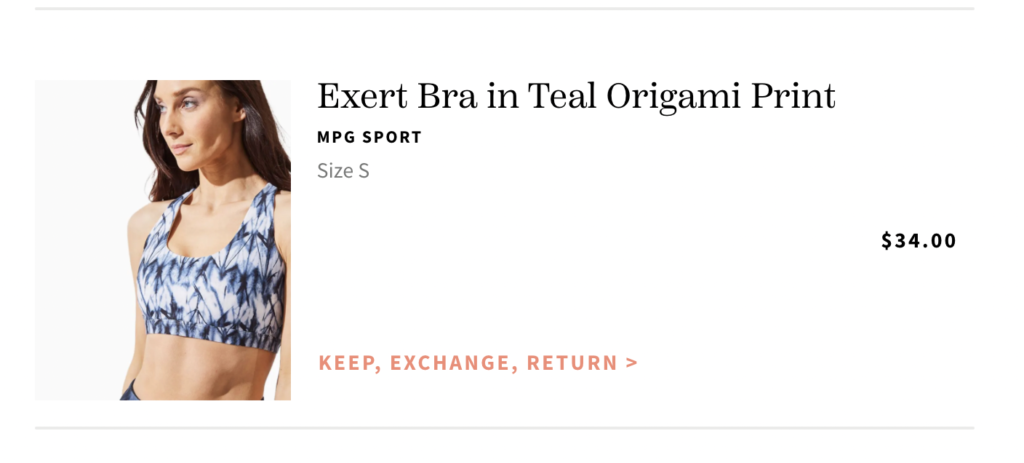 What I Kept and Returned
Everything was really cute and I wanted to keep it all. For budget reasons, I decided to only keep what I knew I would wear often. Also, because I am budget-conscious, I love that Wantable will not send any items that are beyond the budget stated in your profile.
I decided to keep:
7/8 Pocket Legging in Heather Moss: The quality on these leggings were really good and I loved the deep pockets. These were also high-waisted which is what I requested. I have another pair of leggings in black by Zella that I love, so another pair of leggings was needed. The grey color filled a gap in my workout wear.
Graphic Pullover – Inhale, Exhale: I loved this pullover, and the graphic design on it. I think it will be cute to wear to they gym or just on the weekend with a pair of high waisted jeans.
Tye Dye Work It Out Jogger: I was on the fence with these joggers because of the print, but they were so soft and comfortable. I only wear joggers at home, so I was able to see past the print, and will definitely wear these to lounge around the house in. Also because, I was buying 4 other items, with the 20% off it was a good price.
Camden Tank in White Painted Leopard: This tank was actually my favorite item from the box. It has a subtle leopard print which is really cute. I can see wearing this over a sports bra to workout in. But I also thought it was so versatile, and plan to wear it as a bikini coverup as well at the beach!
Exert Bra in Teal: I really needed a new sports bra, so I'm so glad they included this one in my box. I asked for a high performance sports bra, which this one is. I also like that this bra is sustainably made. Best of all, I found it for $21 on MPG's website and they price matched it! (To price match, after you check out, send them an email with the link to the exact same item at a lower price.)
I decided to return:
Weekend Graphic Tank: This tank was cute and fit well. However, I just didn't need it so I decided to return it.
Basic Sports Bra: I only planned to keep one sports bra and I liked the teal one better, so I decided to return this one.
I am very satisfied with the items I kept from my box, and can definitely see myself wearing them all often!
I can't wait to get another Wantable Active Edit but probably won't get another one until next quarter, but I'm already planning to ask for all cozy loungewear – sweatshirts and joggers in my next Active Edit.
Try a Wantable Active Edit Now!
If you sign up for a Wantable Active Edit using my referral link to receive $25 off your first Style, Active, Sleep & Body, or Men's Edit. You will receive a notification after clicking my referral link that says: Coupon Applied.
Let me know if you have any questions on Wantable in the comments.
Creator of My Favorite Hello and Author of this Article
Amy has 10+ years of experience in fashion and beauty launching digital products for global brands Fenty Beauty, Glossier, Marc Jacobs, Men's Wearhouse and Stitch Fix. She also worked previously as a Senior Stylist at Stitch Fix, and currently as an independent virtual stylist, styling men and women for various occasions from everyday outfits, special occasions, to curating a complete closet. Amy is using her styling experience, fashion and beauty expertise to provide style inspiration and outfit ideas so you can shop for yourself and put together stylish outfits that make you feel confident and beautiful. @styledbymyfavehello
You May Also Enjoy Reading:
My Honest Wantable Edit Experience & Review
Stitch Fix vs. Wantable: Ultimate Head-To-Head Comparison 2023
Front Door Fashion Review 2023: Love the Style and Quality!
Trendsend Review 2023: Got My Style!