My First Nadine West Review 2023
This is my first Nadine West review. I have been a long-time client of Stitch Fix, Frontdoor Fashion, and Wantable, so I, of course couldn't wait to try Nadine West, a more affordable style subscription service. In addition, I am a former Stitch Fix stylist, and know a lot about styling subscription boxes. Keep reading for my first Nadine West review and why I've decided Nadine West is not right for me, and who would like this styling service based on my styling experience. I also have a referral link so that you can try Nadine West completely FREE! 
This article includes affiliate links which means when you make a purchase using my affiliate links, I earn a commission at no additional cost to you. See my Privacy Policy.
Try Nadine West completely free with my referral link and the code NADINE! There are no styling fees ever, so you can try Nadine West for the first time completely risk-free.
How Nadine West Works
Before getting into my first Nadine West box, here what to expect for your first experience.
Nadine West is an affordable styling service that uses stylists to handpick a complete outfit, including apparel and jewelry, based on your size and style. Here is how you get started with ordering a box.
STEP 1: Complete the style quiz.
Take a short quiz on your size and style preferences that is saved to your account profile.
STEP 2: Start your subscription and order for delivery.
Choose your subscription frequency – either two weeks or four weeks. There is no style fee ever, but you do have to pay a $9.78 shipping fee that will be credited to anything you keep. However, with my referral link and code NADINE, your shipping fee will be waived, so you can try Nadine West for yourself.
Try Nadine West completely free (no shipping fee will be charged) with my referral link and the code NADINE!
STEP 3: Receive your package and try on at home.
Once you receive your package of 4-8 items, you have three days to try the clothes and accessories on, and return anything you don't want to keep. Nadine West is very strict on their return window. The number of items isn't fixed like Stitch Fix, and will depend on what can fit in the pink envelope that they send your items in. Nadine West's goal is to send a full outfit.
STEP 4: Checkout online.
Checkout online is easy and you can leave feedback on each item. Returns are also easy and you can return the remaining items with the prepaid return shipping label included in your package.
You're only billed for what you keep, and your $9.78 shipping fee is applied to your purchase. Otherwise, if you don't end up keeping anything, you will lose the shipping fee. However, for your first Nadine West box, you can use my referral link and code below, and the shipping fee will be free.
Nadine West vs. Other Style Subscriptions
As both a former stylist at Stitch Fix, and a customer, I can give you a comprehensive comparison of Nadine West vs. Stitch Fix and Nadine West vs. Wantable.
Nadine West is a good option to try if you want affordable clothing and not pay a subscription fee. However, in my experience, Nadine West does not measure up to Stitch Fix or Wantable when it comes to the style and quality of clothing. While Stitch Fix and Wantable both cost more than Nadine West, it is worth it for better quality items and more popular clothing brands, trends, and styles. However, if you are on a tighter and smaller budget, then I would say absolutely try Nadine West! Nadine West is worth a free trial so you can experience the styling service for yourself.
In addition, Stitch Fix and Wantable offer better customer service, such an extensions in the return period, and hassle-free returns and exchanges. The customer service at Nadine West is seriously lacking; keep reading for more on this common complaint.
My comprehensive head-to-head comparisons of Stitch Fix vs. Nadine West and Wantable vs Stitch Fix provide a breakdown comparison of every aspect of these styling services from quiz, items received, brands carried, budgets, and more.
My First Nadine West Box Review 2023
Here is what I received in my first time trying a Nadine West box. My first Nadine West box contained six items of clothing and jewelry. The items were priced from $20-40, for a grand total of $210, so each item was on average $35. Here is a summary of everything I received and my comprehensive review on each item in my Nadine West box.
Six Items:
Cardigan $39.99
V-neck Shirt $39.99
Sleeveless Dress $34.99
Denim Leggings $39.99
Earrings $20.49
Necklace $34.99
Total Price of the box for six items: $210.44
There is not an additional discount for keeping all of the items.
This cardigan that I received wasn't that bad, and probably the best piece of everything in the box. It was a nice neutral color, and it fit well. It's a good basic piece to add to anyone's closet so I can see why they would choose to send this in my first box. It was the best item sent, but I didn't keep it as I just didn't need another cardigan. It also came very wrinkled in the packaging it arrived in, as pictured below. This cardigan costs $39.99 which is pretty comparable to what you would find at Stitch Fix, which would probably charge $38 for a similar style and quality cardigan. And, yes, it came this wrinkled.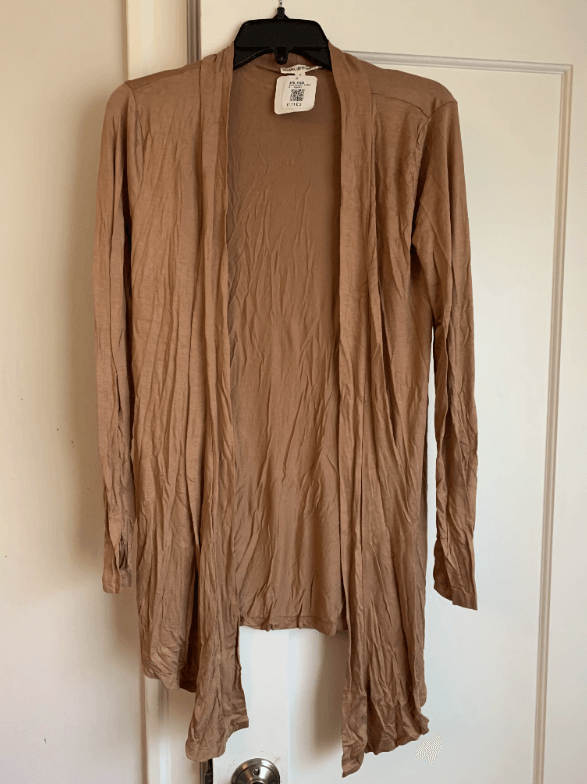 This mustard top that was also included in my box wasn't as bad compared to the rest of the box, but it isn't something I would ever wear and didn't match my style, and it wasn't worth keeping for the cost of $39.99. The cost was way too expensive for a top of this quality and style. The mustard color felt very drab. The leopard pocket is a nice touch, but I felt like I could find this top at my local Walmart or Target. A better price point for this top would be no more than $24.99, but really I'd pay around $14.99 for something like this at Target.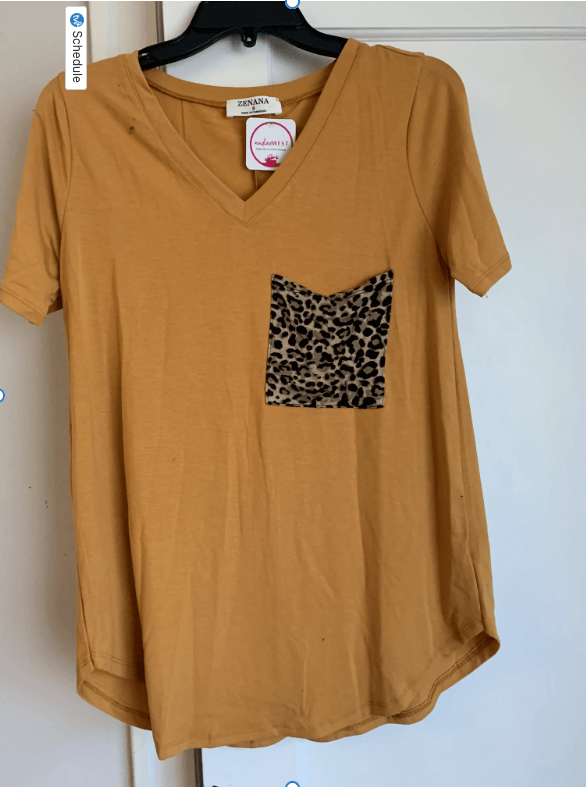 My third item in my Nadine West box was this burgundy dress which was priced at $34.99. I found this dress style to be way too young for my liking. The color is nice, but I don't like a mock turtleneck, and it was too short. It also felt really cheap, and definitely was not worth the $34.99 price tag. I did not bother trying this item on, as I could tell by looking at that I would never wear it. I would expect to find an item like this in the Junior's section, and it is probably worth no more than $19. I would never keep this item.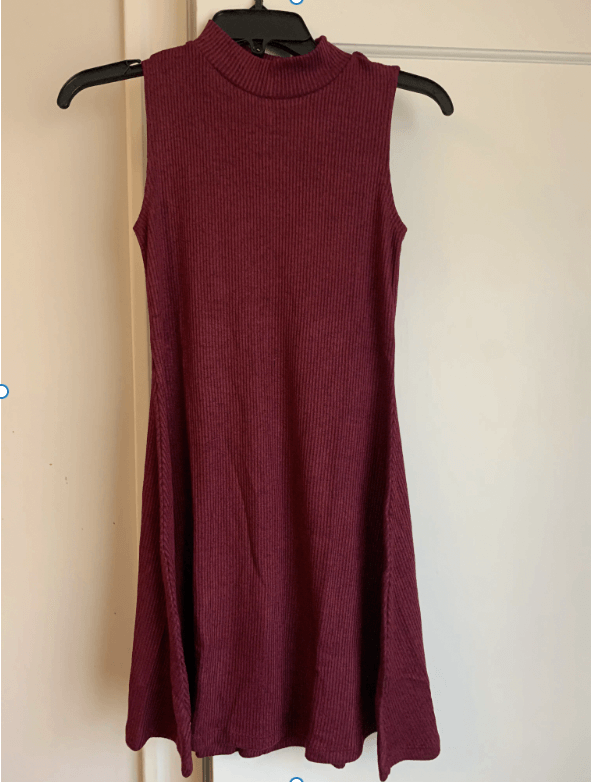 I also received these denim jeggings. These jeggings also felt very young and cheap, and didn't match my style. They were too small and were probably junior sizing. Not at all what I would wear! These jeggings were $39.99 and not at all worth the cost. I rather spend a little more for some quality jeans that are actually jeans. I did not keep this item.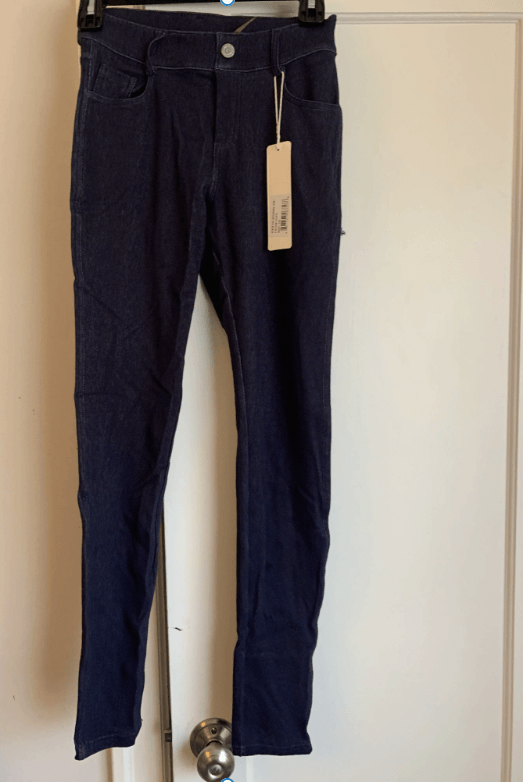 The jewelry was closer to the quality and style I would expect, but the pricepoints were too high and I wouldn't pay that much for this type of jewelry. This pair of earrings were priced at $20.49, but I can get better quality for that price.
The necklace was $34.99 and was probably the only thing I would consider keeping. Thankfully, Nadine West has no styling fee, so there was no pressure to keep something to avoid losing my styling fee.
I did not keep either of items.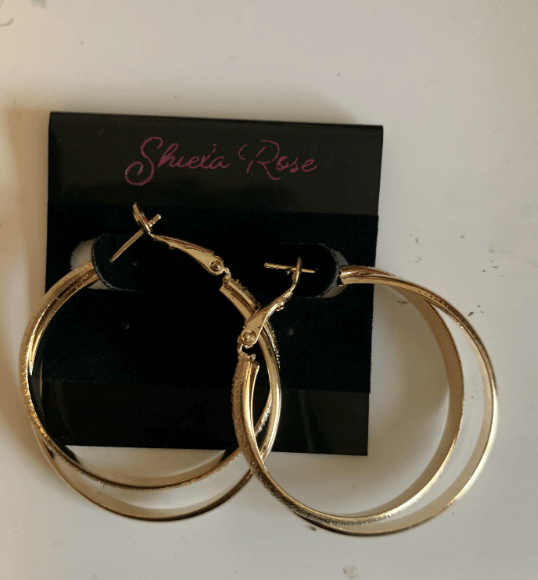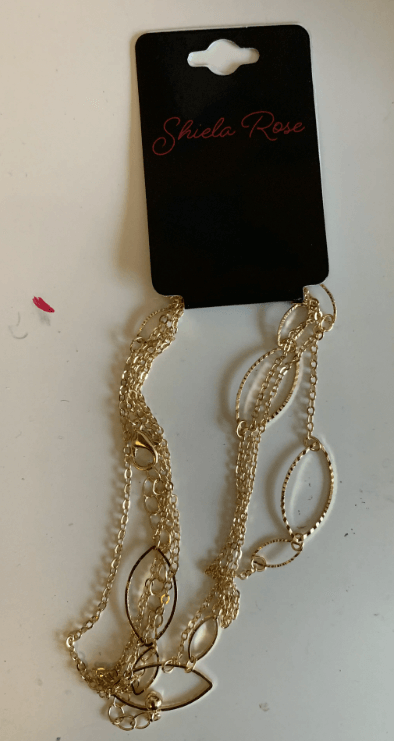 Here is a photograph of my receipt so you can see here what the prices were. As you can see nothing was over $40, so the prices are very reasonable and budget-friendly, especially compared to other clothing subscription boxes I have tried. However, the low prices matched the low quality of the items. I wouldn't pay these prices for any of these items. I can find better quality and lower prices at Target. I did not keep any of the items.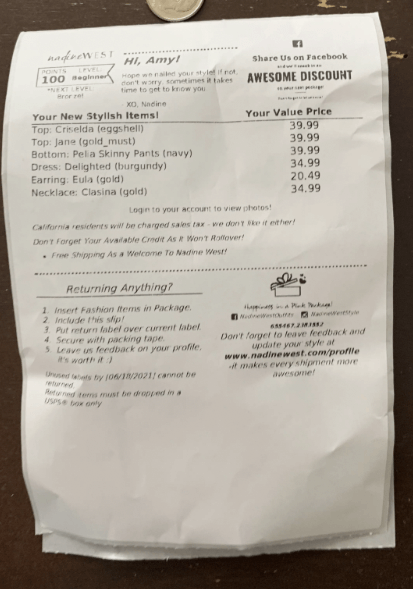 All in all, these clothes felt like some left over items you would find on the sale rack at Walmart. The brands were not familiar, the quality was bad, and the style and fit were all wrong for me and my account profile. I was highly disappointed in my first time trying Nadine West. Needless to say I didn't keep anything from my Nadine West box, and I will not be ordering another box in the future. Keep reading for more details on my honest Nadine West review, and if you should give it a try.
My Honest Nadine West Review
It was very easy to fill out the style quiz, and it covered the basics for size and types of items. However, I think they could have more questions regarding the styles I like so they could get a better sense of what styles I like and don't like. It was very easy to order a box, and it was styled very quickly, so it shipped within 3 days of when I ordered it. The shipping was also really fast, and I received the package in about 4 days.
I received six items in my first package. I received a cardigan, a casual shirt, a dress, a pair of jeggings, a necklace and a pair of earrings. The total box was worth $210. I didn't like anything, and ended up returning everything. Nothing felt like it was style, and the quality was very low.
At least returning all the items was easy and convenient. It was very easy to put everything back into the packaging it came in, use the prepaid label provided, and drop it at the postal office to return the items. I checked out online and provided feedback for each item.
As this is an honest review of Nadine West, I have to admit that I canceled my subscription after the first box. I felt after this first box that Nadine West is not the styling service for me. It was pretty easy to cancel, but I did have to send an email to customer service to cancel (instead of being able to do it online in my profile), but they canceled it without any hassle. Nadine West offered me 10% off future orders if I decided to stay. However, I still decided to cancel, and they confirmed my cancellation via email. Keep reading for screenshots of my experience.
The style of the clothes wasn't at all what I was looking for, which isn't a surprise since they didn't ask many style preference questions in the style quiz. Also, everything that was received were by no-name brands, and the quality felt inexpensive. Everything was priced under $39.99, so I guess you get what you pay for. As someone who normally shops at Nordstrom and prefers quality over quantity, Nadine West's quality and styles were nowhere close to what I am looking for.
There are much better styling subscription boxes than Nadine West. Continue reading for my recommendations.
Is Nadine West Reputable?
I gave my opinion above on Nadine West, but you can also find many public reviews on Nadine West.
Per Trust Pilot, here are some of the positive reviews I was able to find publicly regarding Nadine West:
Responsive Customer Service
While the customer service may not take a "customer first" approach as they are very strict on their timelines for returning packages, they are very responsive and usually respond the same day or within 24 hours. The only way to contact customer service at Nadine West is via email as there is no direct way to call them.
Gets Their Style and Budget
There are several positive reviews on the style and budget of boxes. Many customers are happy with the items they receive. While Nadine West may not be the best quality, the clothes are very affordable and reasonable for those on a budget. See my recommendation below for who will like the Nadine West subscription service, which includes people on a budget.
Nadine West's Bad Reviews
If you check out BBB, Nadine West only has a 1.74 rating out of 5. Here are some common complaints from using the Nadine West service that you should be aware of for a better experience:
Return Your Unwanted Items on Time with Proper Tracking
A very common complaint is getting charged for packages they returned. However, the package was either not properly tracked by the postal service or the package was returned after the alotted time. Therefore, customers were charged for the total amount of the package. To avoid this common complaint, be sure to use the return shipping label provide by Nadine West and have it manually scanned by the USPS. In addition, just to be safe, return your items a day before it's due to ensure the scan is registered in time.
Receiving Boxes Even After Canceling
Another common complaint on BBB is that even after canceling customers are still receiving packages and getting charged. Be sure when you cancel your box you get the confirmation in writing. Send an email to confirm, and also remove you shipping and billing information from your account profile. If you live in California, you can go a step further and request them to remove your account and data permanently from their system.
Please see my experience with canceling below as I didn't have any issues.
Is Nadine West Good Quality?
I found the quality of the items I was sent range from OK to bad. The quality on the cardigan, v-neck shirt, and jewelry were OK. However, the quality on the jeggings and dress were pretty close to bad. All of the items were no-name brands that I have never heard of, and I can't see these clothes holding up for more than a few washes and a season of wear.
What Brands Does Nadine West Carry?
Nadine West didn't send me any well-known clothing brands. It seemed to all be no-name, generic brands, or their own Nadine West Brand.
How Much Does Nadine West Cost?
Nadine West doesn't have a styling fee, but they do charge a $9.78 shipping fee which is credited towards anything you keep. Try Nadine West completely free with my referral link and the code NADINE!
Each individual item is in the price range of about $30-50, so they are far more budget friendly than other online styling services.
Is it Easy to Cancel Nadine West?
Yes, I was able to easily email Nadine West and let them know I wanted to cancel and not receive anymore boxes. They replied within 1 hour to let me know that if I continued with my subscription I would get 10% off all my boxes as a lifetime savings. I didn't like the styling service enough to continue even with the 10% discount. I let them know I wanted to decline the offer and continue with canceling my subscription. They responded the next business that I would no longer receive boxes. It was pretty easy to cancel Nadine West, and it was all done over email; no phone call was necessary.
Here are screenshots of my email correspondence with Nadine West.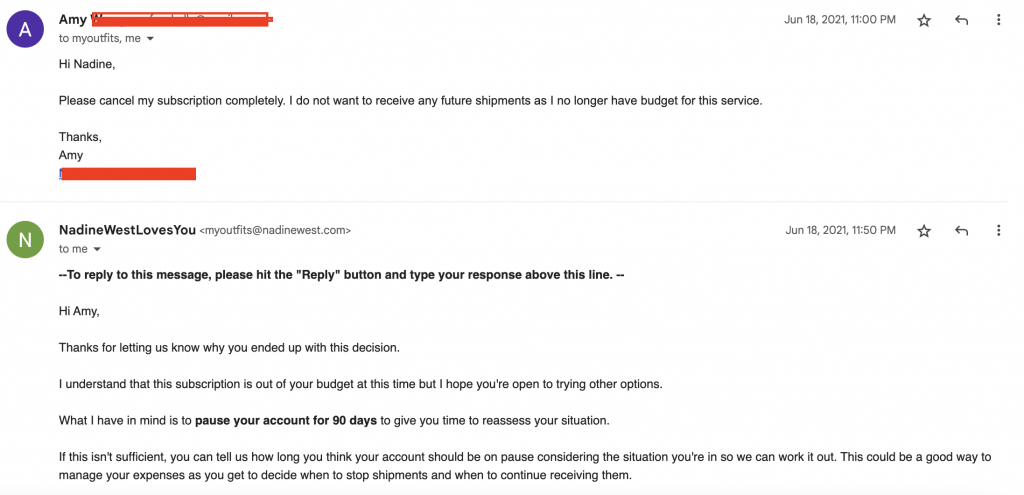 Who is Nadine West Good For?
I recommend Nadine West for a budget-friendly conscience client. The style of the clothes, along with the lower price point is more aligned to someone who wants fast fashion with a much smaller price tag. If you shop at Walmart or Target for clothes, then I think you will like Nadine West, as they carry very similar styles to these big box retailers.
Summarizing My Nadine West Review: Ordering, tracking and checkout were super easy online. The clothes were not my style. With the cheaper price point, the quality of clothes wasn't very good. I would recommend this styling service for someone who wants clothes and jewelry at a low price point.
However, this experience was my own personal experience and I only tried Nadine West once. I would highly recommend trying it as least once so you can see for yourself if it's the right styling service for you. Since you can try it risk-free, at no cost, it's worth trying at least once to see how it goes if you have been on the fence!
Try Nadine West completely free with my referral link and the code NADINE! There are no styling fees ever, so you can try Nadine West for the first time completely risk-free.
A Cheaper Styling Service
If you are looking for a cheaper styling service similar to Nadine West, but closer to Stitch Fix's styles, I would highly recommend Fashom. Fashom is very affordable, and the style and quality is very similar to Stitch Fix at a cheaper pricer point. See these related blog posts for more details on Fashom:
Stitch Fix vs. Fashom: How They Compare
My First Fashom Box | My Experience & Review
My Second Fashom Box | My Experience & Review
My Third Fashom Box | My Experience & Review
My Favorite Styling Service
If you are looking for a good quality and stylish styling service, I would highly recommend Front Door Fashion. To learn more, check out Front Door Fashion Review 2022: Love the Style and Quality! where you can find my Front Door Fashion referral link to receive a $50 account credit! Front Door Fashion focuses on more premium brands, so it is more expensive than Nadine West, and similar in price to Trunk Club.
Creator of My Favorite Hello and Author of this Article
Amy has 10+ years of experience in fashion and beauty launching digital products for global brands Fenty Beauty, Glossier, Marc Jacobs, Men's Wearhouse and Stitch Fix. She also worked previously as a Senior Stylist at Stitch Fix, and currently as an independent virtual stylist, styling men and women for various occasions from everyday outfits, special occasions, to curating a complete closet. Amy is using her styling experience, fashion and beauty expertise to provide style inspiration and outfit ideas so you can shop for yourself and put together stylish outfits that make you feel confident and beautiful. @styledbymyfavehello
You may also enjoy reading:
Nadine West vs. Wantable: Ultimate Head-To-Head Comparison
You may also enjoy reading:
Stitch Fix vs. Nadine West: A Cheaper Alternative to Stitch Fix?
You may also enjoy reading:
Miss Trunk Club? Try These Alternatives You'll Also Love
You may also enjoy reading: