[yoast-breadcrumb]
10 Tips for Creating an Effective Pinterest Board Your Stylist Will Use for a Better Fix
Do you feel like your stylist isn't looking at your Stitch Fix Pinterest Board? Are your Pinterest Boards a mess? How do you share with your stylist what you are looking for? I am sharing 10 tips for creating a Stitch Fix Pinterest Board that will result in a better Stitch Fix box. I have been a Stitch Fix client and stylist for five years. Over these five years, I have learned how to create a Pinterest Board that your stylist can effectively and efficiently use to pick Stitch Fix outfits that you will love, inspired by your Pinterest Board!
For those of you that aren't familiar with Stitch Fix here is a brief summary of the styling subscription service.
Stitch Fix is a personal styling service for women (including plus, petite and maternity), men, and kids. Stitch Fix utilizes an algorithm to help narrow down selections from their inventory based on your style profile, preferences and previous purchases.  A personal stylist then picks the final items that are sent to you. You can receive as many Fixes as you want and as often as you want. Try Stitch Fix using my referral link here, and you will receive $25 towards your first Fix which will cover the entire $20 styling fee, plus leave $5 towards the rest of your purchase!
If you are a fan of Stitch Fix, you may also want to try these new styling services: Fashom and Wantable.
I share my experience with both of these styling subscription services in these blog posts:
My First Fashom Box | My Personal Experience and Review
My First Wantable Styling Experience & Review
1. Create One Dedicated Stitch Fix Pinterest Board
Every Stitch Fix stylist has a limited amount of time to go through the Pinterest account linked to your Stitch Fix profile. Therefore, keeping your Stitch Fix outfit inspiration to one Pinterest board will make it easier for your stylist to navigate your outfit inspiration picks.
Be sure to link directly to this one Pinterest Board for Stitch Fix, especially if you have a ton of boards on other topics. This way your stylist isn't scrolling for your Stitch Fix board, but is taken directly to it. More than likely your stylist will look at one board, even if you have other boards in your account. Frankly, there just isn't enough time. Remember your stylist probably spends about 2-3 minutes looking at your Pinterest board.
Clearly title your board as "Stitch Fix Outfit Inspiration" or "Stitch Fix Looks I Love." The point is keep "Stitch Fix" in the title so your stylist knows exactly which board is relevant to styling your Stitch Fix box.
2. Keep Your Pinterest Board Updated
You don't need to add new pins each time you request a Fix. However, I would recommend updating your Pinterest Board for Stitch Fix at least once at the beginning of a new season.
It gets really confusing for your stylist to open your Pinterest Board and the pins aren't seasonally current. Do you want off-season looks? Are the pins old? It's hard for your stylist to know, so it's always a good idea to add at least 5 new pins that are seasonally appropriate so your stylist has a good idea of what you are looking for now.
You should also remember that your stylist probably goes through the top 5-10 rows at most. Therefore, you should also keep the most relevant pins at the top. Even if that means repinning the same pins again to move them to the top, you should definitely take a few minutes to do that.
Follow My Pinterest Board: Styling Stitch Fix
Follow Me on the Like to Know It App to Shop All My Outfits Ideas
3. For Full Outfit Pins, Make Sure You Love the FULL Outfit
When a stylist sees a full outfit pin on your Pinterest Board, your stylist is likely going to assume you love the FULL outfit. Therefore, make sure you are pinning outfits that you love from head to toe. Your stylist may get inspired by a bag or pair of shoes from a full outfit, and send you one part of the outfit.
If you do pin a full outfit, but only like the top or shoes, you can leave a comment to let your stylist know, but don't always rely on the comments as they are easy to miss on Pinterest.
In order to avoid any confusion, you can always pin style cards instead. Which brings me to tip #4.
4. Pin Actual Stitch Fix Style Cards
If you know there's a Stitch Fix piece you definitely want to try, pin the Stitch Fix style card! Your stylist will look for the exact look or similar looks. It's so easy now to go on Pinterest and search by product name to find the style card. In addition, using style cards is a good way to see the price of items you are loving, so you can know before you request the item in your notes if it's even in your budget.
You don't have to worry about deleting pins of items you have received. Your stylist is able to see what you've been sent in the past and duplicate Stitch Fix items will 99.9% of the time not be sent. However, if there's any looks you no longer love, it is a good idea to delete those Stitch Fix style cards so your Stitch Fix stylist doesn't see them and send them to you.
You May Also Enjoy Reading:
30 Days of Outfits with 14 Stitch Fix Pieces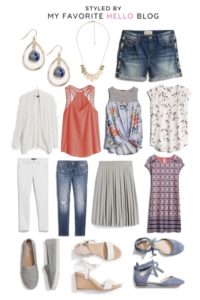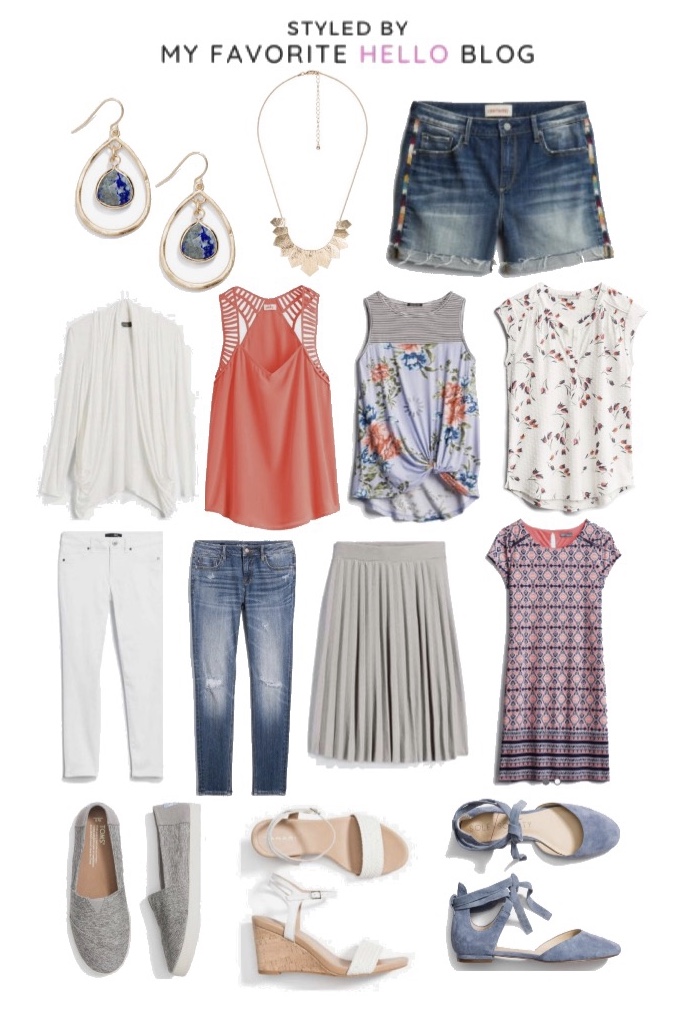 ---
You May Also Enjoy Reading:
10 Ways to Style the Katie Murino Wrap Style Dress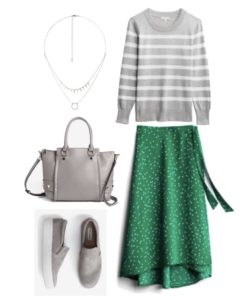 5. Follow Other Stitch Fix Pinterest Boards
In order to find inspiration for your own Pinterest Board, follow other users' Stitch Fix Pinterest Boards. That way you can find pins to add to your board.
Here's a link to my Pinterest Board where I'm adding new style cards and example of Stitch Fix outfits daily! Follow it or other users' board so that Stitch Fix style inspiration ends up in your feed, and you can continue pinning fresh pins to your Stitch Fix board.
6. Support Your Pinterest Board with Request Notes
Don't rely solely on your Pinterest Board. Add notes to your Fix with your requests. Also, be sure to add a note for your stylist to check out your Pinterest Board so they know you recently updated it, and the board can be relied upon for your Stitch Fix requests.
For example, if you are requesting shorts, leave a note such as "I would like a pair of denim shorts. Please see my Pinterest board for looks I'm currently loving." Just be sure to add pins of denim shorts you are currently loving!
You May Also Enjoy Reading:
Stitch Fix Dresses Styled Two Ways for Summer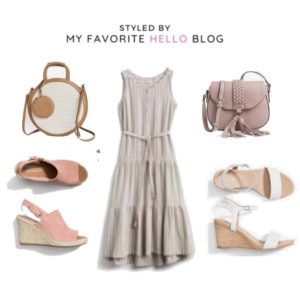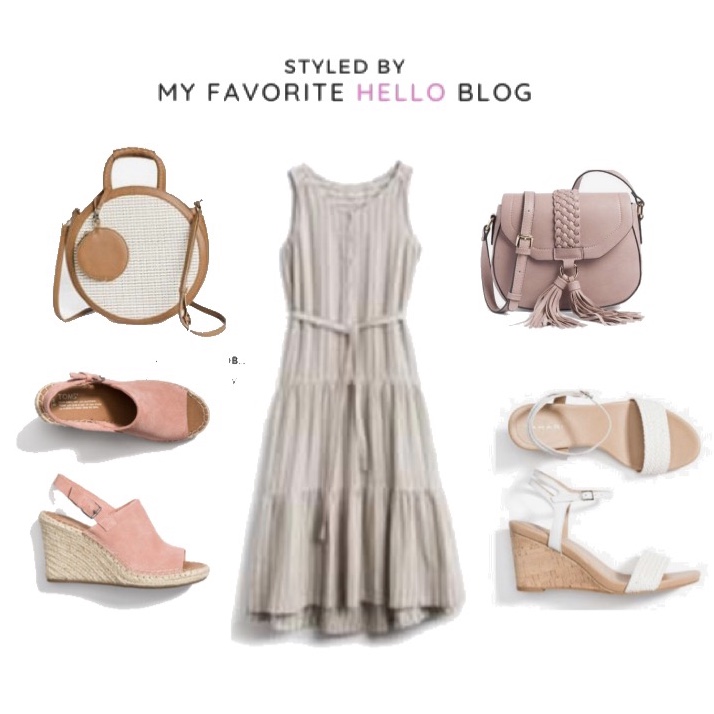 You can leave comments and captions on your pin, but it's not likely your stylist will read them, or even realize they're YOUR comments and captions. It's hard on Pinterest to know if the caption was revised when you pinned it, or is from the original pinner.
In fact, it might even be better to either update the captions or delete them altogether so that there's no confusion on the relevance of the caption!
8. Make Sure Your Stitch Fix Pinterest Board is Properly Linked to Your Stitch Fix Profile
This seems obvious, but I can't tell you how many times a client has put the wrong link to their Stitch Fix Pinterest Board. Make sure the link in your Stitch Fix profile is correct and doesn't have any misspellings.
Also, be sure that your board isn't marked as a "Secret Board" otherwise your Stitch Fix stylist won't be able to view it!
9. What Not To Add To Your Stitch Fix Pinterest Board
Don't add pins that aren't relevant to examples of Stitch Fix outfits such as recipes, makeup looks, hairstyles, etc. Keep separate Pinterest boards for your other pins. Also, avoid pinning items Stitch Fix doesn't carry, such as swimsuits, hats, etc.
Pins that aren't relevant to your Stitch Fix style are a waste of space and confuse your Stitch Fix stylist. Always add pins that will inspire your Stitch Fix stylist, not the opposite!
10. Remember Your Board is for Inspiration
Remember that your Stitch Fix Pinterest Board is to inspire your stylist. It's best not to expect the exact looks you have pinned or you are bound to be disappointed. A good stylist will look at your Pinterest Board and get a sense of your personal style and will pick looks inspired by what you have pinned.
Furthermore, if you are still feeling like your Stitch Fix stylist isn't understanding your personal style, try reading:
10 Tips for a Better Stitch Fix Experience
If you haven't already, follow my Instagram where I mix and match my Stitch Fix pieces with affordable finds from stores you can easily shop online such as Nordstrom or Target.
 How many pins do should I add to my Pinterest Board before a Fix?
Since stylists have a limited amount of time to go through your Pinterest Board, you should add 3-4 new pins prior to your recent Fix being styled.
Do Stitch Fix stylists actually look at my Pinterest board?
Yes, as a Stitch Fix stylist, I always look at your linked Pinterest board
How do I share my Pinterest board with Stitch Fix?
Copy and paste the URL for your Pinterest board into the space provided near the bottom of your Stitch Fix Style Profile.
How do I upload photos to stitch fix?
One way to share phots with Stitch Fix is to add them to your linked Pinterest board.
You May Also Enjoy Reading:
10 Tips for the Best Stitch Fix Experience