What Color Shoes Go With a Black Dress
There are many occasions that call for wearing a black dress – a night out, prom, a wedding, a formal or cocktail event, bridesmaid dresses, maternity dresses, and so much more. What color shoe to wear with a black dress can change the look of your black dress outfit, from glamorous to edgy to bold. In this post, I will be sharing 10 outfits of what color shoes to wear with a black dress based on the look and occasion.
This blog post contains affiliate links which means when you make a purchase using my affiliate links, I earn a commission at no additional cost to you. See my Privacy Policy.
---
Follow me on Instagram: @styledbymyfavehello
Follow me on Pinterest: @myfavehello
Follow Me on LikeToKnow.It: @myfavehello to shop all my outfits!
Don't Miss a Post:
---
What Color Shoes Should You Wear with a Black Dress
The color of your heels is one of the most important things to consider when getting ready for an event. Choosing the right shoe color can take the outfit from average to great. Don't be afraid to pair a black dress with almost any color out there. Black is the perfect backdrop to take a risk with your fashion choices. In this article I will share 10 ideas for what color shoes match a black dress, and it won't just be your basic black!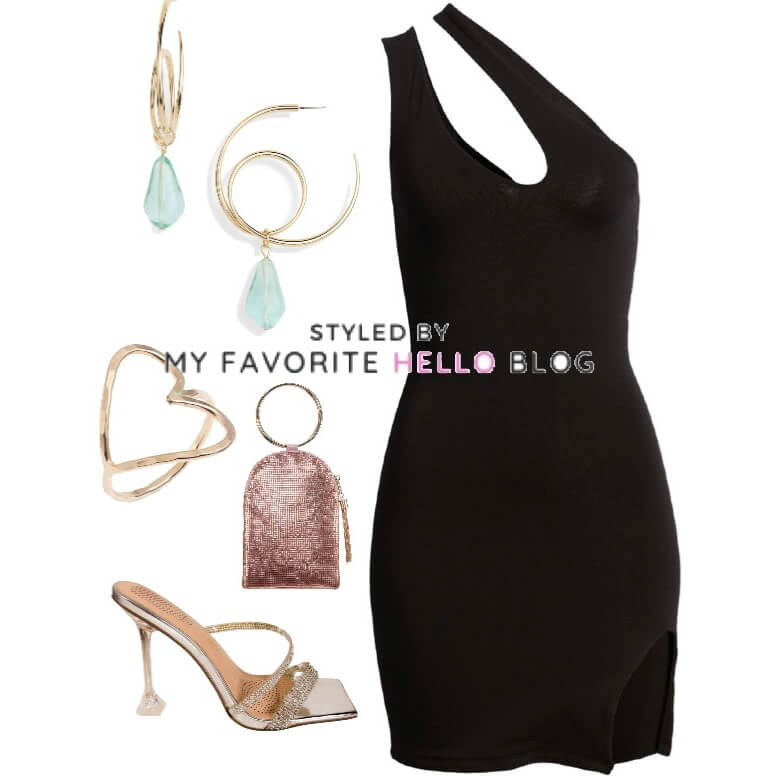 What Color Matches with a Black Dress
Black is a very versatile color that can match with just about everything. Black is a color that can look good on any person. But there are some colors that are better when paired with black. Gold, silver, white and pink colored accessories can always match a black dress, as well as a red dress, blush dress or royal blue dress.
However, don't be afraid to match you black dress with a color you normally don't wear. You can still achieve an effortless look that is perfectly paired, and I will show you how. Ready to be inspired?
What Color Bag to Wear with a Black Dress
What color bag should you wear with a black dress? The color of the bag depends on the event. For a formal event, a white or silver clutch would be appropriate. If you want to add a pop of color, choose a bright clutch for an evening out on the town. A little black dress can make any bag look glamorous and chic, but if you want to play up your outfit, go for something that will accentuate your outfit even more.
The color of your bag can oftentimes match the color of the shoes worn. There are many colors to choose from when it comes to the right bag that will complement your dress – black, silver, gold and nude. These colors will give you a variety of options whether it be daytime or nighttime.
Where to Buy A Black Dress
There are so many retailers that sell black dresses for multiple occasions. Whether it be a party dress for going out to celebrate, or a dress for work, there are so many retailers that sell black dresses for multiple occasions. I really love shopping at Nordstrom, ASOS, Macy's and Amazon for dresses. Find more of my go-to retailers on my Shop My Looks page.
Here are the black dresses featured in the outfit ideas I have put together.

Black Dress Outfit Ideas
The color black is often considered the most popular color to wear for any occasion, but sometimes it can be hard to find the perfect shoes to go with your outfit. Here are 10 examples of what color shoes to wear with a black dress.
What Color Goes with a Black Dress for a Wedding
Gold
Gold shoes go really well with black, and can make any black dress outfit elegant so it's not a surprise that many people choose gold shoes with black dresses. In addition, you probably already own a pair of gold shoes since they go with almost everything, so you can probably find a pair if your closet right now. Try a short black dress with gold heels and accessories for an outfit that is perfect for a date night. I love these gold platform heels and heart ring for a more playful outfit. These gold heels and accessories would also look perfect paired with a gold dress.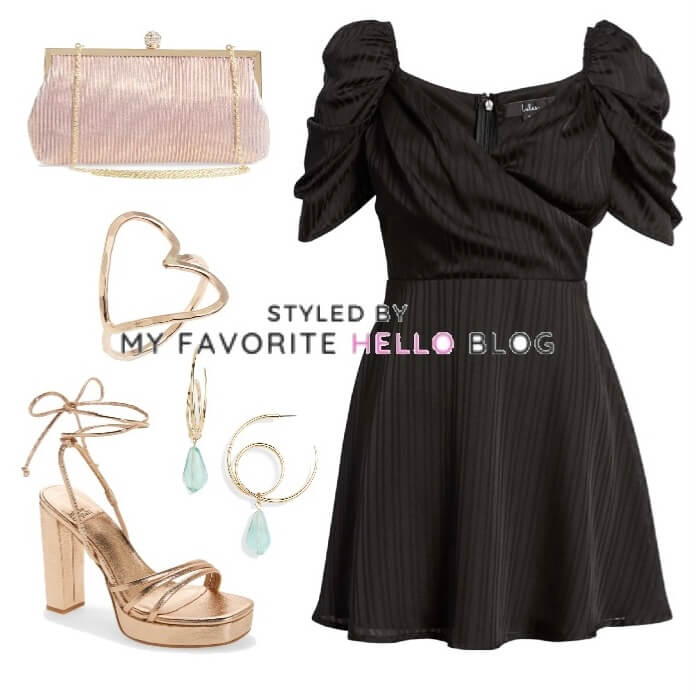 If you are looking for a more traditional black dress for a wedding, try this black sheath dress and these gold heels and accessories. This glamorous outfit is perfect for a formal event or wedding.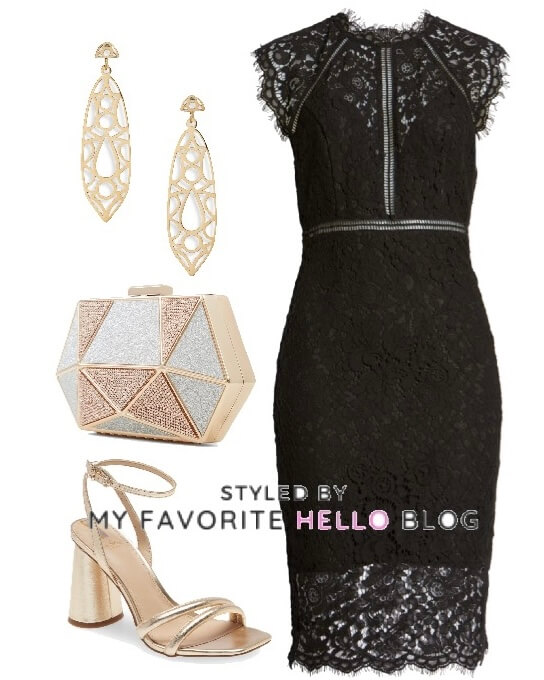 Pink
Every woman needs a perfect dress for when they need to dress up, whether it be for a wedding or a formal dinner. A black sheath dress and pink pumps is the ultimate combo that women of all ages can wear for a bolder look. A black sheath dress and pink pumps is perfect for a wedding guest outfit or cocktail attire event. Try adding an animal print purse with these bold pink shoes for an all around bold look with a classic lace black dress.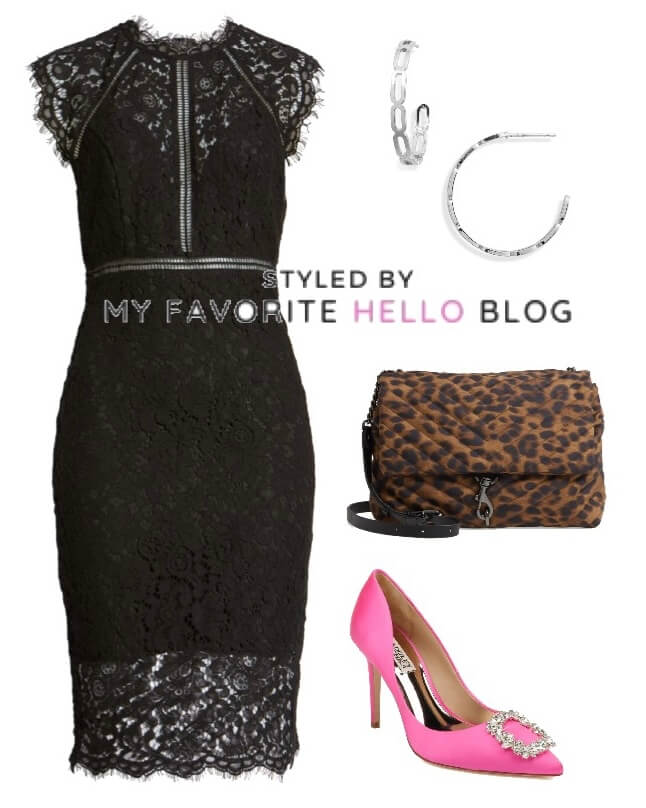 Yellow
Yellow heels with this black dress, red purse, and gold earrings make for a glamorous occasion. The dress paired with a pair of yellow heels and red purse makes the outfit stand out from the rest of a sea of black dress outfits. This outfit is perfect for a night out. Add a red lip to complete the look.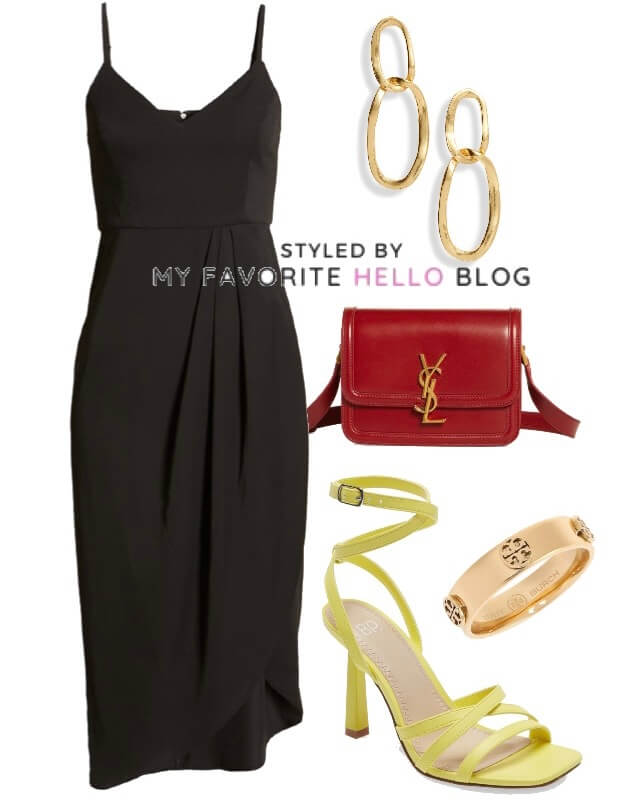 Black
What color dress goes with black shoes? Just about any color, including black. For such a simple combination, this outfit is surprisingly versatile. For example, the black dress with black boots can be worn almost anywhere, for any occasion. These black boots also add an edgy feel to a sweetheart, mini black dress, and I love the subtle hint of color in these earrings.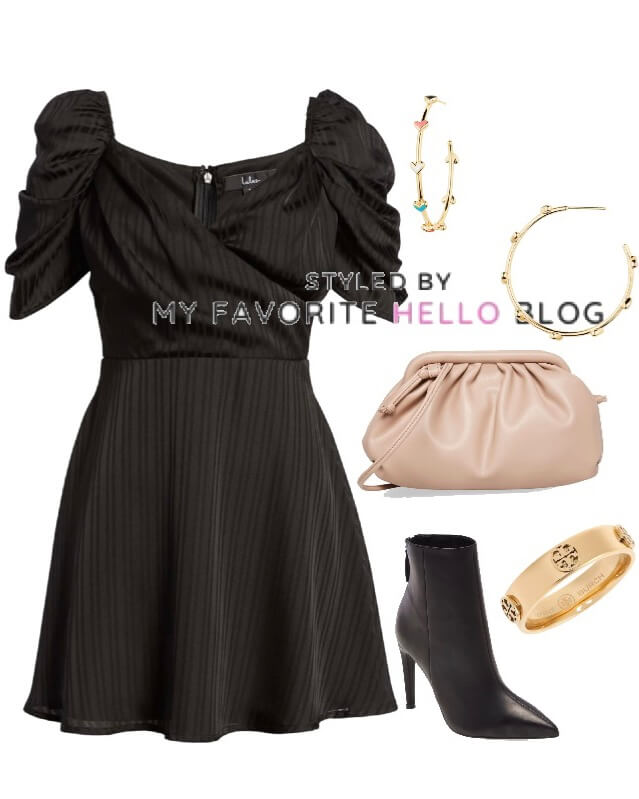 Rose Gold
Rose gold shoes are a perfect combination with a black dress, and pink and gold accessories for a fun girls' night out look. These high heeled rose gold slides and small pink purse are perfect to back on vacation such as a bachelorette party in Las Vegas.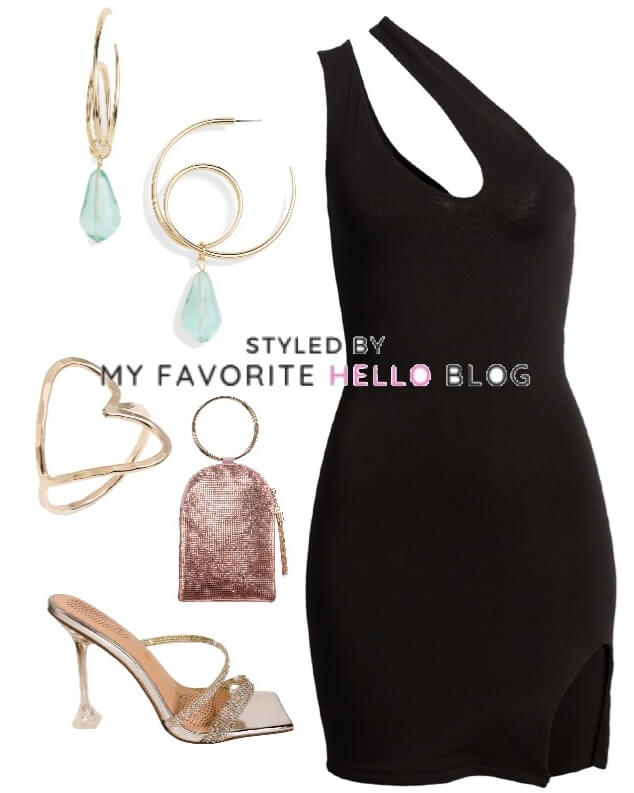 Purple
What color shoes to wear with a black dress for a wedding? Just about any color can match a black dress. Try a pair of purple heels for an unexpected shoe pairing with a black dress. Complete the look with a classic designer bag and bold gold earrings for a look that is perfect for a semi-formal night out. If you like to wear purple heels, you can also consider a purple dress.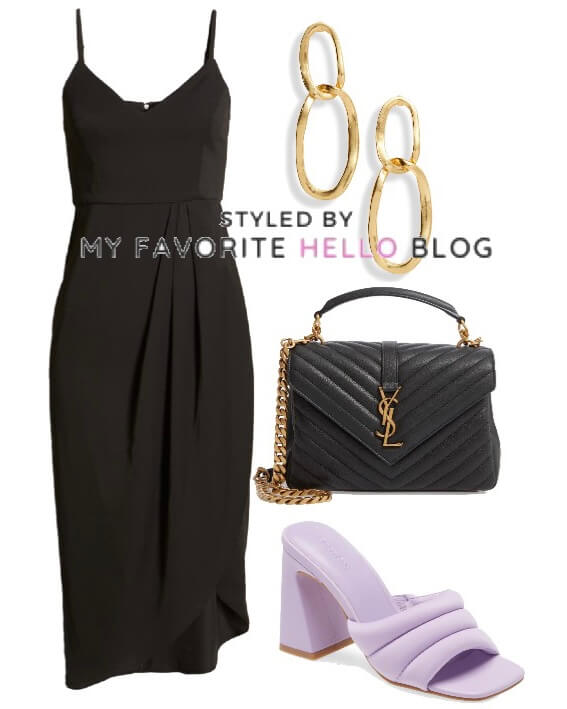 Nude
Nude shoes are another perfect match with a black dress. Nude shoes are the perfect addition to any woman's closet, but they can also be combined with a black dress to create a more understated look that lets the black dress and red bag stand out. This outfit is perfect for a night out or for a party for a special occasion.

Animal Print
A pair of animal print shoes and a shiny red purse is perfect for a glamorous outfit. The animal print shoe will give the outfit some edge, while the red purse adds instant glam. You will be sure to stand out at your event with this animal print and red combination.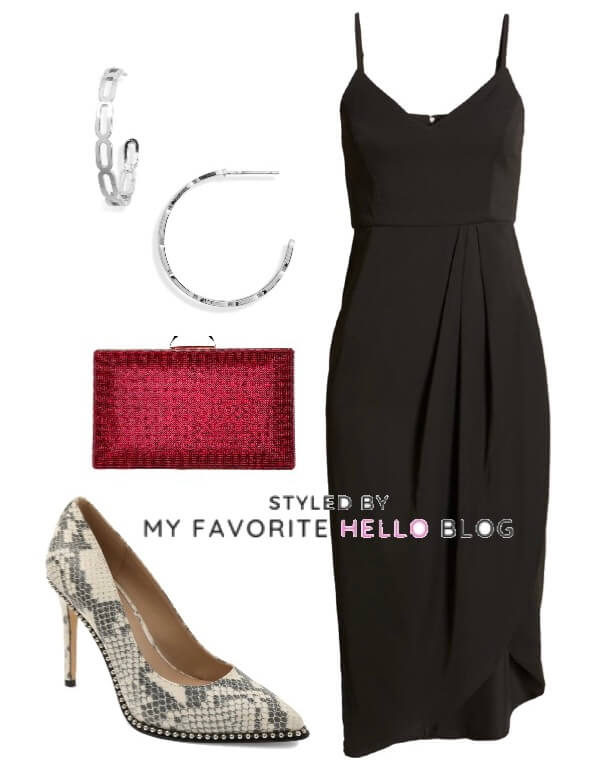 Red
Can you wear red shoes with a black dress? Of course! Red shoes with a black dress and an animal print bag is a very bold outfit. The red shoes is so much fun paired with a pair of colorful heart hoops. Try this outfit for a date night or a valentine's day outfit.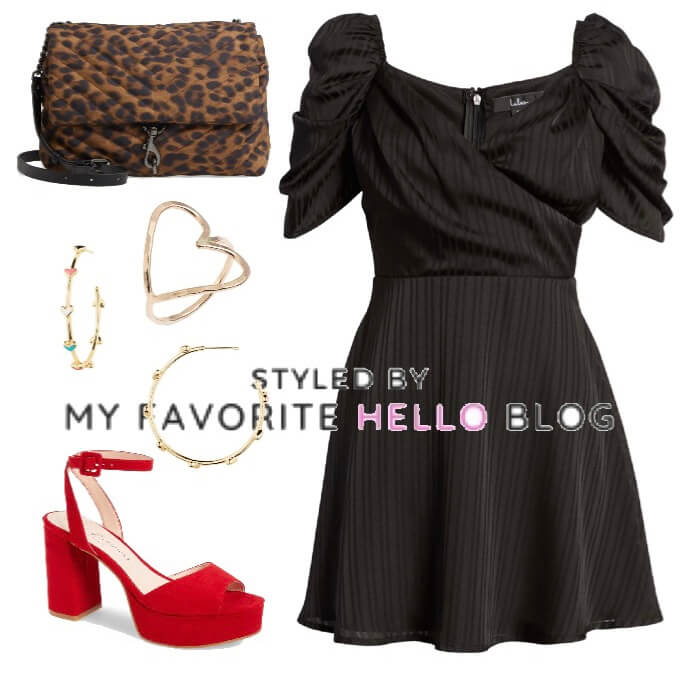 Orange
A pair of orange shoes and a black dress is another bold and fun look for an unexpected outfit that is stylish and trendy. You normally would't think to wear a pair of orange shoes, but they pair perfectly with the accessories in this outfit.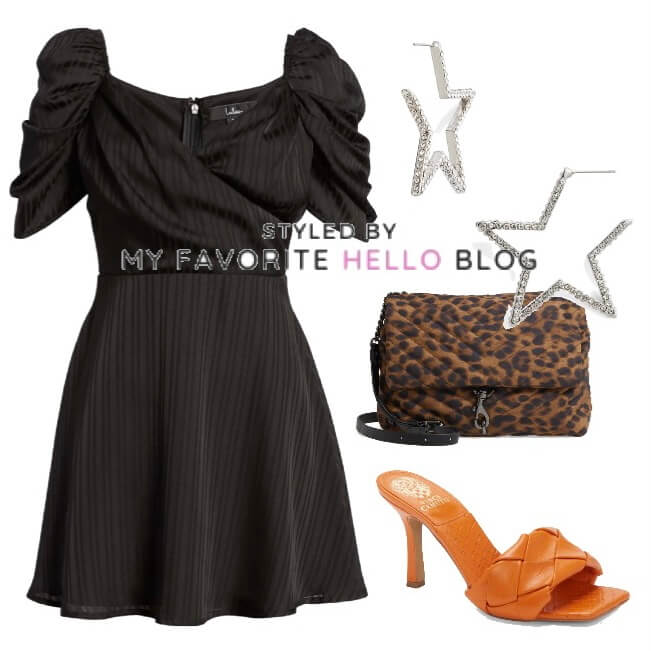 Black is such a classic color, that you can really take some chances with the shoes and accessories you pair with it. I hope these outfits gave you some ideas for what to wear to your next dressy event that is far from boring!
Which shoe color to wear with a black dress is your favorite?
About the creator of My Favorite Hello, and author of this post:
Amy has over 10 years of experience working in beauty and fashion. She previously launched digital products for celebrity beauty brands Fenty Beauty and Glossier, and currently for a national fashion retailer. She also worked previously as a Senior Stylist at Stitch Fix, and currently moonlights as an independent virtual stylist, styling men and women for various occasions from everyday outfits, special occasions, to curating a complete closet. Amy is using her styling experience and expertise to provide general style inspiration and outfit ideas so that you can shop for yourself and put together stylish outfits on your own that make you feel confident and beautiful.
You May Also Enjoy Reading:
10 Looks: How to Style White Boots Outfit Ideas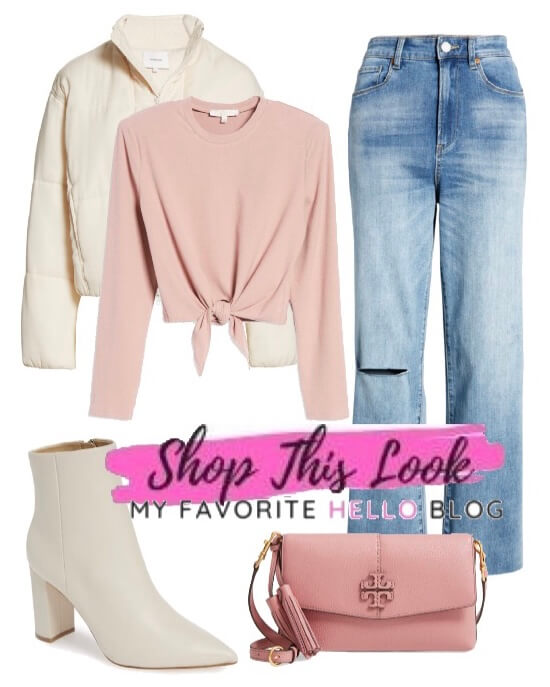 You May Also Enjoy Reading:
10 Looks: What Color Shoes to Wear with a Royal Blue Dress