Tulle Skirt Outfit Ideas
A tulle skirt is so much fun to wear and to style. It's so versatile that there's so many different ways it can be worn to match any occasion. To give you an idea of how to style a tulle skirt, I've created 10 different tulle skirt outfits that can be worn on a casual weekend, to work, and even to a wedding. Keep reading for tulle skirt outfit ideas and to shop each look.
This blog post contains affiliate links which means when you make a purchase using my affiliate links, I earn a commission at no additional cost to you. See my Privacy Policy.
---
Follow me on Instagram: @styledbymyfavehello
Follow me on Pinterest: @myfavehello
Follow Me on LikeToKnow.It: @myfavehello to shop all my outfits!
Don't Miss a Post:
---
Are tulle skirts still in style in 2023?
Tulle skirts are perfect for this season, especially given that skirts are definitely a fashion trend this year. Tulle skirts come in so many styles, colors, and lengths that virtually anyone can wear one to fit their own personal style. The light and airy fabric is perfect for any occasion and can be worn casually or dressy. A tulle skirt is versatile and can be worn feminine or degy, statement making without being overly dramatic, trendy or traditional, depending on how you style it.
With so many retailers selling tulle skirts, this look is definitely still in style. The tulle skirt comes in mini, midi, long, layered, pink, white, and the list goes on! It's been reimagined so many different ways, and it's a must-have in your closet for any fashionista. 

Where can I buy a tulle skirt?
My favorite place for a tulle skirt is Chicwish. They have several different colors, styles, and lengths. You can also find a tulle skirt on Amazon. Find more of my go-to retailers on my Shop My Looks page.
Here are some of the tulle skirts featured in the outfits with a tulle skirt below. Click the image to shop.




How do you wear a tulle skirt without looking fat?
Since a tulle skirt is usually fuller on the bottom, try a tight top with it.  You can also add a belt to give more definition to your waist. Also, pairing pointy toe shoes or barely there shoes will elongate your legs and you will appear taller and thinner. Keep reading for more looks on how to style a tulle skirt without looking fat.
What can you wear with a tulle skirt?
I have created 10 outfits with a tulle skirt with the following, you can see how to style these full outfits. Here's what I'm styling with a tulle skirt:
Moto Jacket
White Sneakers
Graphic Tee
Crop Top
Black Floral Top
Chambray Button Up Shirt
Blazer
Tank Top
Leather Jacket
Ballet Flats
Strappy Heels
How to style a tulle skirt outfit for everyday
To wear a tulle skirt outfit casual and effortless that can be worn everyday, you can pair a simple tee, crossbody handbag and Espadrille Flat. If you want to go even more casual, switch out the ankle booties for a pair of sneakers instead.  A cropped denim or suede jacket adds an extra layer of warmth while still keeping the outfit wearable for a casual weekend or weekday out.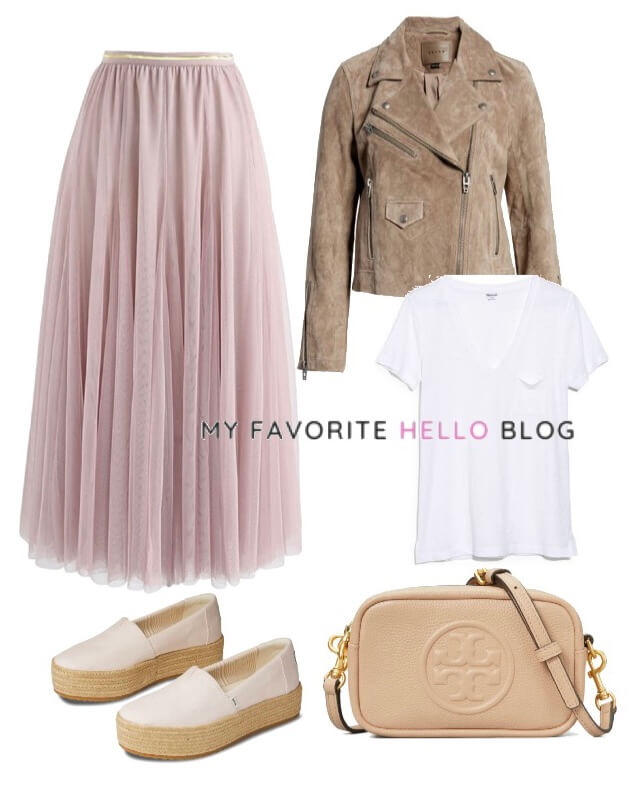 Wear a tulle skirt with sneakers
If you want to go ultra-casual, try a tulle skirt with sneakers. I see many influencers wear their tulle skirt with converse sneakers which is a great choice for  a casual weekend.  However, any simple white sneaker will go with a tulle skirt just fine to keep the look comfortable. Keep the look ultra casual with a graphic tee on top.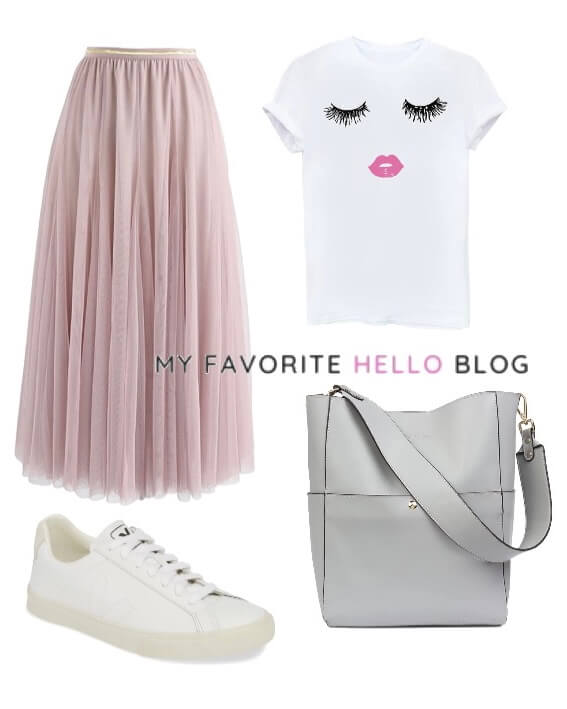 How do you style a long tulle skirt
A long tulle skirt that hits close to the ankles is lovely with a cropped top to balance the full bottom.  Normally a pair of flats with a tulle skirt can appear to look too much like a ballerina.  However, with a long tulle skirt, where you can't immediately see the shoes, a simple pointy toe pair of flats creates a sophisticated look.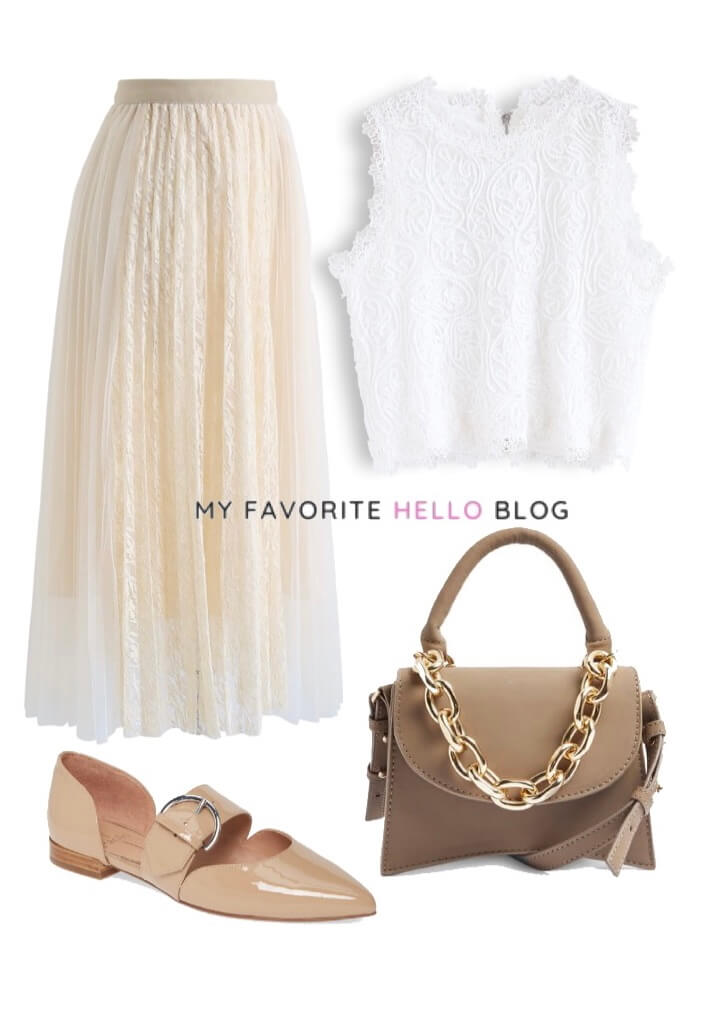 How to wear tulle to a wedding
Wearing a tulle skirt outfit for a wedding can be tricky, but it can be done.  You never know what the bride or bridal party will be wearing, and there's a strong chance their dresses will contain some tulle or even have a tulle skirt. Therefore, for a wedding I would err on the conservative side, and go with a shorter tulle skirt, and pair it with a printed top. A tulle skirt and printed top will look clearly like separates which will differentiate it from the fabulous dress being worn by the bride or bridal party. You may also want to try a dark colored top since it's unlikely the bride or party will be wearing a dark color, such as black. Add a statement heel which screams more wedding guest than bridal.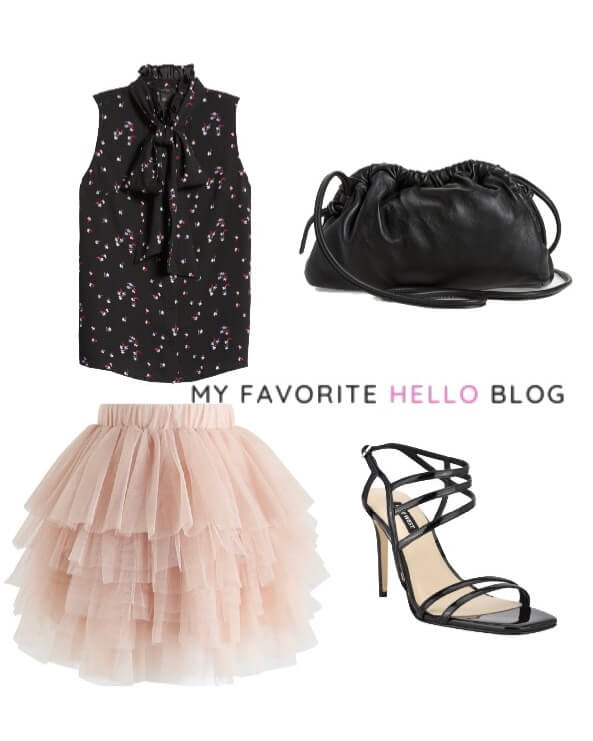 Feminine outfit with a pink skirt
A pink tulle skirt is so feminine, and can really be worn so many different ways and with any of these outfit ideas. To keep a tulle skirt outfit ultra feminine, but not ballerina, try a traditional chambray or button up shirt, a statement necklace, designer bag and simple but pretty heels.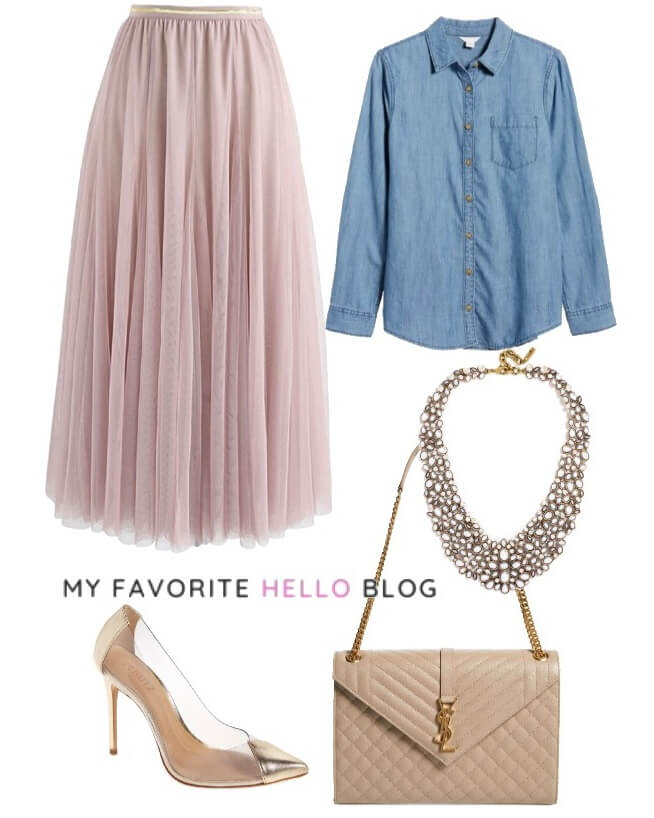 For a date night or girl's night out
A tulle skirt with a cropped top and statement heel is perfect for a date night outfit or a girls' night out. A mini tulle skirt and bright colors take the fun and flirty factor up a notch. This outfit is bold and sexy and perfect for a fashionista.

Tulle skirt for fall
Pair a sweater and knee high boots with a tulle skirt for fall.  Keep the color dark and muted for the season for a trendy but warm outfit for cooler weather. A printed tulle skirt with black pointy booties are make for a perfect fall outfit.



Tulle skirt for work
You can definitely wear a tulle skirt to work, depending on your work environment of course. To add more polish to a tulle skirt, I recommend a structured blazer on top and a tulle skirt on bottom with less "poufy" layers. Keep the tulle skirt to a neutral color for a more professional (and less cutesy and girly) feel as well.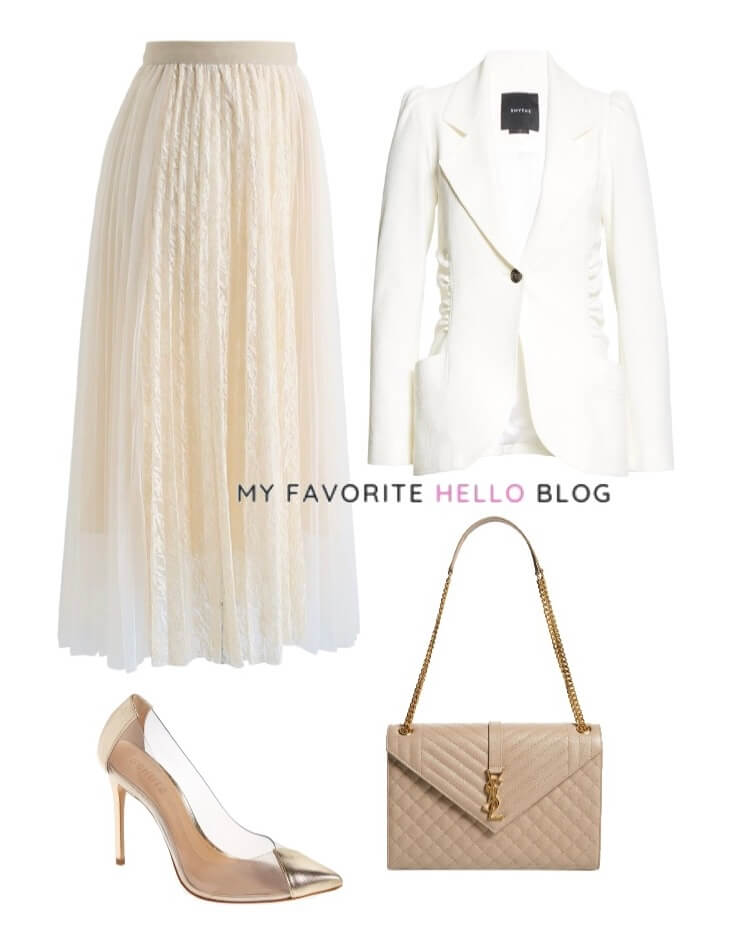 Mini tulle skirt
I like the simplicity of a mini tulle skirt with a simple white sleeveless top and barely strappy sandals. A mini tulle skirt in a light color is the perfect sassy and flirty outfit for a hot summer night.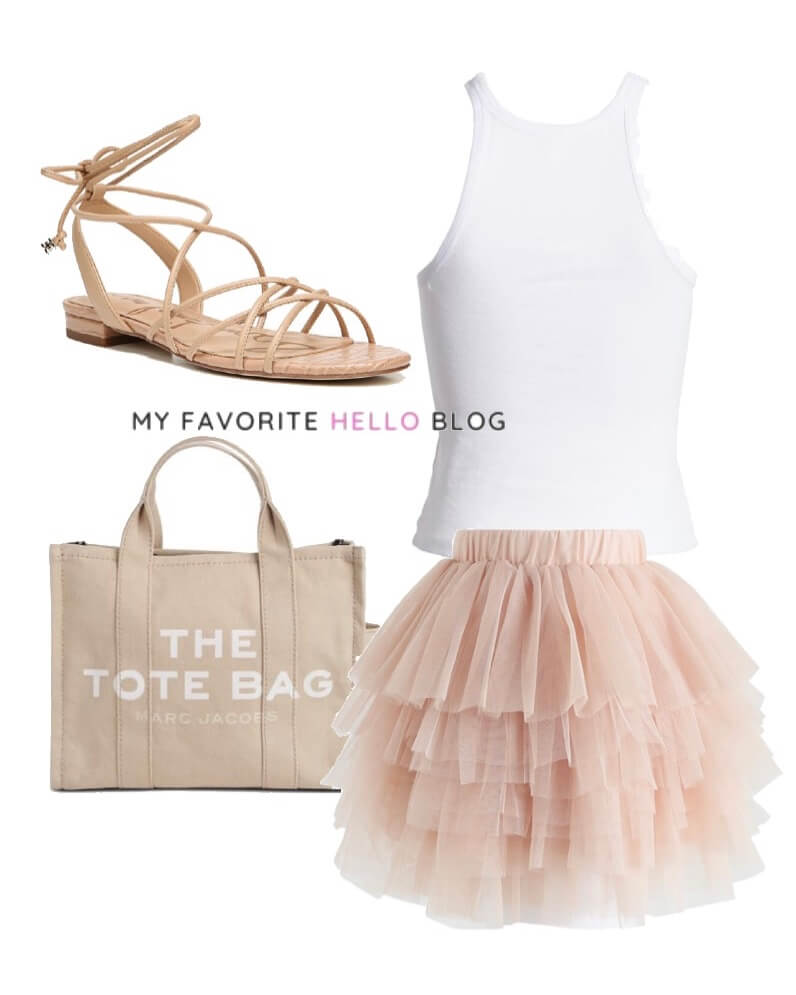 With edgy details
A tulle skirt can also be worn by those with an edgy style. Try a leather jacket and black heels for an edgy look. I love this graphic tee; it's so cute and versatile!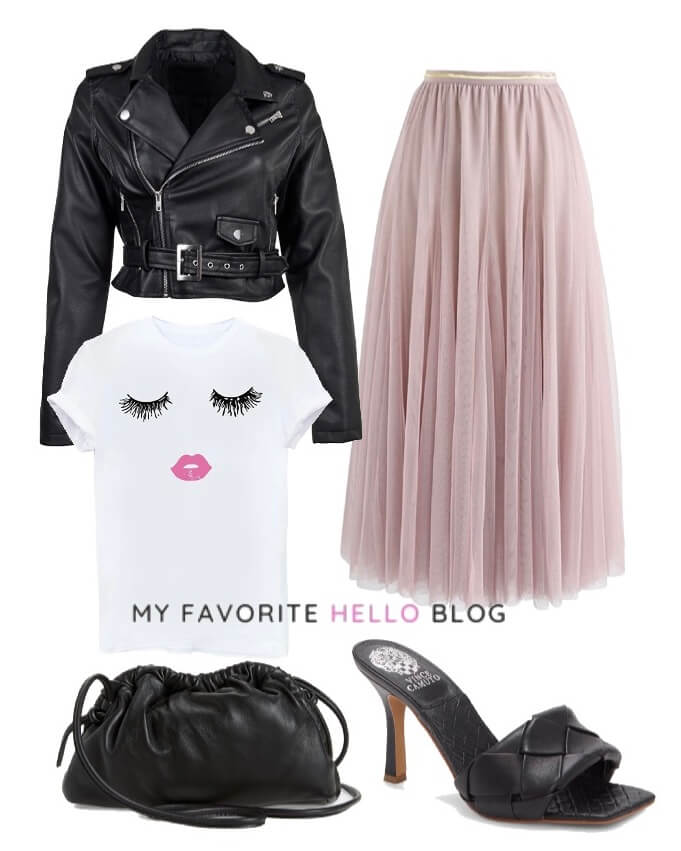 More Style FAQs
What shirt do you wear with a tulle skirt?
A button up chambray shirt, a simple tee or tank top, or a graphic tee all can be worn with a tulle skirt.
What do you wear under a see through tulle skirt?
If you want to wear a sheer tulle skirt, try pairing it with jean underneath.  If you have a see through tulle skirt, you can wear a pair of spanx or biker shorts in a skin color.
What shoes go with a tulle skirt?
Any shoes can go with a tulle skirt, from sneakers to a statement heel.  Avoid a round toe flat as it can make you look like a ballerina.
Is it ok to wear a tulle skirt to a wedding?
Yes, you can wear a tulle skirt to a wedding, but try it with a printed top or dark color so it will look less bridal just in case the bride or bridal party is also wearing tulle.
Which tulle skirt outfit is your favorite style?
About the creator of My Favorite Hello, and author of this post:
Amy has over 10 years of experience working in beauty and fashion. She previously launched digital products for fashion and beauty brands Fenty Beauty, Glossier, Marc Jacobs, and Men's Wearhouse and Stitch Fix. She also worked previously as a Senior Stylist at Stitch Fix, and currently moonlights as an independent virtual stylist, styling men and women for various occasions from everyday outfits, special occasions, to curating a complete closet. Amy is using her styling experience and expertise to provide general style inspiration and outfit ideas so that you can shop for yourself and put together stylish outfits on your own that make you feel confident and beautiful.
You May Also Enjoy Reading:
10 Best Stores for Dusty Rose Bridesmaid Dresses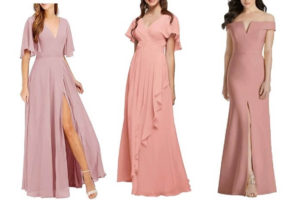 You May Also Enjoy Reading:
Wedding Guest Dress Outfit Ideas