How to Style Pink Shorts for Women
Pink shorts are a must-have for some women. They are cute, stylish, and easy to wear.  However, many people aren't sure what to wear with pink shorts.  To give some inspiration of how to style pink shorts outfits, I've created 10 different outfits with pink shorts for different occasions, including a casual weekend, a night out, even to work and more. Keep reading for pink shorts outfit ideas and to shop each look.
This article includes affiliate links which means when you make a purchase using my affiliate links, I earn a commission at no additional cost to you. See my Privacy Policy.
What can you wear with pink shorts?
Pink shorts can easily go with anything. Try them with things you never would have thought such as a sweater, white boots, black leather, and more. I show you how to style these items with your pink shorts for multiple occasions ranging from vacation, date night, to a casual weekend.
Of course, pink shorts are a summer staple, and I also show you how to can wear pink shorts for summer with strappy sandals, classic sneakers, and tank tops.
Keep reading for more outfit ideas to inspire you how to wear pink shorts.
Are pink shorts in style 2023?
Pink shorts are a classic piece for any closet, and will never go out of style. Pink shorts are very versatile and can be worn any number of ways, from a beach vacation to a preppy work outfit. Pink shorts are still in style, sold by many retailers, and currently worn by influencers across Instagram. 
If you aren't sure about how to style your pink shorts, keep reading for 10 outfit ideas with pink shorts. Also, check out more in this style tips series for how to style denim shorts, yellow pants, and cream pants for more outfit ideas and outfit inspiration.
Where can you buy pink shorts?
Pink shorts are sold at most major retailers. Some of my favorite retailers for pink shorts are Nordstrom, Amazon, and Target. Depending on your budget and brand preferences, try these retailers to find different styles of pink shorts.  Here are some of my favorites, and are used in the 10 outfits I created with pink shorts below.

10 Outfits with Pink Shorts
1. Pink Shorts for a Night Out
A pair of pink paperbag shorts, a bodysuit and strappy heels is perfect for a night out.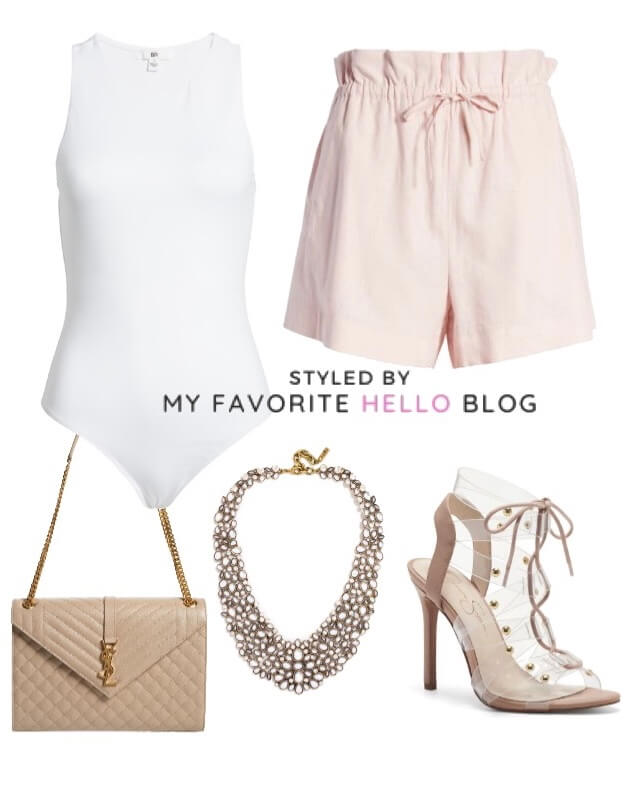 2. Pink Shorts for a Work
Try a pair of pleated pink shorts with a tweed jacket and black mules for a more traditional look that can even be worn to work. The blazer is polished and professional while the pleated shorts are structured and clean for a sophisticated look that can go from the office to the weekend.

3. Pink Shorts for a Casual Weekend
Try pink shorts with a kimono and white boots for a chic and relaxed casual weekend outfit. The kimono and white boots are perfect for a festival outfit or summer vacation.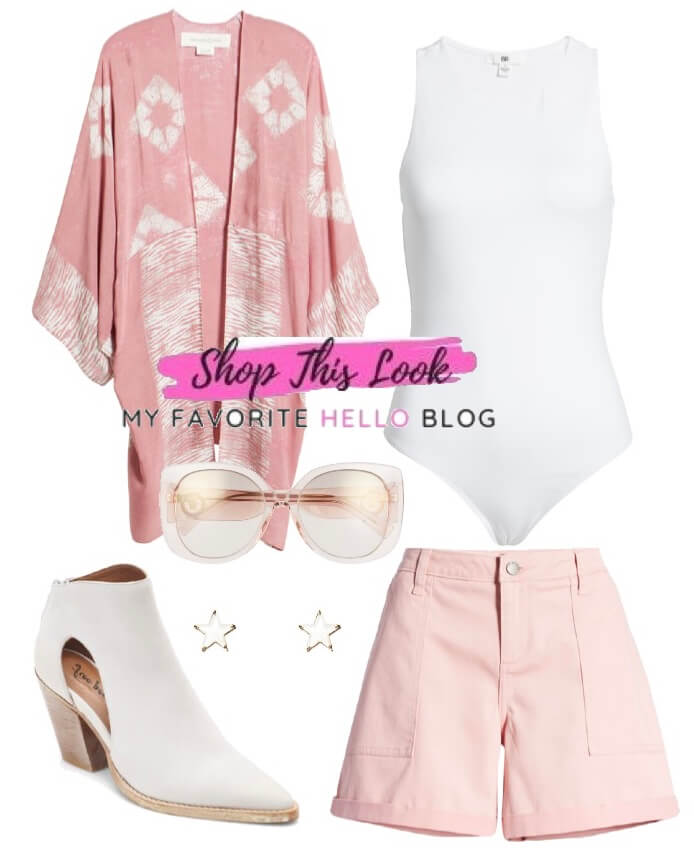 4. All Pink Outfit with Shorts
Wear different shades of pink for an all pink shorts and sweater outfit that is perfect for a casual summer day.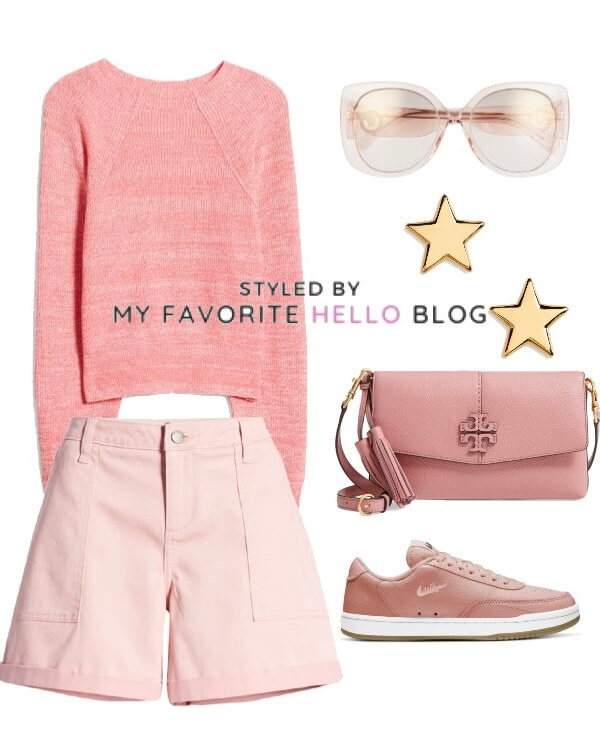 5. Pink Shorts with Boots
Try pink shorts with white combat boots for an edgier look. Add a sweater and tote for a comfortable and casual look for a weekend out.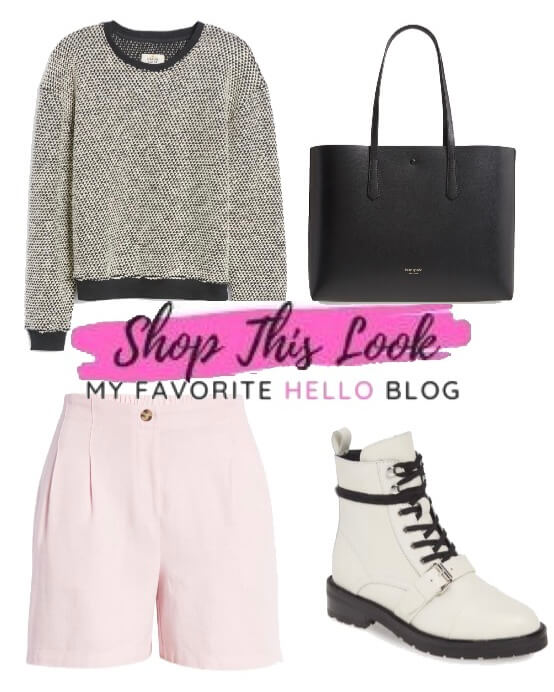 6. Pink Shorts for Summer
Try pink shorts with a simple tee for a casual summer outfit. Layer a suede moto jacket to transition this look from day to night.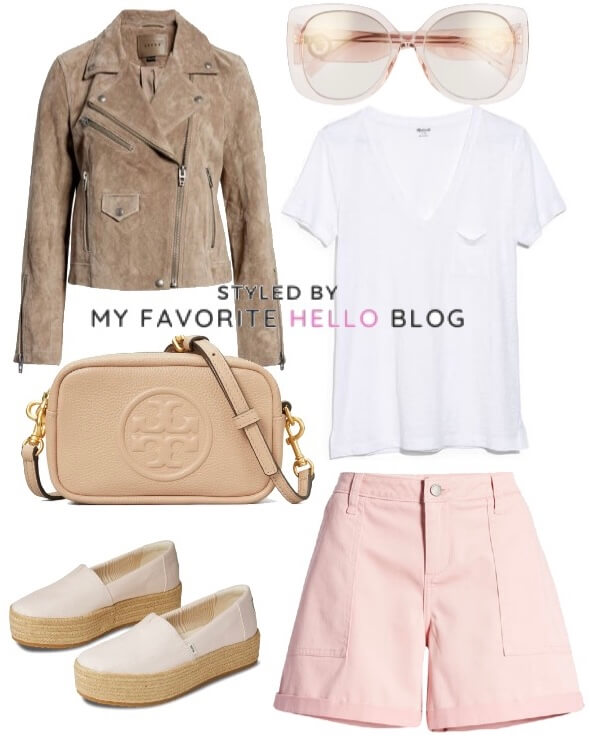 7. Pink Shorts for Vacation
Try a pair of pink shorts with a straw hat and flat sandals for a relaxed vacation outfit. These comfy but stylish pink shorts and basic white tank are so easy to wear, but paired with these strappy sandals and oversized tote make this outfit anything but boring or basic. A white denim jacket can be added for another layer.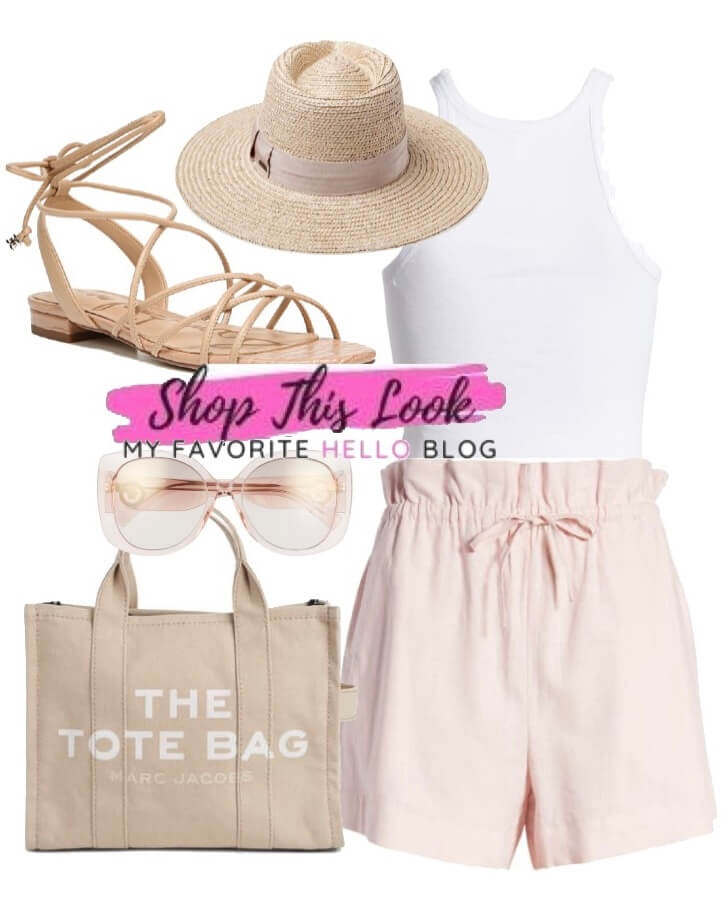 8. Pink Shorts with Sneakers
Style your pink shorts with a tee and sneakers for a casual and comfy outfit. These white sneakers and simple printed tee complement these pleater pink shorts for a look that is made for running errands all weekend long.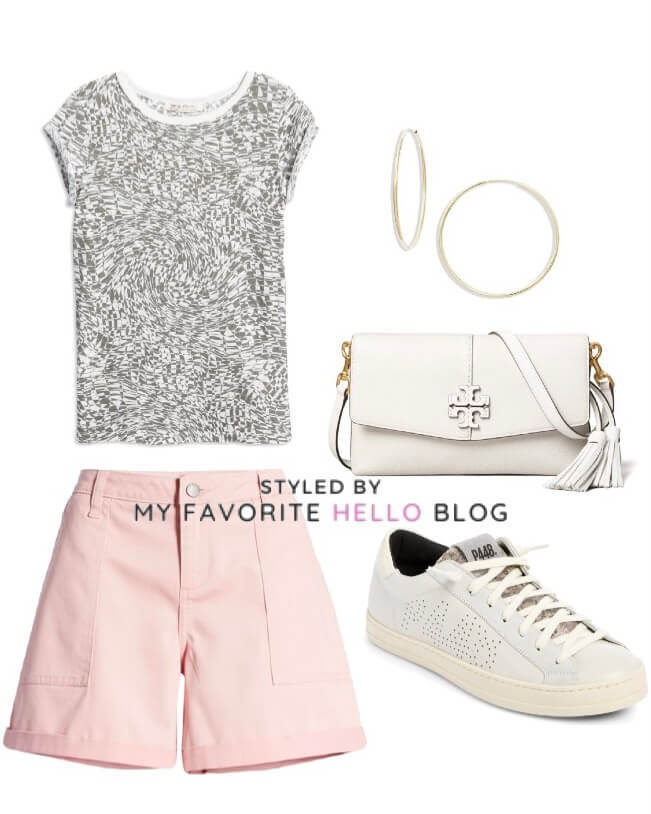 9. Hot Pink Shorts with Black Leather
Try this hot pink shorts outfit with black leather accessories for an edgy and sexy outfit. This cute graphic tee and leather jacket are the perfect addition to complement these hot pink shorts for a flirty and edge date night outfit, and is the perfect way to dress up shorts.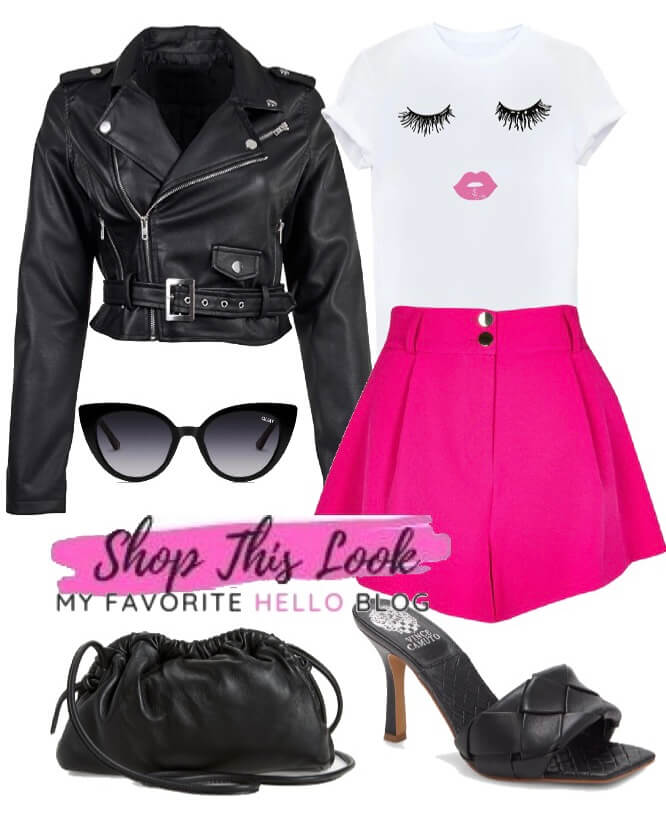 10. Hot Pink Shorts Outfit
These bold hot pink shorts can also we worn causally with some neutral accessories. Try this cropped white tee and sandals with a tan handbag for a casual summer outfit you can wear all summer long. This bag can go with anything and is a classic staple item for your summer wardrobe.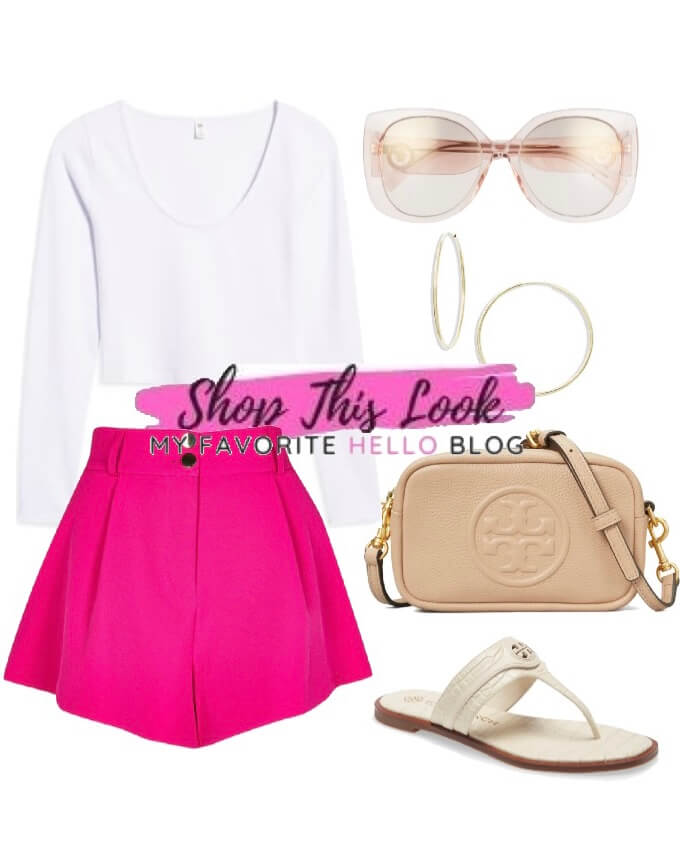 Pink shorts are a classic summer staple. These pink shorts outfit can be styled so many different ways, for work, for a casual weekend, for date night, and more. I hope these outfits inspired you on how to wear pink shorts, so try a few and fun with your closet!
Which pink shorts outfit is your favorite?
Creator of My Favorite Hello and Author of this Article
Amy has 10+ years of experience in fashion and beauty launching digital products for global brands Fenty Beauty, Glossier, Marc Jacobs, Men's Wearhouse and Stitch Fix. She also worked previously as a Senior Stylist at Stitch Fix, and currently as an independent virtual stylist, styling men and women for various occasions from everyday outfits, special occasions, to curating a complete closet. Amy is using her styling experience, fashion and beauty expertise to provide style inspiration and outfit ideas so you can shop for yourself and put together stylish outfits that make you feel confident and beautiful. @styledbymyfavehello
You May Also Enjoy Reading:
10 Looks: How to Style White Boots Outfit Ideas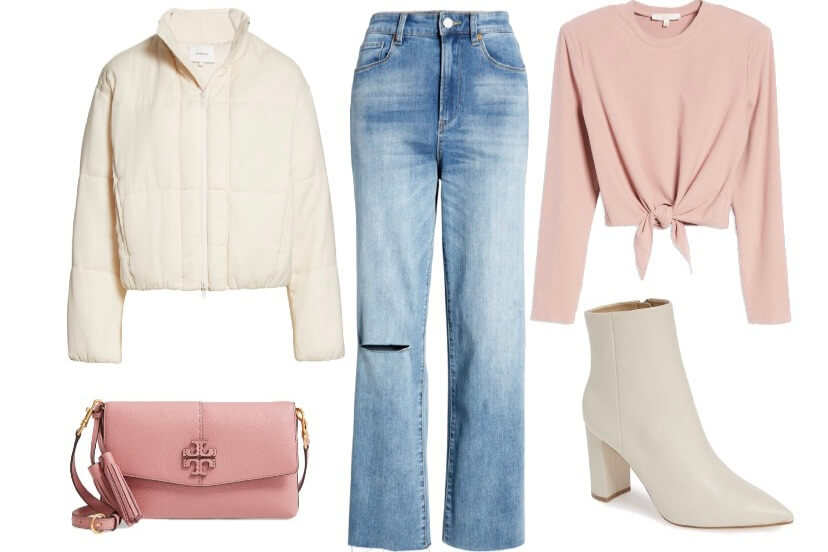 You May Also Enjoy Reading:
Closet Must: How to Wear a White Denim Jacket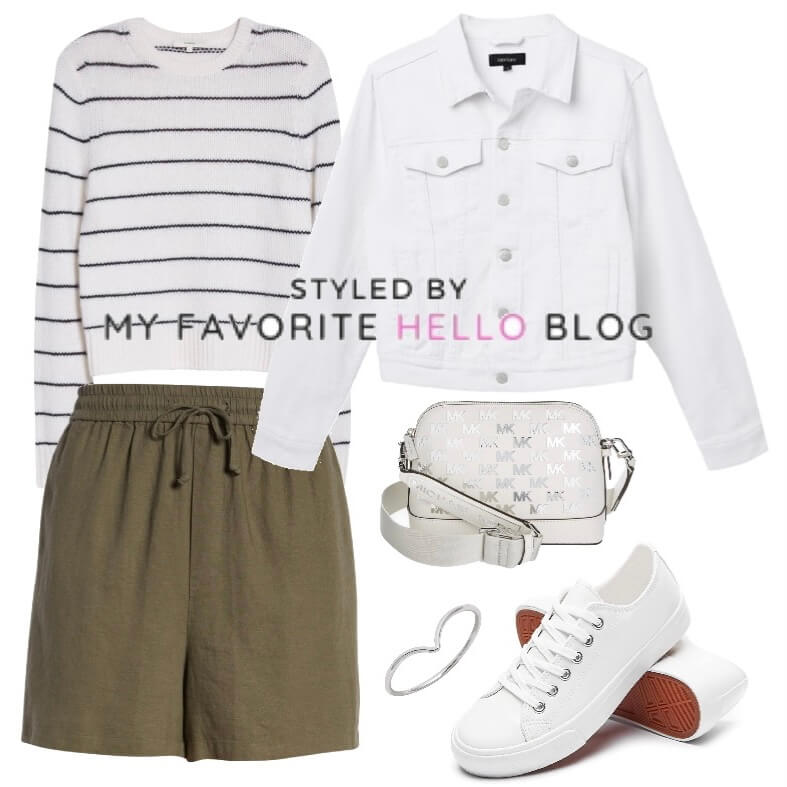 You May Also Enjoy Reading:
11 Ways to Style Tory Burch Sandals Outfits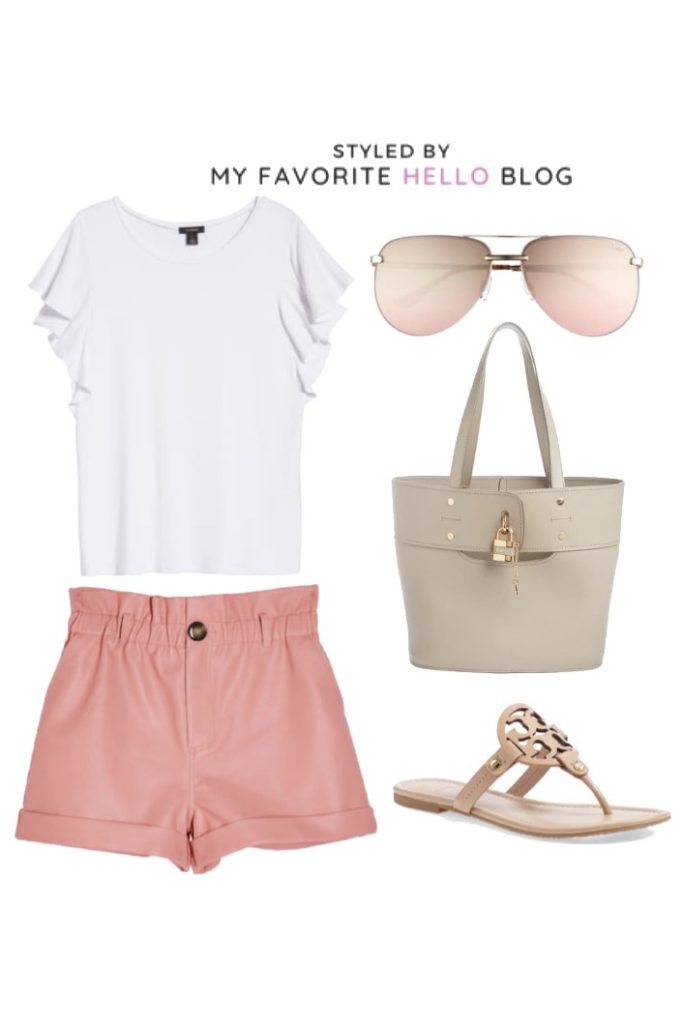 You May Also Enjoy Reading:
How to Dress Up Denim Shorts for a Hot Girl Summer