My Front Door Fashion Review 2023
Not only have I worked for Stitch Fix as a stylist, but I have tried many different style subscription services including Stitch Fix, Wantable, Fashom, Trunk Club, DailyLook and Nadine West. I finally tried Front Door Fashion after receiving a $50 account credit by signing up using a referral link. I had a great experience with Front Door Fashion and would use this styling service again. Keep reading my Front Door Fashion 2023 Review to find out why, and how you can receive a $50 account credit by signing up with my referral link.
This article includes affiliate links which means when you make a purchase using my affiliate links, I earn a commission at no additional cost to you. See my Privacy Policy.
How Front Door Fashion Works
Before getting into my first Front Door Fashion review, here's some information on the Company and ordering your first box.
Front Door Fashion uses stylists to handpick 3-5 complete outfits for women, including clothes and accessories. Here is how you get started with ordering a box. Style boxes are available via mail and ship to and from your address free of charge. If you live in or near Dallas, TX, you can also visit Front Door Fashion's headquarters for a live Style Session.
STEP 1: Sign up using my referral link to receive a $50 account credit towards your first box.
Trust me, you will want the $50 account credit that you can use towards anything in your first box. Once you use my referral link, complete the form to register for an account by providing your email address, basic information, and password.
STEP 2: Complete the style quiz.
Take a comprehensive quiz on your size, style, and lifestyle preferences that is saved to your account profile.
Provide your answers for:
From a series of images, Click on styles that represent you.
Input celebrity styles you like, link to Pinterest, and designers you like
Denim preferences
Colors and patterns preferences
Jewelry style and what accessories you want to receive 
Your body silhouette, what love and don't love to show off, and your preferred fit of tops and bottoms
Height, weight, sizes – I love that Front Door Fashion allows you to select multiple sizes by both number and letter.
Add any notes on fit, hair color and complexion
Budget preferences range from:

Accessories & Jewelry: $25-200+
Shoes: $50-200+
Bottoms: $100-200+
Dresses: $100-200+
Outer Layers: $100-200+
Tops: $100-200+

The occasions you want to be styled for

Depending on occasion, there are further questions on what types of items you want, your areas of need, and what you don't need

If want sale pieces which are older styles
Choose your frequency: quarterly, monthly, on demand
STEP 3: Start your subscription and order a box for delivery.
Order your first box. There is no obligation to subscribe as you can order boxes on demand. There is no styling fee at all, and no shipping fees. However, you do have to put down a $100 deposit. If you do not keep anything, the entire $100 deposit is refunded once the box is sent back. If you purchase less than $100, the amount not spent from the deposit will be refunded.
STEP 3: Speak with your stylist via email or phone (optional)
Your stylist will reach out to you to set up a time to chat about your preferences/profile and what you want in your first box. I chatted with my stylist over the phone for about 20 minutes, and we went over my entire profile. We talked about what I currently have in my closet, and what I wanted to receive to fill any gaps in my wardrobe. It was a very worthwhile conversation and much of what I said she referenced in her note with the outfits she styled for me.
STEP 4: Receive your box and try on at home.
The box was delivered via Fedex and included three full outfits (less shoes) on the hanger. You will have 5 business days from the day you receive your box to try on your looks.
STEP 5: Checkout online.
Checkout online with feedback on each item, and return the remaining items with the prepaid return shipping label via Fedex.
How Much Does Front Door Fashion Cost?
There is no styling or shipping fees for a Front Door Fashion for any of your boxes. However, they do charge a $100 deposit which is refunded completely if you keep nothing, or partially refunded if you keep anything less than $100.
You're only billed for what you keep, and your $50 referral account credit you receive by using my referral link is applied to your first box.
In Front Door Fashion's style quiz, the budgets you can choose from are $25-$200 for accessories, jewelry and shoes. It's $100-200 for bottoms, dresses, outer layers, and tops.
Try Front Door Fashion with my referral link and receive a $50 account credit to use towards anything you purchase in your first box!
How Does Front Door Fashion Compare to Stitch Fix?
Front Door Fashion is pretty comparable to Stitch Fix's Luxe Fixes. I like that Front Door Fashion sends complete outfits instead of just five items that may or may not make an outfit like Stitch Fix. Front Door Fashion also is a bit on the pricier side, so if you like Stitch Fix Luxe items, then Front Door Fashion is a must try.
The items from Front Door Fashion are more fashion-forward and trendier than what Stitch Fix normally sends in a Fix.
Since Front Door Fashion doesn't have a styling fee, there's no risk in trying a box.
What Brands Does Front Door Fashion Carry?
Front Door Fashion carries may mid- and high-end brand names including the following:
Gentle Fawn, Liverpool, AG, Etienne Marcel, ecru, Greylin, Amanda Uprichard, Spanx, Michael Stars, Velvet Heart, BB Dakota, Fifteen Twenty, Vilagallo, Equipment, Hudson, DL1961, Sanctuary, Z Supply, Trina Turk, Karen Kane, Caballero, Nic + Zoe, Joie, Bailey44, Tart Collections, Paige, Rails, Milly, and more!
My First Front Door Fashion 2023 Review
For my first box I requested a pair of straight leg jeans that are on-trend right now with cute tops that can be worn with them. I also asked for a blazer and other classic pieces. I also asked to avoid prints and bright colors. I told them that @FashionedChicStyling and @CMCoving were my style inspirations, and anything similar to the edginess of @FashionChicStyling and the girliness of @CMCoving would work.
My Front Door Fashion box arrived in a big box. I received 12 items, or three outfits on the hanger which I really appreciate. Each outfit was put together on the same hanger so I knew what went with what. It made it really easy to try on everything.
Here is what I received:
The wide leg jeans were a bit out of my comfort zone, and I really wanted a pair of straight leg jeans, but they just didn't look good on me so I decided to return them. I liked the white blazer but didn't think I would get enough wear out of it so I decided to return it as well.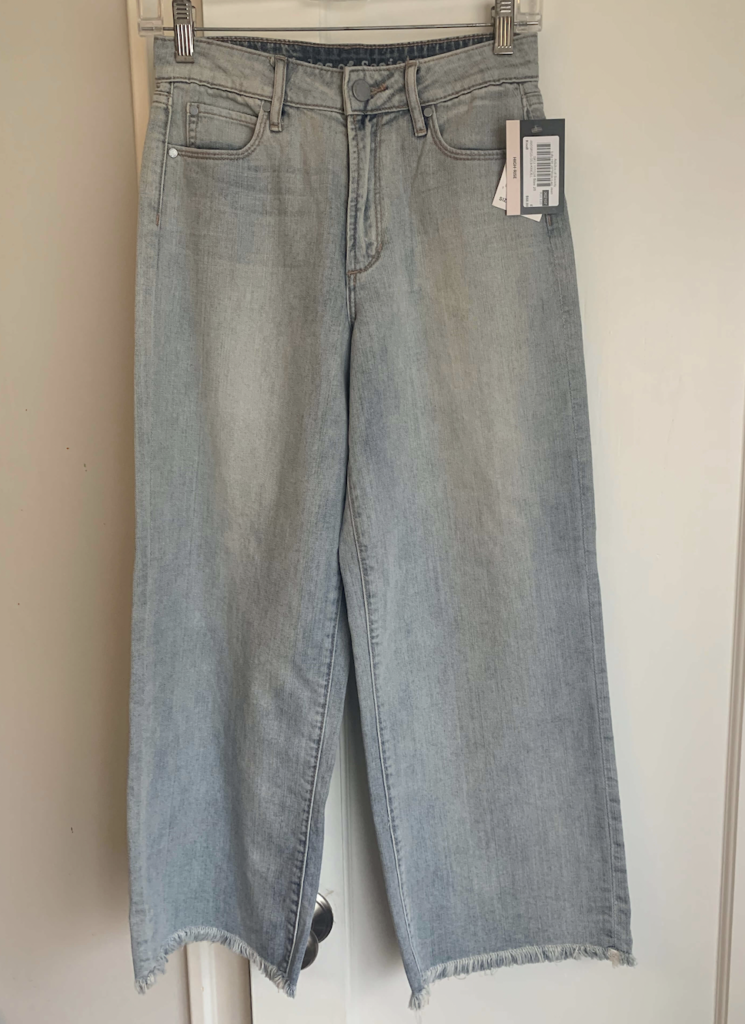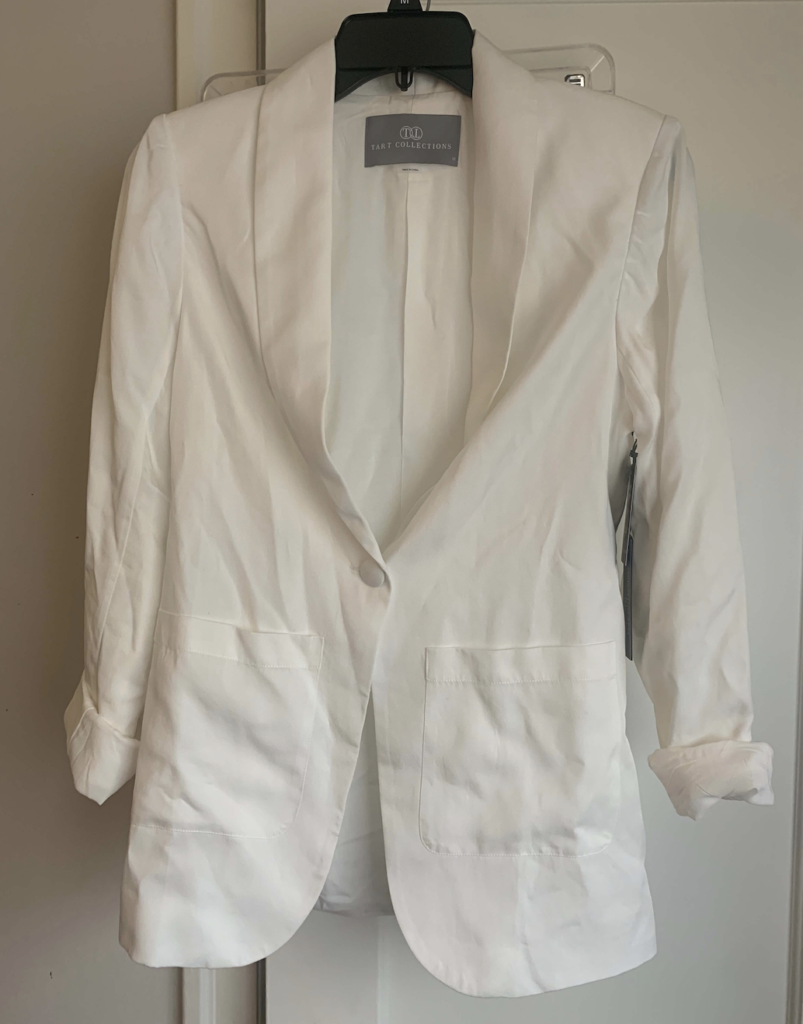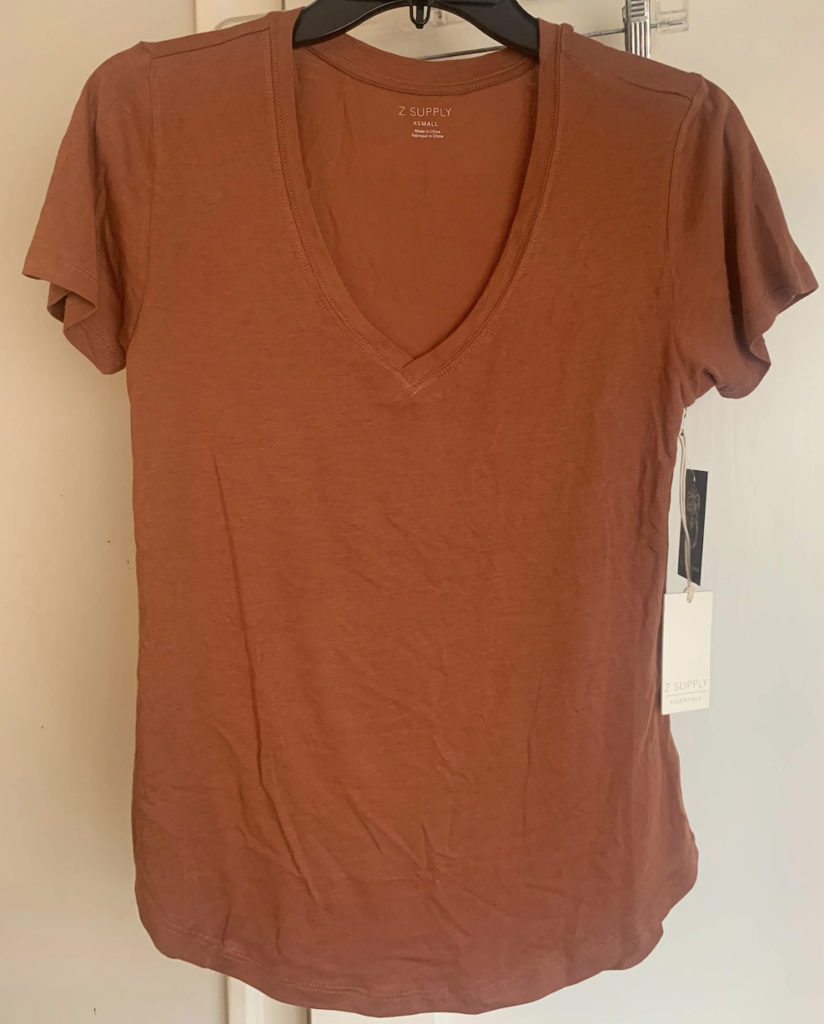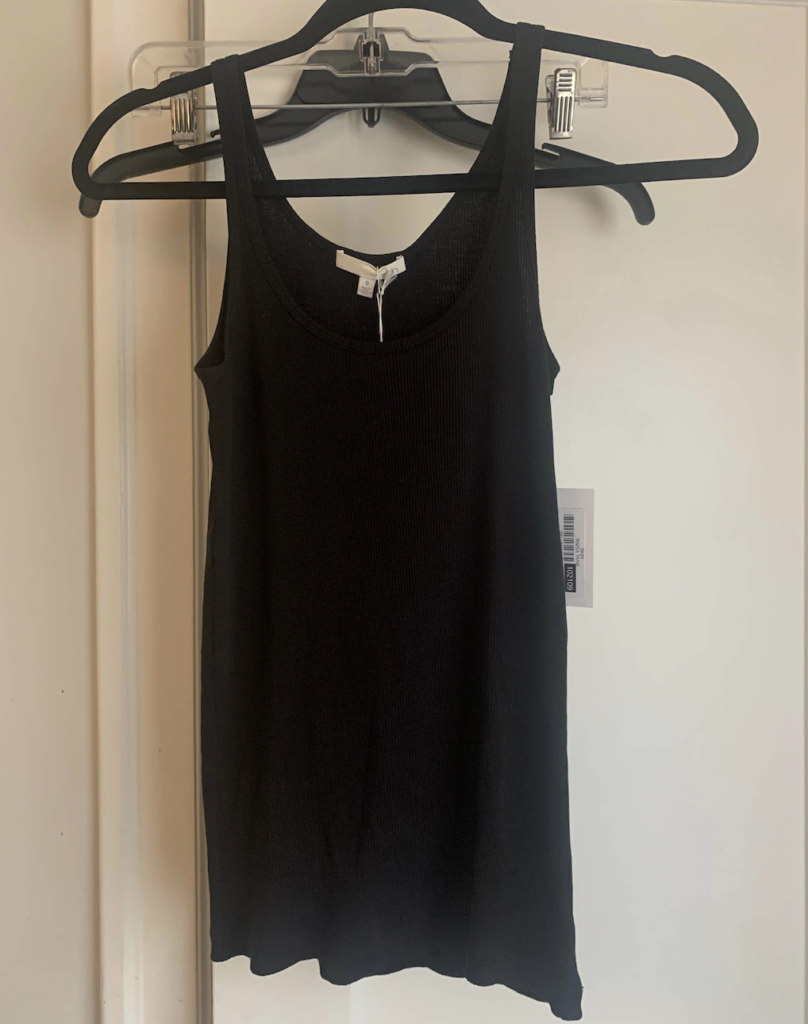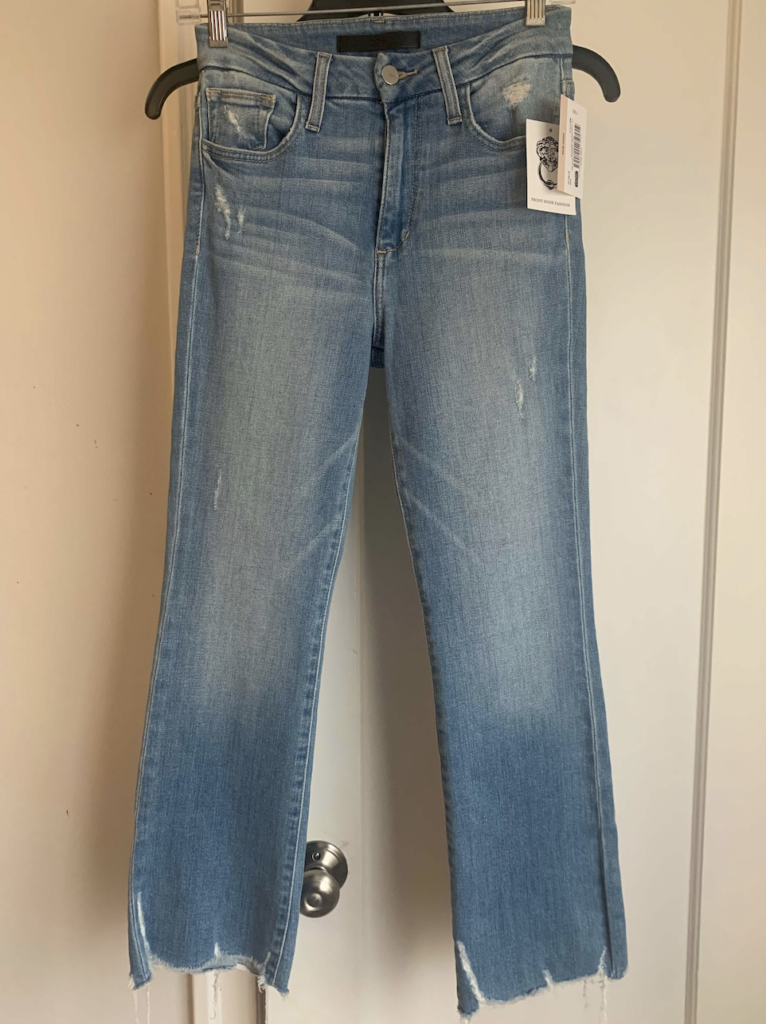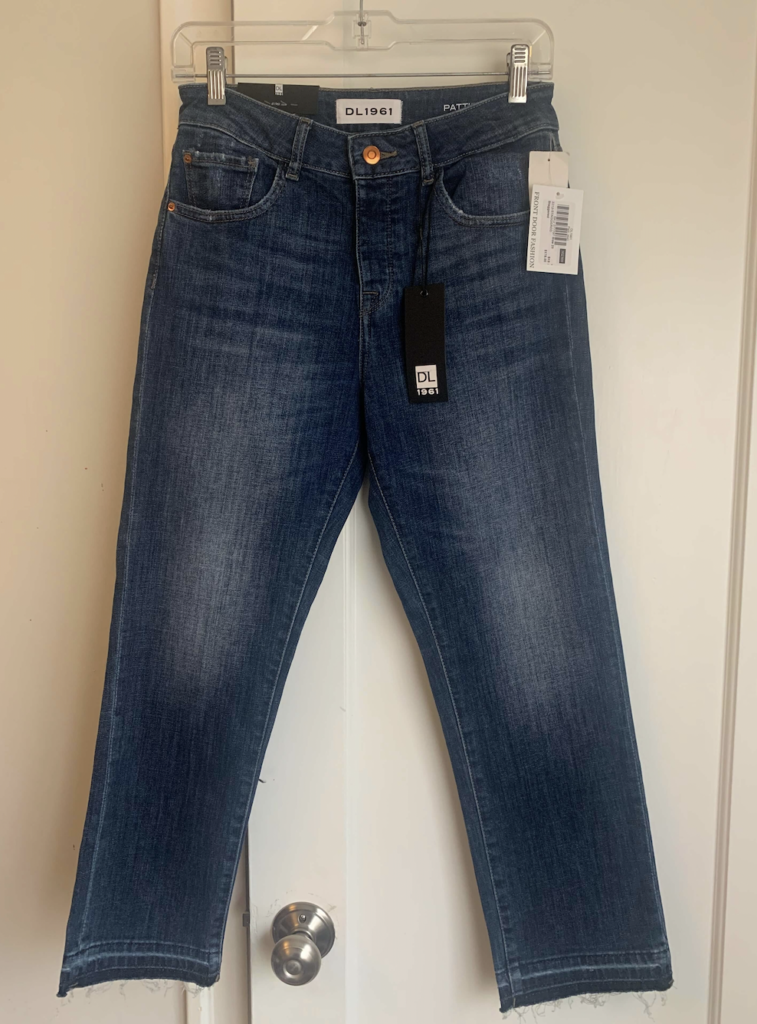 I loved this bomber jacket. It's totally my style, and it fit well. I thought it was a really unique piece, so I kept it.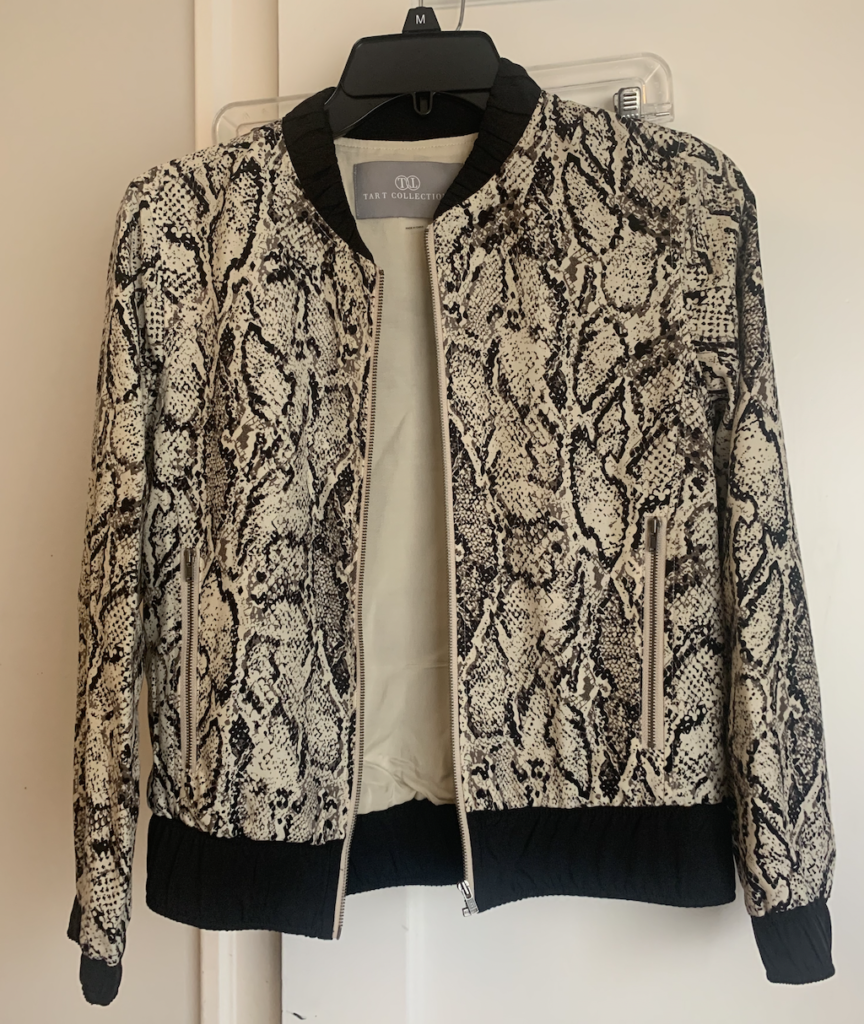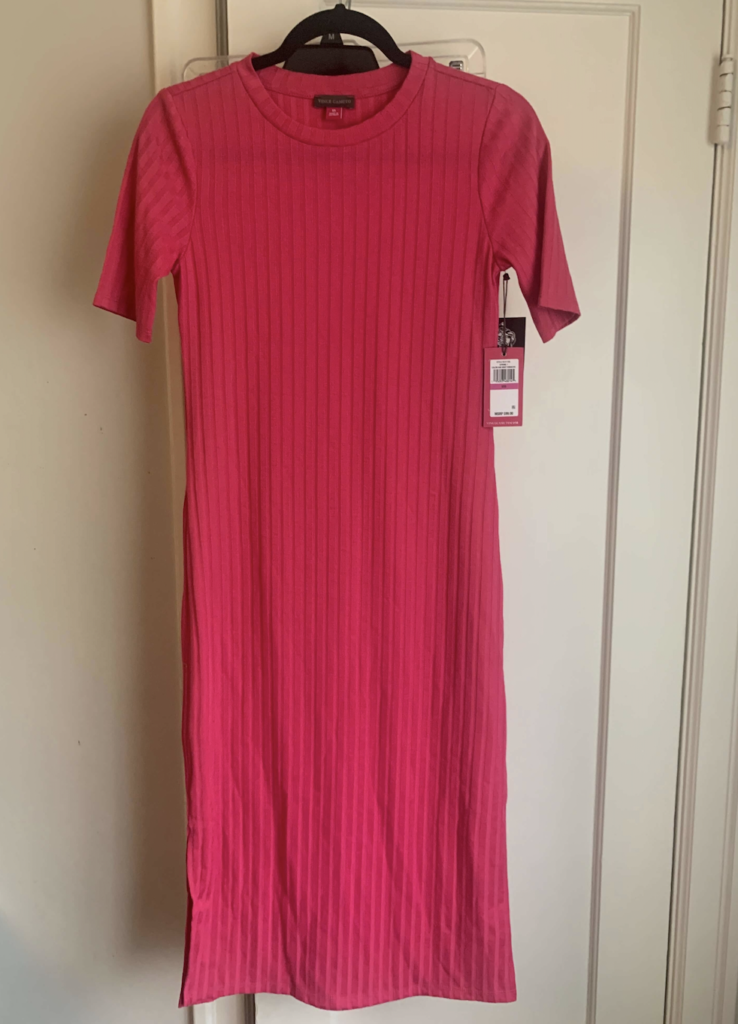 I asked for layering necklaces so these are as requested. They were cute. However, I decided not to keep them because I didn't feel they were special enough.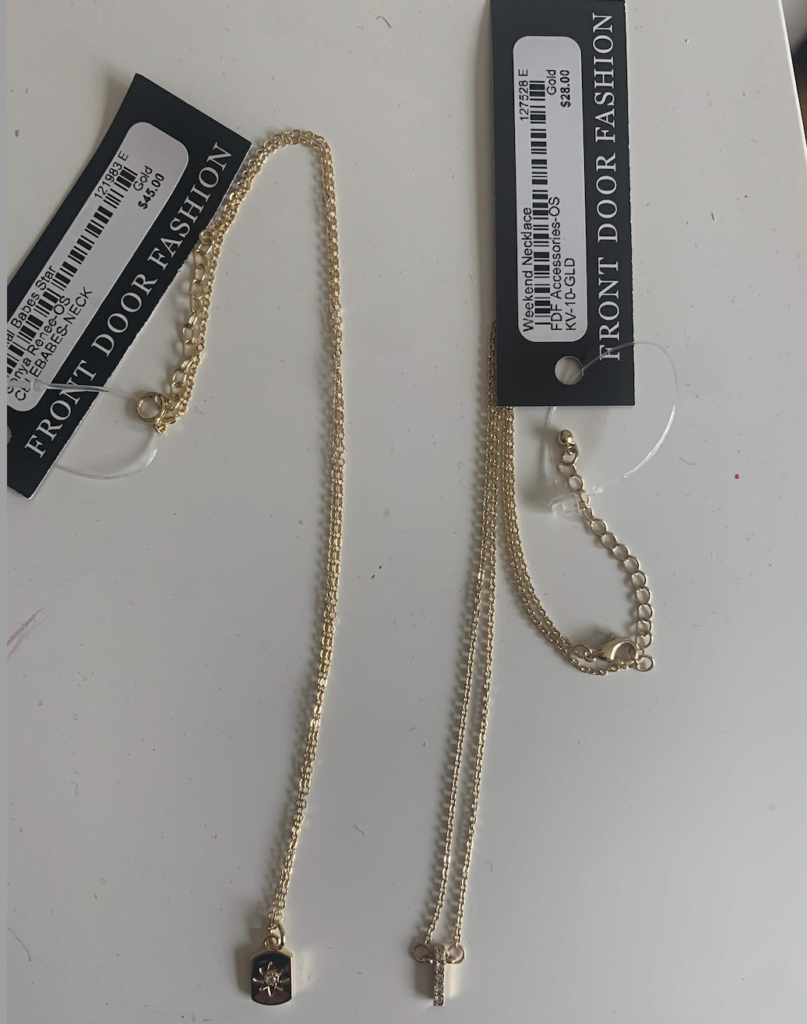 These two black tops were cute but I just didn't think I would wear them enough. I felt these were very on-point in terms of my style, especially because I gave them @FashionedChicStyling as an inspiration.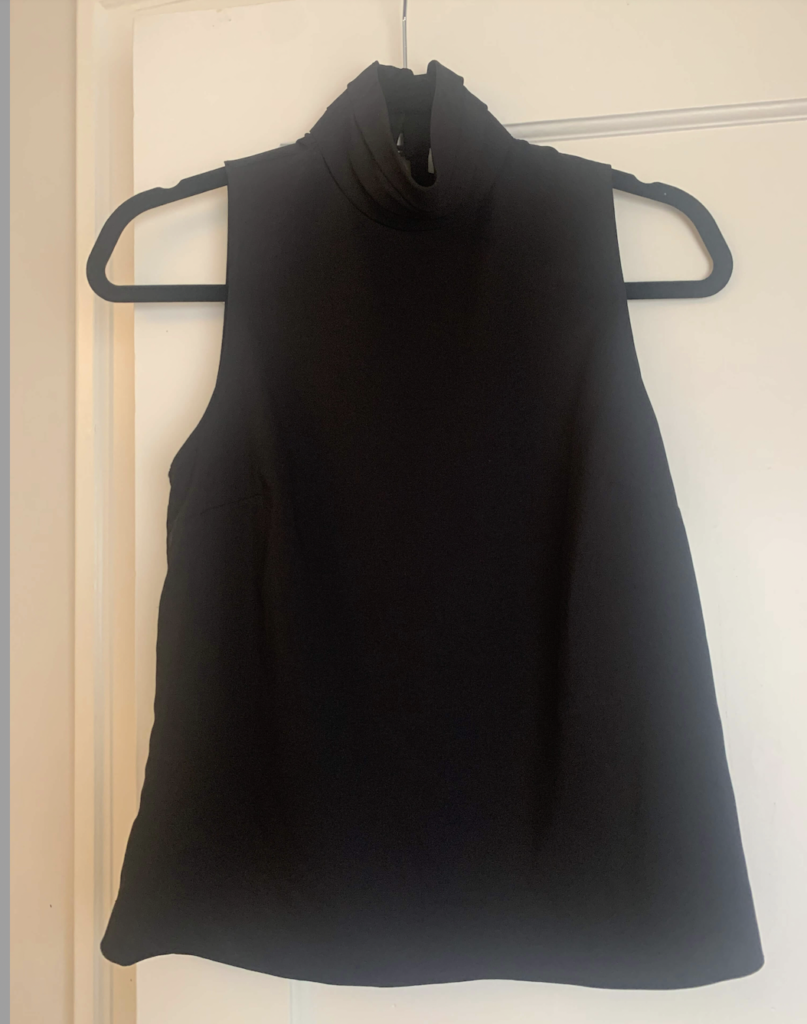 My two favorite items were the Tart Collection Python Bomber and the Tart Collection White Blazer. Both were super cute and fit well. I am familiar with Tart Collection from Stitch Fix, but didn't know they had such cute and modern pieces like the ones sent to me. It might be my new favorite brand to shop now!
I decided that I wouldn't get enough wear out of the Tart Collection white blazer, and decided to just keep the Tart Collection Python Bomber jacket. It can go with jeans and dresses, be styled casual, edgy, or for a night out. I know I will get a lot of wear out of it, and it will be worth the steeper price at $150. Since I used a referral link I also got an additional $50 off.
Try Front Door Fashion with my referral link and receive a $50 account credit to use towards anything you purchase in your first box!
My Honest Front Door Fashion Review
I am very satisfied with my first Front Door Fashion experience and give them a very good review.
It was very easy to fill out the style quiz, and it covered everything I expected related to my size, fit and lifestyle preferences. It was very easy to order a box on demand and leave a note for my stylist. I also enjoyed that I could communicate with my stylist via email, phone, and/or text prior to her styling my box so that I could get a more personalized box of clothes.
I liked the styles and fit of everything that was sent, and appreciate that the clothes were more stylish and fashion forward than what I've received with Stitch Fix, Wantable, Fashom or Nadine West. Front Door Fashion was pretty comparable to Trunk Club, although I preferred Trunk Club due to the recency of styles that Trunk Club sent.
The prices were definitely higher than other style subscription boxes, so I knew from the start I would not be keeping everything. However, I did find one special piece that makes a great addition to my closet.
I was nervous after returning my box that my stylist would reach out to me regarding only keeping one item. Thankfully, I didn't hear from her, as I didn't really have time to go into why I only kept one thing. Front Door Fashion did send me an email, however, that I can text, email, or call my stylist at any time. I appreciate no hard sell and no guilt, while still having access to a stylist if I wanted!
I would use Front Door Fashion again since there's no styling fee, but I would only order a box for each season, or 3-4 times a year to find a few special pieces that I don't expect with subscription boxes like Stitch Fix or Wantable.
I like that I can order a box at any time, and there's no need to cancel, making it truly order on demand without the hassle.
Who is Front Door Fashion Recommended For?
Front Door Fashion is perfect for the fashionista looking for stylish and quality clothes. Front Door Fashion does send higher priced items and brands so Front Door Fashion is best suited for someone looking for quality clothes that can be worn for many seasons to come.
Summarizing My Front Door Fashion Review: Ordering, tracking and checkout were super easy online. The clothes were cute and stylish, and the stylist delivered on my requests. The quality of clothes matched the prices. Front Door Fashion is perfect for someone looking for fashionable and quality pieces.
Is Front Door Fashion Worth It?
A must try! If you are looking for a good quality and a stylish styling service, I would highly recommend Front Door Fashion. The clothes were all from well-known brands and good quality. Since there's no styling fee, it's definitely a MUST TRY.
If you like Trunk Club, you will like Front Door Fashion. If you are looking for a more budget-friendly styling service, I would highly recommend DailyLook or Wantable. For more details on Wantable check out Stitch Fix vs. Wantable: Ultimate Head-To-Head Comparison.
Creator of My Favorite Hello and Author of this Article
Amy has 10+ years of experience in fashion and beauty launching digital products for global brands Fenty Beauty, Glossier, Marc Jacobs, Men's Wearhouse and Stitch Fix. She also worked previously as a Senior Stylist at Stitch Fix, and currently as an independent virtual stylist, styling men and women for various occasions from everyday outfits, special occasions, to curating a complete closet. Amy is using her styling experience, fashion and beauty expertise to provide style inspiration and outfit ideas so you can shop for yourself and put together stylish outfits that make you feel confident and beautiful. @styledbymyfavehello
You may also enjoy reading:
My DailyLook Review 2023: A Premium Experience!
Miss Trunk Club? Try These Alternatives You'll Also Love
Trendsend Review 2023: Got My Style!
Stitch Fix vs. Wantable: Ultimate Head-To-Head Comparison 2023