My Nordstrom Trunk Club Review
As a former Stitch Fix employee and stylist, I have tried many different style subscription services including Stitch Fix, Wantable, Fashom, and Nadine West. I finally tried Trunk Club after receiving a $50 account credit by signing up using a referral link. I have to say that Trunk Club is by far my favorite subscription box!
Update: Trunk Club no longer exists as a styling service. See my top Trunk Club alternative styling subscription box here: Miss Trunk Club? Try These Alternatives You'll Also Love.
This article includes affiliate links which means when you make a purchase using my affiliate links, I earn a commission at no additional cost to you. See my Privacy Policy.
How Trunk Club Works
Before getting into my first Trunk Club review, here's some information on the Company and ordering your first Trunk.
Trunk Club is owned by Nordstrom and uses stylists to handpick 10 items for men and women, including clothes, shoes, accessories, home, undergarments, makeup and more. Here is how you get started with ordering a box.
Update: Trunk Club no longer exists as a styling service. See my top Trunk Club alternative styling subscription box here: Miss Trunk Club? Try These Alternatives You'll Also Love.
STEP 1: Sign up using my referral link to receive a $50 account credit.
Trust me, you will want the $50 account credit that you can use towards anything in your Trunk. You can request anything from Nordstrom's inventory including undergarments and makeup, so you will be sure to find something you can use the $50 credit on!
STEP 2: Complete the style quiz.
Take a comprehensive quiz on your size, style, and lifestyle preferences that is saved to your account profile.
STEP 3: Start your subscription and order for delivery.
Choose when you want your Trunk to arrive ASAP or on a specific date. You can also include a note on what you would like your Trunk to focus on and include. There is a $25 styling fee, which is waived if you use your Nordstrom debit or credit card. Choose your frequency which can be monthly or on demand.
STEP 3: Receive a preview of the 10 items your stylist picked for your Trunk.
You will receive an email letting you know your Trunk preview is ready with 10 items. For each item, you can choose to send the item, or swap it for something else. You can also choose to send less than the 10 items, and only send the items you choose. You can also cancel the Trunk altogether.
You can also swap out colors and sizes for any item before it's sent. I love this feature since I tend to be different sizes depending on the style or brand!
You have 48 hours to preview your Trunk and make any item, size, and/or color swaps.
Once you are ready to send your Trunk, you will have the option to add three more items from several categories of additional items that are curated for you. Once you add up to 3 more items or decline to add any, your Trunk will be approved for sending.
STEP 4: Receive your package and try on at home.
Delivery takes about 2-5 days, and I was able to track my Trunk in the app. Once you receive your package of items (up to 13 depending on how many you chose to have sent), you have five days to try the clothes and accessories on, and return anything you don't want to keep. You can also ask for an extension in the app if you need more time.
You can return the items to your local Nordstrom store, or mail it back with the prepaid label. If you lose the prepaid label, you can reprint one from the app.
STEP 5: Checkout online or in the app.
Checkout online with feedback on each item, and return the remaining items with the prepaid return shipping label. I love the detailed feedback that is requested. Here is example for a pair of jeans I received. It asks for feedback on almost every aspect, including style, color, fabric, pattern, brand, fit, why I didn't keep it, and what I didn't like about the style. I feel like overtime, with this much feedback, my Trunks will only get better and better.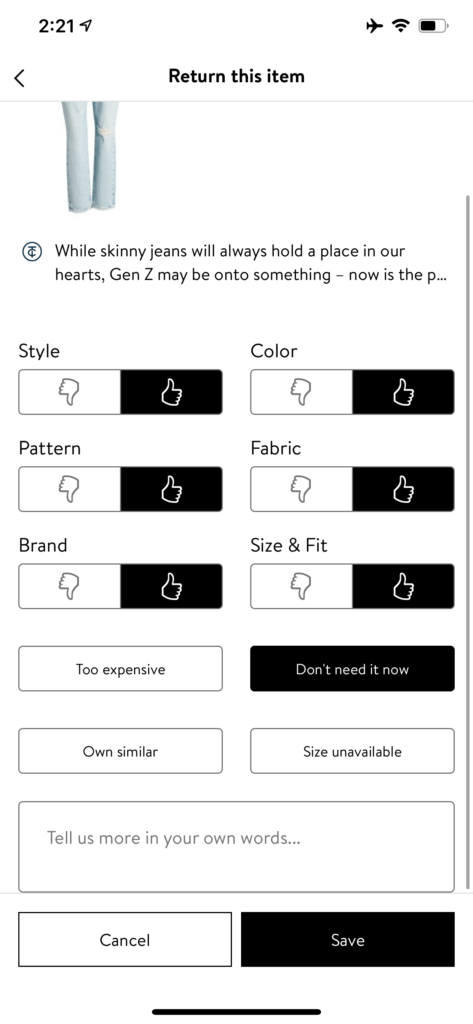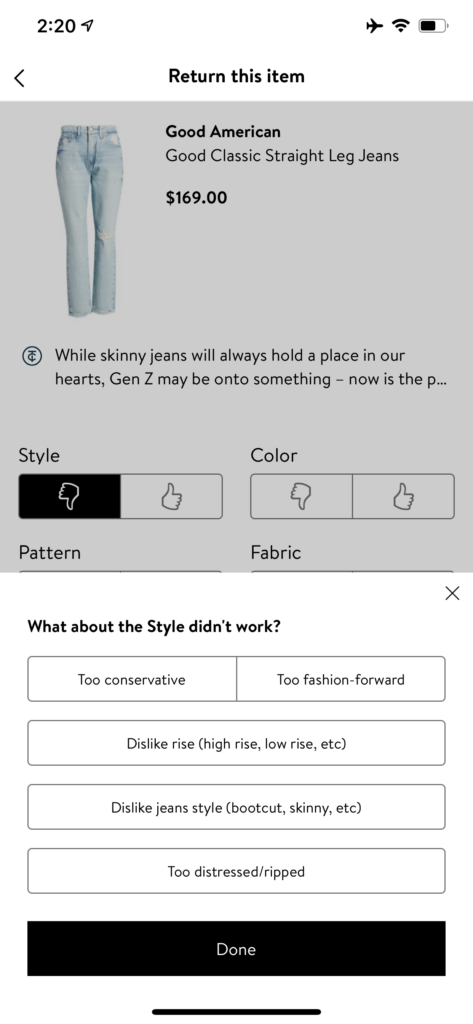 How Much Does Trunk Club Cost?
There is a $25 styling fee, which is waived if you use your Nordstrom debit or credit card. If you paid a $25 styling fee, it is applied to anything you purchase. The styling fee is forfeited and not carried forward if you don't purchase anything.
You're only billed for what you keep, and your $50 referral account credit you receive by using my referral link is applied to your purchase. You don't have to use the entire $50 account credit on your first Trunk. The $50 referral credit is carried forward and it will stay in your account until fully used.
In Trunk Club's style quiz, the budgets you can choose from are $50-100, $100-200, and $200+ to give you an idea of their target budget ranges. However, since you can pull from Nordstrom's inventory, it can be any range of prices they offer, which is typically as low as $20 for sale items and as high as $300+ for designer brands.
If anything has gone on sale, Trunk Club will gladly honor the sale price.
How Does Trunk Club Compare to Stitch Fix?
I love Trunk Club so much more than Stitch Fix. Trunk Club pulls from Nordstrom's inventory so you will be getting all the newest trends and merchandise for the season. I also love that I can ask to add home items, stuff for my kids, or beauty products.
Read Stitch Fix vs. Trunk Club: More Style and Quality for Your Money for my comprehensive head-to-head comparison of Stitch Fix vs. Trunk Club.
Update: Trunk Club no longer exists as a styling service. See my top Trunk Club alternative styling subscription box here: Miss Trunk Club? Try These Alternatives You'll Also Love.
My First Nordstrom Trunk Club Review
For my first Trunk I requested a pair of straight leg jeans that are on-trend right now with cute tops that can be worn with them. I also asked for a pair of braided sandals, another trendy item this season.
Here is what I received in my first Trunk Club box, including items that straight leg jeans, braided sandals, and tops that I had requested. They also included a few brands that I love such as Good American, Madewell and ASTR the label.
While I liked everything they had chosen, I was only looking for a few key pieces so I decided to have them only send me the Good American Straight Leg Jeans, the ASTR the Label Long Sleeve Top, the Steve Madden woven sandals, and the Madewell Cardigan sweater.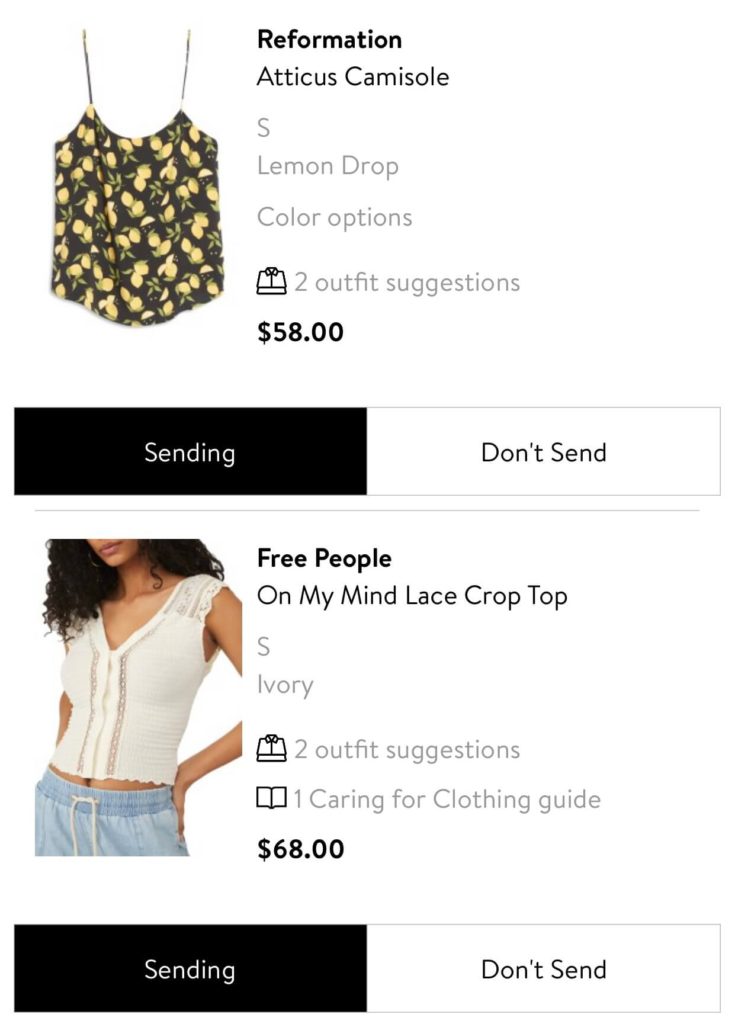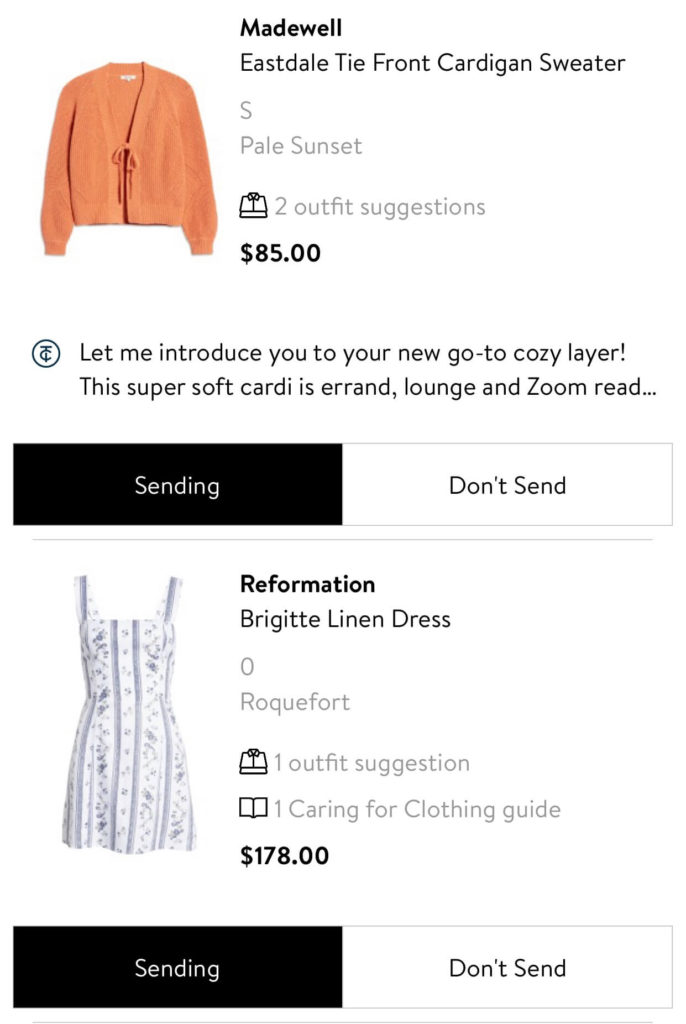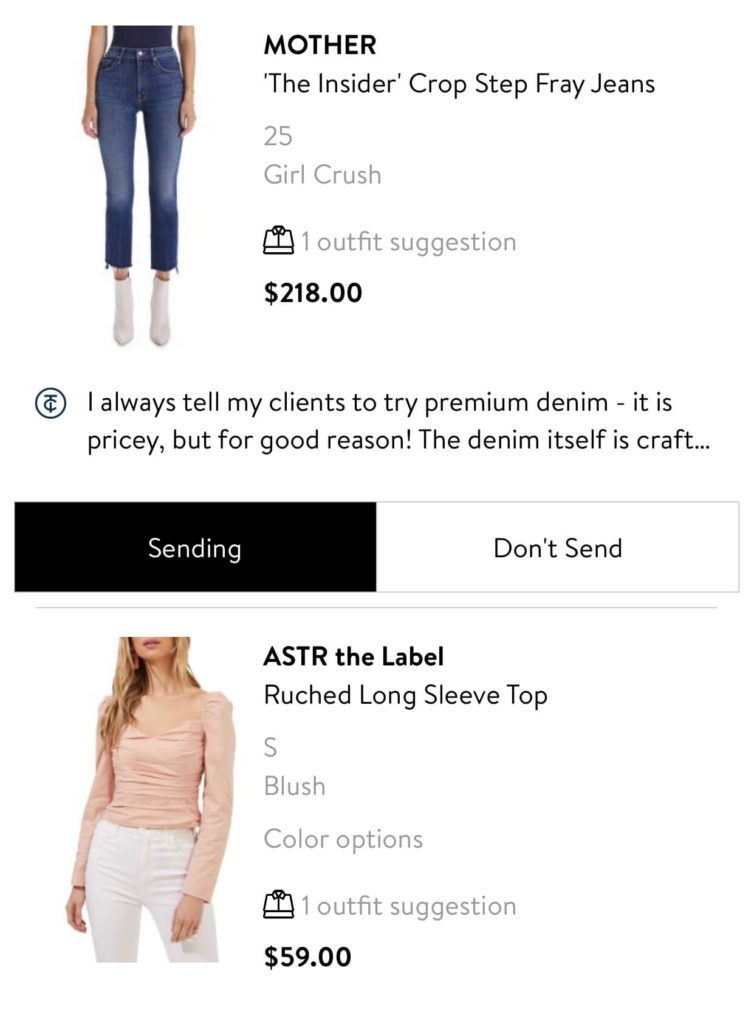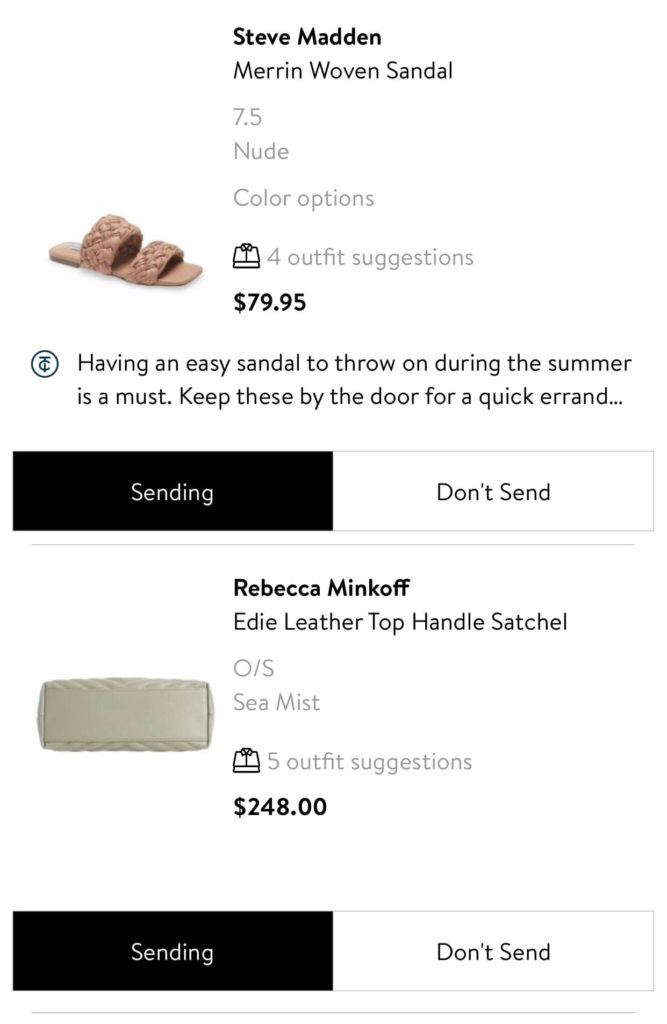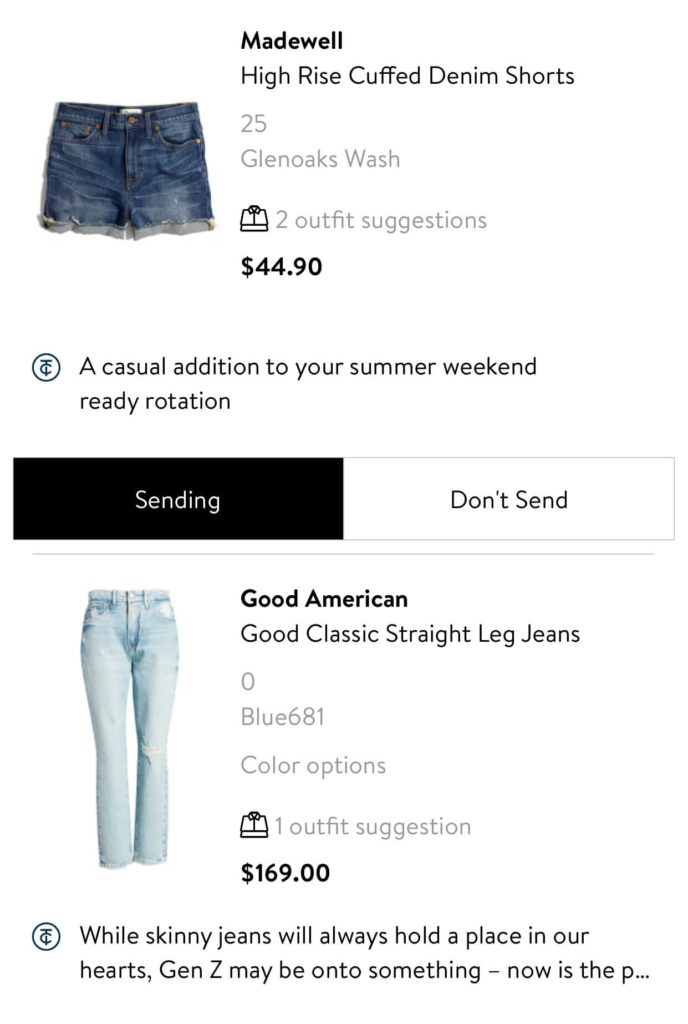 They also included several different outfits that mixed and matched the 10 items they chose. Here are some examples: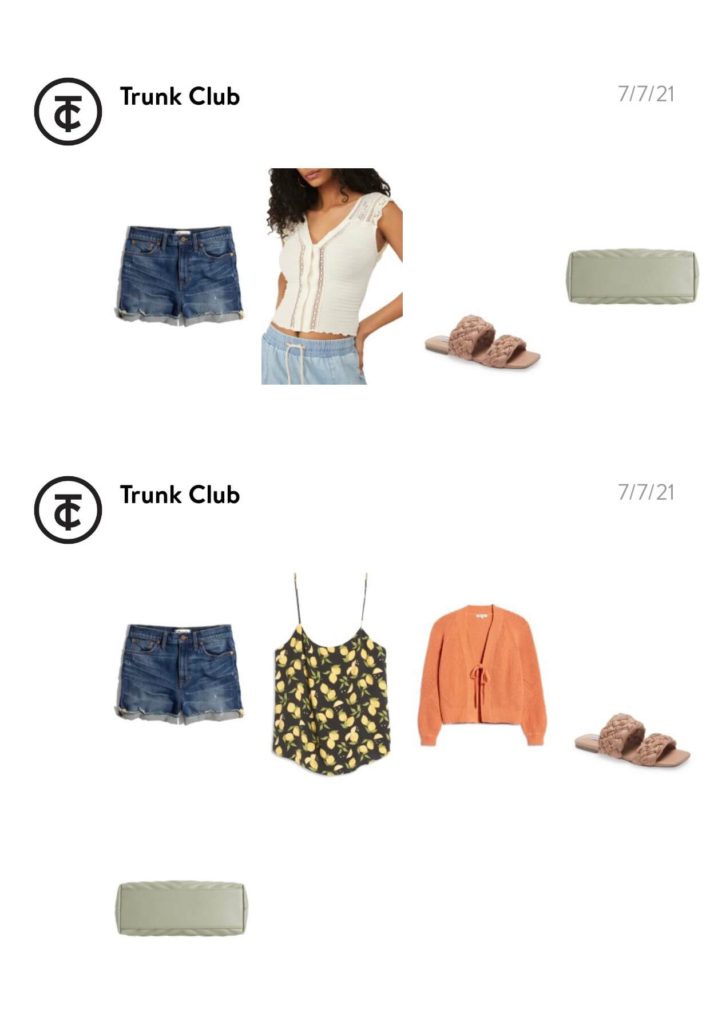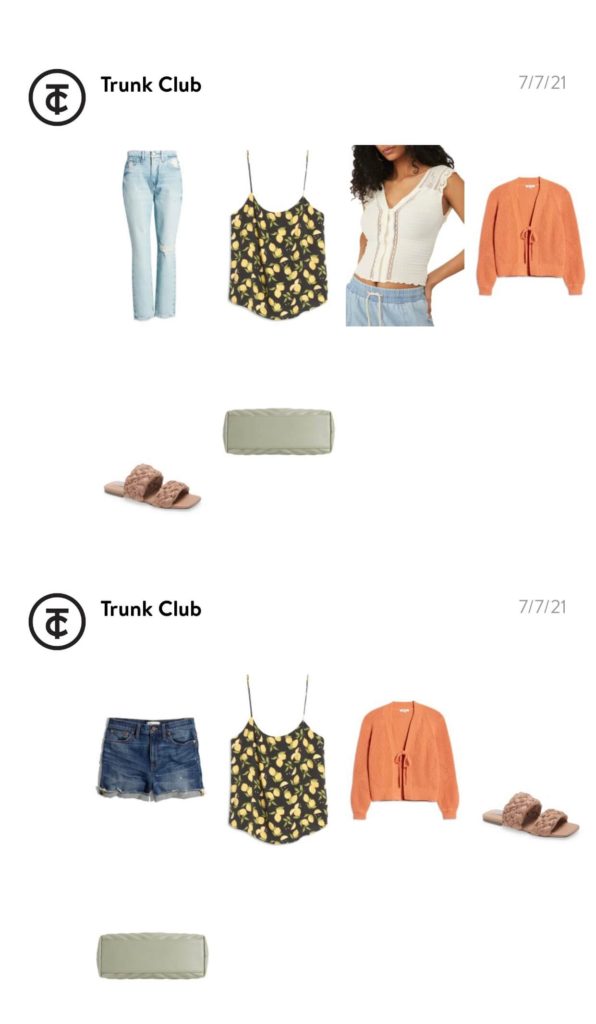 My Honest Trunk Club Review
I was very happy with my first Trunk Club experience and give them a very good review. I will be continuing my Trunks on demand.
It was very easy to fill out the style quiz, and it covered everything I expected related to my size, fit and lifestyle preferences. It was very easy to order a box on demand and leave a note for my stylist.
My preview of 10 items was available the same day I ordered the Trunk, and I approved the looks immediately. My Trunk was shipped the next day, and I received it in five days via FedEx. Tracking was available in the app.
I love all the Nordstrom brands, and was very happy with the pieces I selected to be sent to me. They were all in style, and very on-trend for the season which is what I requested. I tried everything at home and checked out online. I decided to keep one pair of jeans, and had my $50 referral credit applied to the jeans. The rest of the items I sent back in the box with the prepaid label.
I highly recommend Trunk Club if you are looking for quality and stylish clothing. It was so easy, and they listened to my requests. I can't wait to request another Trunk for fall.
Who is Trunk Club Recommended For?
Trunk Club is perfect for the fashionista looking for stylish and quality clothes. It's also great if you want to mix things up and request beauty and home products. Trunk Club does send accessible designer and higher end designer brands so Trunk Club is better suited for someone looking for brand name clothes in my opinion. Otherwise, you should clearly state your budget contraints as Trunk Club does have lower priced items still by great brands!
Summarizing My Trunk Club Review: Ordering, tracking and checkout were super easy online. The clothes were definitely my style and the stylist delivered on my requests. The quality of clothes was also really good. Trunk Club is perfect for someone looking for fashionable, quality and in-season looks.
Is Trunk Club Worth It?
Absolutely! If you are looking for a good quality and a stylish styling service, I would highly recommend Trunk Club. Because you receive items from Nordstrom's inventory, the clothes are all known brands and really good quality. If you have a Nordstrom credit or debit card, the styling fee is waived so there's no risk to trying Trunk Club.
If you are looking for a cheaper styling service, especially compared to Stitch Fix, I would highly recommend Fashom. Fashom is very affordable, and the style and quality is very similar to Stitch Fix. For more details on Fashom check out My First Fashom Box | My Experience & Review.
Update: Trunk Club no longer exists as a styling service. See my top Trunk Club alternative styling subscription box here: Miss Trunk Club? Try These Alternatives You'll Also Love.
Creator of My Favorite Hello and Author of this Article
Amy has 10+ years of experience in fashion and beauty launching digital products for global brands Fenty Beauty, Glossier, Marc Jacobs, Men's Wearhouse and Stitch Fix. She also worked previously as a Senior Stylist at Stitch Fix, and currently as an independent virtual stylist, styling men and women for various occasions from everyday outfits, special occasions, to curating a complete closet. Amy is using her styling experience, fashion and beauty expertise to provide style inspiration and outfit ideas so you can shop for yourself and put together stylish outfits that make you feel confident and beautiful. @styledbymyfavehello
You may also enjoy reading:
Miss Trunk Club? Try These Alternatives You'll Also Love
Front Door Fashion Review 2023: Love the Style and Quality!
My Honest Nadine West Review: Who I Recommend It For
Trendsend Review 2023: Got My Style!