My Comprehensive DailyLook Review
Here is my comprehensive DailyLook review. As a former Stitch Fix stylist and customer, I have tried many style subscription services, and know how they work very well. DailyLook has been on my list to try for awhile, and I finally ordered my first box. The looks were on-trend, close to my style, and fit well. I really liked what I received with DailyLook and would use this styling service again. Keep reading my DailyLook review of my first experience with this styling service and for a referral discount.
This article includes affiliate links which means when you make a purchase using my affiliate links, I earn a commission at no additional cost to you. See my Privacy Policy.
Try DailyLook with my referral link to get your first box styled for no styling fee (normally $40).
What DailyLook Styling Is
DailyLook is a premium styling service where a stylist hand picks looks based on your personal profie that are delivered right to your doorstep. They will send up to 12 clothing items. Style boxes are available via mail and ship to and from your address free of charge. There is a $40 styling fee that is applied to anything you keep or used in their online sample sale within 30 days. Most items average $60 or more each.
Who is Dailylook owned by?
DailyLook is headquartered in Los Angeles, CA. It was founded in 2011 by Brian Ree, Eric Marston, Shefali Khanna. Brian Ree is the current CEO.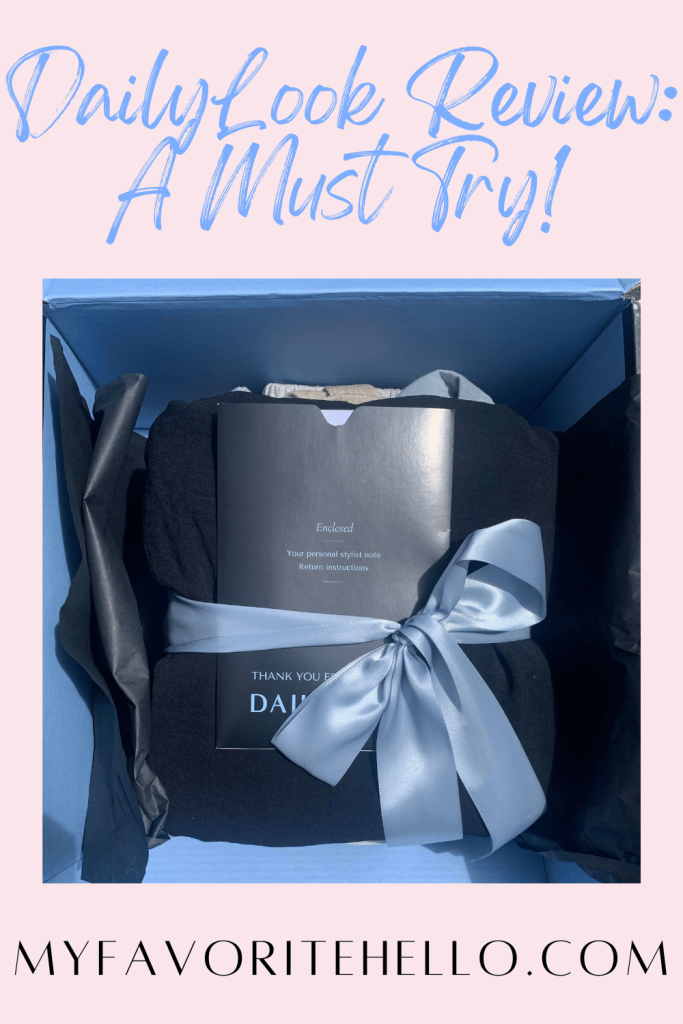 DailyLook Competitors
DailyLook's competitors are other premium styling subscription services, including the following, which I have written personal reviews on based on my experience:
What to Expect for Your First DailyLook Experience
Here is what to expect with your first DailyLook experience when you sign-up based on my experience using DailyLook:
STEP 1: Sign up using my referral link to get your first box for with the styling fee waived (normally $40), and free shipping both ways.
Once you use my referral link, create an account with your email address and password.
STEP 2: Complete your personal profile.
Answer questions pertaining to your size, style, and lifestyle preferences that is saved to your profile, including:
Height
Body Type
Sizes
Fit, Rise and Length Preferences
Style Preferences
Where You Normally Shop
Budget
Avoids – Colors, Patterns, Fabrics
Links to Social Profiles
STEP 3: Select a delivery date and frequency.
You can choose between a frequency of every month or every other month. For the delivery date, I was able to choose a date as early as 17 days away.
STEP 3:  Provide a shipping address and credit card.
I loved that I was able to provide a P.O. Box. DailyLook does not ship to APO or FPO addresses.
STEP 4: Place your order.
Sign up using my referral link to get your first box for with the styling fee waived, and free shipping both ways.
STEP 5: Preview Box.
Within 24 hours of putting in my order, I was sent my box preview. I was given 24 hours to preview my box. There were 10 items, including summery dresses, tops, pants, and a denim jacket (I ordered in June). I was able to remove 3 items from my preview to get them replaced before they shipped my box.
STEP 6: Receive delivery, leave feedback, and checkout.
I received my box 8 days after ordering which was super fast. They gave me 5 days from delivery to try everything on and return the box. However, I requested an extension, and received an extra 10 days which I thought was super generous.
I easily checked out online, providing feedback for each item, and checked out.
STEP 6: Return your box by dropping it at FedEx.
Use the shipping label enclosed to return your box with any items you aren't keeping. I dropped it off at FedEx, and in about 5 days I received an email confirmation that my return box was received.
How Much DailyLook Costs
There is a $40 styling fee that will be applied as store credit within 30 days, so you can use it to purchase any items in your box or in the DailyLook online sample sales. Shipping is free both ways. Use my referral link to get your $40 styling fee waived on your first box.
Items in a DailyLook box usually cost $60 or more per item. You can return anything you don't want to keep, and you won't be charged for those items. When you buy 3 or more items, you get 50% off the lowest priced item. When you buy 5 or more, you get 50% off two of the lowest priced items. 
You can skip or cancel anytime online, which makes it easy to cancel.
Brands DailyLook Carry
DailyLook carries known brands such as Just Black, J Brand, Democracy, good hYOUman, Vero Moda, and more.
I received these brands in my first box: Emma & Olivia, Sugar + Lips, Search for Sanity, Daniel Rainn, Cotten Bleu, Thread & Supply, Gilli, and Sugarlips.
Sizes DailyLook Offer
DailyLook offers women's clothing in sizes XS-3X, and 0-24.
Canceling DailyLook is Easy
You can cancel your DailyLook subscription online or by calling 888.888.6645. It is a very easy process, which I always appreciate! You will receive an email confirmation after you cancel.
My First DailyLook Box
For my first box I requested summer dresses, nice tops, and athleisure wear. I avoid prints and skirts.
I received 11 items with 6 different outfit suggestions.
Here is what I received, with the outfit suggestions: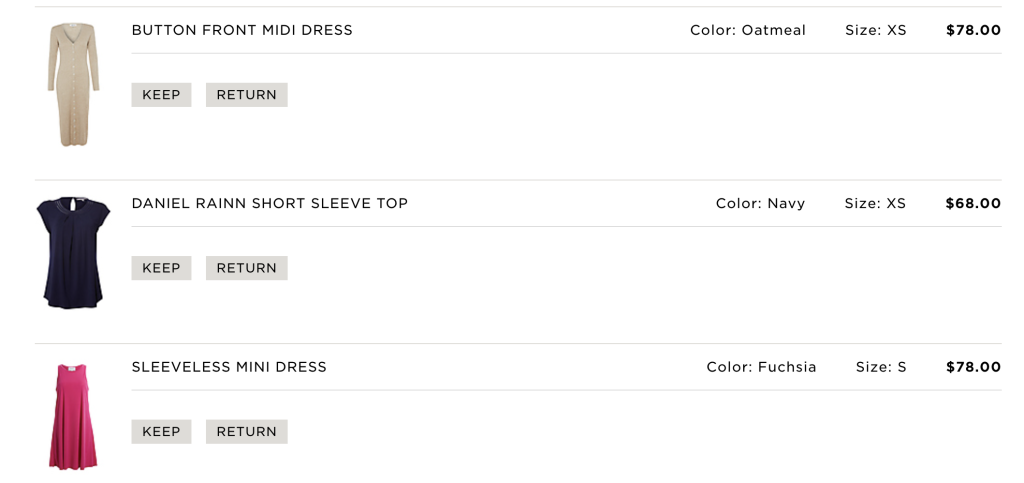 I was very impressed with my first DailyLook box. I thought all of the looks I received were really cute and just my style. They did a really good job of meeting my requests – dressed, casual clothes, and no prints.
My two favorite items were the royal blue ribbed tank midi dress and the tan button front midi dress. Both were super cute and fit well. The prices were a bit more on the higher side of my preferences but I've come to expect that with styling services for better styles and quality.
The least favorite items were the two tops I received. These are very reminiscent of what you would find with Stitch Fix. I thought they were too plain, and especially for the price. I also don't like non-fitted tops for the most part.
The most surprising items that I liked were the pull on knit pants. I would never choose these for myself if I was shopping online, But they fit well and were really cute and versatile so I decided to keep them.
I ended up keeping everything except the two tops, and the jumpsuit. I have a long torso, so jumpsuits normally don't fit me well. I let them know if the feedback not to send jumpsuits in the future.
When you buy 5 or more, you get 50% off two of the lowest priced items, so that was a nice savings.
My Honest DailyLook Review 2023
I am very satisfied with my first DailyLook experience and give them a very good review.
It was very easy to fill out the style quiz, and it covered everything I expected related to my size, fit and lifestyle preferences. It was very easy to order a box on demand and choose a delivery date.
I liked the styles and fit of everything that was sent, and appreciate that the clothes were more stylish and fashion forward than what I've received with Wantable, Fashom or Nadine West. DailyLook was pretty comparable to Trendsend, Stitch Fix or Wantable, although I think DailyLook got my style better than Stitch Fix and Wantable. DailyLook is probably my second favorite box behind Front Door Fashion.
I would use DailyLook again since they met my style preferences pretty well for the first box, so I can see them being able to build pretty quickly on my feedback to get even better boxes in the future.
The only negative I would say are the pricepoints. DailyLook was definitely a bit more expensive than some of these other subscription boxes, and the discount isn't as generous for buying multiple items, but I do think better style and quality usually comes at a higher price so it's to be expected.
Is DailyLook Worth It?
DailyLook has a higher styling fee than all the other subscription boxes that I've used. At $40, you almost have to buy at least one clothing item to make it worth it.
However, I was very pleased with the items I received, and kept more items than I normally do with my first box with a styling service. I also loved that I received 10 items, so I had plenty to choose from.
As I said previously, DailyLook's prices are pretty comparable to Trendsend and Front Door Fashion. All of these subscription services I feel do give better style and quality, so it's worth the extra price.
Use my referral link to get your $40 styling fee waived on your first box, so it's definitely worth it to try at least one box, and see how it goes for you.
Who I Recommend DailyLook For
DailyLook is perfect for anyone looking for stylish clothes at mid to high budgets. If you have a smaller budget I would not recommend DailyLook.
DailyLook is also recommended if you want to receive well-known brands. Many of the brands they sell are similar to what is sold at Nordstrom, Macy's and other styling services.
Summarizing My DailyLook Review: Ordering, tracking and checkout were super easy online. The clothes were cute and stylish, and the stylist delivered on my requests. The quality of clothes matched the prices. DailyLook is perfect for someone looking for fashionable pieces. If you are looking for a budget-friendly styling subscription, I would recommend a different service, however, such as Nadine West or Fashom.
A must try! If you are looking for a a stylish and mid-priced styling service, I would highly recommend DailyLook The clothes were all from well-known brands and good quality. Since the styling fee is free for the first box with my referral link, it's definitely a MUST TRY.
If you like Stitch Fix, Trendsend, Front Door Fashion, or Wantable, you will like DailyLook. If you are looking for a more budget-friendly styling service, I would highly recommend Nadine West or Fashom instead.
Let me know about your DailyLook experience in the comments!
Creator of My Favorite Hello and Author of this Article
Amy has 10+ years of experience in fashion and beauty launching digital products for global brands Fenty Beauty, Glossier, Marc Jacobs, Men's Wearhouse and Stitch Fix. She also worked previously as a Senior Stylist at Stitch Fix, and currently as an independent virtual stylist, styling men and women for various occasions from everyday outfits, special occasions, to curating a complete closet. Amy is using her styling experience, fashion and beauty expertise to provide style inspiration and outfit ideas so you can shop for yourself and put together stylish outfits that make you feel confident and beautiful. @styledbymyfavehello
You may also enjoy reading:
Front Door Fashion Review 2023: Love the Style and Quality!
My Honest Nadine West Review 2022: Not for Me, Worth a Try
Miss Trunk Club? Try These Alternatives You'll Also Love