My Trendsend by EVEREVE Review 2023
I have tried many different style subscription services including Stitch Fix, Front Door Fashion, Wantable, Fashom, Trunk Club and Nadine West. I finally tried Trendsend by EVEREVE. I really liked what I received with Trendsend and would use this styling service again. Keep reading my Trendsend Review to see what I received my first time trying the Trendsend styling subscription box.
This article includes affiliate links which means when you make a purchase using my affiliate links, I earn a commission at no additional cost to you. See my Privacy Policy.
Try Trendsend with my referral link and receive your first box for a $1 styling fee and get 20% off any items you keep.
How Trendsend Works
Before getting into my first Trendsend review, here's some information on the Company and ordering your first box.
Trendsend uses stylists to handpick 2-3 outfits for women, including clothes and accessories. Style boxes are available via mail and ship to and from your address free of charge. Here is how you get started with ordering a box.
STEP 1: Sign up using my referral link to get your first box for a $1 styling fee, and 20% off any items you keep.
Once you use my referral link, create an account with your email address and password.
STEP 2: Complete the style quiz.
Take a comprehensive quiz on your size, style, and lifestyle preferences that is saved to your account profile.
Provide your answers for:
From a series of images, click yes if you like it, or no if you don't.
Height and weight
Body Shape
Top Size
Denim Size, dress size, skirt/bottoms size, bra size, shoe size
Proportions of shoulders, arms, torso, legs, hips, butt
Fit issues
Occasion frequency
Where you typically shop
Denim styles
Skirt fits
Tops fit
Colors to avoid
Trends to avoid
Conceal or showoff
Add instagram or pinterest profile
Add picture
Share picture of a favorite outfit
Share some lifestyle information (i.e.; have kids, work / student / stay at home mom
Budget preferences – you are able to pick multiple ranges which I love!

Jeans – under $150, $150-200, and/or $200+
Tops – $30-60 and/or $60-90
Sweaters – $50-70, $70-90, and/or over $90
Dresses – $50-70, $70-90, and/or over $90
Bottoms – $50-80, $80-110, and/or over $110
Jackets – $70-100, $100-130, and/or over $130

Jewelry preferences
STEP 3: Choose a Trendsend Theme Box.
Order your first box. There is no obligation to subscribe as you can order boxes on demand. The styling fee for your first box is $1 and then $20 for subsequent box. There are no shipping fees.
Choose a theme. When I ordered my box in the October 2021, I was able to choose from the following themed boxes.
Fall trends
Libra style
Girls trip box – This is the box I chose for some casual and girls night out items!
Work box
Weekend chic
Hot mama
STEP 3: Choose a delivery date.
I was able to choose a desired delivery date.
STEP 4: Receive your box and try on at home.
The box was delivered via Fedex and included several outfits. You will have 5 business days from the day you receive your box to try on your looks.
STEP 5: Checkout online.
Checkout online with feedback on each item, and return the remaining items with the prepaid return shipping label via USPS.
How Much Does Trendsend Cost?
There is a $1 styling fee on your first box and zero shipping fees. After your first box, the styling fee is $20 and no shipping fees. The styling fee is credited towards anything you decide to keep.
In Trendsend's style quiz, the budgets you can choose from are $30-$200 for tops, bottoms, sweaters, dresses, jackets, and jeans.
How Does Trendsend Compare to Stitch Fix?
Trendsend is similar to Stitch Fix. I like that Trendsend sends multiple items like Stitch Fix. Trendsend's prices are similar to Stitch Fix's ranges, as many of the same brands are carried by both.
Since your first box only has a $1 styling fee, there's really no risk in trying a box.
What Brands Does Trendsend Carry?
Trendsend carries many mid- and high-end brand names including the following:
Kut From The Kloth, Z Supply, Sanctuary, Allison Joy, Good American, AGOLDE, Michael Stars, Cloth & Stone, Edwin, Roan + Ryan, Paige, and more.
For a better idea of the brands they carry, you can also check EVEREVE which is the physical retail store Trendsend is a part of.
My First Trendsend Review
For my first box I requested the theme "Girls Trip Box" because I wanted a mix of casual and night out items and outfits.
I received 9 items with 6 different outfit suggestions.
Here is what I received:
I liked the Tilly Cutout Long Sleeve top and can definitely see myself wearing it on a girl's night out. I found the tunic top to be too plain and not worth the cost.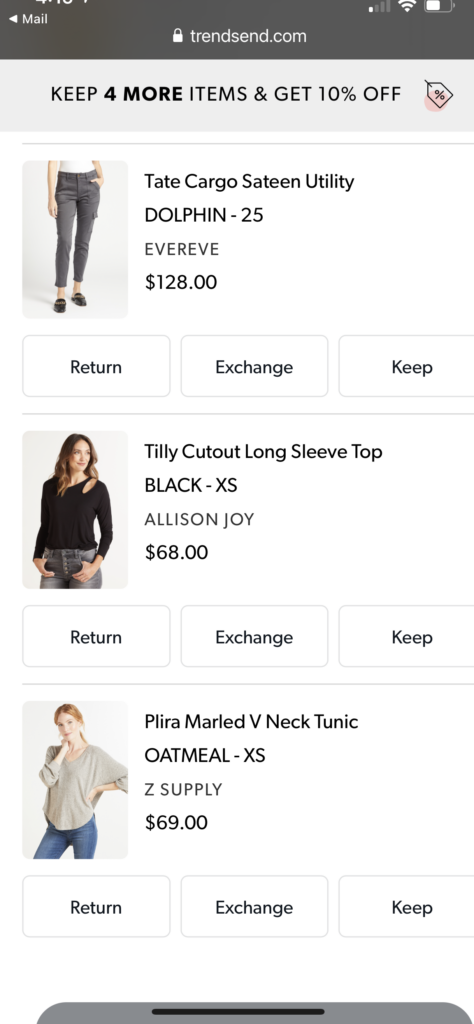 The necklace was cute as I let them know I liked layering jewelry pieces, and the price was reasonable for the quality of the piece.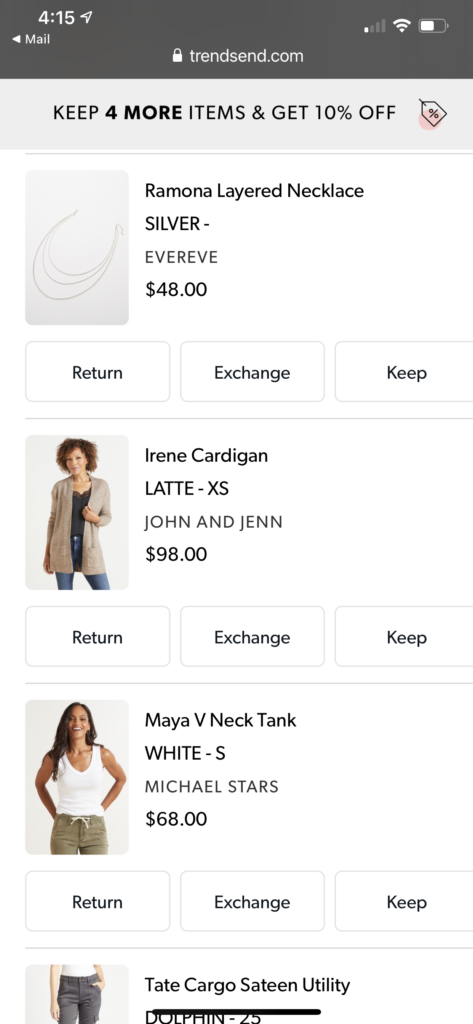 My two favorite items were the Marren Moto jacket and the Harper Volume Sleeve blouse. Both were super cute and fit well. The prices were a bit more on the higher side of my preferences but I've come to expect that with styling services for better styles and quality. Both of these brands EVEREVE and Allison Joy are new to me, so I love that I found two new brands to shop!
I am a big fan of Good American jeans. However, I don't like crop jeans so I made sure to put that in my feedback as I hadn't mentioned it previously in my profile.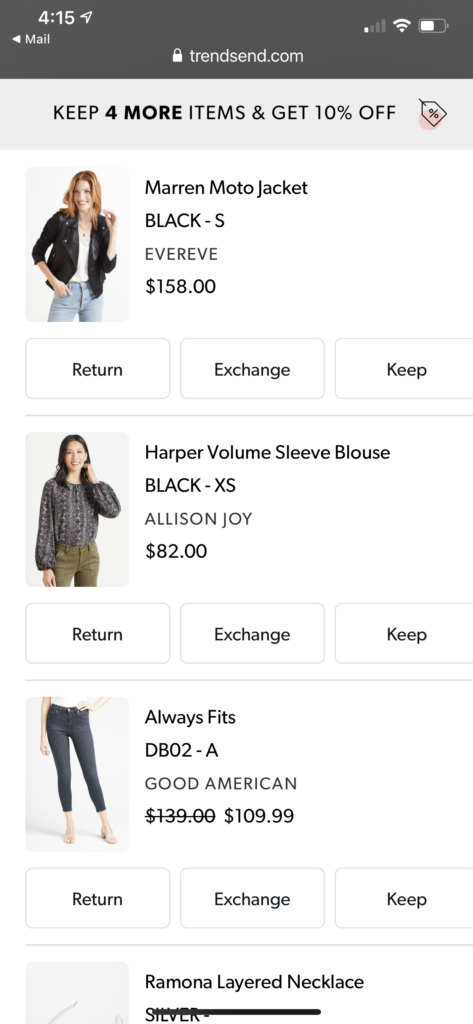 I also liked that they sent several outfit suggestions. Here's a few they sent.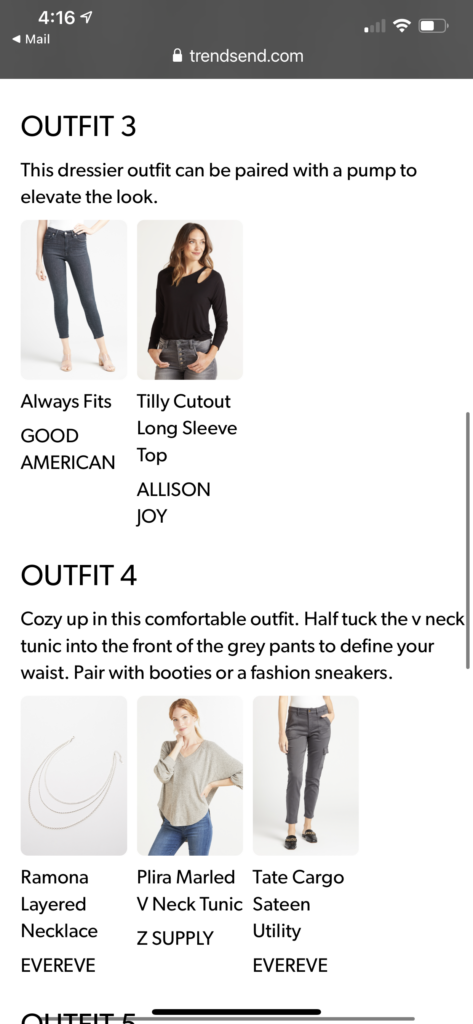 My Honest Trendsend Review 2023
I am very satisfied with my first Trendsend experience and give them a good review.
It was very easy to fill out the style quiz, and it covered everything I expected related to my size, fit and lifestyle preferences. It was very easy to order a box on demand and choose a delivery date.
I liked the styles and fit of everything that was sent, and appreciate that the clothes were more stylish and fashion forward than what I've received with Fashom or Nadine West. Trendsend was pretty comparable to Stitch Fix or Wantable, although I think Trendsend got my style better than Stitch Fix and Wantable. I do still prefer Front Door Fashion or DailyLook to Trendsend.
I would use Trendsend again since they met my style preferences pretty well for the first box, so I can see them being able to build pretty quickly on my feedback to get even better boxes in the future.
Like many other subscription services, I like that I can order a box at any time, and there's no need to cancel, making it truly order on demand without the hassle.
Who is Trendsend Recommended For?
Trendsend is perfect for anyone looking for stylish clothes at mid to high budgets. If you have a smaller budget I would not recommend Trendsend.
Trendsend is also recommended if you want to receive well-known brands. Many of the brands they sell are similar to what is sold at Nordstrom or Macy's.
Summarizing My Trendsend Review: Ordering, tracking and checkout were super easy online. The clothes were cute and stylish, and the stylist delivered on my requests. The quality of clothes matched the prices. Trendsend is perfect for someone looking for fashionable pieces. If you are looking for a budget-friendly styling subscription, I would recommend a different service, however, such as Nadine West or Fashom.
Is Trendsend Worth It?
A must try! If you are looking for a a stylish and mid-priced styling service, I would highly recommend Trendsend. The clothes were all from well-known brands and good quality. Since the styling fee for the first box is only $1, it's definitely a MUST TRY.
If you like Stitch Fix, DailyLook or Wantable, you will like Trendsend. If you are looking for a more budget-friendly styling service, I would highly recommend Nadine West or Fashom instead.
Creator of My Favorite Hello and Author of this Article
Amy has 10+ years of experience in fashion and beauty launching digital products for global brands Fenty Beauty, Glossier, Marc Jacobs, Men's Wearhouse and Stitch Fix. She also worked previously as a Senior Stylist at Stitch Fix, and currently as an independent virtual stylist, styling men and women for various occasions from everyday outfits, special occasions, to curating a complete closet. Amy is using her styling experience, fashion and beauty expertise to provide style inspiration and outfit ideas so you can shop for yourself and put together stylish outfits that make you feel confident and beautiful. @styledbymyfavehello
You may also enjoy reading:
My DailyLook Review 2023: A Premium Experience!
Stitch Fix vs. Wantable: Ultimate Head-To-Head Comparison
My Honest Nadine West Review 2022: Not for Me, Worth a Try
Front Door Fashion Review 2022: Love the Style and Quality!