Cute and Cozy Sweater Outfit Ideas
It's sweater weather! Sweaters are the perfect addition to any outfit for a cozy and cute look that is perfect for wearing for winter and transitioning to spring. I have styled 19 cozy sweater outfits! Whether you want a casual outfit, a date night outfit, or a winter weekend outfit, I have styled 19 looks for some sweater weather outfit inspiration complete with jeans, leggings, shoes, and accessories. All of these outfits are ready to be shopped now!
This article includes affiliate links which means when you make a purchase using my affiliate links, I earn a commission at no additional cost to you. See my Privacy Policy.
Sweater Weather Styling Tips
Try these sweater weather outfit ideas to show how to style different outfits with a sweater. I've styled outfits for winter, fall, the office, a casual weekend, and more.
Best of all, all these outfits are completely shoppable.
19 Ways to Style a Sweater
Here's how to style cute and cozy sweater outfits!
1. Edgy Sweater Outfit
Try this slouchy sweater in an olive honey color with trendy wide sleeves with a pair of coated jeans for an edgy winter outfit. Add some chain earrings and animal snakeskin booties to add extra edginess to this outfit for a chic weekend out. Add a beautiful designer handbag to complete this slouchy sweater outfit for fall or winter.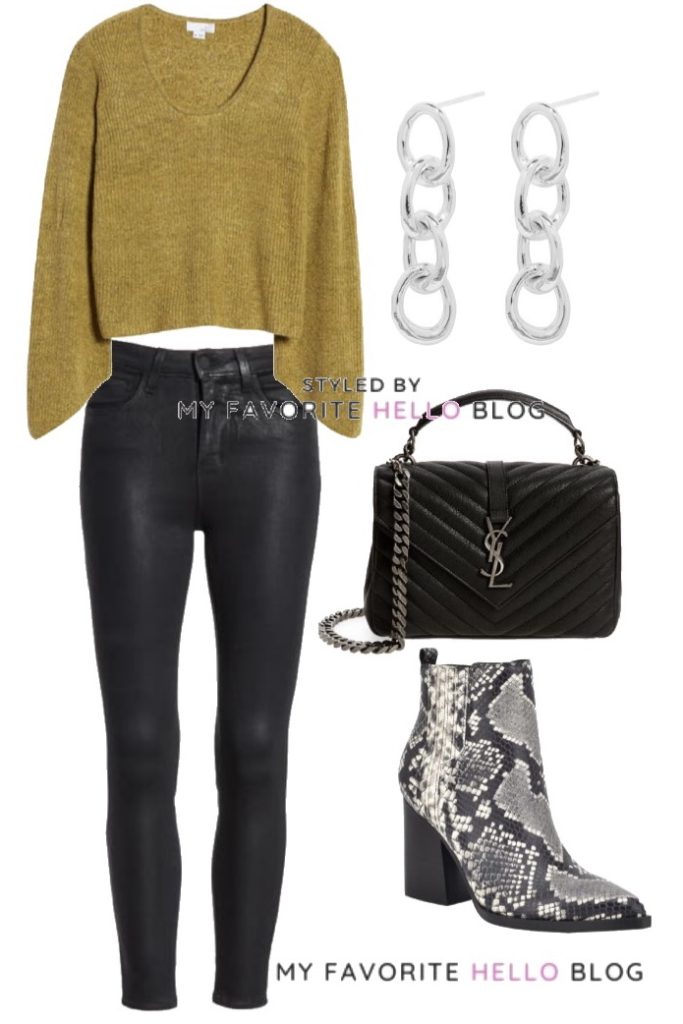 2. Street Style Sweater Outfit
I love this cropped zip up sweater with a pair of camouflage pants for a fun and edgy streetstyle sweater outfit. Add some neutral accessories like this white and gold purse to lighten the outfit for a sweater outfit that is perfect for spring. A classic pair of suede booties complete the look.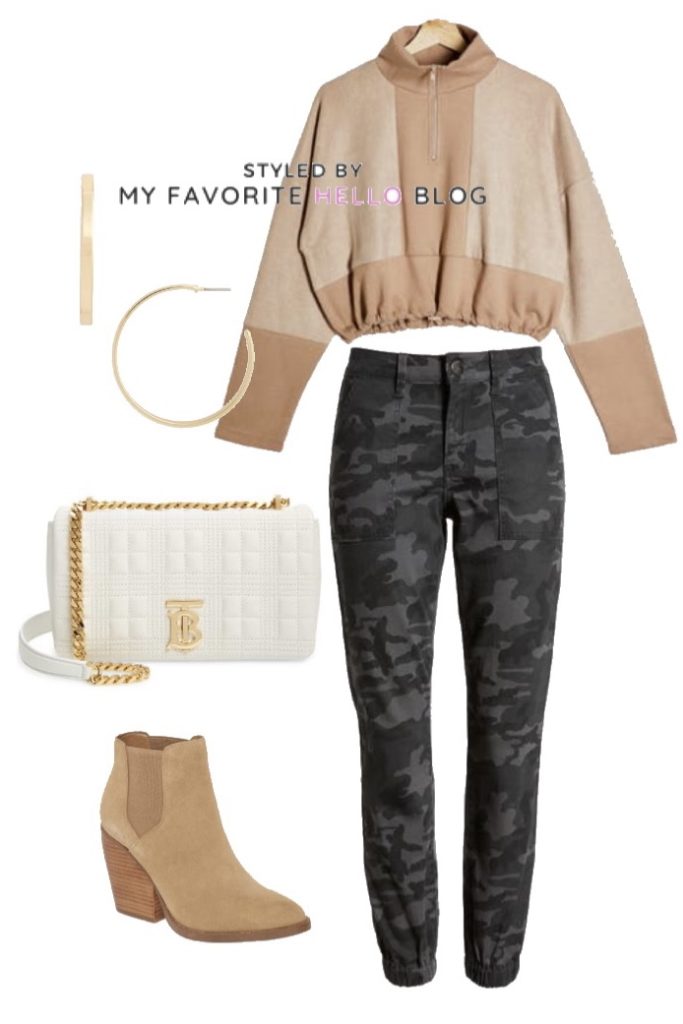 3. Moto Leggings Outfit for Winter
Try an oversized sweater with a pair of faux leather leggings for an outfit that is both warm and stylish for winter. A light pink sweater with neutral accessories is the perfect outfit to transition from winter to spring in.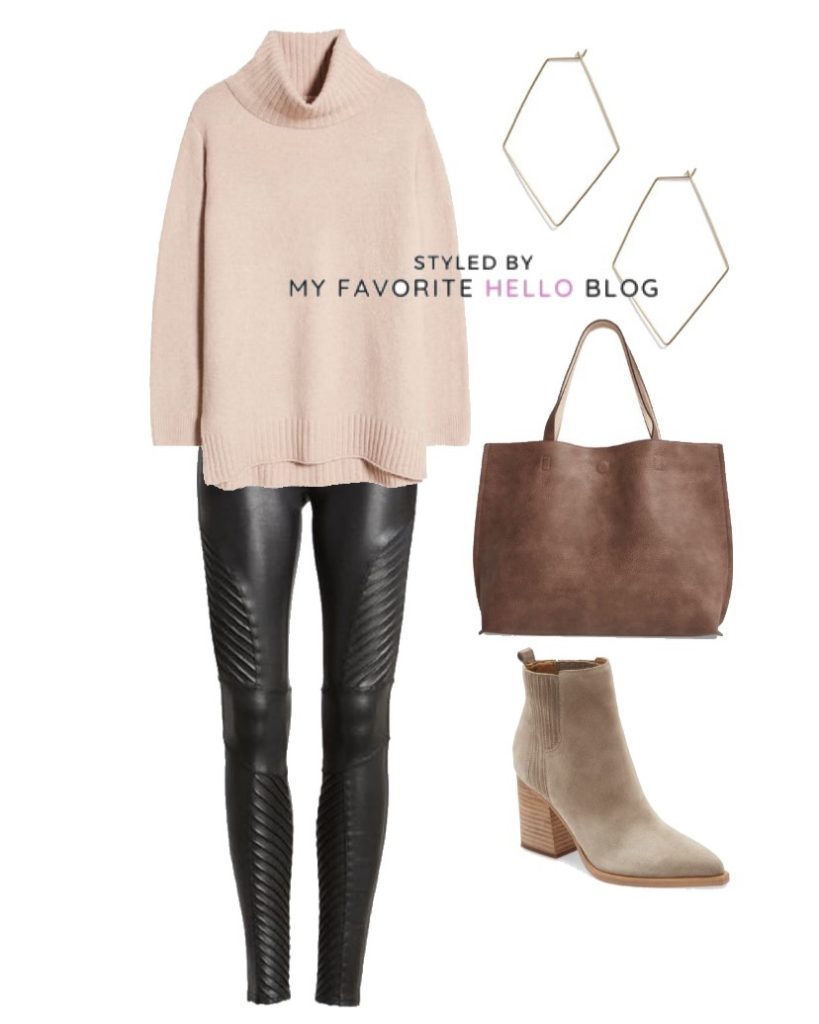 4. Moto Leggings Outfit for Fall
Add all black accessories and some fun and edgy lace up boots to complete this leggings and sweater outfit that can be worn all fall and winter. Add a fun pair of earrings for an added statement piece to complete the look.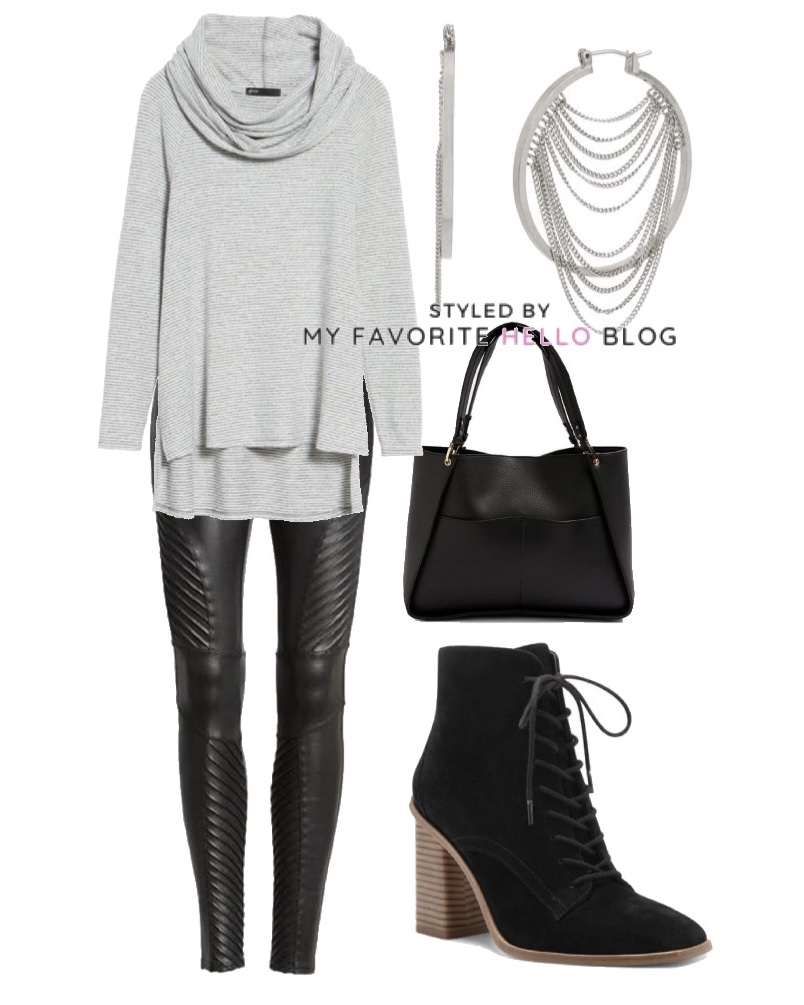 5. Cute Sweater Outfit with White Jeans for Spring
Add a pastel colored sweater to a pair of white denim jeans for a classic look that is perfect for transitioning to spring in. A pair of heeled mules are the perfect look to complete this sweater and white denim outfit.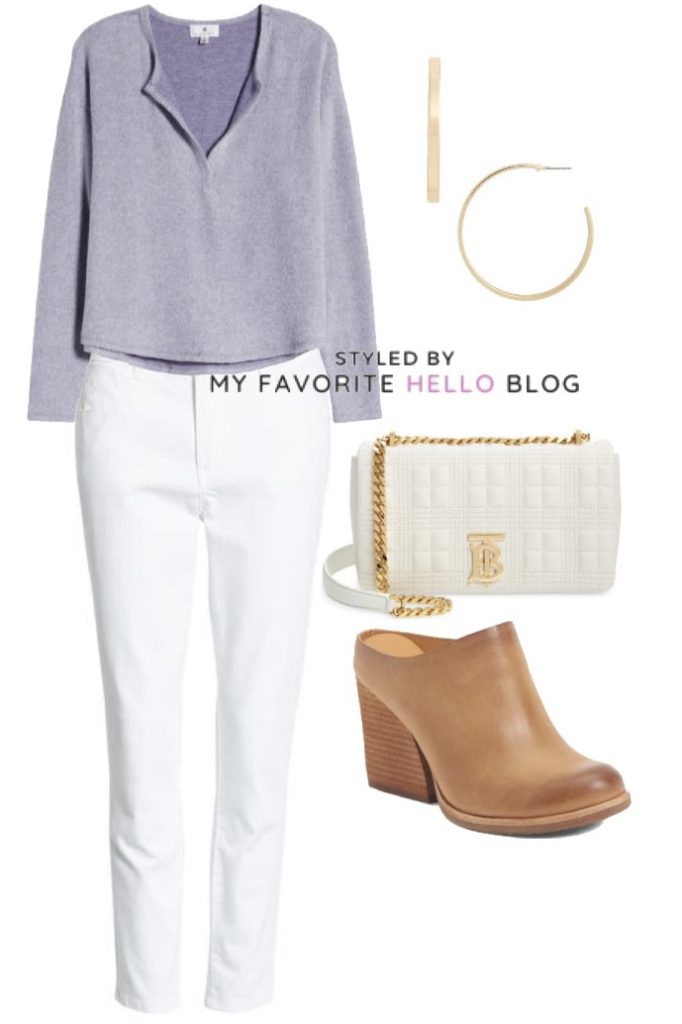 6. Spring Sweater Outfit
I love this coral and pink colored sweater with white jeans for a spring sweater outfit. It would be perfect for an Easter or spring break outfit. Add some rose gold accessories and suede mules to complete this cute spring sweater outfit.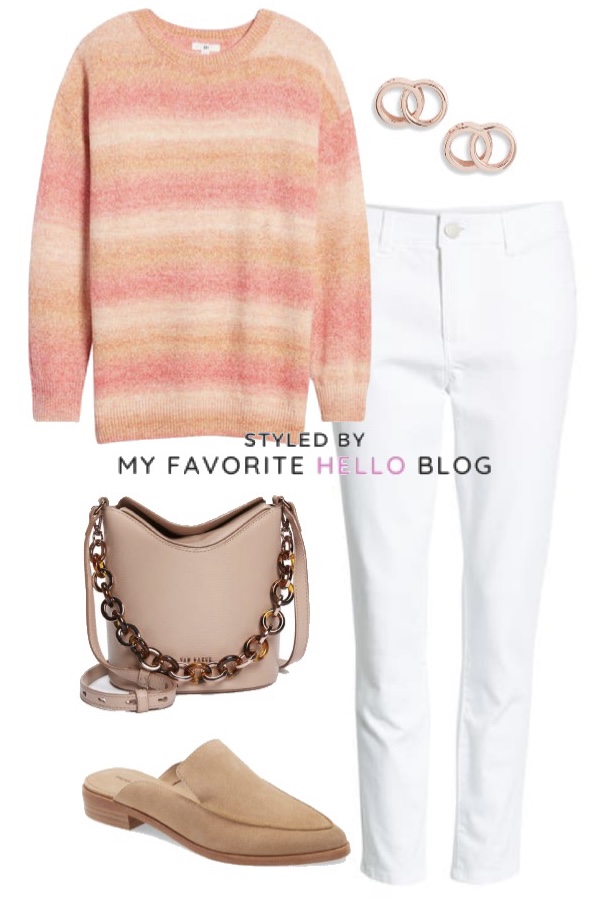 7. Sweater and Jeans Outfit
Try a sweater with ruffles for a soft, romantic look for a sweet and pretty sweater outfit. These ruffles and classic blue jeans are perfect with some black leather accessories.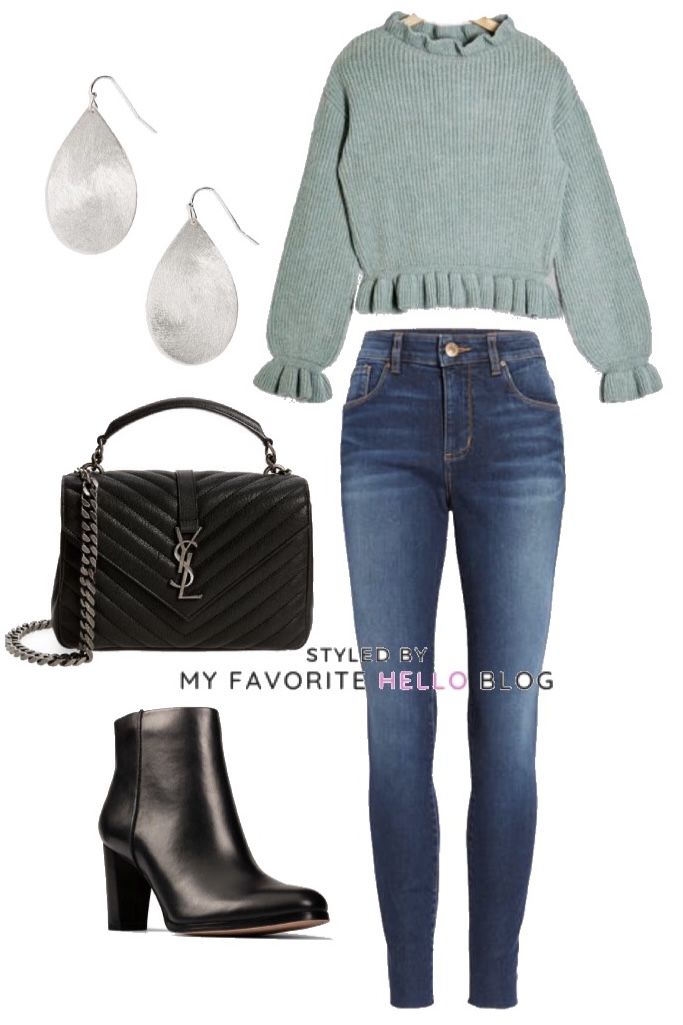 8. Casual Sweater Outfit
I love this cream colored sweater paired with these camouflage pants and rose gold accessories for an equally romantic and edgy outfit. With these neutral colored ankle booties, the look can be worn for spring or fall.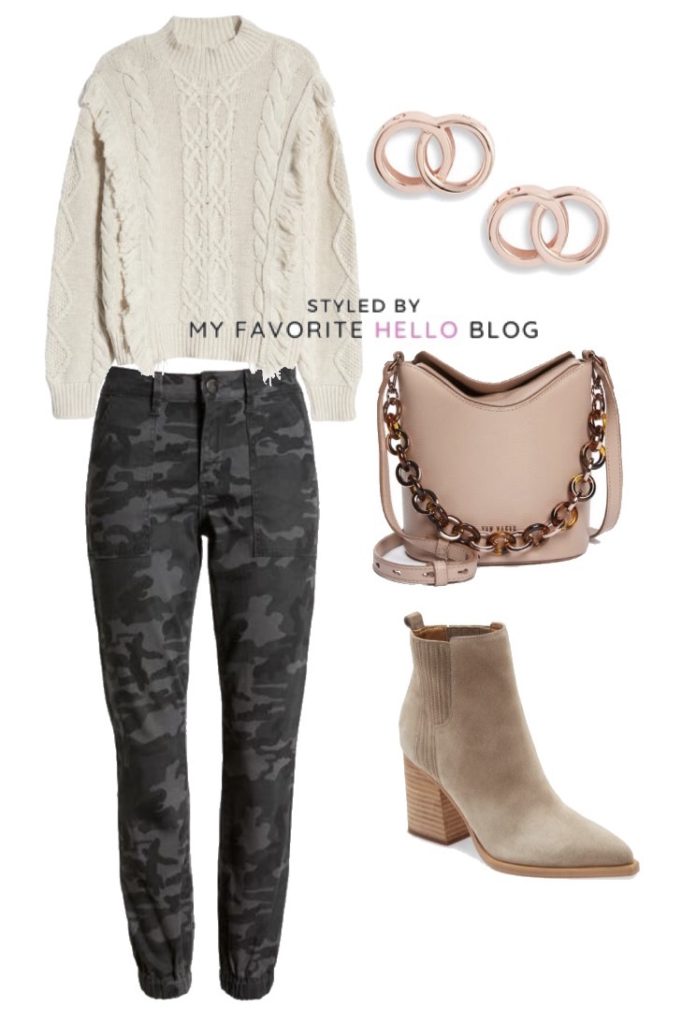 9. Winter Sweater Outfit
This grey sweater with black accessories combination is a classic winter sweater outfit. The faux leather moto leggings add an edgy touch to this winter outfit for a cozy and comfortable casual weekend.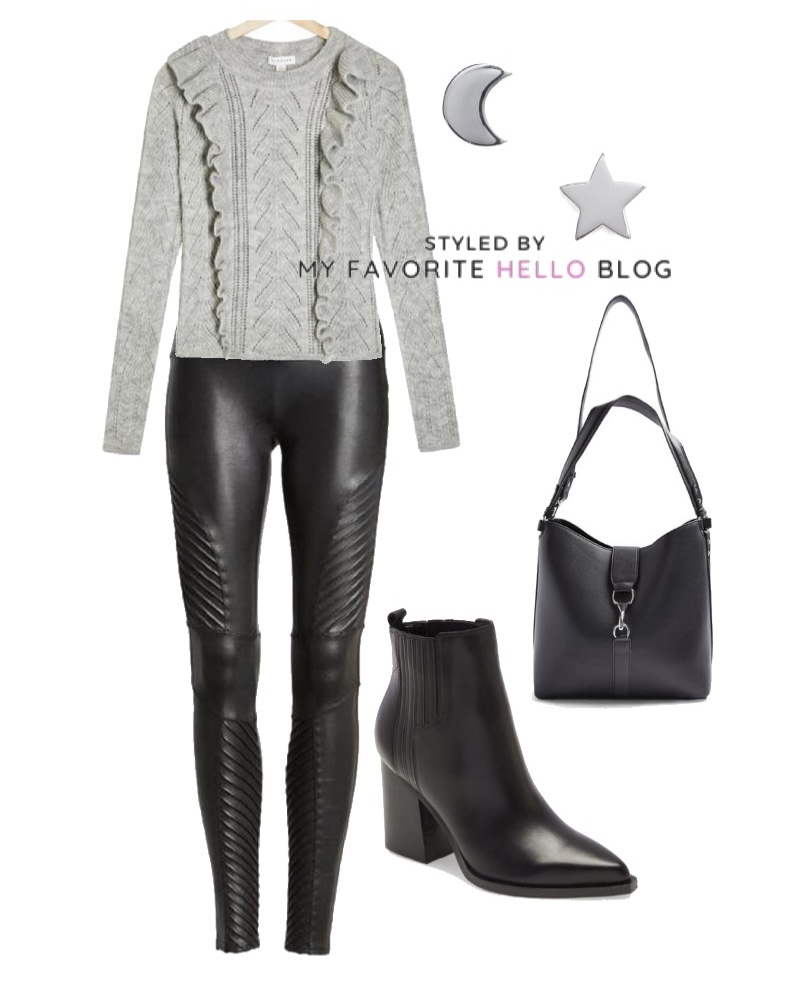 10. Light Pink Sweater Outfit
Try a light pink sweater with classic black jeans. Add some fun accessories like a bucket bag and chained mules to dress up the outfit for a night out.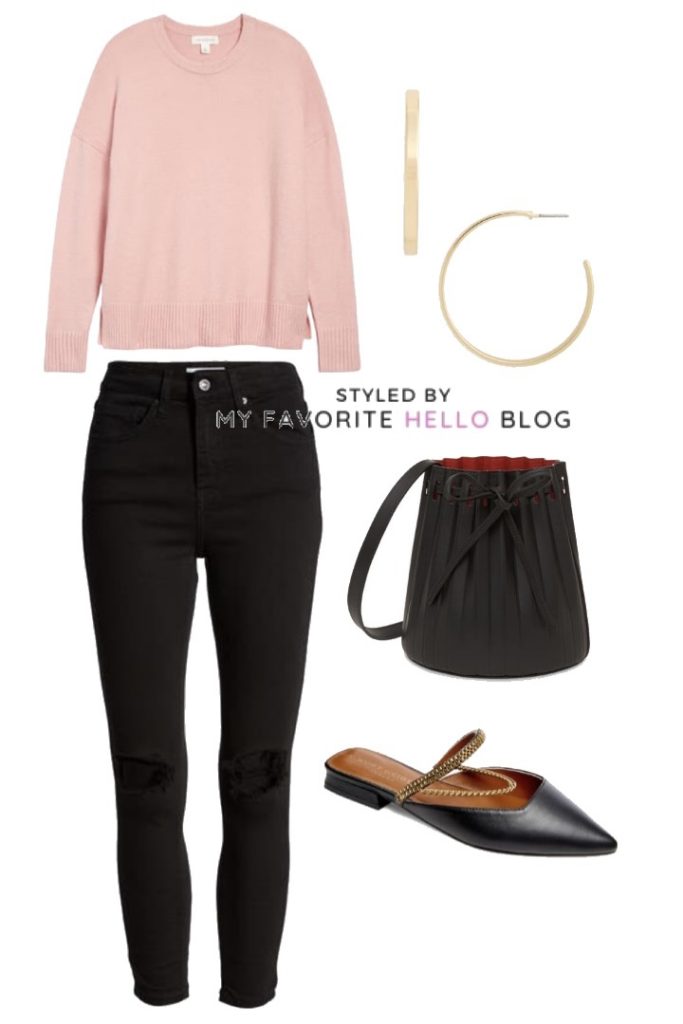 11. Casual Pink Sweater Outfit
Try these light pink sweater outfit with a pair of grey jeans. Again, fun accessories like these animal print mules and chain earrings elevate this cute pink sweater outfit.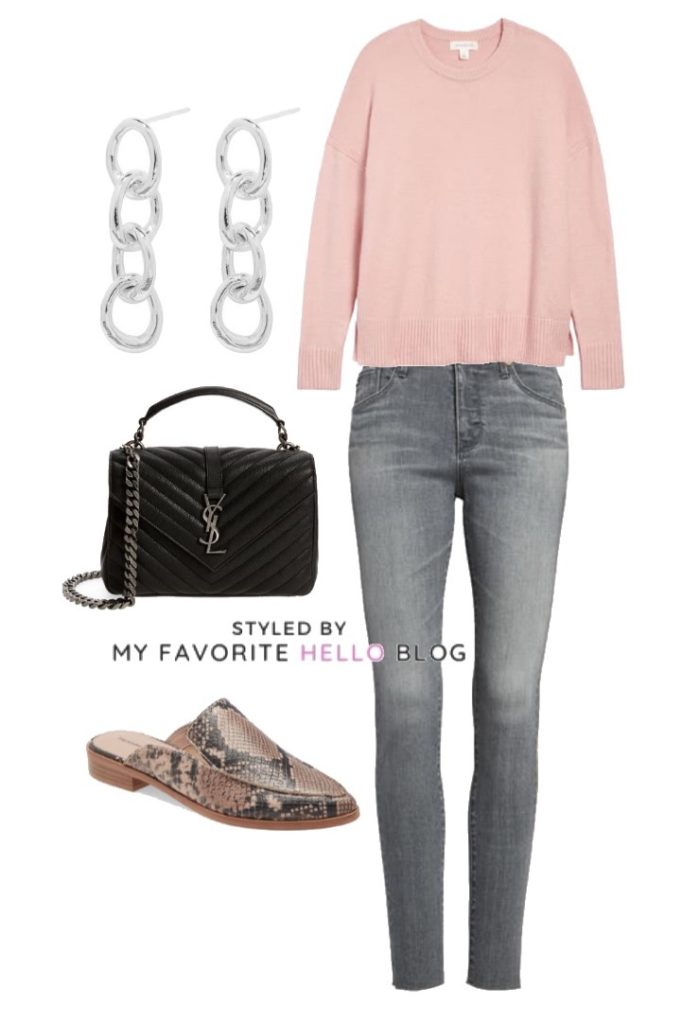 12. Camel Sweater for a Neutral Sweater Outfit
A camel sweater with white jeans and brown boots is the perfect cute sweater outfit full of neutrals. Try this cute sweater outfit for a casual work to weekend look.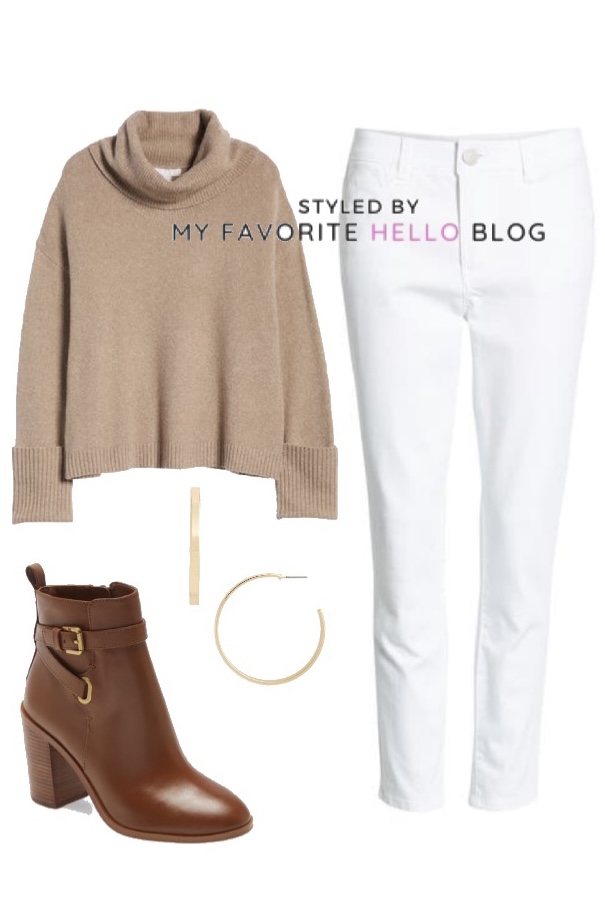 13. Black Jeans and Sweater Outfit
A cable sweater with matching suede ankle booties is another neutral sweater outfit that is the perfect cold weather outfit. Try this cozy sweater outfit for a cold fall weekend.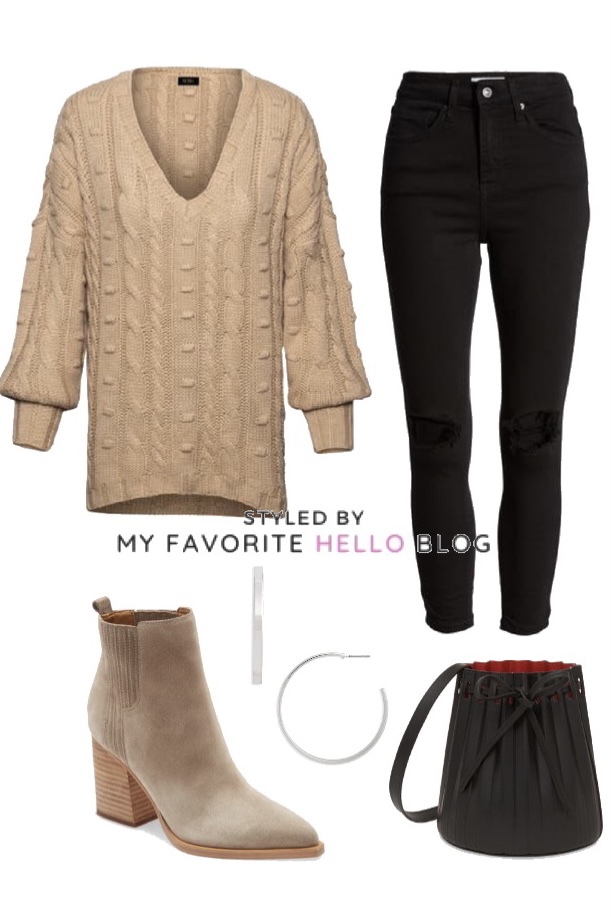 14 Boldly Colored Sweater Outfit for Extra Impact
Let this bold red sweater take center attention by adding some black coated jeans and leather accessories for a standout look that is perfect for a fall weekend out.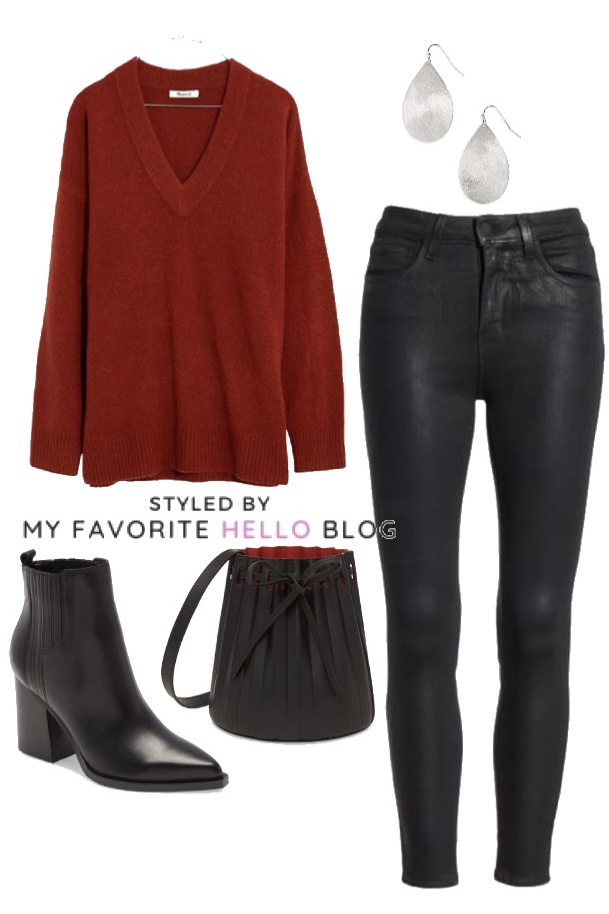 15. Cute Sweater Outfits with a Pop of Color
I love this mustard yellow sweater for a bold outfit in an unexpected pop of color. Try this sweater and grey jeans outfit for a casual and cute weekend outfit.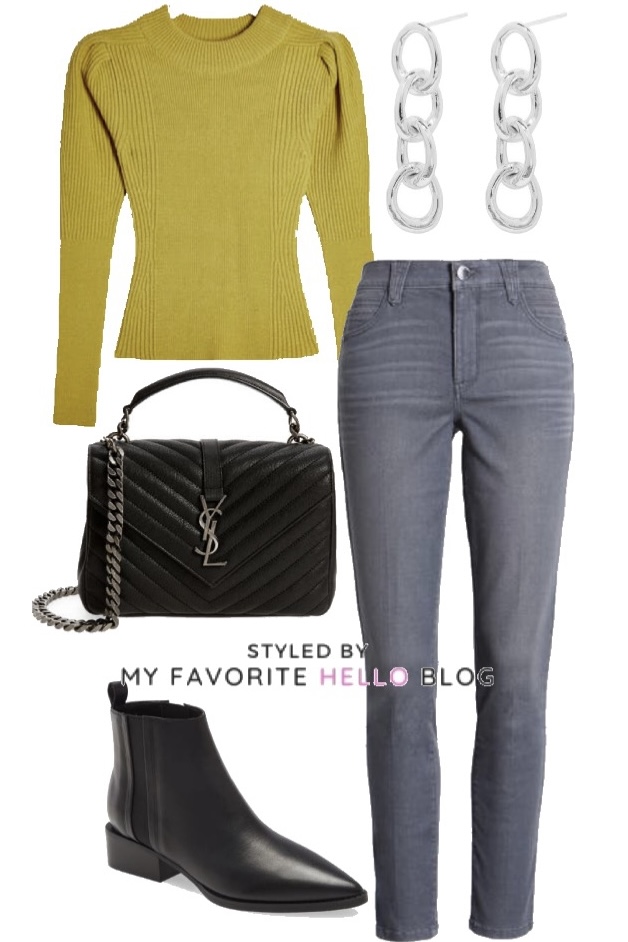 16. Cozy Sweater Outfits with Jeans
Add these snugly boots for a casual sweater outfit that is warm and cozy, but never dull. Complete the look with a pair of jeans for a casual and comfy weekend outfit.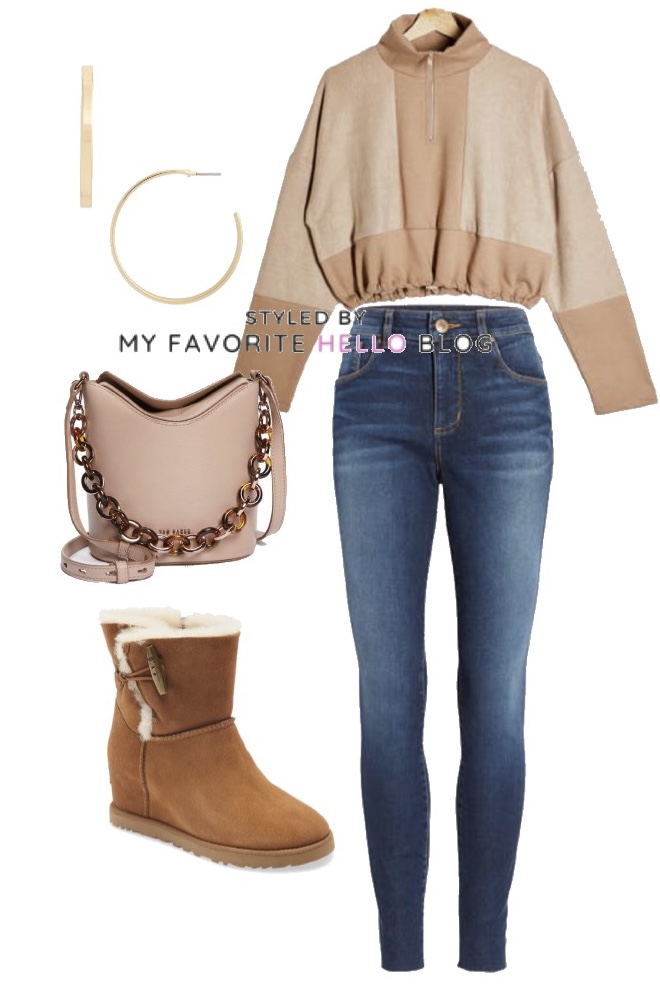 17. Sweater Weather Jeans and Boots Outfit
Try a classic sweater and boots for the perfect weekend sweater outfit for a casual and comfortable outfit that can easily go from the office to the weekend.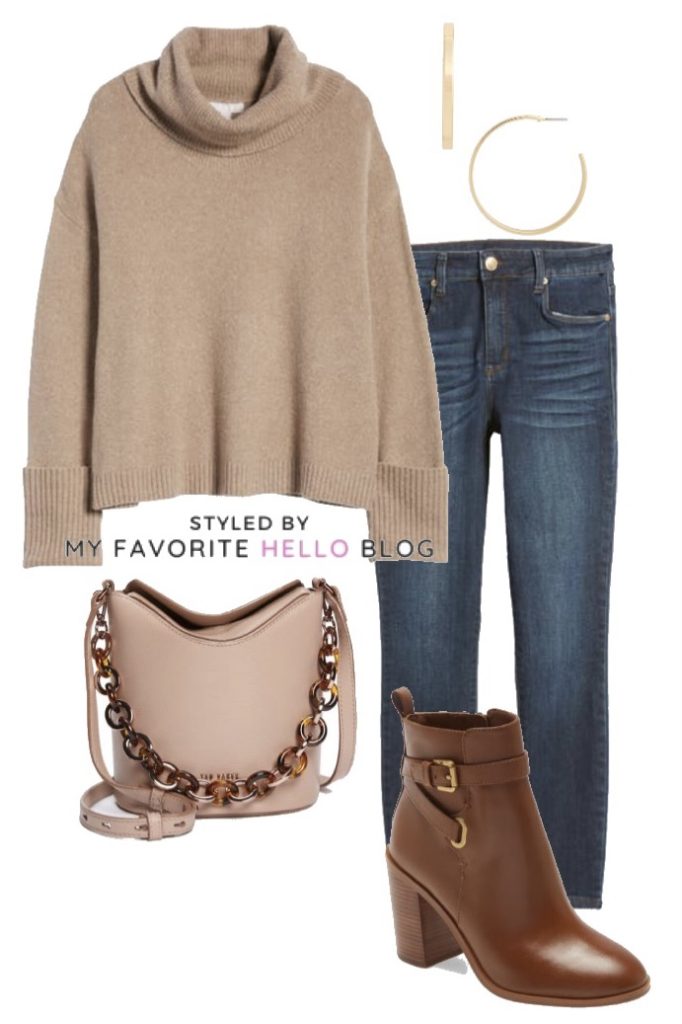 18. Fall Cable Sweater Outfit
I love this cream cable sweater and cranberry handbag for a fall ready sweater outfit for a night out.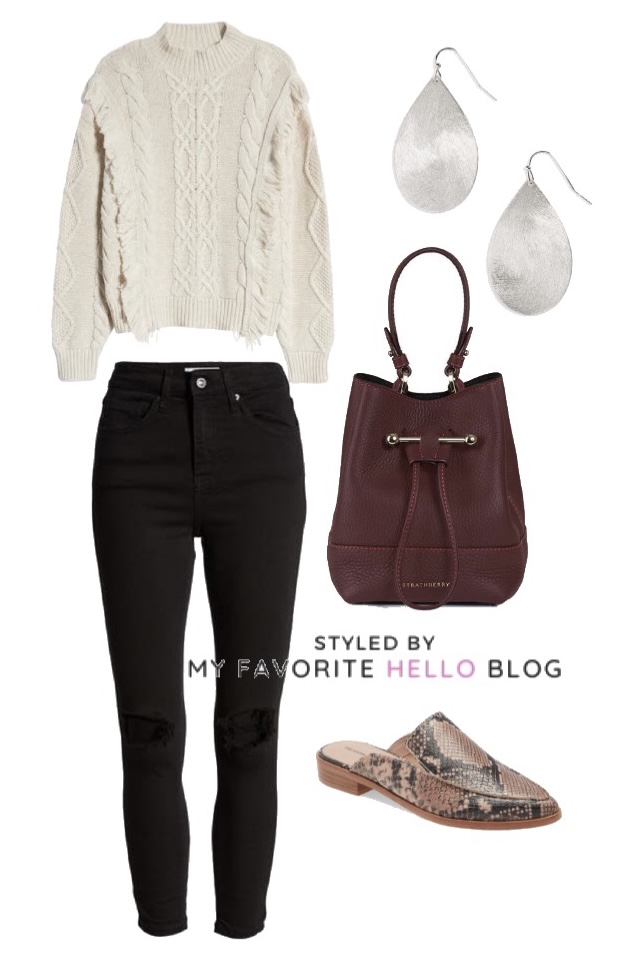 19. Spring Sweater and Jeans Outfit
Try a white purse and stone mules for a spring sweater outfit for a casual weekend out.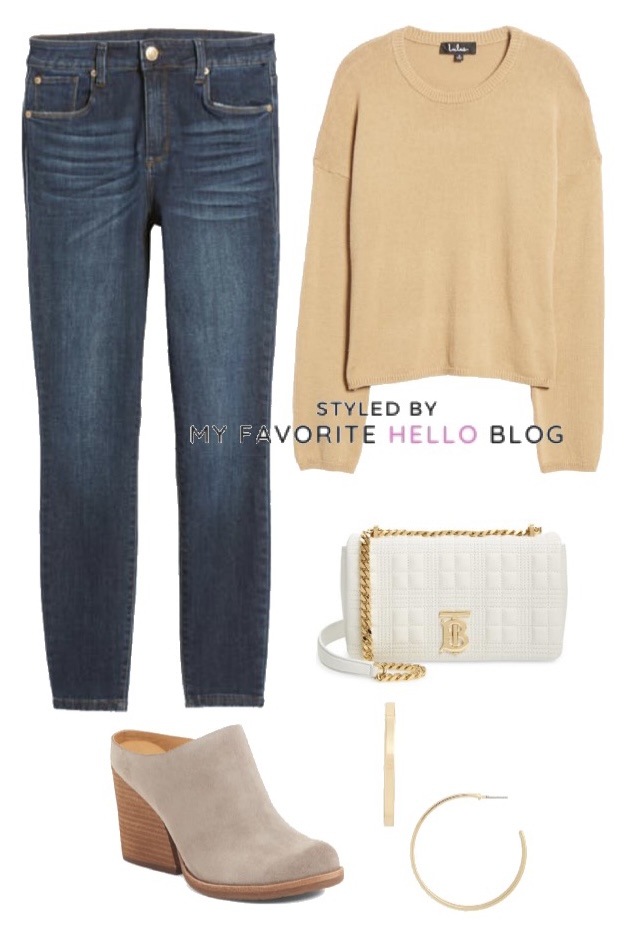 These cozy and cute sweater outfit ideas are just so good! I hope you can't wait to for sweater weather so you can try these sweater weather styling tips in your outfits!
Which sweater outfit is your favorite? Let me know in the comments!
Creator of My Favorite Hello and Author of this Article
Amy has 10+ years of experience in fashion and beauty launching digital products for global brands Fenty Beauty, Glossier, Marc Jacobs, Men's Wearhouse and Stitch Fix. She also worked previously as a Senior Stylist at Stitch Fix, and currently as an independent virtual stylist, styling men and women for various occasions from everyday outfits, special occasions, to curating a complete closet. Amy is using her styling experience, fashion and beauty expertise to provide style inspiration and outfit ideas so you can shop for yourself and put together stylish outfits that make you feel confident and beautiful. @styledbymyfavehello
You May Also Enjoy Reading:
10 Stylish and Cozy Outfits for Fall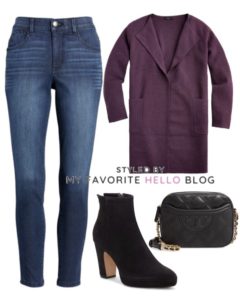 You May Also Enjoy Reading:
10 Winter Outfits with Faux Leather Leggings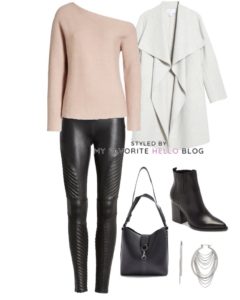 You May Also Enjoy Reading:
18 Ways to Style the Spanx Faux Leather Moto Leggings