Ways to Style Denim Shorts Outfits for Every Occasion
If you are looking for what to wear with denim shorts, I have styled 12 different denim shorts outfits. Denim shorts are a must have for summer. They are a great closet addition that can be worn casual, edgy, or dressed up for a party. To show you how to style blue denim shorts, white shorts, and black denim shorts, I have styled twelve outfits with these denim shorts, and you can shop the entire look.
This article includes affiliate links which means when you make a purchase using my affiliate links, I earn a commission at no additional cost to you. See my Privacy Policy.
What to Wear with Jean Shorts
Denim shorts come in so many different colors now, including blue jean shorts, black jeans shorts and white jeans shorts. In addition, jean shorts also come in a variety of styles, including high waist shorts, distressed shorts, and bermuda shorts styles.
You can wear jean shorts with casual tops, dressy tops, and more. I show you 12 different outfit ideas so you can see for yourself how to style jean shorts for any occasion.
What Color Shirt Goes with Denim Shorts?
Denim shorts are very versatile and can pretty much be worn with any color shirt. These are the colors I've styled the denim shorts outfits below with:
Pink
Yellow
White
Black
Brown
Blue
Coral
What Shoes Go With Denim Shorts
Any shoes can go with denim shorts, including sneakers, flat sandals, platform wedges and even boots. I've styled these denim shorts outfits with sandals, ankle boots, heels and more to show you how to wear different shoes with denim shorts.
12 Denim Shorts Outfits
Check out these 12 denim shorts outfits for your ultimate style inspiration for any occasion, including summer, a night out, vacation, and more.
1. Denim Shorts Outfit with a Pair of Mules
Add a pair of mules and a wrap top to a pair of denim shorts for a stylish and chic summer outfit that is perfect for a casual summer weekend spent running errands or doing some shoppping.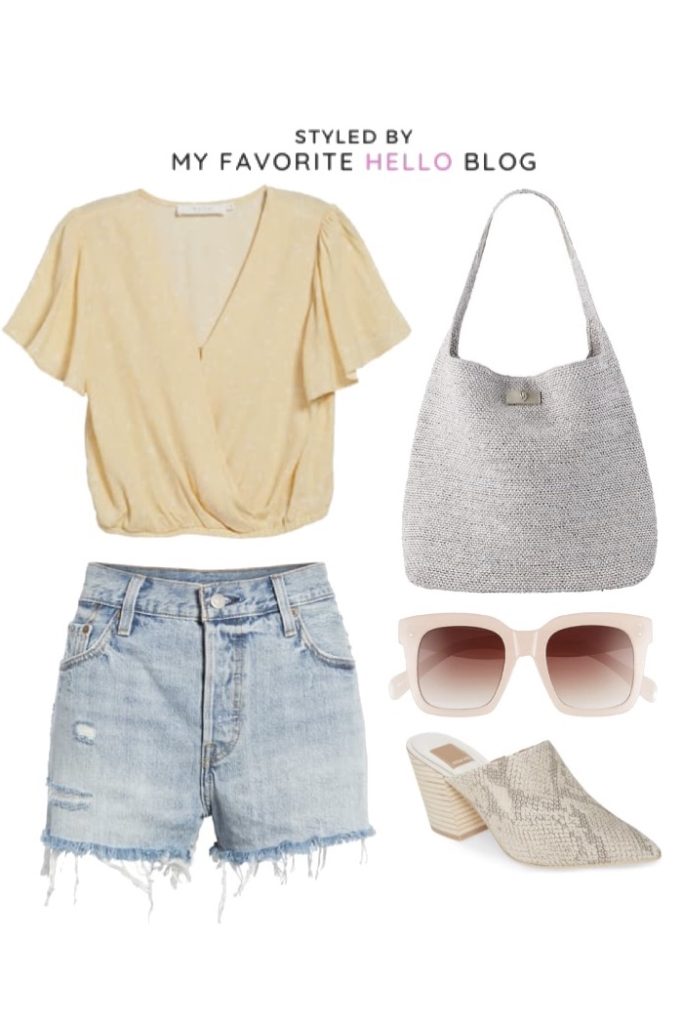 2. Dress Up Denim Shorts for a Party
Try a pair of crisp white high waist jean shorts with gold and neutral colored accessories for a sophisticated summer outfit you can wear to a pool party. You can even swap out these white jeans shorts for a pair of cream pants to take the look into the evening.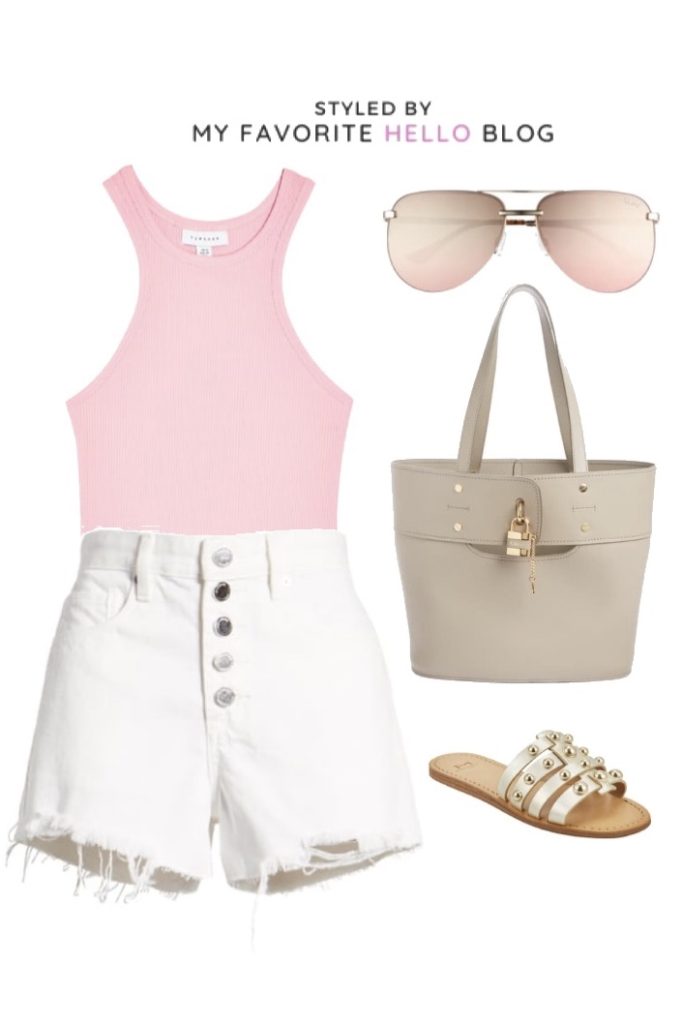 3. Denim Shorts for Spring with Pink Accessories
This spring outfit is pretty in pink and florals with a touch of edgy mesh. I love this bucket bag and platform sandals for a look that can easily transition from day to night.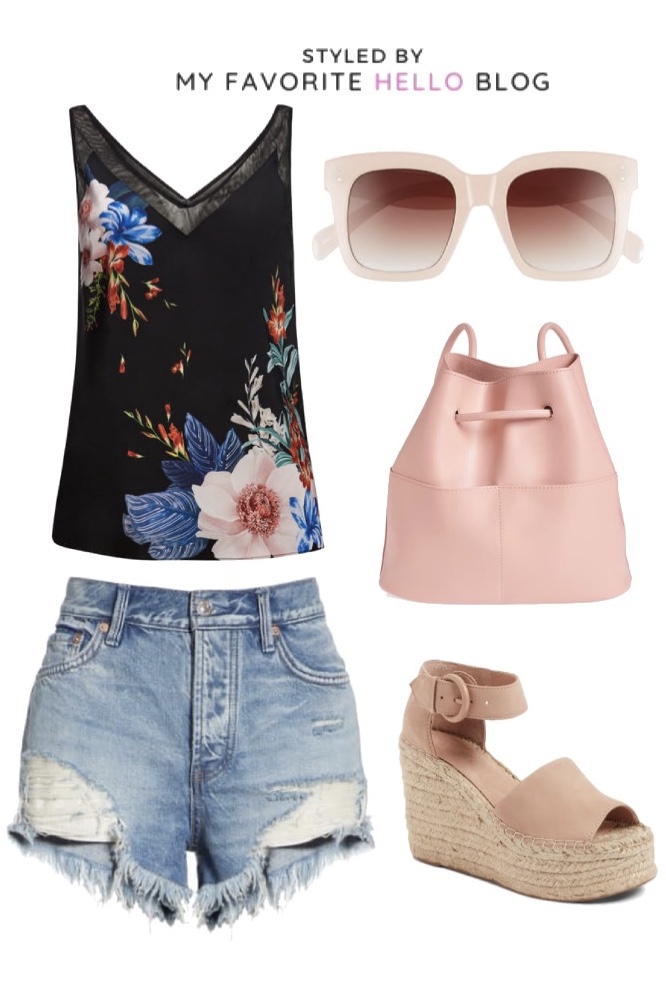 4. Denim Shorts for the Beach?
The Tory Burch Miller flip flops are perfect for a casual summer weekend. Try them with a straw bag and go-to denim shorts for an anything-but-basic summer outfit.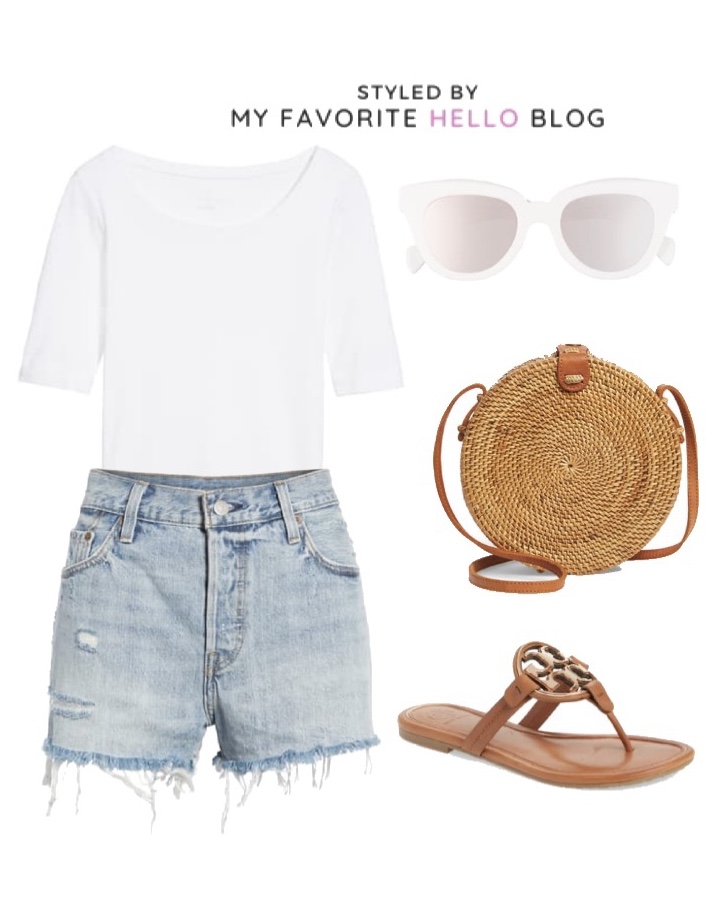 5. Jeans Shorts with Ankle Booties
Try black denim shorts with some studded ankle booties for an edgy and trendy summer outfit that is perfect for warm weather. This outfit is also a perfect example of what to wear with denim shorts to a party.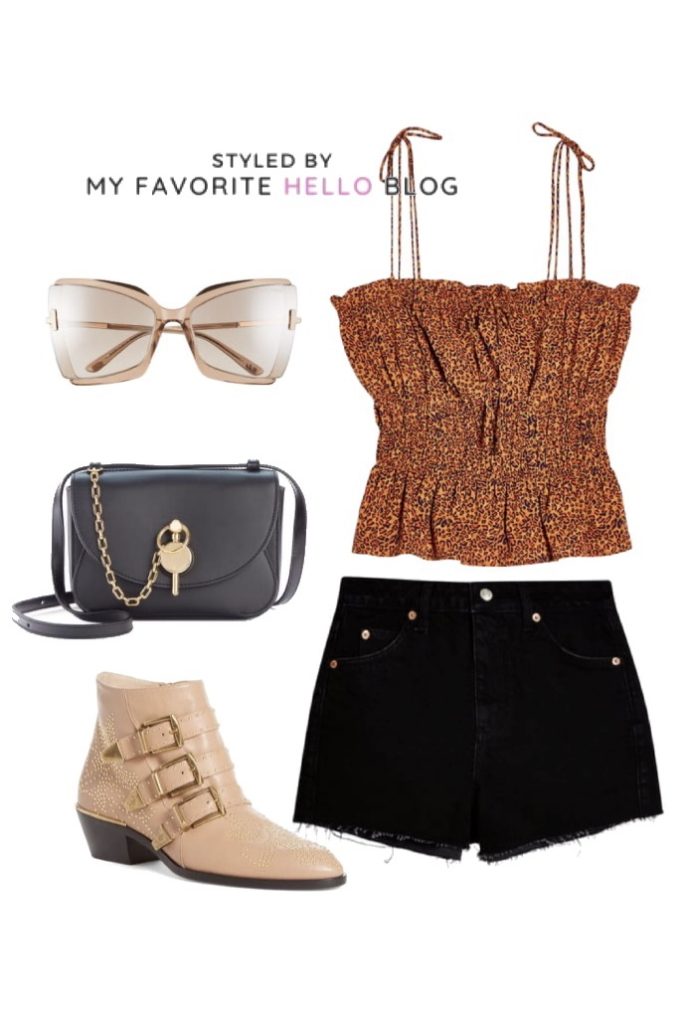 6. Denim Shorts Outfit for Over 50
Try a monochromatic look for a chic summer look. This outfit is especially perfect if you are over the age 50. Pair a blue top and blue tote with blue denim shorts for a casual weekend.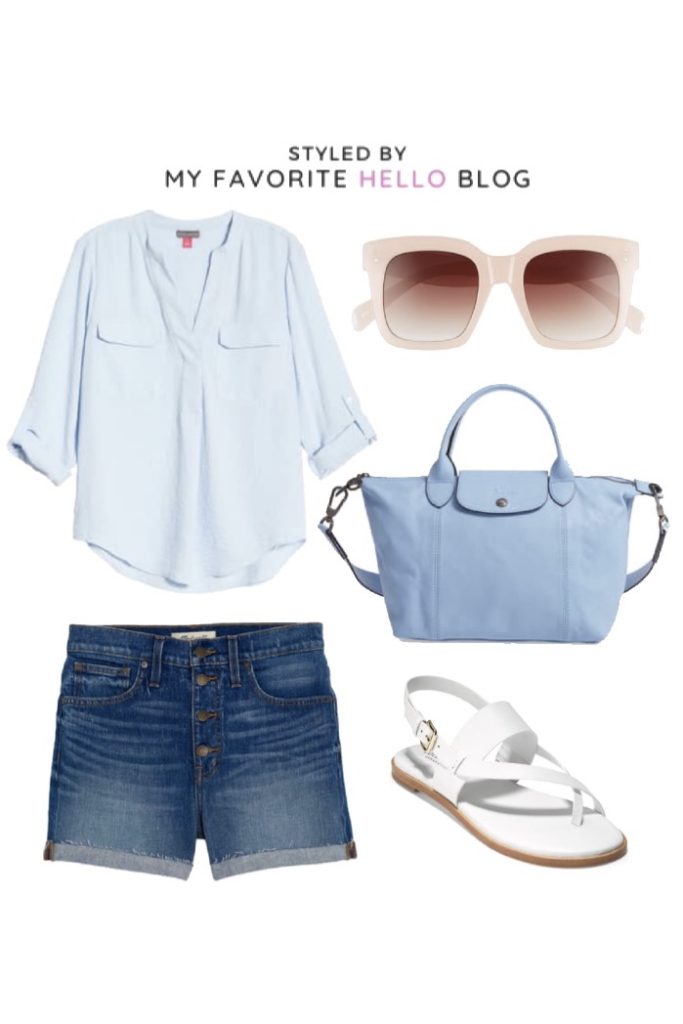 7. Ripped Denim Shorts Outfit
Add a fun pop of color with your accessories to your ripped blue jeans shorts for a casual summer weekend. Try these Marc Fisher sandals to complete the look.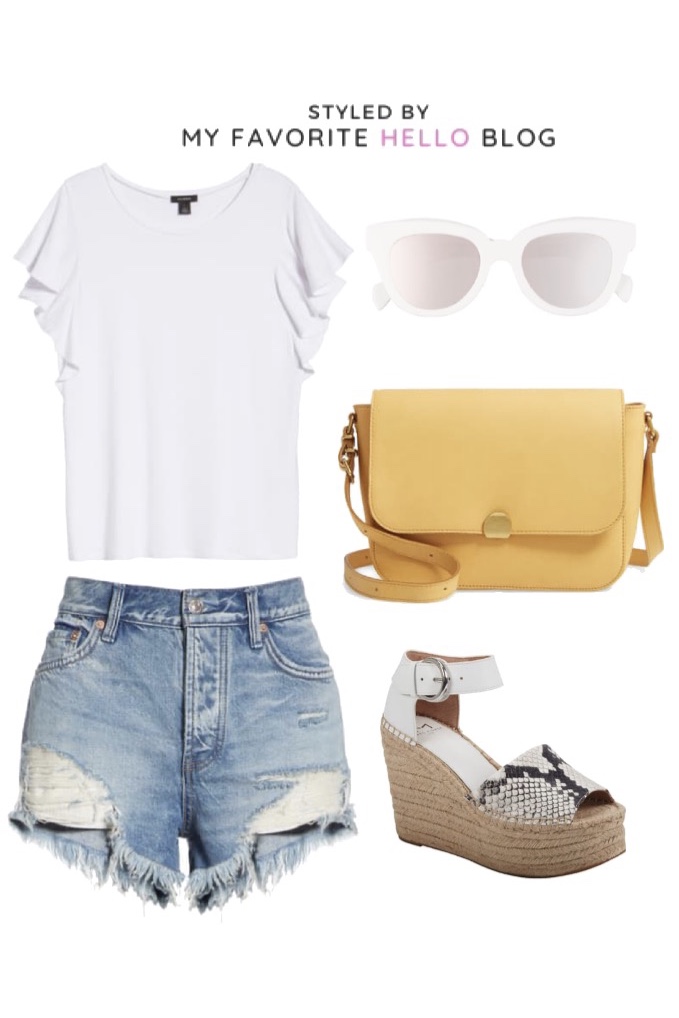 8. Dress up Denim Shorts for a Night Out
Dress up these bermuda denim shorts with a floral tank top and neutral heels for a date night or a dressy vacation look that can go from day to night.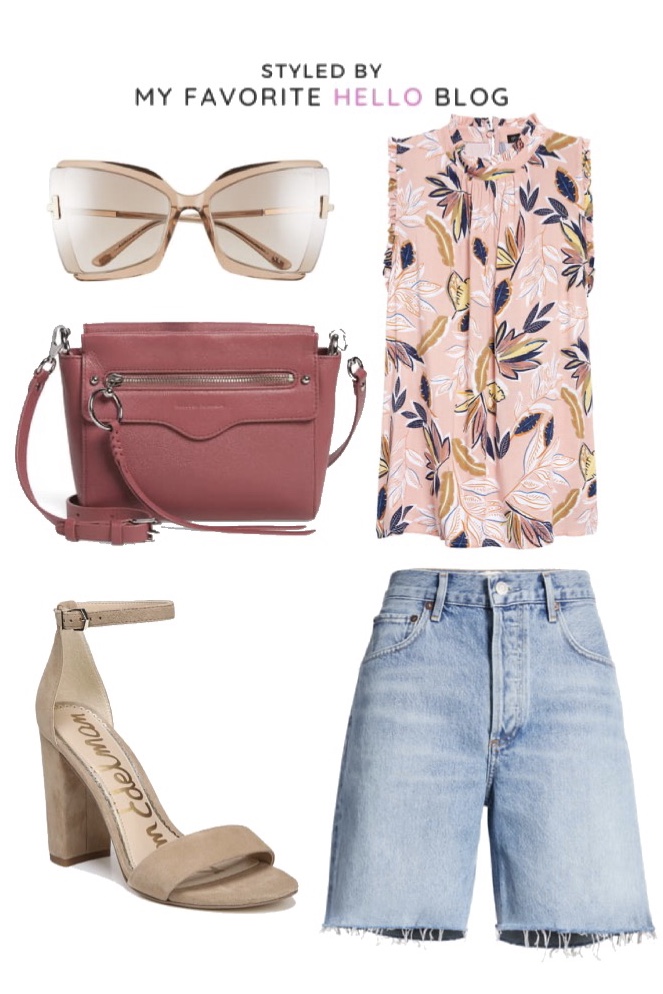 9. What to Wear with Black Jean Shorts
Try a pair of black jean shorts with a pair of ankle booties for an edgy night-time summer outfit. You might also want to try a pair of white boots for an ultra chic look.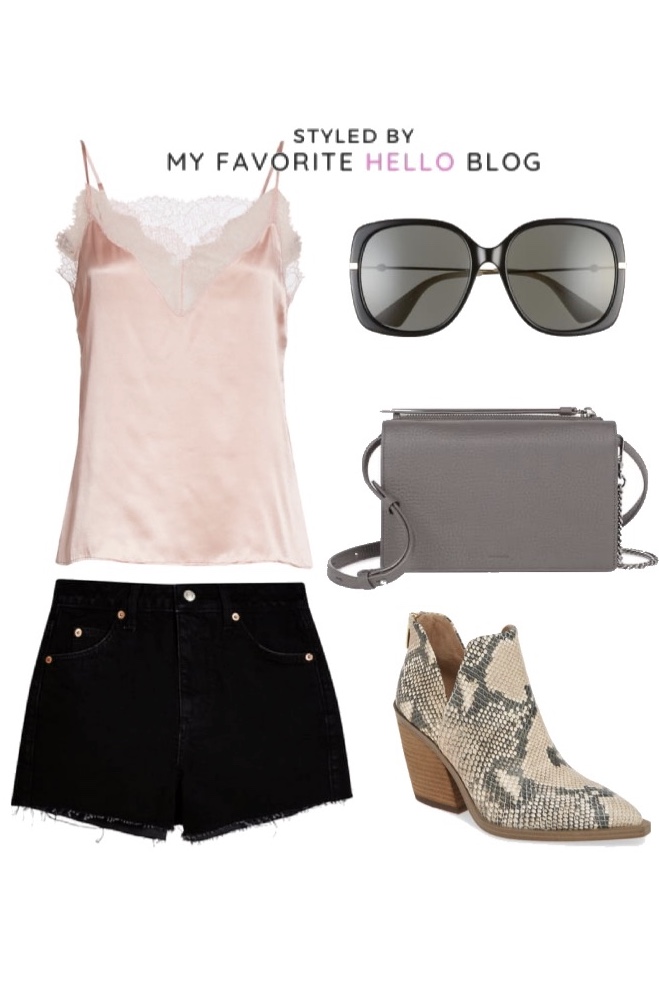 10. Denim Shorts With
Summery

Pastels

Try a pair of blue jean shorts with a pink tank and blue pastel handbag for a hot girl summer outfit that is casual and cool.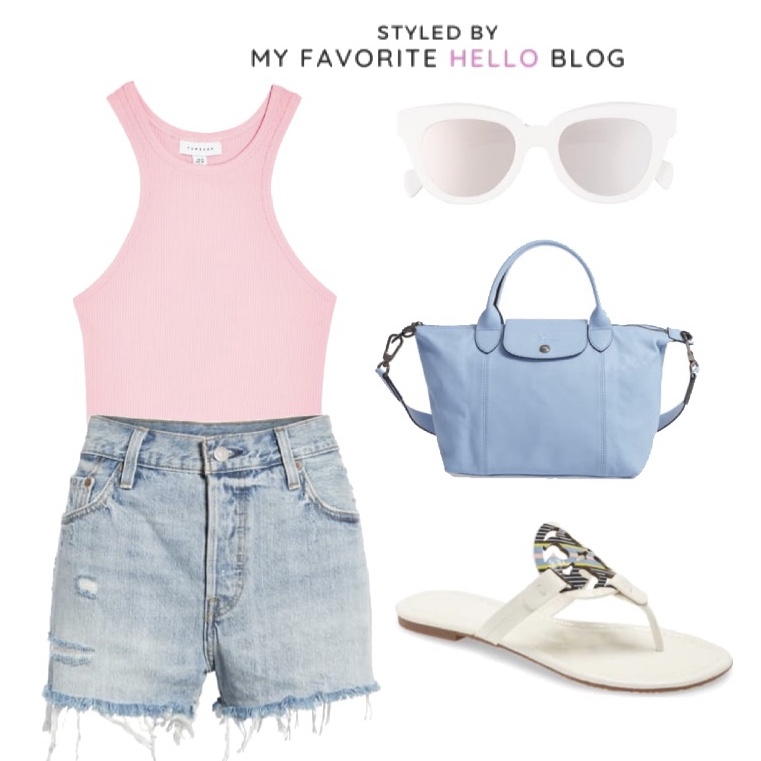 11. What to Wear with White Jean Shorts
If you are wondering how to style white shorts, try pairing a colorful and printed top. This coral top and platform wedges with the white shorts make for a polished and feminine summer outfit.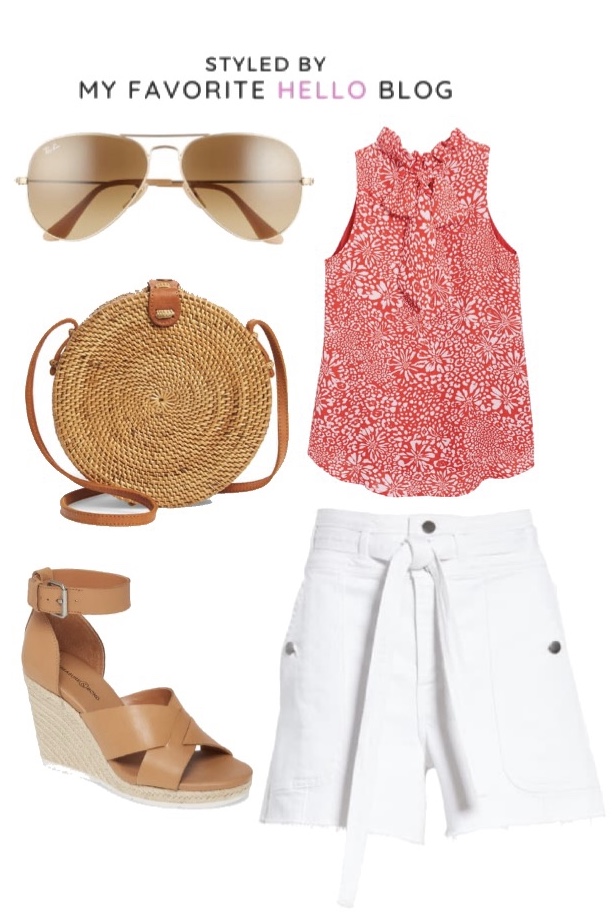 12. Denim Shorts with Sneakers
Try a classic pair of white sneakers for a casual summer outfit. This outfit is a summer must-have, simple and easy, just throw a tank and sneakers on with your blue jean shorts for a casual weekend.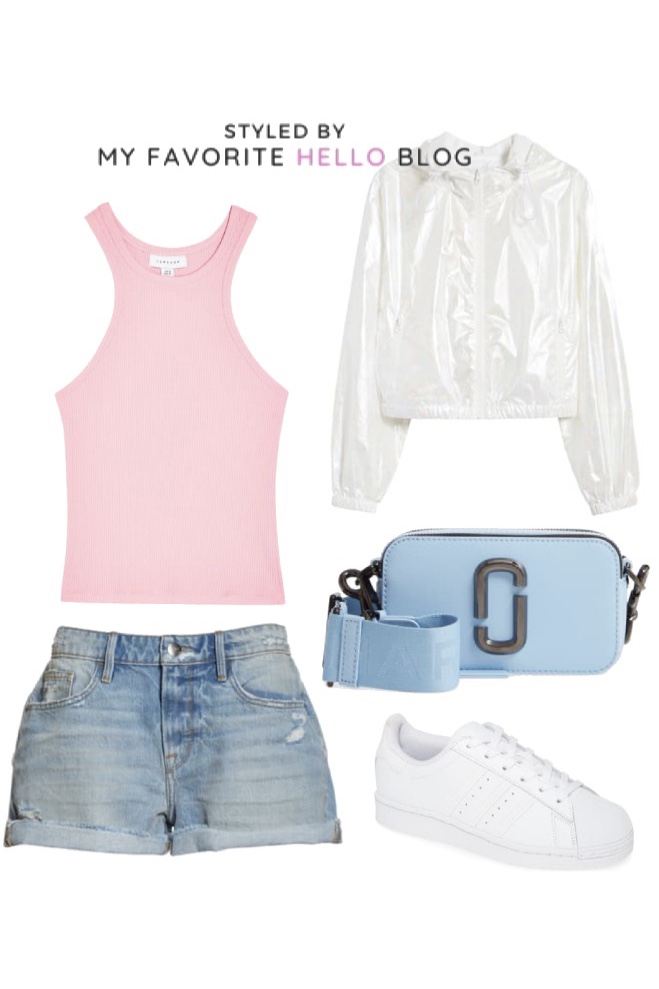 Which denim shorts outfit is your favorite?
Creator of My Favorite Hello and Author of this Article
Amy has 10+ years of experience in fashion and beauty launching digital products for global brands Fenty Beauty, Glossier, Marc Jacobs, Men's Wearhouse and Stitch Fix. She also worked previously as a Senior Stylist at Stitch Fix, and currently as an independent virtual stylist, styling men and women for various occasions from everyday outfits, special occasions, to curating a complete closet. Amy is using her styling experience, fashion and beauty expertise to provide style inspiration and outfit ideas so you can shop for yourself and put together stylish outfits that make you feel confident and beautiful. @styledbymyfavehello
You May Also Enjoy Reading:
How to Dress Up Denim Shorts for a Hot Girl Summer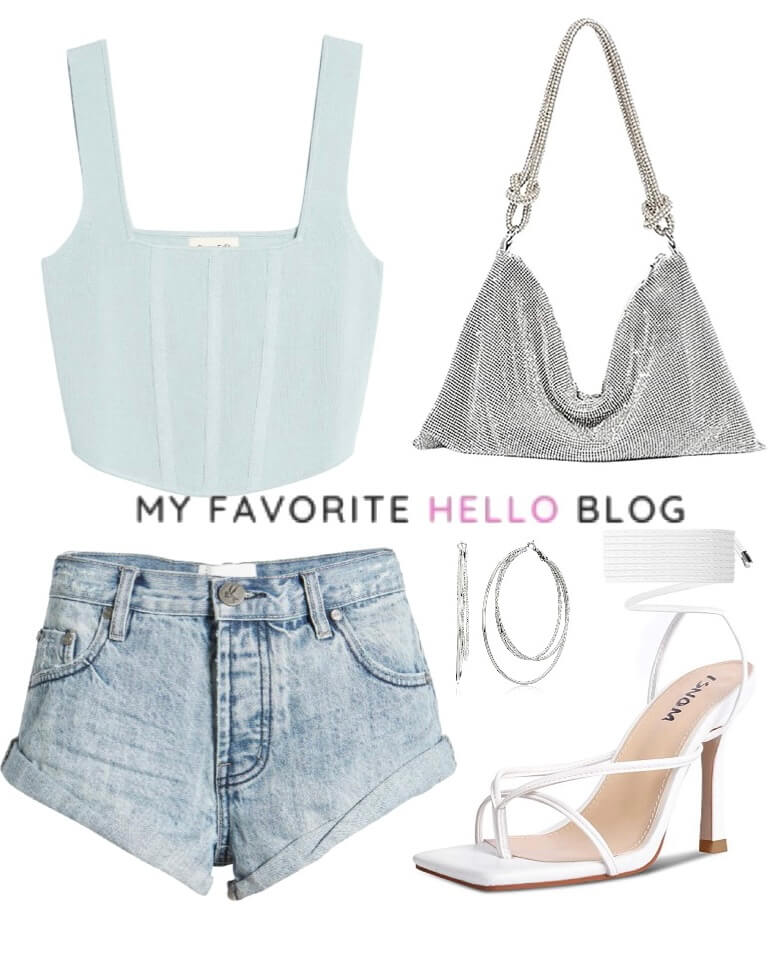 You May Also Enjoy Reading:
What to Wear Instead of Shorts When You are Over 50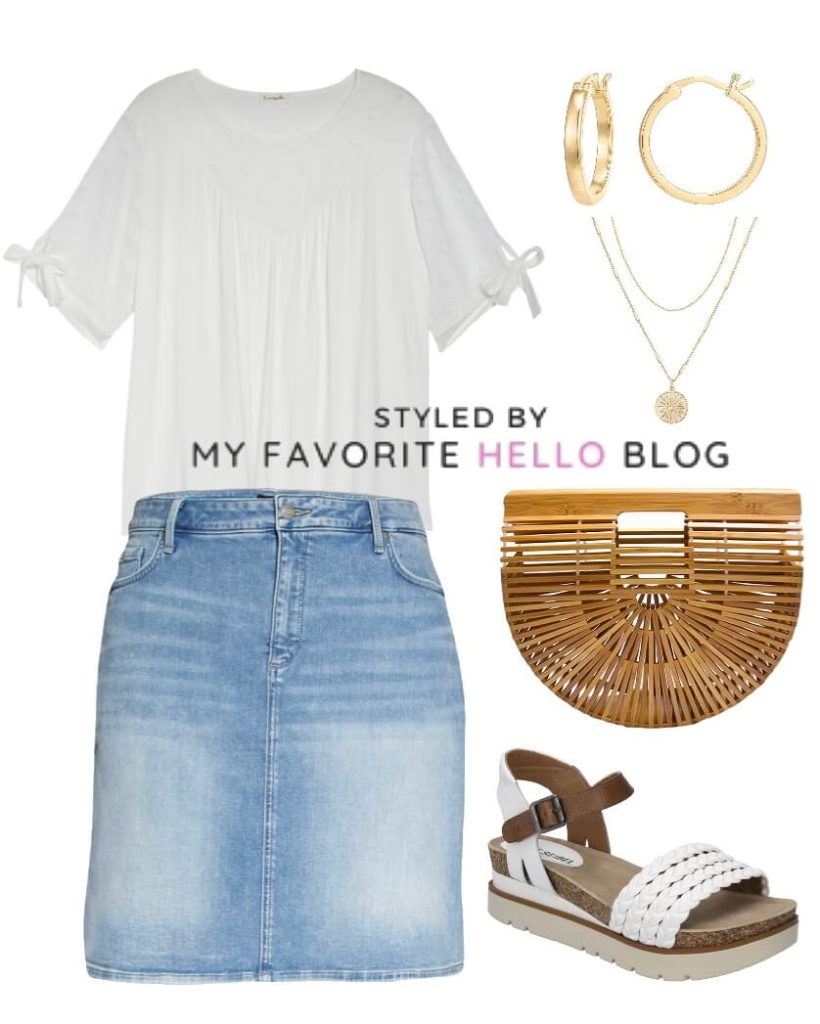 You May Also Enjoy Reading:
What Color Shoes to Wear with a Pink Suit in 10 Outfits: Female Edition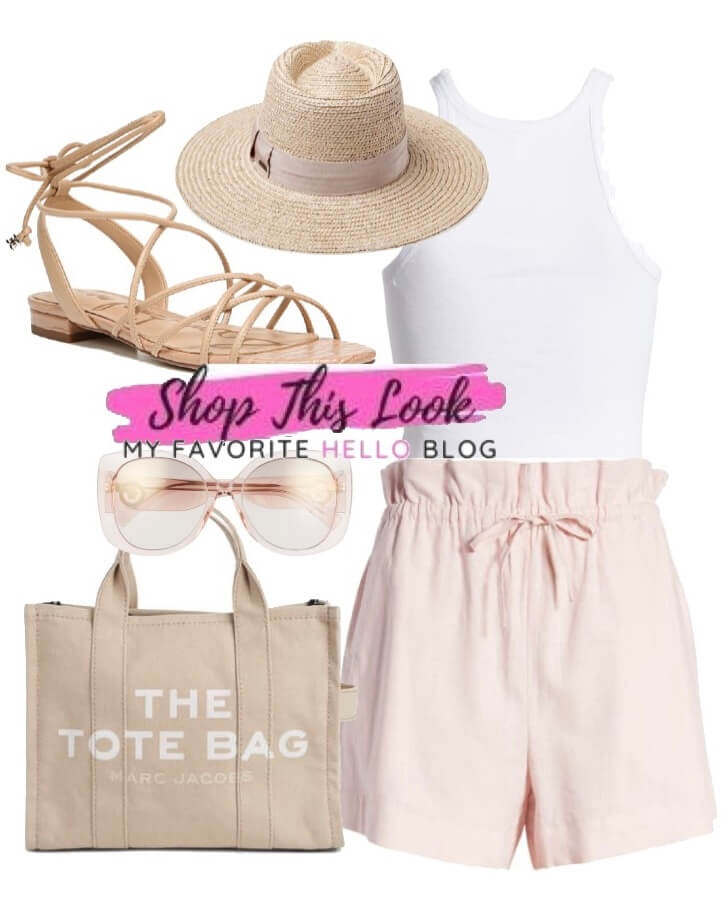 You May Also Enjoy Reading:
Casual Summer Style with Abercrombie