Halloween Decorations
If you are looking for Halloween decorations, I have gathered my favorite picks. From outdoor Halloween decor, Harry Potter Halloween decor, vintage Halloween decor, and more check out these spooky and fun Halloween decorations.
This article includes affiliate links which means when you make a purchase using my affiliate links, I earn a commission at no additional cost to you. See my Privacy Policy.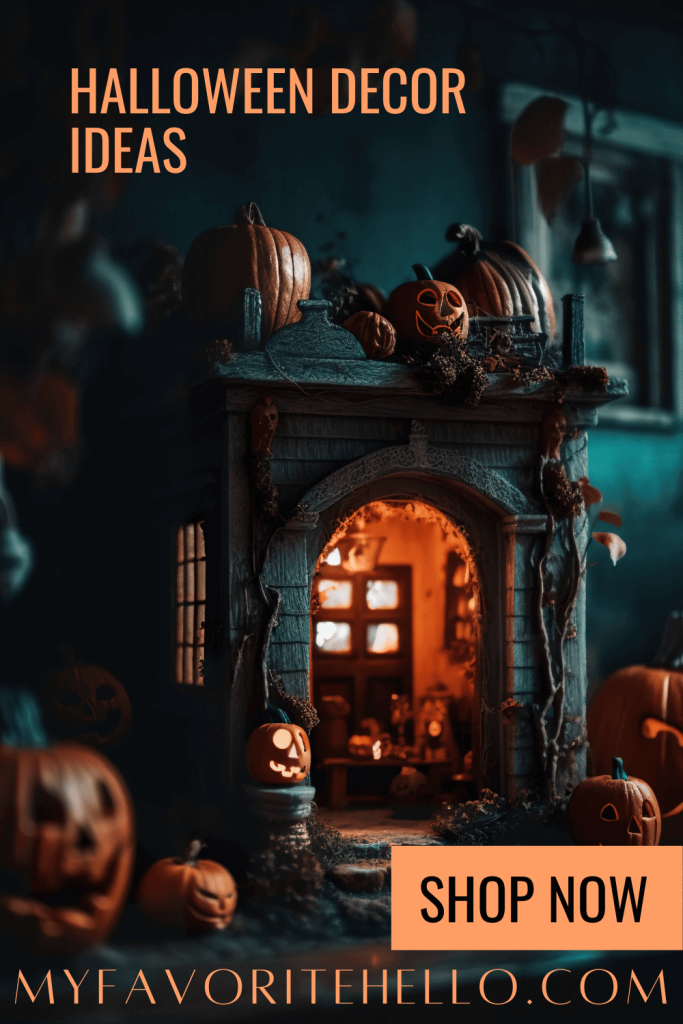 How Early Can You Decorate for Halloween?
It depends on the Halloween decorations, but you can definitely start as early as September. There's so many Halloween decorations that are perfect for fall, such as pumpkins, string lights, black cats, and drinkware.
I usually like to wait until October to full-on decorate for Halloween, including spooky skeletons, spiders and doormats.
Check out the following Halloween decor ideas for the creepiest and spookiest season.
Outdoor Halloween Decor
From smoky cauldrons, fun eyeball doorbell covers, to spooky black cats and spiders, these picks are the perfect outdoor Halloween decorations. Use them on your front porch or backyard and be the best decorated house on the block. Shop these now by clicking on the plus sign.
Harry Potter Halloween Decorations
Get ready for a magical Halloween with these enchanting Harry Potter decorations! From floating candles to Hogwarts house candles, these decor ideas will transport you straight to the wizarding world. Whether you're hosting a Harry Potter-themed party or just want to add some magic to your home, these decorations are sure to impress any witch or wizard. So grab your wand and grab your own Harry Potter Halloween decor today!
Fireplace Halloween Decorations
Turn your fireplace into a spooky focal point with these Halloween decor ideas! These ideas will help you create a hauntingly beautiful fireplace for the Halloween season. Whether you're hosting a Halloween party or just want to add some festive fall flair to your home, these fireplace decor ideas will impress your guests and create a cozy atmosphere. So, grab your broomstick and start decorating your fireplace for a wickedly delightful Halloween! Click on the plus sign to shop these picks.
Halloween Party Decorations
Get ready to spook-tacularly throw a party with these Halloween party decor ideas! From creepy drinkware to spooky candles, these decorations will help you create a spine-chilling atmosphere for your Halloween party. Whether you're hosting a large gathering or just having a small get-together, these ideas will impress your guests and make your party unforgettable. So, grab your cauldron and start brewing up some Halloween magic with these Halloween party decor ideas. Your guests will be screaming for more! Shop these picks by clicking on the plus icons.
Vintage Halloween Decorations
Step back in time with these vintage Halloween decorations! From laced candle holders to evil eye trays, these ideas will transport you to a bygone era of Halloween. Whether you're a fan of Victorian gothic or retro mid-century designs, these vintage decorations are sure to add a touch of nostalgia to your Halloween decor. So, why settle for modern Halloween decorations when you can add a touch of vintage charm to your spooky celebrations? Explore these ideas and bring some old-school Halloween magic back to your home!
Pink Halloween Decorations
Who says Halloween has to be all black and orange? Add a pop of color to your spooky decor with these pretty pink Halloween decorations! From pink pumpkins to pink skulls, these ideas will give your home a feminine touch while still keeping it spooky. Whether you're throwing a Halloween party or just want to add some festive flair to your home, these pink decorations are sure to make a statement. So why stick to the traditional Halloween colors when you can go pink?
Which Halloween decorations did you get? Let me know in the comments.
Creator of My Favorite Hello and Author of this Article
Amy has 10+ years of experience in fashion and beauty launching digital products for global brands Fenty Beauty, Glossier, Marc Jacobs, Men's Wearhouse and Stitch Fix. She also worked previously as a Senior Stylist at Stitch Fix, and currently as an independent virtual stylist, styling men and women for various occasions from everyday outfits, special occasions, to curating a complete closet. Amy is using her styling experience, fashion and beauty expertise to provide style inspiration and outfit ideas so you can shop for yourself and put together stylish outfits that make you feel confident and beautiful. @styledbymyfavehello
You May Also Enjoy Reading:
Pink Christmas Decor Ideas for a Pretty Holiday Season
The Best Wall Planters for Your Living Room