How to Accessorize a Turquoise Blue Dress
When deciding what color shoes to wear with a turquoise dress, it is important to consider the overall look and feel of your outfit. A turquoise dress can be quite a statement piece on its own, so the accompanying shoes should complement the rest of the look, not compete with it. The good news is that there are lots of different colors and styles you can choose from which will complement your outfit perfectly. As your personal virtual stylist, keep reading for 10 turquoise dress outfit ideas that I have styled with 10 different colors of shoes and accessories for various occasions.
This article includes affiliate links which means when you make a purchase using my affiliate links, I earn a commission at no additional cost to you. See my Privacy Policy.
What to Wear with Turquoise Blue
A turquoise dress is a standout staple piece for your closet that can be dressed up or down depending on the occasion. Whatever your style preference may be, there's no wrong way to wear a turquoise dress; as long as you feel comfortable and confident in your outfit choice!  
As a virtual stylist, I am sharing how you can wear these 10 colors of shoes to wear with a turquoise dress. Keep reading for full outfit ideas that I have personally styled with these colors, including shoes, handbag, and jewelry.
Gold
Pink
White
Silver
Nude
Yellow
Brown
Turquoise
Orange
Black
What Colors Match a Turquoise Dress
Turquoise is a bold and bright color. When wearing a turquoise dress, it is easy to match with gold, silver and white to complement a turquoise dress for a stylish and trendy look. However, statement shoes in unexpected colors like pink, yellow, and orange can also beautifully match to create a turquoise dress outfit. Check out these 10 outfits with a turquoise dress below for some ideas of what colors can be worn with a turquoise dress.
What Color Jewelry Goes with a Turquoise Dress
The outfits I've styled with 10 different colors also include jewelry and handbags in these same colors to show you how different colors of accessories can be worn with a turquoise dress. You may not want to wear the same color for your jewelry, handbag, and shoes all at the same time, but these outfits will show you how you can match these colors of accessories with a turquoise dress.
What skin tone does Turquoise look good on?
Based on my years of styling clients, I can share that turquoise can generally be worn by anyone. It's both a warm and cool shade depending on the undertone so it can go with a multitude of skin tones, from light to deep. The color can also be considered a jewel tone, so a brighter shade of turquoise can go really well with a deeper skin tone in that case.
The turquoise dressed listed below that I create outfits around represent a few different tones of turquoise.
Where to Buy a Turquoise Dress
There are so many retailers that sell turquoise dresses in different cuts and styles. I really love shopping at Nordstrom, and Amazon for dresses. Find more of my go-to retailers on my Shop My Looks page.
If you like the turquoise dresses featured in the outfit ideas below, you can find them here.
What to wear with a light turquoise dress: These light turquoise dresses are perfect for a more casual and playful outfit. It's perfect for a summer vacation or a date night.

What to wear with a dark turquoise dress: If you're looking for ideas on what to wear with dark turquoise dress, I've got you covered. A dark turquoise dress is a great way to add more drama to your outfit, and it can be paired with a variety of different colors and styles.

What to wear with a turquoise blue dress: These turquoise blue dresses can go with almost anything, and are perfect for a special occasion, and even a bridesmaid dress.

Turquoise Dress Outfit Ideas
A turquoise dress is a versatile clothing item that can be dressed up or down. Keep reading for 10 outfit ideas for how to wear a turquoise dress with different color shoes.
If you are looking for more style inspiration and outfit ideas, check out my other posts in this outfit ideas series where I share outfit ideas for these specific colored dresses:
What Goes Well with a Turquoise Dress
1. Gold
If you're looking for a flirty and fabulous outfit, a turquoise dress with gold shoes can be a perfect choice. Gold shoes are a timeless choice so I think they can create a classic and glamorous look if that is what you are looking for. I recommend this outfit to a fun event like a date night or vacation. Finish the look with some matching earrings and a handbag in a gold color to match. These gold heels can also coordinate well with a blush dress.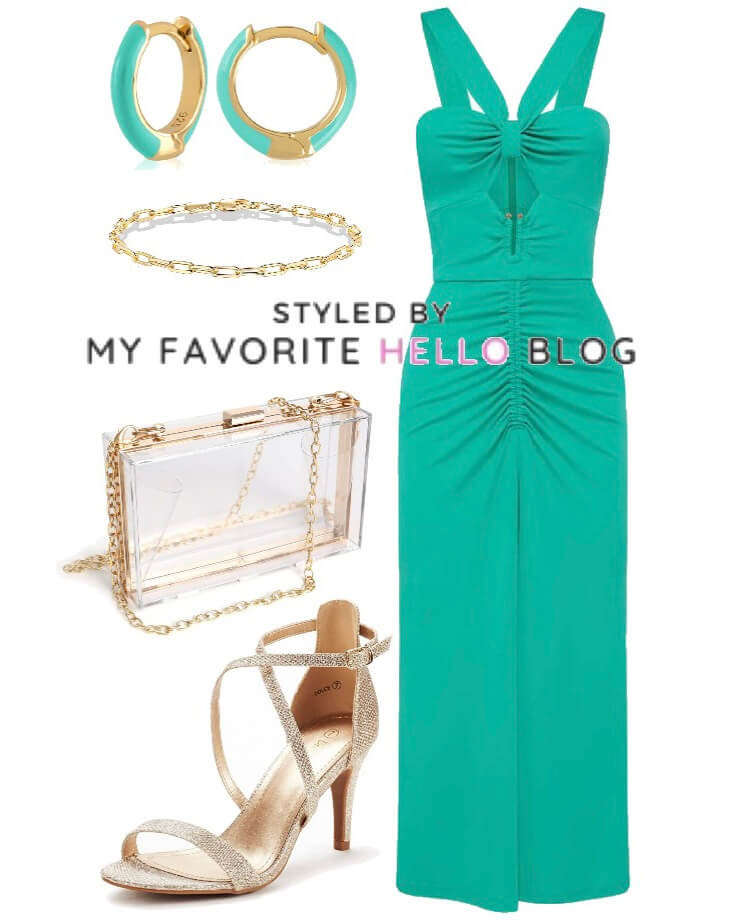 2. Pink
If you're looking for a standout outfit for your next springtime party, why not try a turquoise dress with hot pink shoes? The colors complement each other perfectly and provide a lot of pop of color. You can wear this outfit with confidence knowing that you look good! I recommend this outfit is perfect for a baby shower, or a girls' night out.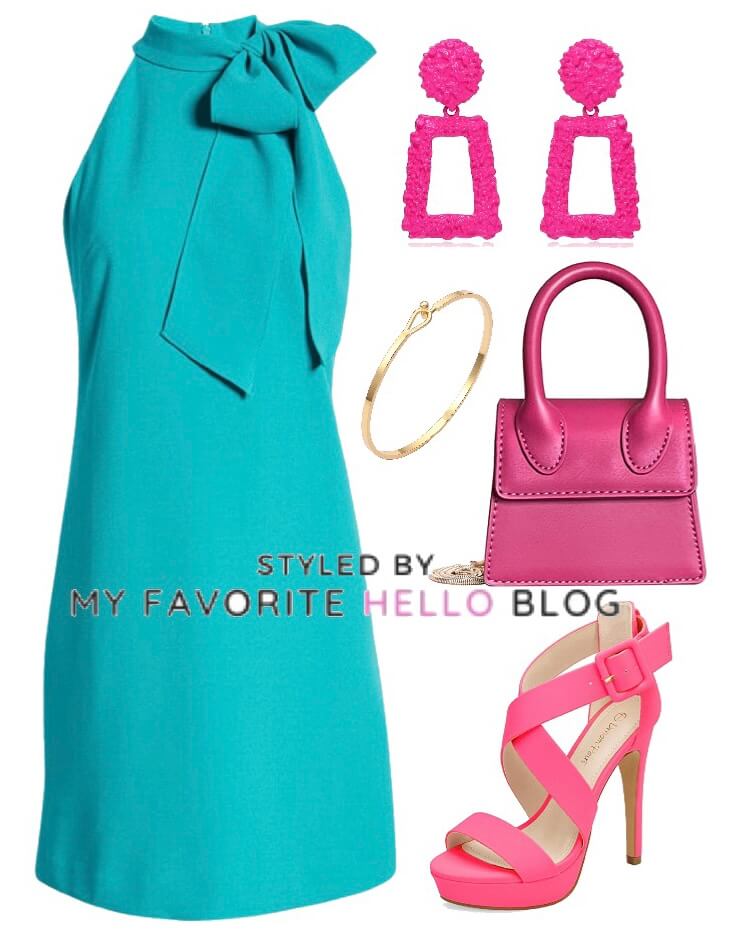 3. White
Finding the perfect dress to wear for a wedding guest outfit can be a daunting task. If you're looking for a great turquoise dress that is flattering, check out this option with white shoes. The dress is figure-flattering and will be a classic look to wear to a spring or summer wedding as a guest or even bridesmaid.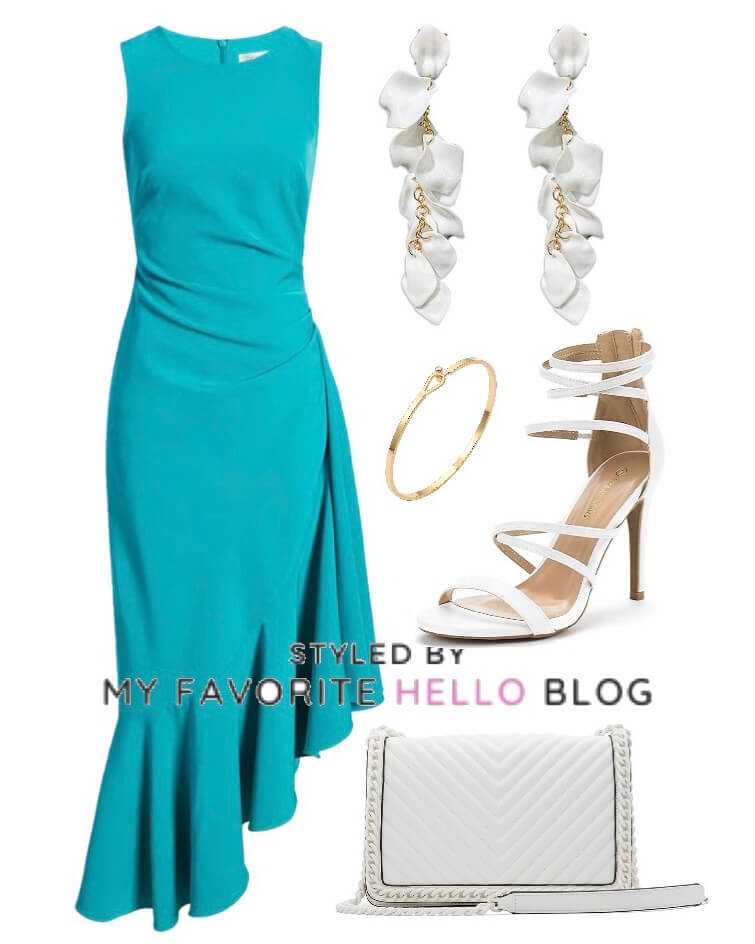 4. Silver
If you want to make a statement with your outfit, go for a sparkly turquoise dress with shiny silver accessories. Silver earrings, purse and shoes will really stand out and complete the look. I love how this outfit looks so pulled together, yet can still stand out from the crowd. I recommend this outfit worn for a night out, a date night, or a cocktail attire event.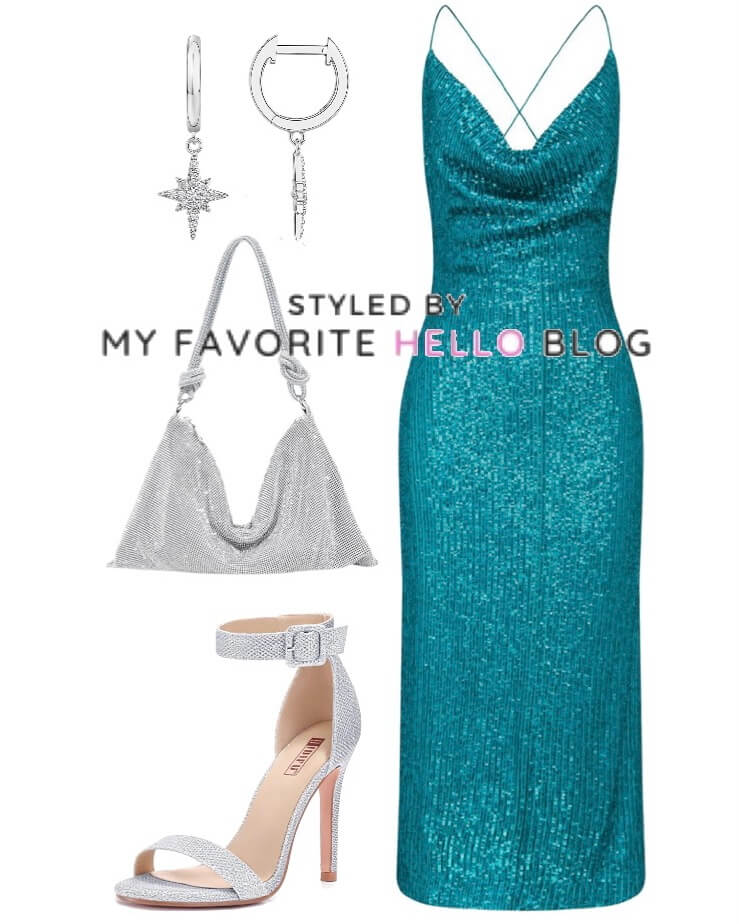 5. Nude
If you want to keep your outfit neutral, go with a turquoise dress and nude shoes. This combination is perfect for a traditional look. The nude heels will dress up your look. You can wear this combination for any occasion, but I especially love it for an Easter Sunday.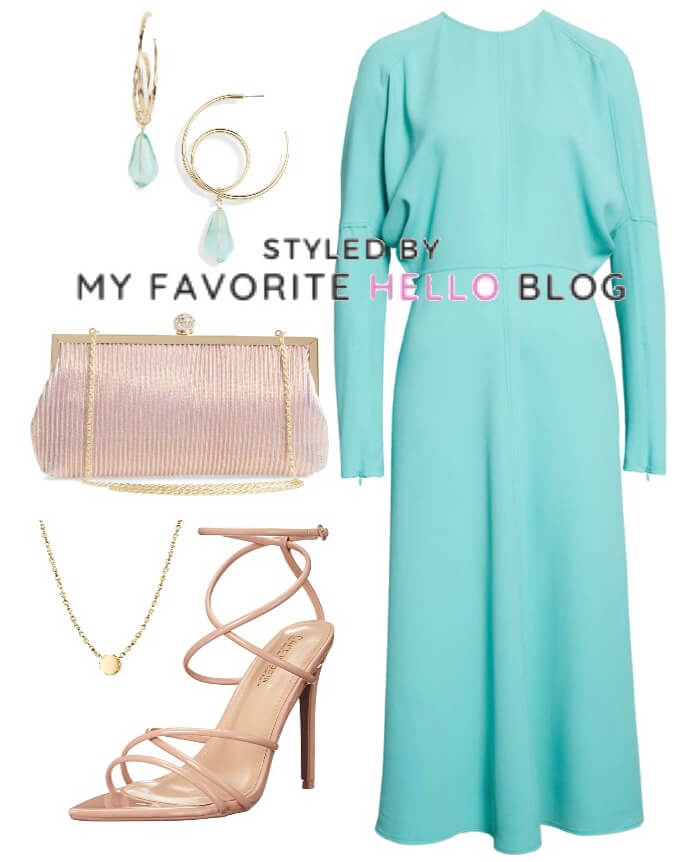 6. Yellow
For a unique and elegant look, consider pairing a turquoise green dress with yellow shoes. Yellow shoes can add a touch of fun to any outfit, and they pair perfectly with the color turquoise as turquoise has yellow undertones. You can find yellow shoes in many different styles, so you're sure to find the perfect pair for your dress. Whether you're looking for something simple and understated or something flashy and glamorous, yellow shoes will always elevate your style. I would style this outfit for vacation or a spring party.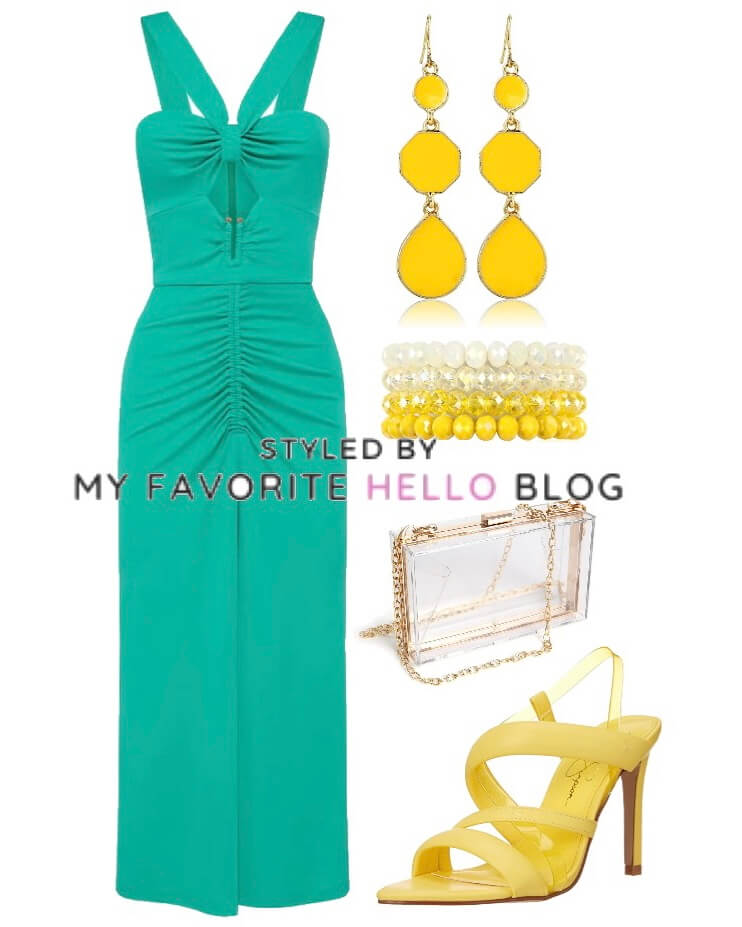 7. Brown
Light turquoise is a color that can be both attention-grabbing and elegant at the same time. A turquoise dress with brown shoes can create a look that is both classic and sophisticated. This outfit will always make you look polished and put together, and can be worn to a work event. While this turquoise dress is more simpler and plain, it allows you to really play with the shoes and accessories to bring that extra stylish factor.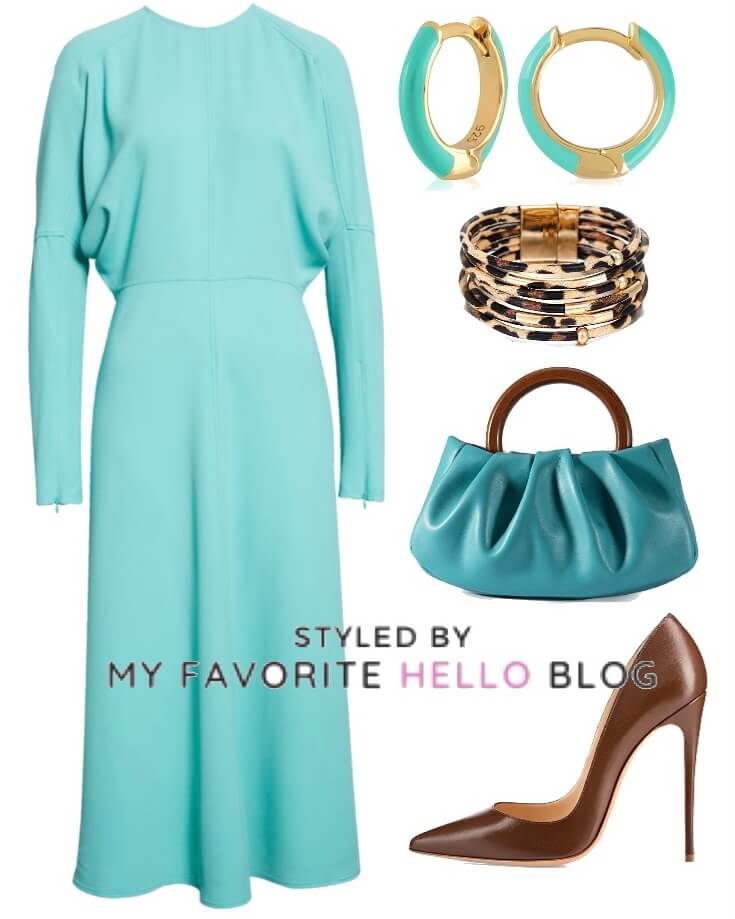 8. Turquoise
A turquoise blue dress with turquoise shoes is a perfect monochromatic look. This combination is perfect for work or an event for spring or summer.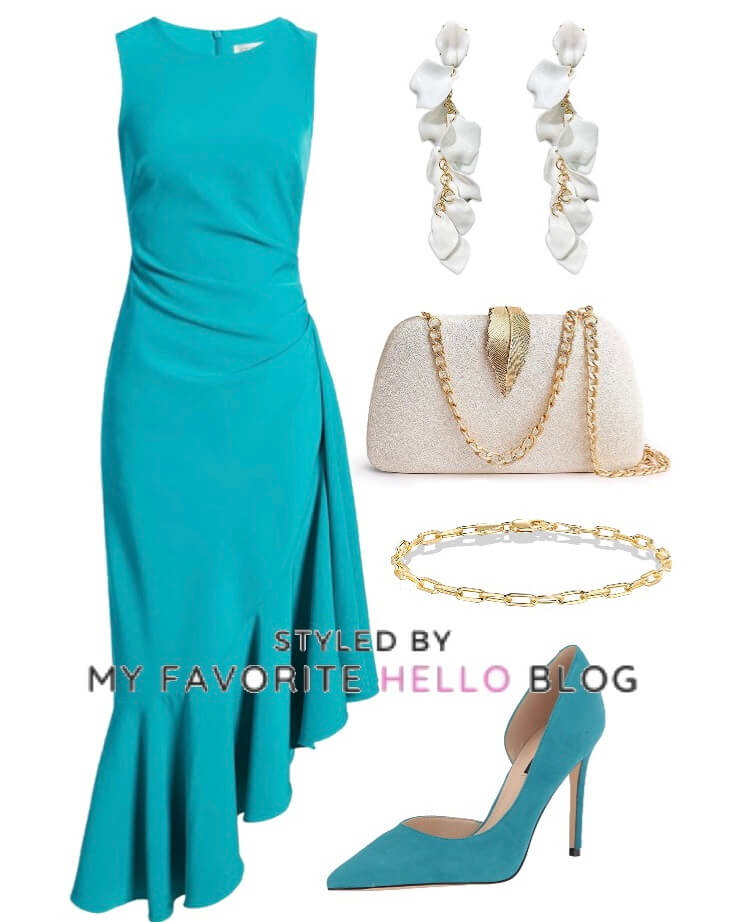 9. Orange
If you're looking for a great outfit for a brunch, consider a turquoise dress with orange heels. This is a fun and stylish look. Orange is a great complementary color to turquoise. A turquoise dress with orange shoes is perfect for any spring or summer event, especially as a wedding guest outfit. The matching earrings and handbag pull the entire look together.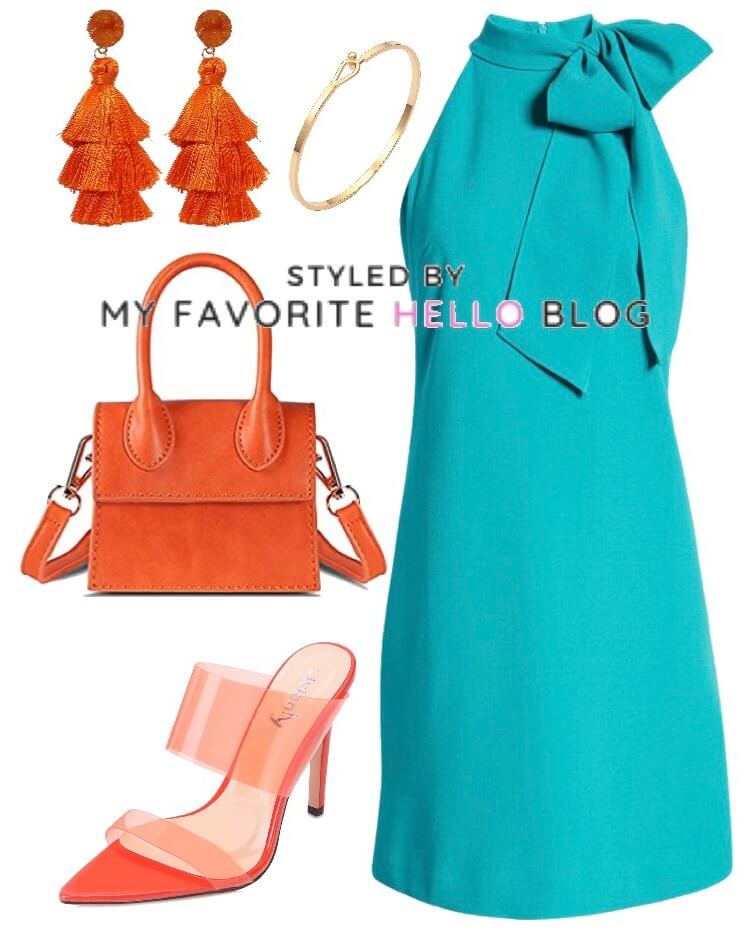 10. Black
When it comes to picking an outfit for a semi-formal or formal event, sticking with classic black heels can never be wrong. Consider a turquoise dress with black heels to complete this look for an evening event.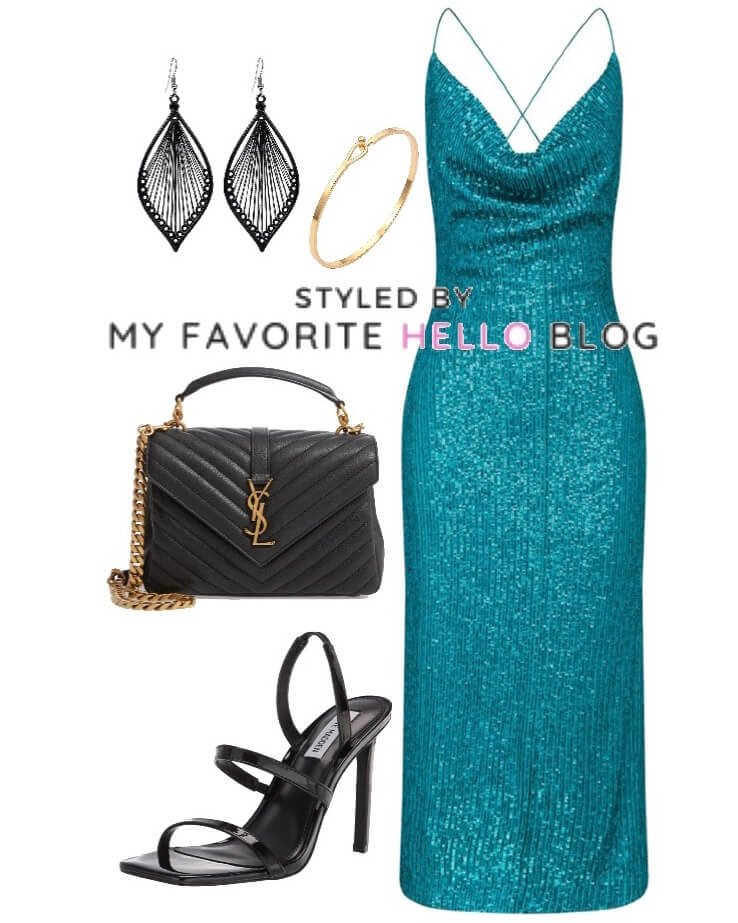 Which outfit with a turquoise dress is your favorite?
Creator of My Favorite Hello and Author of this Article
Amy has 10+ years of experience in fashion and beauty launching digital products for global brands Fenty Beauty, Glossier, Marc Jacobs, Men's Wearhouse and Stitch Fix. She also worked previously as a Senior Stylist at Stitch Fix, and currently as an independent virtual stylist, styling men and women for various occasions from everyday outfits, special occasions, to curating a complete closet. Amy is using her styling experience, fashion and beauty expertise to provide style inspiration and outfit ideas so you can shop for yourself and put together stylish outfits that make you feel confident and beautiful. @styledbymyfavehello
You May Also Enjoy Reading:
What Color Shoes to Wear with a Purple Dress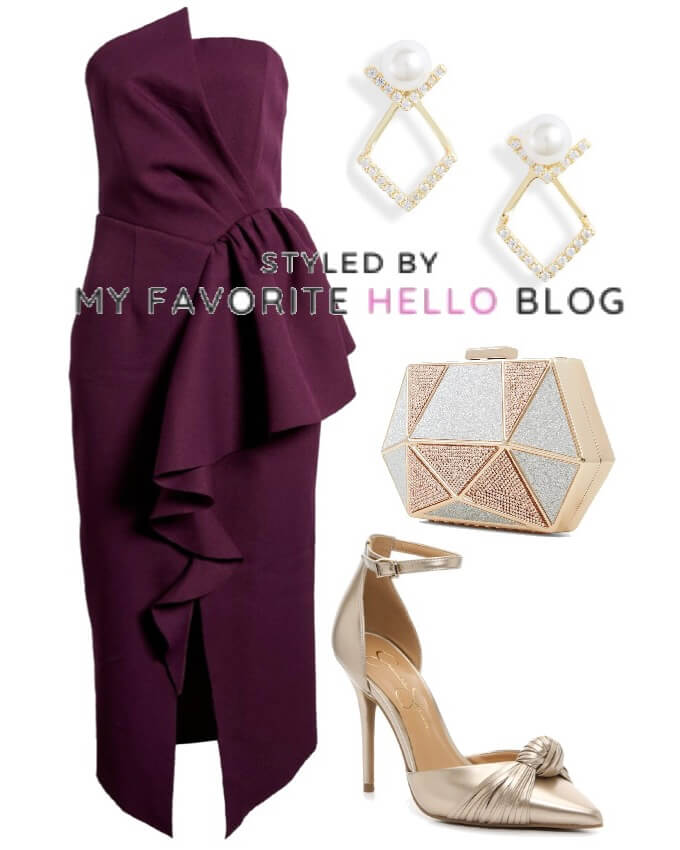 You May Also Enjoy Reading:
10 Looks: What Color Shoes to Wear with a Royal Blue Dress