[yoast-breadcrumb]
Red Wedding Dresses for Plus Size
Are you looking for the perfect plus size red wedding dress, but overwhelmed by the options? I've rounded up plus size wedding guest dresses for every budget and silhouette. You will be sure to turn heads in these stunning plus size dresses.
This blog uses affiliate links which means when you make a purchase using my affiliate links, I earn a commission at no additional cost to you.
---
Follow me on Instagram @myfavehello
Follow me on Instagram @styledbymyfavehello
Follow My Fave Hello on LikeToKnow.It to Shop More
Don't Miss a Post:
---
Why wear red to a wedding?
Whether you are the bride or a guest, wearing red to a wedding is sure to turn heads. Red naturally grabs people's attention as a bold color.  Red stands out the most amongst all colors so if you are looking to be the center of attention, then a red wedding dress is the way to go.
Are red wedding dresses a thing?
Yes! For brides who don't want to wear a traditional white, cream or ivory wedding dress, a red colored wedding dress is a great alternative. If the bride is looking for a dramatic and bold look to remember her big day, then red is a must-wear!
What wedding dress looks best on plus size?
The  most flattering wedding dress silhouettes for plus size bodies are A-line, mermaid, ball gown, and sheath. These silhouettes tend to accentuate the natural curves of plus size women.
Top Stores to Buy Plus Size Wedding Dresses
These are my top picks for online stores that sell plus size wedding dresses:
David's Bridal – David's Bridal has a large selection of plus size wedding dresses. I love this website because it's easy to filter by color, price point, style, and size.
Ever-pretty – Ever-pretty is super affordable at under $50 and is my go-to for budget-friendly plus size formal dresses.
Nordstrom – I love shopping at Nordstrom because they have impeccable quality, selection and customer service. It's also so easy to ship and return free, that I can order multiple styles and sizes at one time. The cost of formal dresses is more at Nordstrom, but totally worth it!
ASOS – I love ASOS for form fitting and trendy plus size dresses. They are also budget friendly, usually under $100.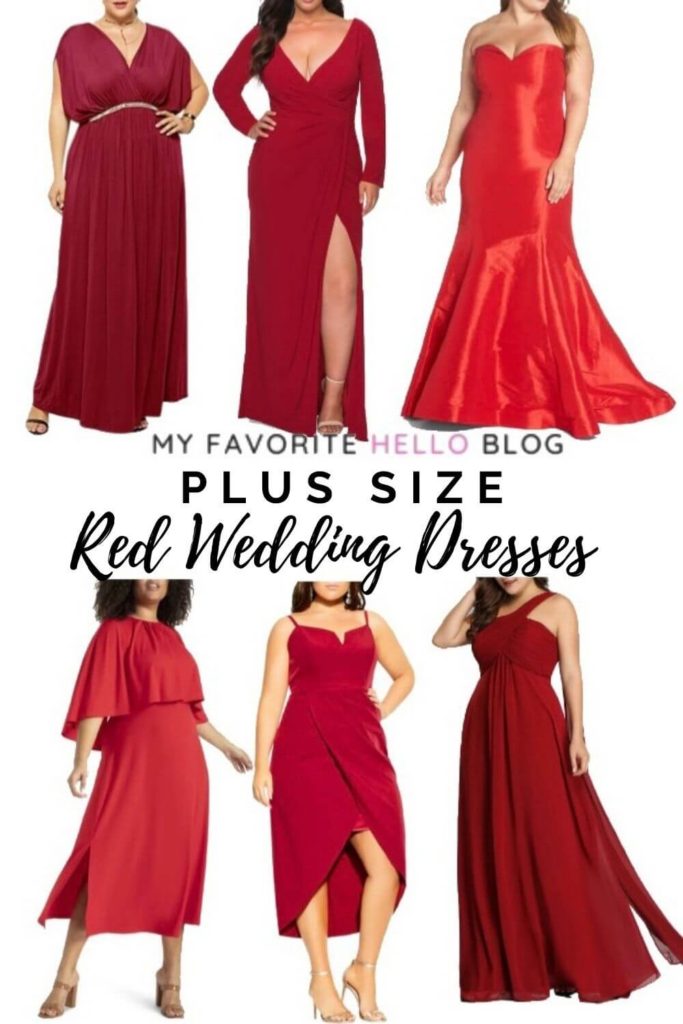 Here's some flattering and gorgeous red wedding dresses for plus size. They are perfect for any plus size woman whether she is the bride, bridesmaid or wedding guest.
Top Picks Under $50
If you are looking for stunning red plus size wedding dresses under $50, then you need to check out Ever-pretty at Walmart. Ever -petty provides a wide selection of formal evening gowns and trendy cocktail dresses for all body sizes at reasonable prices under $50.
Shop These Now:

Top Picks Under $200
For budgets around $100-200, try these dresses from David's Bridal in luxe fabrics and styles.
Shop These Now:

Top Trendy Picks
I love these stylish and trendy plus size dresses. Check out Nordstrom for a full selection of trendy plus size wedding dresses in the color red.
Shop These Now:

Top Silhouettes for Plus Size Wedding Dresses
Aline
This feminine lace dress with an A-line skirt was designed specifically to flatter plus-size figures.

Also Try These:

Mermaid
This mermaid wedding dress is under $50!

Also Try These:

Ball Gown
This plus-size ball gown even has side pockets.

Also Try These:

Sheath
Subtle ruching on this cocktail dress hugs your curves.

Also Try These:

FAQs
What does a red wedding dress mean?
Wearing red on your wedding day can symbolize good luck and happiness.
Is it rude to wear red to a wedding?
There's nothing wrong with wearing red to a wedding, as long as the bride isn't wearing red.
Can you wear red to an Indian wedding?
At an Indian wedding, usually the bride wears red to symbolize fertility and prosperity. Therefore, unless you are the bride, a guest to an Indian wedding should not wear red.
Which red wedding dress are you going to wear?
You May Also Enjoy Reading:
Wedding Guest Dress Outfit Ideas