Similar Bags to Strathberry
If you're looking for similar bags to Strathberry, check out these other handbag brands that I hand-picked because they are also elegant, understated and recognizable. These brands have structured shapes, minimal branding, and distinct hardware. This list will introduce you to 13 unique, top-end brands with a similar design aesthetic and pricepoint to Strathberry.
This blog uses affiliate links which means when you make a purchase using my affiliate links, I earn a commission at no additional cost to you. See my Privacy Policy.
---
Follow me on Instagram: @styledbymyfavehello
Follow me on Pinterest: @myfavehello
Follow Me on LikeToKnow.It: @myfavehello to shop all my outfits!
Don't Miss a Post:
---
Strathberry a is a Top-end Handbag Brand
Strathberry is a top-end brand, as opposed to a high-end or designer luxury brand such as Louis Vuitton or Chanel. The Company was founded by a husband and wife team in Edinburgh, Scotland.  Strathberry creates high quality leather goods with an exceptional level of detail, lending to its top-end categorization. Unlike a high-end or designer luxury brand, Strathberry's best selling handbags are mid-priced at $235 to $975, making them a worthwhile investment.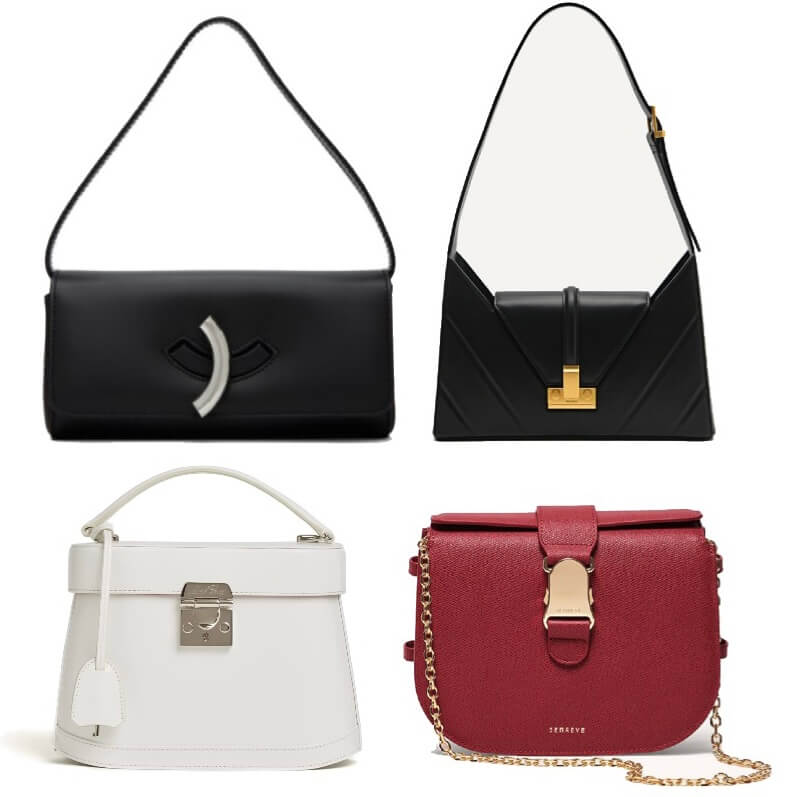 What Strathberry Bags are Known For
Strathberry is known for its minimal and chic aesthetic and a signature bar closure. They consider themselves to be elegant, understated, with a high attention to detail. Although known for their handbags, the Company also offers high quality accessories, jewelry, and cashmere clothing items.
Shop Strathberry's best sellers here.


Brands like Strathberry in a Similar Price Range
If you are looking for brands like Strathberry and at a similar price point, check out my picks for handbags like Strathberry.
1. SENREVE
SENREVE creates luxury handbags that are feminine and versatile. Their handbags are made from 100% Italian leather, to be supple, structured, durable and water resistant. SENREVE is recognized by its signature Crescent Clasp in 14K gold-plated or silver-tone hardware.
SENREVE's handbags are priced from $250 to $1,175.

2. Little Liffner
Little Liffner is a well-known Scandinavian leather goods brand, known for its combination of Scandinavian design and Italian craftsmanship. Its signature hardware includes a silver or gold tone curve made to resemble a wave.
Little Liffner handbags are priced from $195 to $695.

3. Polène
Polène handbags have become very popular because of their interesting sculptural shapes, graceful curves, strong and classic lines, and minimal branding and hardware. The designs are unique and distinctive while maintaining a chic and minimal design aesthetic. If you like Polène, check out these brands similar to Polène.
Polène handbags are priced from $180 to $430.

4. DeMellier
DeMellier was founded in London, but it's bags are crafted out of Spain or Italy. The Company is known for its bags that are made of quality sustainably resourced materials. Its signature design are the two gold bars closure. In addition, for every bag sold, DeMellier donates to medical treatments for children. DeMellier sells handbags, small leather goods, and cashmere knitwear. DeMellier ships worldwide.
DeMelllier handbags are priced from $265 to $795.

5. JEMMA
JEMMA handbags are designed in New York with Italian leather. The brand's handbags are both functional and stylish, and specializes in work bags. JEMMA bags feature a signature turnlock closure.
JEMMA handbags are priced from $250 to $525.
Brands like Strathberry at a Higher Price Range
If you are looking for brands like Strathberry and but don't mind a higher price point, check out these picks for luxury handbags like Strathberry.
6. Savette
Savette was created in 2020 in Italy using genuine Italian leather. The brand is known for its sophisticated structures, convertible straps, and  signature turnlock hardware.
Savette handbags are priced from $590 to $1,950.

7. Mark Cross
Mark Cross is a luxury lifestyle band established in Boston in 1845 known for its fine leather goods. The brand offers men and women's handbags and small accessories. Its hardware is distinguished by its signature grace lock and key.
Mark Cross handbags are priced from $470 to $2,290.

8. BOYY
BOYY is a luxury handbag brand  established in 2006 in New York. Its signature design is defined by an oversized buckle or gold rings hardware.
BOYY handbags are priced from $395 to $1,690.

9. Valextra
Valextra is a luxury brand designed in Milan, known for its sophisticate and modern silhouettes and multitude of colors. Its signature hardware is recognized by matching colored leather outlined in gold tone metal.
Valextra handbags are priced from $1,550 to $4,350.

Brands like Strathberry but More Affordable
If you are looking for brands like Strathberry but cheaper, check out these picks for luxury handbags like Strathberry.
10. Loeffler Randall
Loeffler Randall is based out of New York City and makes distinctive products in small batches. The Company is not a handbag brand but does sell handbags, in addition to shoes, ready-to-wear and accessories. Its signature crossbody features a resin and metal magnetic closure. 
Loeffler Randall handbags are priced from $90 to $450.

11. SANCIA
SANCIA was created in 2013 in Australia, made popular by its one of a kind pieces, luxury leather, and brushed gold hardware. 

SANCIA is priced from $199 to $369.

12. Cafuné
Cafuné was founded in 2015 and is known for its attention to detail and supreme craftsmanship. Cafuné uses a multitude of silver and gold hardware closure in unique designs and details.
Cafuné handbags are priced from $112 to $448.
13. PEDRO
PEDRO began in 2005 with men and women's footwear. Today they also offer handbags with the same sophistication and simplicity their designs are known for. PEDRO uses gold and silver chains and clasps in their distinctive designs.
PEDRO handbags are priced around $103.


Are there any brands like Strathberry that should be added to this list? Leave a comment below.
About the creator of My Favorite Hello, and author of this post:
Amy has over 10 years of experience working in beauty and fashion. She previously launched digital products for celebrity beauty brands Fenty Beauty and Glossier, and currently for a national fashion retailer. She also worked previously as a Senior Stylist at Stitch Fix, and currently moonlights as an independent virtual stylist, styling men and women for various occasions from everyday outfits, special occasions, to curating a complete closet. Amy is using her styling experience and expertise to provide general style inspiration and outfit ideas so that you can shop for yourself and put together stylish outfits on your own that make you feel confident and beautiful.
You May Also Enjoy Reading:
How I Never Pay Full Price for My Designer Handbags
Hermès Kelly Alternatives for Every Budget
15 Handbag Brands Like Kate Spade to Shop
23 Brands Similar to Polène: Minimal and Structural Bags