Where to Buy Sustainable and Ethical Dresses
Christy Dawn is a dressmaker focused on high quality, sustainable and ethic dresses. If you are looking for brands like Christy Dawn and want to minimize your environmental footprint, I have researched many online brands, and found these 19 brands like Christy Dawn for ethical dresses.
This article includes affiliate links which means when you make a purchase using my affiliate links, I earn a commission at no additional cost to you. See my Privacy Policy.
What is Christy Dawn?
Christy Dawn  is a dress company that originated in California. Christy Dawn specializes in vintage inspired dresses that are made by local artists in Los Angeles, California with a focus on long-lasting and well-made dresses, not fast fashion. Christy Dawn minimized its environmental footprint, and only makes a limited number of dresses at a time.
Here are some of Christy Dawn's best selling dresses:

What makes a dress ethical and sustainable?
There are many factors that you might take into account to consider a dress made ethically and sustainably. Many people look for a dress that minimizes its environmental and societal impacts in its sourcing of materials and creation of the dress. The dress should use environmentally friendly materials, and made by people receiving fair wages in safe working conditions.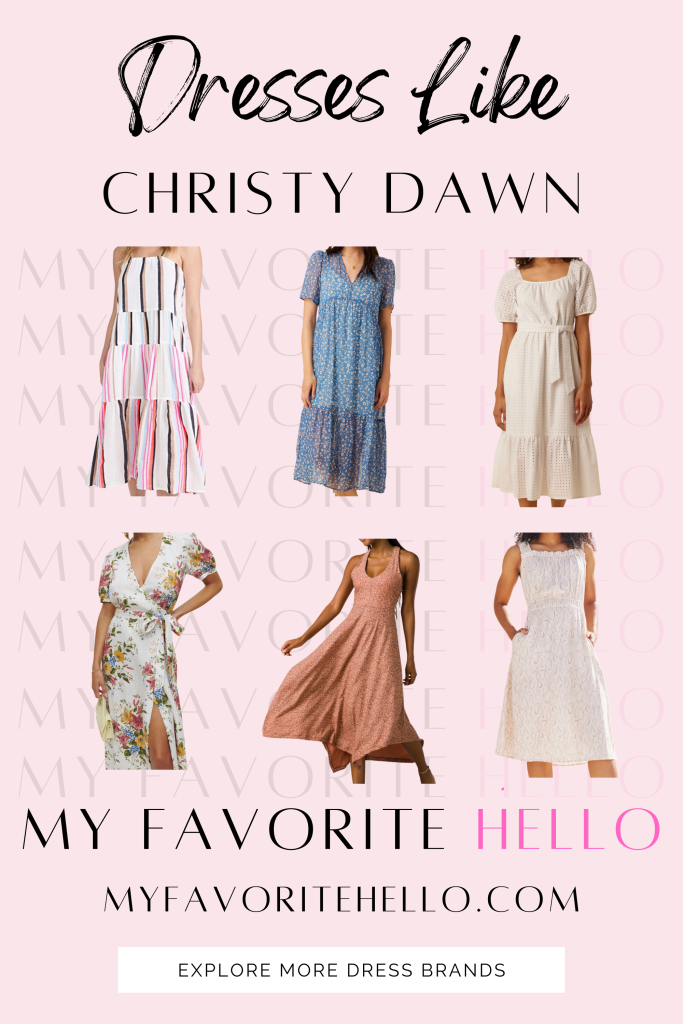 What is deadstock fabric?
Deadstock fabric is old fabric or leftover fabric that isn't sellable. It can be excess materials that wasn't, scraps from material that was used, or leftovers that are no longer usable to the owner. Christy Dawn uses deadstock fabric so that this excess fabric can be put to use, and not wasted.
The use of deadstock fabric is generally considered sustainable because it's excess fabric that would be thrown away, and now gets a second life. However, there is some controversy on whether deadstock fabric is truly as sustainable as it seems. Because fashion houses know they can sell excess fabric, there is no reason for them to not create fabric in excess to reduce waste.
Brands like Christy Dawn but Cheaper
Christy Dawn dresses are stylish and sustainable, but isn't without a higher pricetag. Many Christy Dawn dresses are typically in the $198-328 price range. Whether you are just looking for similar brands to Christy Dawn, or you are looking for cheaper alternatives to Christy Dawn, I am sharing 20 brands that you will love to shop if you like Christy Dawn.
1. Everlane
Everlane is known for its transparency in pricing, ethical factories worldwide, and it's high quality materials and craftsmanship. Everlane sells both men and women's clothing, shoes, and accessories.  It's dresses are a friendlier price point than Christy Dawn, and usually will cost you $88-168.

2. Made Trade
Made Trade sells ethical clothing, home goods, and furniture. Made Trade is also woman-owner and a family-run busines. Made Trade believes in fair wages, supply chain transparency, and sustainability, not mass production. Made Trade sells dresses similar to Christy Dawn and are less expensive at a price range of $58 at its lowest end  and $208 at its highest.
3. All The Wild Roses
All the Wild Roses is a Certified B Corporation. A Company receives B Corp certification by meeting social and environmental standards, and exhibiting transparency and accountability. All the Wild Roses' boho inspired dresses are made from upcycled fabrics, and are priced around $122.
4. TAMGA Designs
TAMGA created ethical and eco-friendly dresses in unique hand-drawn prints. TAMGA creates dresses out of  renewable materials, recyclable garments and ethical working conditions and fair wages. Their dresses typically range from $55 – $142.

5. Outerknown
Outerknown is committed to protecting the environment and supporting fair labor. Their goal is to make sustainable clothing that can last a lifetime, keeping them out of landfills.They plan to become fully circular by 2030, meaning garments will be kept in circulation and will be made from regenerative or recycled materials. Outerknown dresses are priced around $148 – $228.
6. Gracemade
Gracemade is a faith-driven brand, that specializes in modest clothing. They use natural deadstock fabrics that are sourced locally. In addition, manufacturing is done in California in small batches. All packaging is also made of 100% recycled materials. Gracemade dresses are priced around $140 – $175.
7. ABLE
ABLE employs 90% women and they are dedicated to providing safe and dignified jobs to women worldwide. In addition, they have an eco-friendly approach to their design, materials, and manufacturing.  They also provide a lifetime guarantee on their clothing, and even the ability to size swap should your size change. ABLE's eco-friendly dresses costs about $115- $165.

8. HarperSage
HarperSage was founded to empower women. This brand manufactures all of its clothing exclusively at women-owned factories. All of their clothing is manufactured in SEDEX certified factories, which means they operated responsibly and sustainably. Dresses cost about $88 – $188.
9. prAna
PrAna creates its clothing in a responsible and ethical way from its materials, manufacturing to its packaging. PrAna sells women and men's clothing and accessories. PrAna's dresses are much more affordable than Christy Dawn at $79 – $119, and also have sales.

10. WVN
WVN is a certified B corporation that sells women's clothing. WVN has a selection of dresses priced around $98 – $284.
11. AMOUR VERT
Amour Vert is committed to sustainable practices that address the full lifecycle of its clothing. This brand \creates its own fabrics, and uses compostable packaging and soy-based inks. Amour Verts has dresses made from organic cotton and washable silk. Dresses are priced from $128 – $348.

12. Reformation
Reformation has its origins in vintage clothing, and now manufactures its own clothing focused on sustainable fashion. Reformation sells a wide variety of dresses, that are a bit dressier and trendier than Christy Dawn, priced between $128 – $348. There also a good number of Reformation alternatives for cheaper dresses.

13. Boyish
Boyish is a sustainable clothing company focused on vintage inspired styles at an attainable price point. Boyish's dress offering is limited compared to Christy Dawn, and priced around $138 – $268.

14. Passion Lilie
Passion Lillie is a fair trade fashion brand. Its clothing is handmade and made in small batches.  Passion Lillie sells a variety of prints, and its dresses are priced from $84 – $114.
15. Mata Traders
Mata Traders is a fair trade fashion brand focused on ethical production. Mata Traders' dresss come in fun and bold prints and colors and are priced $98 – $126.
Brands like Christy Dawn but Higher in Price
Here are additional Christy Dawn alternatives, although at a higher price, but a similar style and aesthetic.
16. Lemlem
Lemlem partners with artisans in Ethiopia, Kenya, and Morocco to create jobs, and to provide fair and safe working conditions. Every dress is 100% hand woven, and as a result, have a higher pricepoint for their dresses at $325 – $425.

17. Hope For Flowers
Hope for Flowers believes in incorporating positive, social and ecological practices into its business. Hope for Flowers' dresses are made from natural fabrics like organic cotton, linen, and tencel. Dresses are more expensive than Christy Dawn and cost $250 – $600.
18. Apiece Apart
Apiece Apart is committed to reducing its impact by sourcing organic, biodegradable fabrics and natural fibers. In addition, its clothing is made to order, so there's very little excess inventory. Apiece Apart sells all types of women's clothing, including dresses which are priced $325 – $425.

19. ace & jig

Ace & jig is a fair trade certified brand based in New York and Oregon. Ace & jig design its own textiles in fun & bold prints and patterns. Dresses are priced up to $398.
Creator of My Favorite Hello and Author of this Article
Amy has 10+ years of experience in fashion and beauty launching digital products for global brands Fenty Beauty, Glossier, Marc Jacobs, Men's Wearhouse and Stitch Fix. She also worked previously as a Senior Stylist at Stitch Fix, and currently as an independent virtual stylist, styling men and women for various occasions from everyday outfits, special occasions, to curating a complete closet. Amy is using her styling experience, fashion and beauty expertise to provide style inspiration and outfit ideas so you can shop for yourself and put together stylish outfits that make you feel confident and beautiful. @styledbymyfavehello
You May Also Enjoy Reading:
19 Brands Similar to Ulla Johnson: Chic, Artisan, and Boho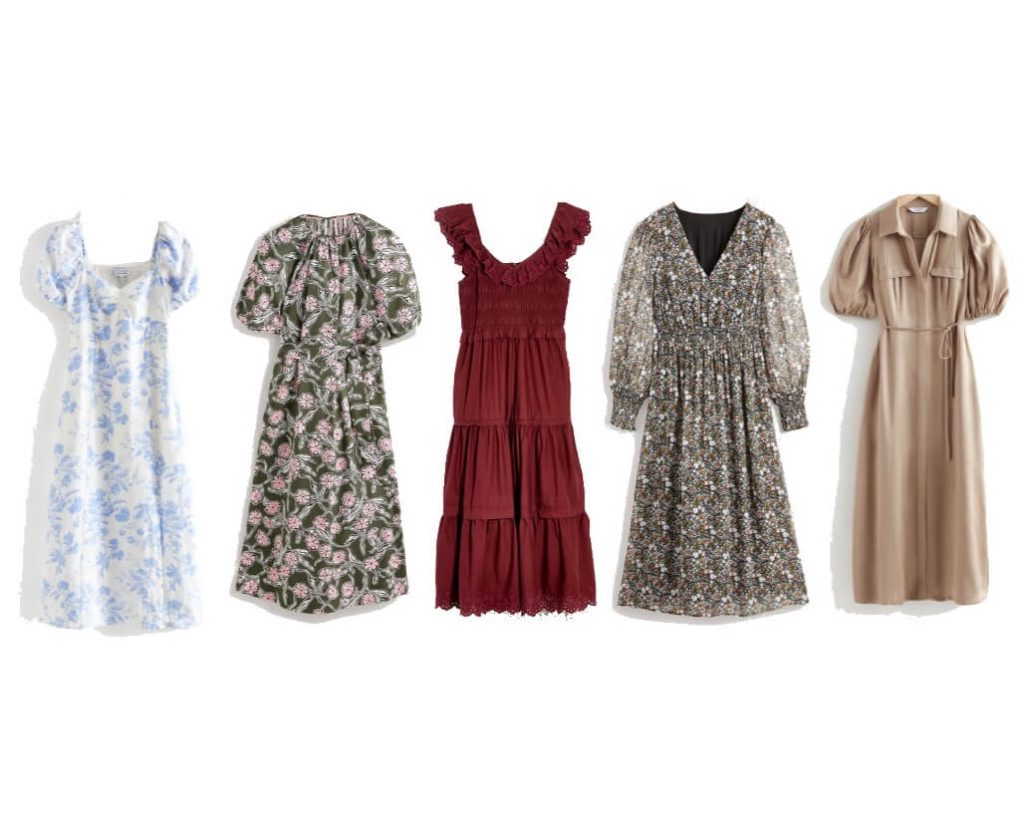 You May Also Enjoy Reading:
14 Brands of Dresses like Tuckernuck: Preppy, Feminine, and Fun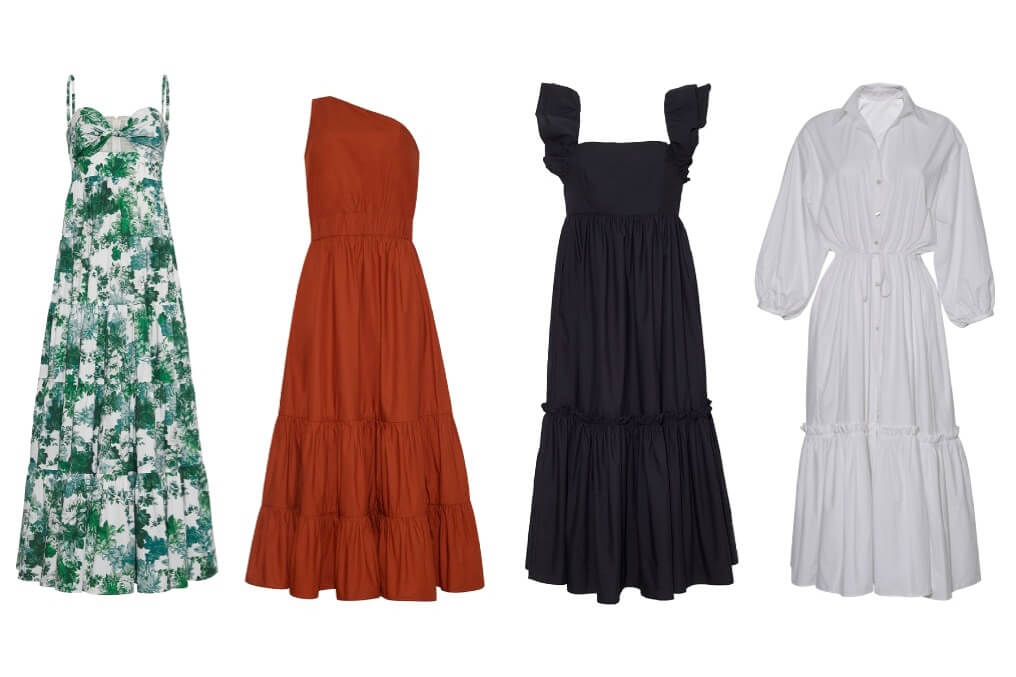 You May Also Enjoy Reading:
21 Cheaper Alternatives to Reformation Dresses: Feminine, Romantic and Sustainable