What type of brands are like Alphalete?
Alphalete is an influencer created brand that started in 2012. The brand boasts athletic performance wear made with hand-picked colors, comfortable and stylish cuts, that are tailor made.  If you are looking for brands like Alphalete, I have included 25 alternatives to Alphalete to try now.
This article includes affiliate links which means when you make a purchase using my affiliate links, I earn a commission at no additional cost to you. See my Privacy Policy.
Alphalete vs Gymshark
Alphalete and Gymshark are competitors in athletic wear, both known for their high performance, comfortable and flexible leggings. 
Alphalete's Halo and Pulse leggings are very popular and cost around $68, so a higher price point than Gymshark which is normally around $65 at it's highest. Alphalete has gotten high reviews for fit and performance. However, lately there have been many online complaints of the quality and the leggings pilling or ripping.
Gymshark is the UK's best selling fitness brand. They have become popular amongst influencers and celebrities because of their seamless fit which is comfortable and flattering. They come in a variety of styles and colors at inexpensive pricing. The prices for leggings range from about $25 to $65. Gymshark also includes a number of coordinating sports bra for a full workout outfit that is comfortable, stylish and performs well. In addition, Gymshark has great customer service and easy returns.

Is Alphalete better than Gymshark or Lululemon?
Due to Alphalete's lower quality and higher pricepoint, it's my opinion that Gymshark is the better buy.
If you like Alphalete or Gymshark, you may also want to try Lululemon, which is known for its high quality, but also carries a higher pricepoint.
What are the reviews for Alphalete, Gymshark, and Lululemon leggings saying?
A pair of Alphalete Amplify leggings cost about $72. This seamless scrunch leggings comes in 11 colors, and in sizes ranging from XXS to XXL. They have a silky, smooth feel made of seamless, knit fabric. The fit is really good, with a high-waisted fit, a tapered waistband, no front seam, and a back scrunch. However, there are many reviews that these leggings do rip at the scrunch. While they look good, are squatproof and sweatproof, it might be best to not expect your Alphalete Amplify leggings to last more than a few months.
Gymshark's Apex seamless high rise leggings come in five colors, sizes from XS to XXL and will cost you $65. These leggings are known for their durable wear for high intensity workouts. They have a high waistband to keep from slipping while you are doing your squats, and muscle contouring lines that are both stylish and show off your lean and muscular physique. These leggings are stretchy, breathable and perfectly shape the body.
Lululemon's Align High-Rise leggings are come in an astounding 21 colors and from sizes 0 to 20, and three different lengths. These Align leggings cost $98-118 so definitely a higher price point than both Alphalete and Gymshark. The Lululemon Alighn leggings are buttery soft with ultimate flexibility as they are originally made for yoga.
The Gymshark Apex seamless high rise leggings seem like the choice to go with, as they are known for their quality and durability, while being at a lower pricepoint than brands like Alphalete and Lulelemon.
Brands like Alphalete
If you are looking for brands like Alphalete, check out these 25 picks for athletic and athleisure performance wear.
1. Lululemon
Lululemon specializes in high performance athletic apparel and accessories for men and women.
Try the Lululemon Align High-Rise leggings. They are comfortable and flexible.

2. Gymshark
Gymshark is a fitness apparel, manufacturer & online retailer founded in 2012, based in the United Kingdom. Gymshark is known for its high performance athletic apparel that is both functional and stylish for men and women. Try these matching sets:


3. Outdoor Voices
Outdoor Voices makes activewear for men and women for daily activities, such as dog walks, running, tennis, and yoga.


4. Fabletics
Fabletics creates fashionable, high-performance, active-lifestyle apparel for every one and every body at an accessible price co-founded by actress Kate Hudson. Customers shop through a membership, where you browse personalized picks ready on the first of every month. Buy 2 pairs of leggings for $24 when you become a VIP member by signing up here.
5. Champion
Champion is a part of the Hanes Brand, and is recognized for its sustainable and environmentally responsible athletic apparel for men, women, and kids.

6. Zella
Zella is a Nordstrom made brand. Discover high-performance activewear, athleisure and footwear for women, men and kids.

7. Vuori
Vuori makes athletic clothing that is built to move and sweat in, designed for an active lifestyle. For men and women.


8. Beyond Yoga
Beyond Yoga was built upon the mission to give every body, every size & every shape luxury-level comfort from activewear for women, men, and maternity.

9. Peloton Apparel
Peloton Apparel is known for its high-quality performance pieces that have been designed to comfortably fit your lifestyle and workout experience for men and women.
10. Public Rec
Public Rec is comfortable athleisure for men and women that fits better and looks better than your typical leisurewear.


11. Under Armour
Under Armour apparel is built for high performance for men, women and kids. You can easily shop their website by sport from basketball, golf, hunting, to fishing.

12. Nike
Nike is high performance apparel known for its innovations and sustainability for men, women, and kids, and includes the brands Nike, Converse and Jordan.

13. Alo Yoga
Alo Yoga is a fashion-forward street brand that is comfortable and contemporary worn by many young celebrities.

14. FITTOO
FITTOO is sold on Amazon and known for its high waisted leggings with tummy control at lower pricepoints.

15. Ododos
Ododos is another brand sold on Amazon, known for its high waisted leggings with tummy control and non see through fabrication.

16. Girlfriend Collective
Girlfriend Collective is ethically manufactured and sustainable. You might love the soft, sweat-wicking, and sheer-proof compressive leggings.

17. Doyoueven
Doyoueven started in Australia and focuses on producing activewear of the highest quality for men and women. Try the Scrunch Seamless leggings, which is loved by many for its waist-cinching and booty-boosting fit.
18. SQUATWOLF
SQUATWOLF is a premium gym wear brand from Dubai made for men and women.
19. Vanquish
Vanquish Fitness is an apparel brand from London for men and women at a lower pricepoint than Alphalete.
20. ECHT
ECHT is an active wear apparel company creating affordable performance and leisure-sed apparel with new styles released almost every week.
21. P'tula
P'tula is an american brand that creates affordable, high-quality and ethically conscious sustainable athletic wear.
22. Wear It To Heart
Wear It To Heart is a family owned and women owned Company focused on performance wear for women. They are dedicated to a positive impact on their community and the environment.
23. EYSOM
EYSOM is hand crafted in small batches in Los Angeles for superior quality. They specialize in men's high performance and comfortable activewear.
24. Buffbunny
Buffbunny is a woman owned fitness apparel company design for women by women. It is loved for its unique designs, high-quality fabrics, amazing fit and details.
25. Rhone Apparel
Rhone specializes in performance-driven clothes for ultimate versatility, with sustainable and luxurious fabrics and innovative details. Currently, Rhone carries only men's apparel.  Check out these favorites:

Creator of My Favorite Hello and Author of this Article
Amy has 10+ years of experience in fashion and beauty launching digital products for global brands Fenty Beauty, Glossier, Marc Jacobs, Men's Wearhouse and Stitch Fix. She also worked previously as a Senior Stylist at Stitch Fix, and currently as an independent virtual stylist, styling men and women for various occasions from everyday outfits, special occasions, to curating a complete closet. Amy is using her styling experience, fashion and beauty expertise to provide style inspiration and outfit ideas so you can shop for yourself and put together stylish outfits that make you feel confident and beautiful. @styledbymyfavehello
You May Also Enjoy Reading:
10 Casual Leggings Outfit Ideas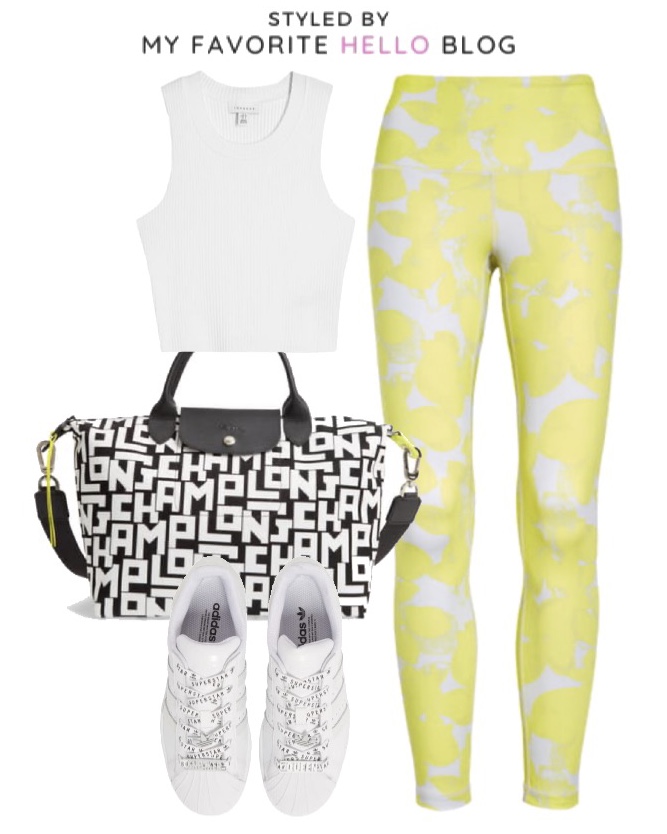 You May Also Enjoy Reading:
How to Style Cute Sweatpants Outfits 12 Ways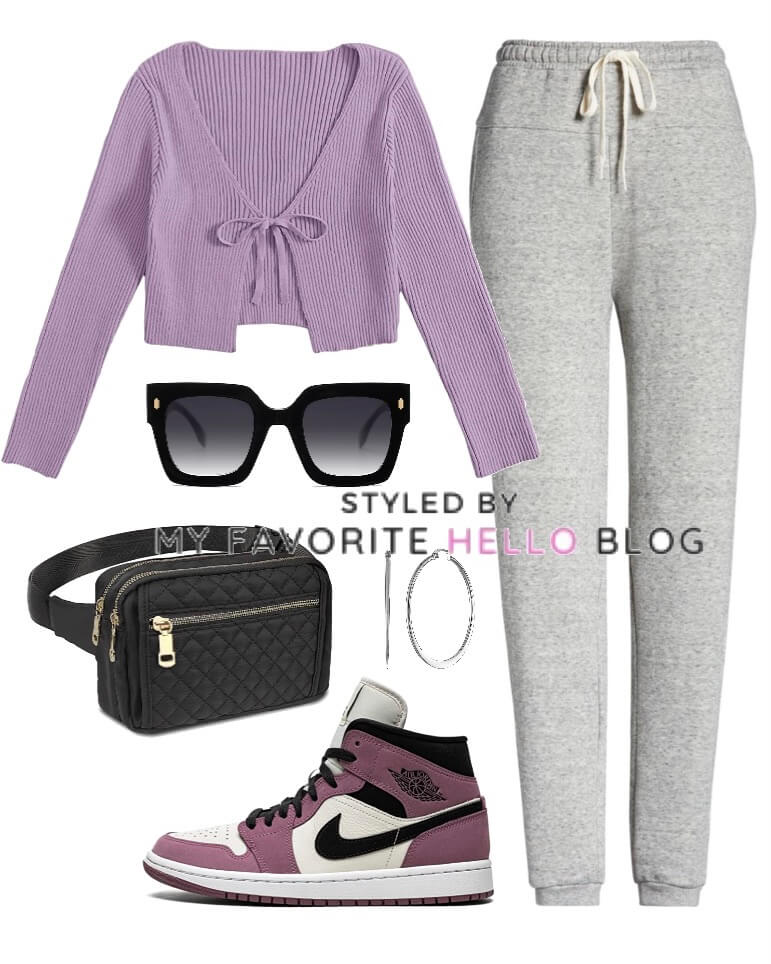 You May Also Enjoy Reading:
18 Ways How to Style Spanx Moto Leggings