Similar Bags Like Polène
If you're looking for similar brands like Polène, check out these other handbag brands that I have hand-picked that are a similar design aesthetic to Polène. These brands have classic lines, interesting shapes, minimal branding, and strong structures. This list does not include mass-produced contemporary brands like Michael Kors, Kate Spade, or Tory Burch, but focuses on unique top-end brands with similar design aesthetic and price point.
This article includes affiliate links which means when you make a purchase using my affiliate links, I earn a commission at no additional cost to you. See my Privacy Policy.
Polène is a Top-End Handbag Brand
Polène is a newer, top-end brand, as opposed to a high-end or luxury designer brand. The Company creates high quality leather goods with a distinct sculptural design aesthetic, lending to its top-end categorization. Unlike a high-end or luxury brand, Polène handbags are moderately priced at $180 to $430.
Polène is a French handbag Company founded by three siblings in Paris. However, while its handbags are designed in Paris, they are handmade in Spain by skilled artisans, using high quality and supple leather. You can buy a Polène leather handbag at a price point of $180 to $430, so these top-end handbags are well worth the price.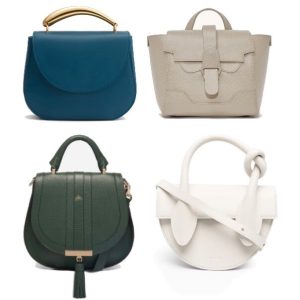 What Polène Bags are Known For
I love Polène handbags and as a virtual stylist I recommend this brand if you are looking for interesting sculptural shapes, graceful curves, strong and classic lines, and minimal branding and hardware, as it's what they are known for. The designs are unique and distinctive while maintaining a chic and minimal design aesthetic.
One of its most popular bags is the Numero Un or Number One. Polene handbags are priced from $180 to $430.
You can find Polène on their own website, and used on Vestiaire Collective.

Brands like Polène in a Similar Price Range
If you are looking for brands like Polène and at a similar price point, check out my picks for handbags like Polène.
1. Mutemuse
Mutemuse is a handbag brand known for its simple and minimal, but eye-catching designs with unique color schemes. 
Bags are priced from $155 to $428. These are the bags I recommend from Mutemuse that are similar to Polène.

2. Giaquinto
Giaquinto is a handbag brand based in Italy. These handbags are a mix of design and art, and are known for their geometric shapes and distinctive color palette. The website is in Euros and is sometimes slow to load.
Giaquinto handbags are priced from 280 to 605 Euros.
3. Loeffler Randall
Loeffler Randall is based out of New York City and makes distinctive products in small batches. The Company is not a handbag brand but does sell handbags, in addition to shoes, ready-to-wear and accessories. 
Loeffler Randall handbags are priced from $90 to $450.

4. STAUD
STAUD is an LA-based brand focused on design and an attention to detail. This American brand offers handbags, clothing, shoes, accessories, and pet items.
STAUD handbags are priced from $150 to $695.
5. Little Liffner
Little Liffner is a well-known Scandinavian leather goods brand, known for its combination of Scandinavian design and Italian craftsmanship at a pricepoint that is similar to Polène.
Little Liffner handbags are priced from $195 to $695.

6. Mlouye
Mlouye is a handbag Company produced out of Istanbul, Turkey. Its designs are known for their unexpected shapes inspired by Bauhaus Movement's artists and architects. Mlouye's handbags feel like a luxury brand but with a contemporary price point. If you like Mlouye, check out these brands similar to Mlouye that are modern and architectural.
Mlouye handbags are priced from about $185 to $585.
7. Coccinelle
Coccinelle is an Italian brand founded in 1978 with a focus on handbags and leather goods for women known for their timeless styles and distinct colors.
Coccinelle handbags are priced from $210 to $520.

8. Cuyana
Cuyana is a women-led handbag Company focused on timeless design, luxury quality, and sustainability. It's classic designs are simple and functional produced in mostly neutral colors.
Cuyana bags are priced from $68 to $548.

9. Kozha Numbers
Kozha Numbers was founded in 2015. Its handbags are designed by architecture and art, and are produced out of Oregon. These bags are edgier than most of the brands on this list.
Kozha Numbers' handbags are priced from $150 to $445.
10. Poppy Barley
Poppy Barley started a shoe company, but also produces handbags out of Canada. This company is focused on sustainable luxury without the traditional markup. 
Poppy Barley bags are priced from $126 to $417.

11. By Far
By Far is a shoe and handbag Company that is family owned out of Bulgaria. Designs are inspired by the '90s and '00s but updated for today's modern style and craftmanship.
By Far bags are priced from $280 to $690.

Brands like Polene but Somewhat Higher in Price
12. Strathberry
Strathberry is a luxury leather goods brand that is based in Edinburgh. It was founded in 2013 by a husband and wife team. Strathberry is known for its minimal and chic aesthetic and a signature bar closure. They consider themselves to be elegant, understated, with a high attention to detail. Although known for their handbags, the Company also offers high quality accessories, jewelry, cashmere clothing items. If you like Strathberry bags, check out these brands similar to Strathberry for elegant and understated top-end designer bags.
Strathberry handbags are priced from $235 to $975.
Shop these signature Strathberry bags:


13. DeMellier
DeMellier was founded in London, but it's bags are crafted out of Spain or Italy. The Company is known for its bags that are made of quality sustainably resourced materials. Its signature design are the two gold bars closure. In addition, for every bag sold, DeMellier donates to medical treatments for children. DeMellier sells handbags, small leather goods, and cashmere knitwear. DeMellier ships worldwide.
DeMelllier handbags are priced from $265 to $795.

14. Senreve
Senreve creates luxury handbags that are feminine and versatile. Their handbags are made from 100% Italian leather, to be supple, structured, durable and water resistant. 
Senreve's handbags are priced from $250 to $1,175.

15. Yuzefi
Yuzefi is a London-based fashion brand known for its bold silhouettes, rich colors, and surprising details. Their luxury handbags are offered at an accessible price point.
Yuzefi bags are priced $329 to $754.

16. Ostwald
Ostwald is an independent, leather manufactory in Nuremberg that is focused on high-quality, couture leather handbags with a modern architectural aesthetic for men and women. 
Ostwald bags are priced at 329 to 990 Euros.
17. Wandler
Wandler is a luxury brand focused on craftsmanship and quality. Their handbags are known for their unexpected dimensions, versatile use of color, and minimal designs. Wandler is designed in Amsterdam, and handcrafted in Italy.
Wandler bags are priced from $650 to $1,110.

18. Ree Projects
Ree Projects is an Amsterdam-based luxury bag brand that produces its bags out of Italy. It's known for its understated designs that are both functional and elegant.
Ree Projects are priced from $350 to $882.

19. KAAI
KAAI was founded in 2017 in Belgium. This Belgium company focuses on bags that are functional, feminine and stylish. Designs are inspired by the colors and lines of Art Deco.
KAAI bags are priced from $325 to $799.
French Brands like Polene
I gathered these French brands that are similar to Polene.
21. RSVP Paris
RSVP Paris is a Paris shop that offers limited edition leather goods for women and men. All of their products are limited to the production of 500 units. RSVP is known for blending form, function, and fabrication to create youthful and fun bags. RSVP ships worldwide for free for orders over $100.
RSVP Paris handbags are priced from $500 to $646.
22. Atelier Auguste
Atelier Auguste is based in Paris, with its leather goods designed in Paris and crafted in Italy for men and women. Its designs are functional, minimal, and timeless. 
Atelier Auguste women's handbags are priced from $348 to $583. You can also find this brand pre-owned on Vestaire Collective.
23. Leo et Violette
Leo et Violette is a handbag brand that is designed in Paris and made in Italy and Span. The Company focuses on elegant, timeless and functional products. 
Leo et Violtte's handbags are priced from 125 to 440 Euros.
20. A.P.C.
A.P.C. is a French clothing brand, but also offers stylish, casual and functional bags. A.P.C. bags are in the price range from $110 to $895.
Are there any brands like Polene that should be added to this list? Leave a comment below.
Creator of My Favorite Hello and Author of this Article
Amy has 10+ years of experience in fashion and beauty launching digital products for global brands Fenty Beauty, Glossier, Marc Jacobs, Men's Wearhouse and Stitch Fix. She also worked previously as a Senior Stylist at Stitch Fix, and currently as an independent virtual stylist, styling men and women for various occasions from everyday outfits, special occasions, to curating a complete closet. Amy is using her styling experience, fashion and beauty expertise to provide style inspiration and outfit ideas so you can shop for yourself and put together stylish outfits that make you feel confident and beautiful. @styledbymyfavehello
You May Also Enjoy Reading:
How I Never Pay Full Price for My Designer Handbags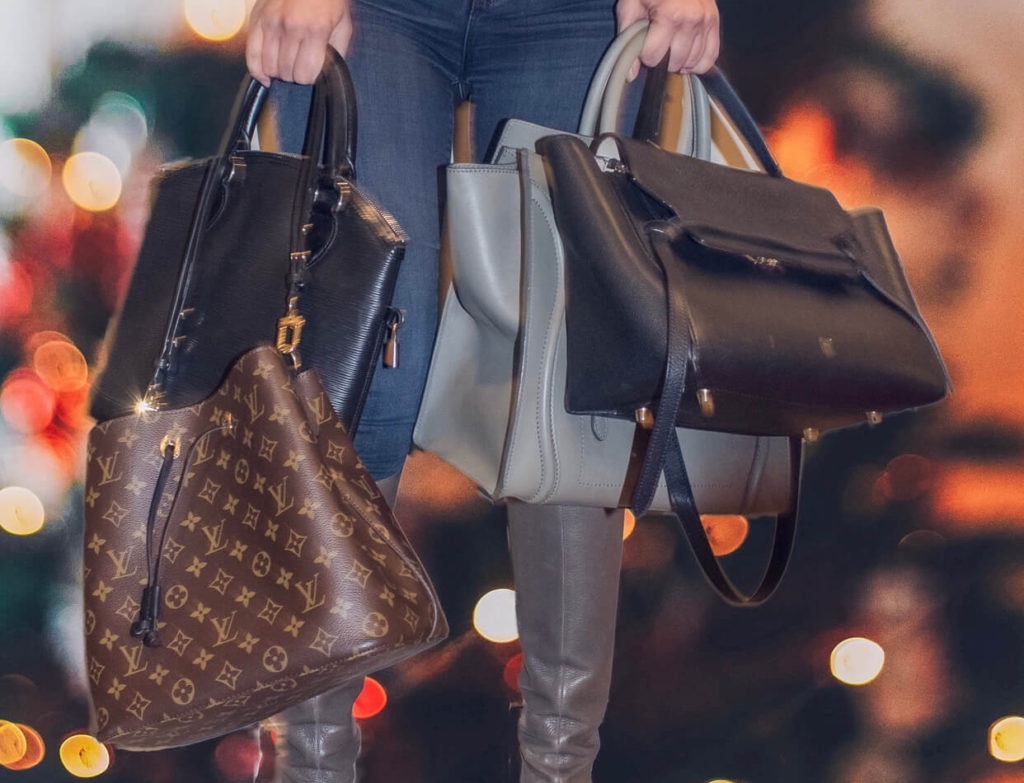 You May Also Enjoy Reading:
Hermès Kelly Alternatives for Every Budget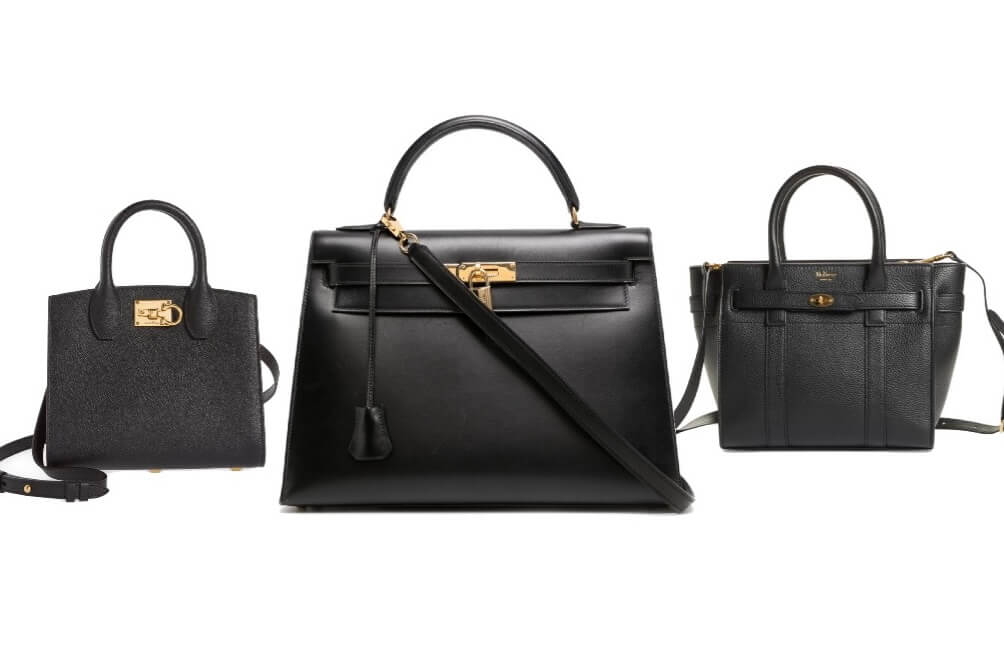 You May Also Enjoy Reading:
15 Handbag Brands Like Kate Spade to Shop