Similar Brands like Cuyana
If you're looking for handbags brands like Cuyana, check out these other handbag brands that are also known for having classic designs, yet are functional. These brands have a timeless style and use high quality leather. This list will introduce you to 11 brands with a similar design aesthetic and pricepoint to Cuyana, or cheaper.
This article includes affiliate links which means when you make a purchase using my affiliate links, I earn a commission at no additional cost to you. See my Privacy Policy.
What Cuyana Bags are Known For
Cuyana is a women-founded and women-led handbag Company focused on timeless design, luxury quality, and sustainability. Its classic designs are simple and functional and produced in mostly neutral colors of Italian leather and recycled materials. 
Cuyana is known for its sustainable bags that are made to be stylish and functional. Cuyana's bags are strong and durable so they are perfect for everyday use, travel, and more, and will maintain their shape and last a long time.
I recommend Cuyana if you are looking for an everyday bag made of leather that is simple in design, carries a lot, and will last a long time.
Cuyana bags are priced from $68 to $548. Top selling bags are around $228 to $298.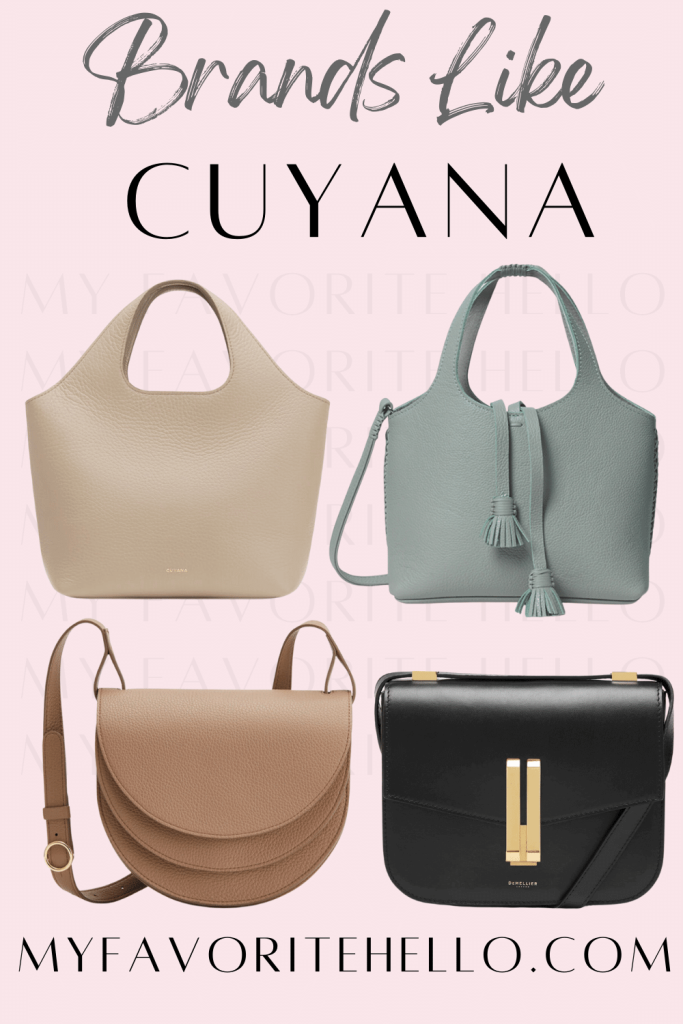 Is Cuyana a luxury brand?
Luxury brands are known for being exclusive and having high price points. They cater to a niche market of customers who value craftsmanship, attention to detail, and status.
Cuyana does align with these characteristics. Their handbags are made from premium leather and other high-quality materials, which lends itself to durability and longevity, but without the exclusiveness and high luxury pricepoint. In my opinion, I would consider Cuyana a mid-luxury brand at a mid-range pricepoint.
Brands like Cuyana in a Similar Price Range
For those looking for an alternative to Cuyana's classic designs and durable leathers, there are plenty of other handbag brands that are just as functional and stylish for every budget. Here I will explore some of the alternative designers to Cuyana and why I recommend them if you like Cuyana.
1. DeMellier London
DeMellier was founded in London, but its bags are crafted in Spain or Italy. The Company is known for its bags that are made of quality sustainably resourced materials. Its signature design is the two gold bars closure.
DeMellier handbags are priced from $265 to $795.

2. SENREVE
SENREVE creates luxury handbags that are feminine and versatile. Their handbags are made from 100% Italian leather, and made to be supple, structured, durable and water resistant. 
I recommend Senreve if you like Cuyana, but are looking for a brand with more stylish designs. However, Senreve's comparable bags are at a higher pricepoint than Cuyana.
Senreve's handbags are priced from $250 to $1,175.

3. Polène
Polène handbags is a French handbag Company founded by three siblings in Paris. However, while its handbags are designed in Paris, they are handmade in Spain by skilled artisans, using high quality and supple leather. I recommend this brand if you are looking for interesting sculptural shapes, graceful curves, strong and classic lines, and minimal branding and hardware, as it's what they are known for. Check out brands like Polène for more bag brands you might be interested in if you like Polène.
Polène leather handbags are priced $180 to $430, so these top-end handbags are well worth the price.
4. Callista
Callista handbags are known for their elegant styles and high quality. If you are looking for a stylish bag similar to Cuyana, I recommend looking at Callista. The Company offers a wide range of styles and colors. However, their bags are more expensive than Cuyana.
Callista handbags are priced $165 to $880

5. Botkier
Botkier is where style meets function for bags that can be worn everyday. I recommend Botkier if you like Cuyana as both Companies focus on style and functionality so bags are durable, useful, yet good looking.
Botkier bags are priced from $168 to $398.

Brands like Cuyana but Cheaper
If you are looking for brands like Cuyana but cheaper, I have researched and these are my top picks for brands like Cuyana at a lower pricepoint.
6. Everlane
Everlane is known for its sustainability, not fast fashion trends. If you shop Cuyana for its focus on sustainability and its use of Italian leather, then I recommend you check out Everlane, which shares these traits. Everlane's bags are sustainable, simple, functional, and affordable. 
Everlane bags are priced from $35 to $275. Italian leather bags are $110 to $275.

7. AllSaints
AllSaints is a clothing, shoes and accessories brand that is known for its excellently crafted leather goods. I recommend AllSaint's bags if you like Cuyana because of their superior craftsmanship at a cheaper pricepoint. You can find similar styles to Cuyana at AllSaints, which also has a focus on sustainability.
AllSaints bags are priced from $39 to $229.

8. Quince
Quince is another sustainable Company focused on producing everyday essentials that are high quality and affordable. If you are looking for a high quality and long-lasting everyday bag similar to Cuyana's at a cheaper price, then you should check out Quince.
Quince bags are priced from $39 to $130.

9. Portland Leather
Portland Leather bags are handmade from real, quality leather hides, and have a very loyal and devoted following. If you are looking for a genuine leather handbag like Cuyana, I recommend Portland Leather. They have a versatile assortment, and their bags are offered at an affordable price.
Portland Leather bags are priced from $88 to $298.

10. Anthropologie
Anthropologie has a more boho-inspired and creative vibe than Cuyana, but you can find some cute and affordable bags like Cuyana. I recommend Anthropologie if you are looking for some fun and feminine styles. The Company offers a wide arrangement of styles from everyday, evening out, poolside, and more.
Anthropologie bags are priced from $36 to $498.

11. Mark & Graham
Mark & Graham is a Williams Sonoma Company and is dedicated to quality crafted goods with superior design. If you like Cuyana's classic totes, I recommend Mark & Graham. This Company also offers monogramming which is a fun and personal touch to your bags.
Mark & Graham bags are priced from $149 to $398.

Which brands like Cuyana do you recommend?
Creator of My Favorite Hello and Author of this Article
Amy has 10+ years of experience in fashion and beauty launching digital products for global brands Fenty Beauty, Glossier, Marc Jacobs, Men's Wearhouse and Stitch Fix. She also worked previously as a Senior Stylist at Stitch Fix, and currently as an independent virtual stylist, styling men and women for various occasions from everyday outfits, special occasions, to curating a complete closet. Amy is using her styling experience, fashion and beauty expertise to provide style inspiration and outfit ideas so you can shop for yourself and put together stylish outfits that make you feel confident and beautiful. @styledbymyfavehello
You May Also Enjoy Reading:
23 Brands Similar to Polène: Minimal and Structural Bags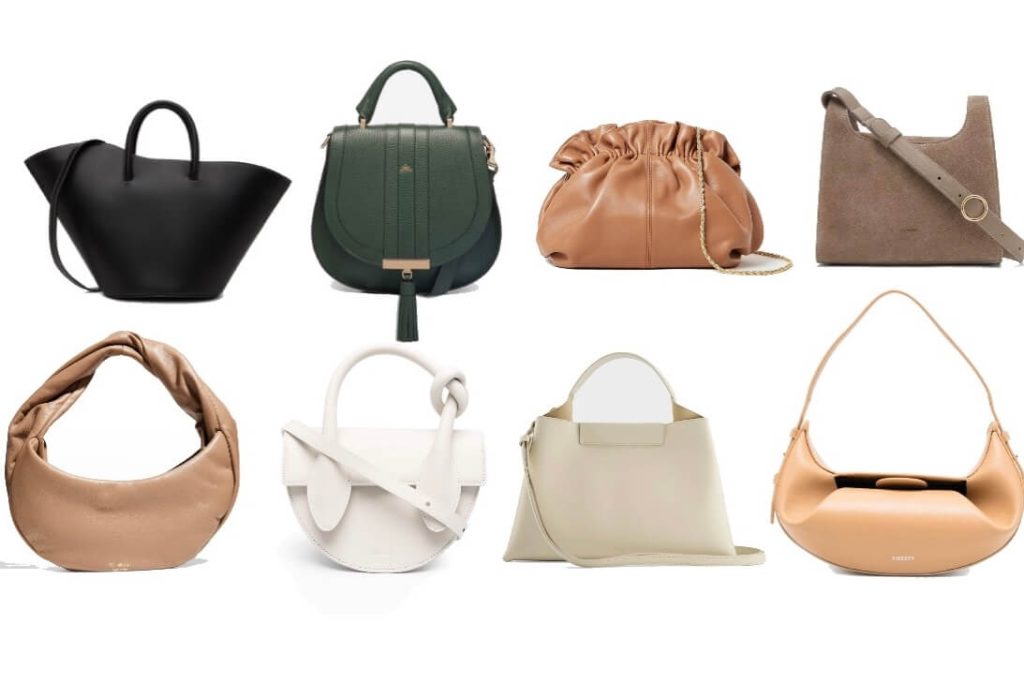 You May Also Enjoy Reading:
13 Brands like Strathberry: Elegant and Understated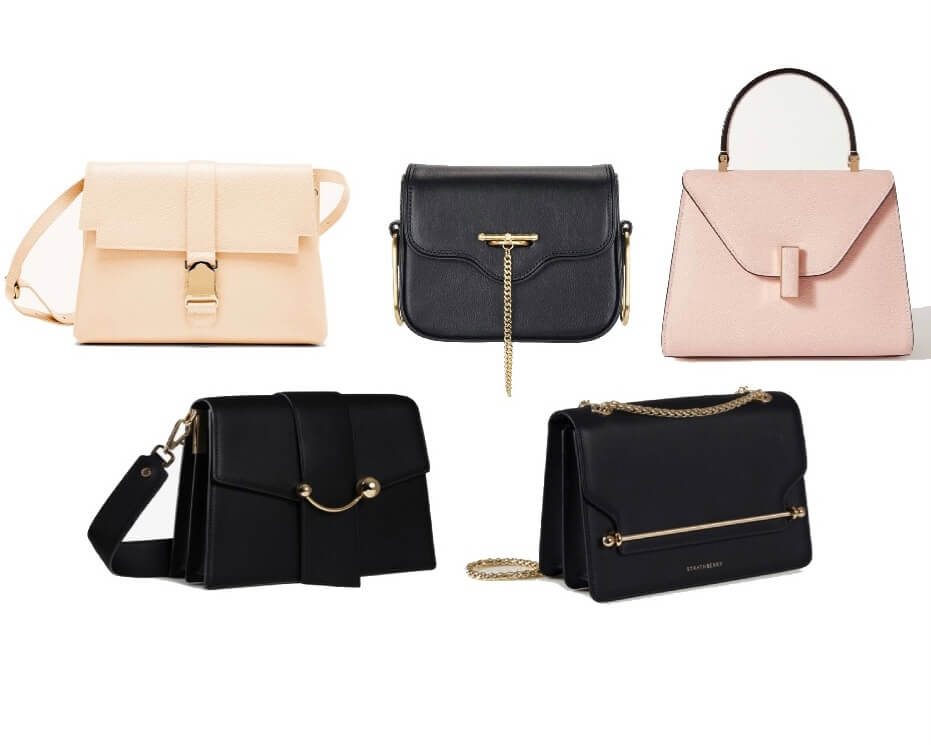 You May Also Enjoy Reading:
12 Brands Similar to Mlouye: Modern & Architectural