Bag Companies Based in San Francisco
As a San Francisco native, born and raised, I absolutely love the bag brands companies coming out of the City, and try to support them whenever I am looking for a new bag or backpack. If you are interested in what bag brands are from San Francisco, I've compiled a comprehensive list of companies based out of San Francisco, and/or still manufacture their bags in San Francisco.
This article includes affiliate links which means when you make a purchase using my affiliate links, I earn a commission at no additional cost to you. See my Privacy Policy.
Why are San Francisco bag brands popular?
In my opinion and experience, there's a few reasons why San Francisco bag brands are so popular:
Being San Francisco is a big city, many of these bag companies focus on functional bags used for everyday carry, commuting, and traveling. As a result, many bags come with features for your laptop, cell phone, water bottle, and other essentials. In addition, they also focus on comfort and being lightweight, but durable.
Many of these San Francisco bag brands are manufactured using sustainable and environmentally friendly practices, including fair wages, recycled materials, and other processes that keep the environment in mind.
Product design is very thoughtful. With San Francisco being at the center of tech culture, creating a product that is not only functional but also designed well is at the forefront for many of these bag brands. Many San Francisco bag brands have a streamlined and minimal design.
Where can you buy San Francisco bag brands?
Many of these San Francisco bag brands are still niche and sell mostly on their own website.  Some brands are more mainstream now and you can find them at retailers like Nordstrom or Amazon. I link you out to where you can find these brands in the list below for your shopping ease.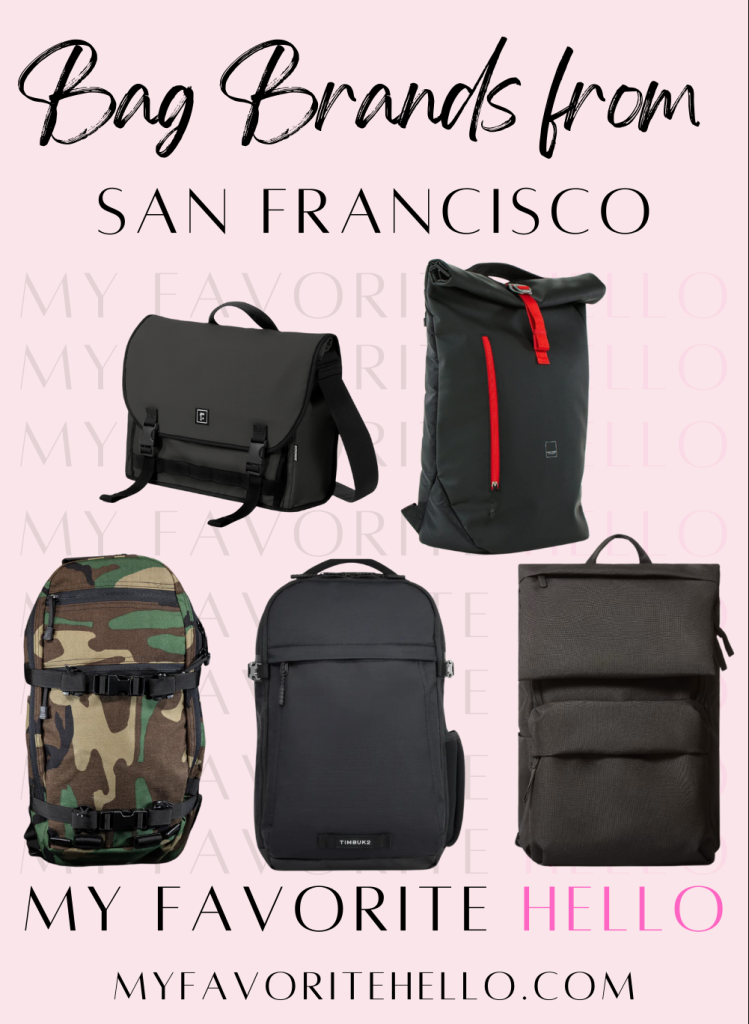 San Francisco Bag Companies
These are my favorite San Francisco bag brands.
1. WaterField
WaterField manufactures high-quality cases and bags for a range of laptops, mobile phones, tablets, gaming devices and other digital accessories. All products are designed and manufactured entirely in San Francisco.
Prices range from $79 to $389
2. Rickshaw Bagworks
Rickshaw Bagworks is a San Francisco-based manufacturer of messenger bags, backpacks, computer cases, tote bags, laptop sleeves and other related accessories. They are located in the historic Dogpatch neighborhood in San Francisco where they do all of their own designs and manufacturing. You can find custom designs on Zazzle.
Prices range from $19 to $259

3. ARKTYPE
ARKTYPE offers everyday gear and accessories that are completely designed and manufactured in San Francisco. Designs are minimal and bags and accessories mostly come in black and grey. The brand prides itself on using only the highest-quality materials, such as Cordura nylon, YKK zippers, and Duraflex hardware, to ensure that its products are built to last.
Prices range from $138 to $248
4. BAGGU
BAGGU started in San Francisco as the answer to stylish reusable bags and totes. Today they are manufactured in China but maintain their focus on sustainability in all of their manufacturing processes. BAGGU is known for its playful and quirky designs. 
Living in San Francisco a reusable tote is a must as you have to pay 25 cents for a plastic bag at stores. I absolutely love my BAGGU. I have been using the same for years. It's easy to carry around, carries a bag full of groceries, and is comfortable to carry.
Bags range from $12 to $78

5. Triple Aught Design
Triple Aught Design (TAD) is a San Francisco-based company that designs and manufactures high-end outdoor and tactical gear. Founded in 1997, TAD's mission is to create the toughest and most reliable gear for adventurers, outdoor enthusiasts, and military and law enforcement professionals. Their product line includes backpacks, jackets, pants, shirts, hats, and other accessories, all designed with a focus on functionality, durability, and versatility. TAD's products are known for their high-quality materials, attention to detail, and innovative design features, such as hidden pockets, reinforced stitching, and modular components that can be customized to meet individual needs.
TAD is one of the more pricier brands on this list
Prices range from $185 to $475
6. Timbuk2
Timbuk2 is a San Francisco-based company that designs and manufactures high-quality bags and accessories for urban commuters, cyclists, and travelers. From my research, it looks like most bag are no longer manufactured in San Francisco but overseas. However, Timbuk2 is still one of my favorite brands for backpacks due to their lightweight design.Timbuk2 is a brand that combines style, functionality, and durability to create products that are both practical and aesthetically pleasing. The company's products are popular among urban commuters, cyclists, and travelers who demand high-quality bags that can withstand the wear and tear of daily use. You may also want to check out some other backpack brands like Timbuk2 for backpack Companies with a similar design aesthetic.
Prices range from $39 to $249

7. Remote Equipment
Remote Equipment is an innovative San Francisco-based brand that specializes in designing and manufacturing high-quality bags and accessories for outdoor enthusiasts, adventurers, and travelers. Remote Equipment is known for its use of durable and water resistant materials. I recommend Remote Equipment for anyone looking for a more rugged and tough bag that is innovative and unique in style and design.
Prices range from $189 to $399
8. Black Ember
Black Ember is another innovative bag company based in San Francisco. Their packs are designed and crafted with a focus on function and design, and are known for their custom hardware and construction techniques. Their bags are heavy-duty and designed to withstand everyday wear and tear of urban life.
Prices range from $109 to $349
9. Mission Workshop
Mission Workshop designs and manufactures its bags, technical apparel and accessories  in San Francisco. Their bags are made of waterproof materials and are built to last forever with a focus on lifestyle-driven technical apparel and bags. The brand is known for its Arkiv Modular System, a customizable backpack system that allows users to add or remove components to create a backpack that meets their specific needs. The Arkiv Modular System features a range of accessories, such as laptop sleeves, tool pockets, and hydration bladders, that can be attached or detached as needed.
Bags range from $65 to $655
10. AER
AER created modern bag, travel backpacks, and laptop bags designed for urban travel. Like many of the brands on this list, AER utilized CORDURA nylon, YKK zippers, and Duraflex hardware to create durable and long-lasting bags that can withstand the daily wear and tear of city life.
Prices ranges from $39 to $289
11. DSPTCH
DSPTCH is another bag company based in San Francisco that manufactures its bags mostly in San Francisco or Los Angeles. This bag brand is known for its utilitarian designs. They also sell apparel and accessories.
Prices range from $79 to $395
12. Everlane
Everlane is a San Francisco-based fashion brand known for its minimalist aesthetic, ethical production practices, and transparent pricing. The brand's products are popular among consumers who demand high-quality fashion that is produced ethically and sold at a fair price. While their bag selection is fairly limited to these other brands, their bags generally come in more colors compared to the other brands on this list and are more fashion-forward.
Prices range from $45 to $275

Other Bag Brands to Consider from SF
These brands are either very niche in San Francisco or had origins in San Francisco but have since moved.
13. Inside Line Equipment
Inside Line Equipment bags are actually handmade in Berkeley, CA not too far from San Francisco. This Company sources all of its materials in the US, and provide a lifetime guarantee.
14. Chrome
Chrome Industries started in San Francisco, and has since moved to Portland. The Company focuses on waterproof and durable bags that are meant to last, and provide a lifetime warranty.
15. ACME Made
ACME Made designs and manufactures high-quality bags and cases for laptops, tablets, and other electronic devices. ACME Made merged with The Airtex Group, and as of the publishing of this article did not have any bag listings on their site.
16. April in Paris
April in Paris is leather artisan boutique founded by a former Hermès artisan located in the heart of San Francisco. In addition to creating and selling fine leather goods, the found of April in Paris offers leatherworking classes.
17. Basil Racuk
Basil Racuk crafts luxury leather bags and accessories in his San Francisco workshop using European leathers in small batches.
In this article, we have explored seventeen bag brands from San Francisco. If you are looking for innovative, durable, functional, and beautifully designed back, shopping a San Francisco brand is the way to go! Happy shopping!
Which San Francisco bag brands do you recommend?
Creator of My Favorite Hello and Author of this Article
Amy has 10+ years of experience in fashion and beauty launching digital products for global brands Fenty Beauty, Glossier, Marc Jacobs, Men's Wearhouse and Stitch Fix. She also worked previously as a Senior Stylist at Stitch Fix, and currently as an independent virtual stylist, styling men and women for various occasions from everyday outfits, special occasions, to curating a complete closet. Amy is using her styling experience, fashion and beauty expertise to provide style inspiration and outfit ideas so you can shop for yourself and put together stylish outfits that make you feel confident and beautiful. @styledbymyfavehello
You May Also Enjoy Reading:
13 Brands like Timbuk2: Functional and Durable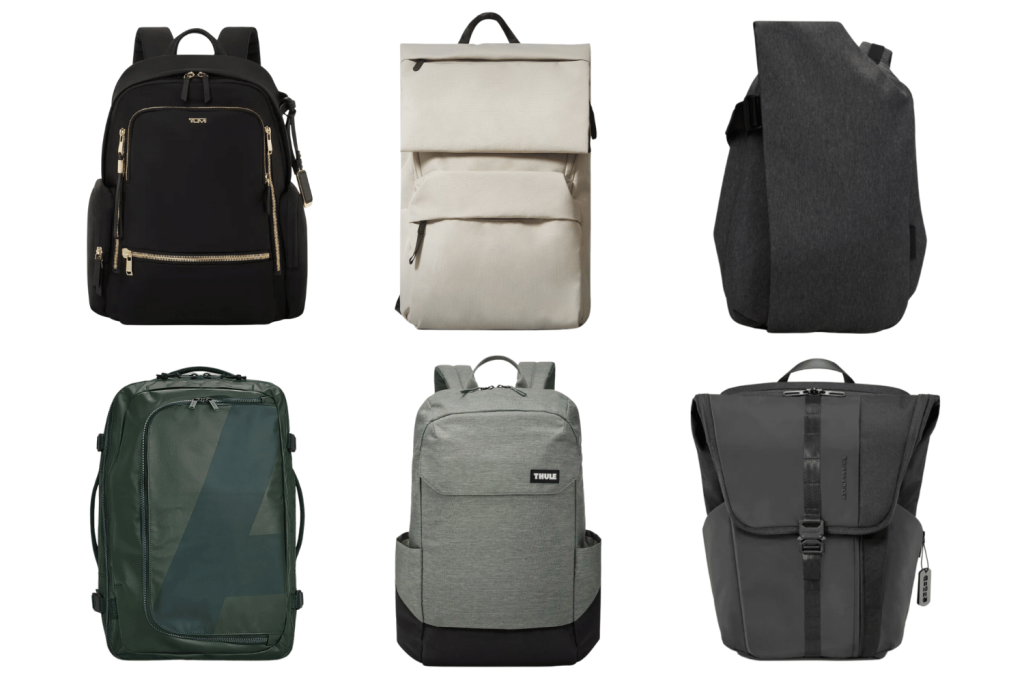 You May Also Enjoy Reading:
23 Brands Similar to Polène: Minimal and Structural Bags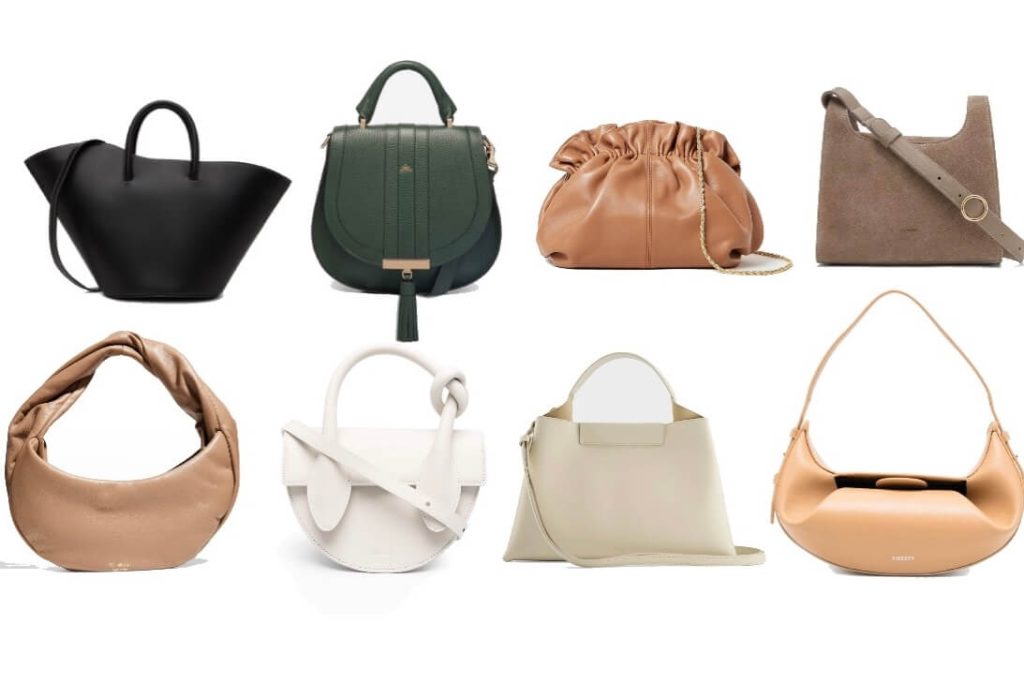 You May Also Enjoy Reading:
13 Brands like Strathberry: Elegant and Understated