Who doesn't love a date night? I don't know about you, but my job is super casual and I have to take public transportation, so I never get to wear my cute clothes. A date night is the perfect chance to try out that outfit I have been dying to wear, go out with my favorite person, and have some much-needed fun. I love a night out, especially after a busy and stressful week of work. Check out my About Me page to see all the jobs and projects I manage during a typical week!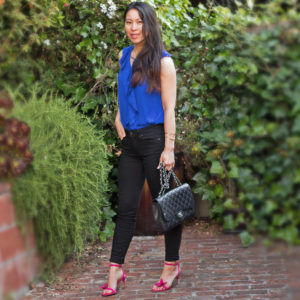 When I think about what I'm going to wear for a date, I definitely have my go-to! (Cue drum roll here.) I love adding bold colors to my look, whether it be the core piece of my outfit or just a fun pop of color in an accessory or shoe. For this date night look, I went for both. I chose a beautiful cobalt ruffle tank top. I paired this top with my favorite black jeans to let the colors take center stage. I then added another fun pop of color with these suede heels. I think bold and bright colors add a fun and sexy feel to any date night look.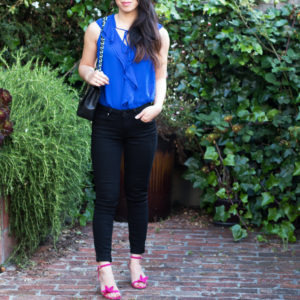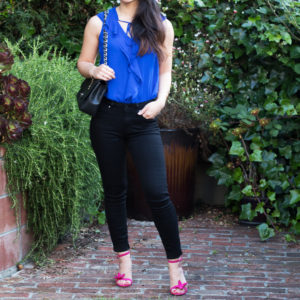 What is your go-to for a date night?
||Shop This Look||
Top (similar)
Bag (inexpensive)