[yoast-breadcrumb]
Transition Your Summer Outfits with a Leather Jacket
Now is the perfect time for wearing a leather jacket in summer. Yes, the weather is cooling down, but it's still not yet fall. Which is why a leather jacket can still be a great addition to your summer look, and perfect for transitioning your outfits into fall.
It can be a challenge styling a leather jacket. You don't want to look like a biker chick (or maybe you do!). I prefer to add a leather jacket to add some edge to my looks. The best way to wear a leather jacket (and not let it wear you) is to try it over your summer dresses to add an edgy detail and to transition your looks from day to date night.
A Feminine, but Edgy Look
My favorite way to style a leather jacket for summer is to wear it over a romantic and girly summer dress.  I love the pairing of a romantic item with the edginess and hardness of a leather jacket. For this look, I paired a Parker floral print silk dress with my favorite Topshop black leather jacket. I love a black leather jacket in a moto style! I personally think this type of outfit is the best date night look. It says, "Yes, I'm girly and feminine, but I still love to have fun!" What do you think?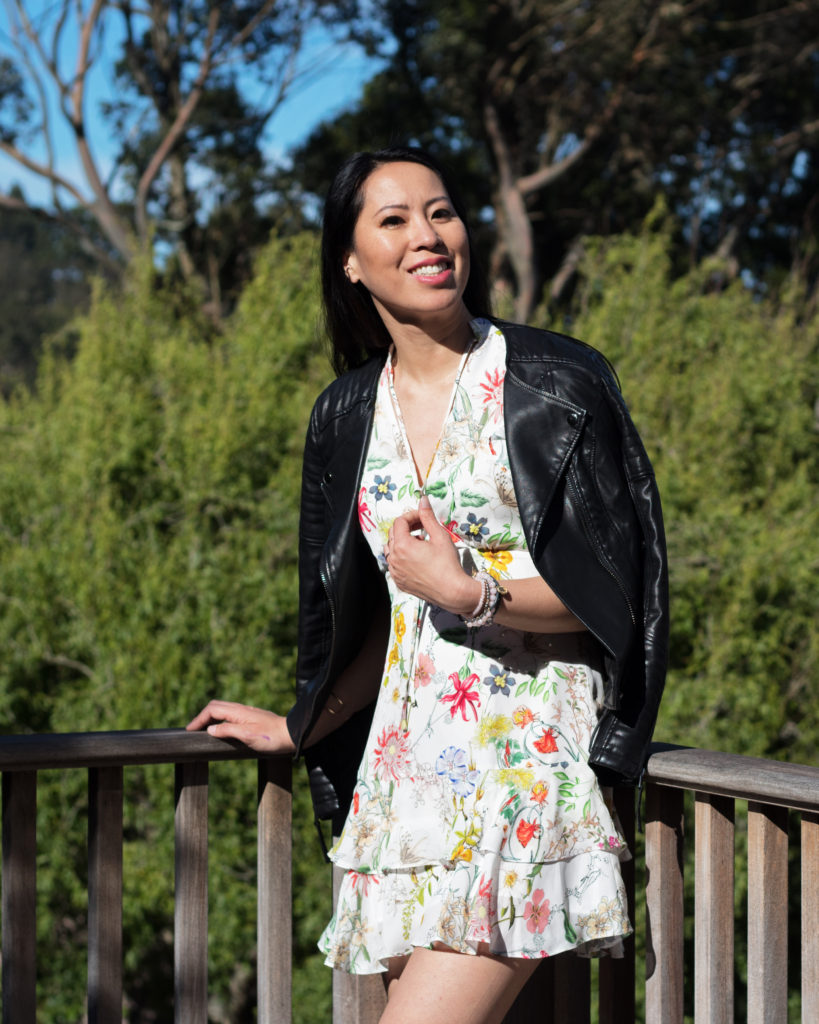 ||Shop the Look||

Street-Style Chic with a Leather Jacket
For a look that is more street style chic, I chose a neutral colored body-con dress. Grey is my favorite neutral (not counting black, of course). For this look, I paired my brown burnished leather jacket with a simple body-con t-shirt dress and a lace-up heel for an edgier look that is perfect for a night out with the girls. I added a clutch purse to hold my essentials. I think this outfit would also look really cute styled with a pair of Converse sneakers instead of a pair of heels for a more casual weekend.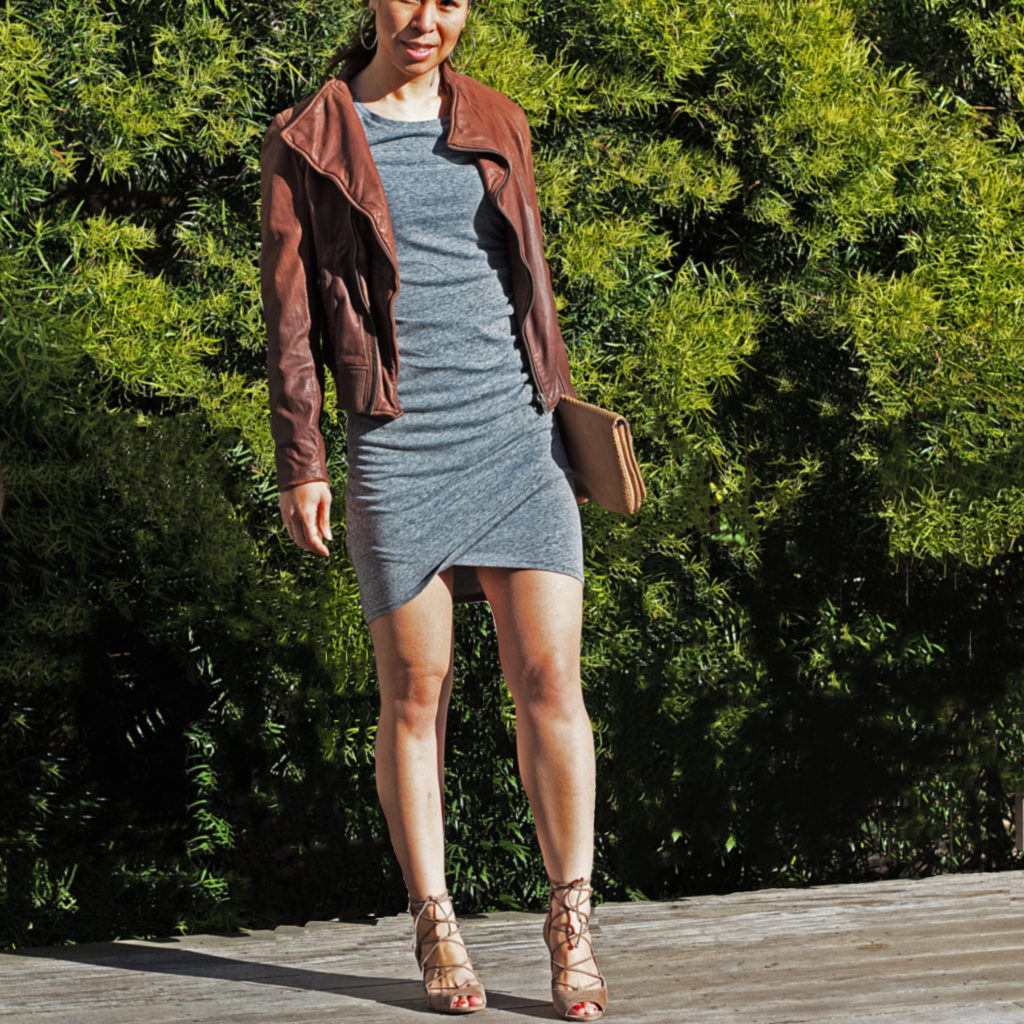 ||Shop the Look||

Sweet, but Sassy
If you remember this previous post, I paired a black leather jacket and black chain purse with a flowy and tiered lace white dress. It's perfect for a a garden party or dinner out. Offset the heavier jacket and purse with a barely there heel. Again, I love how the jacket adds a sassy detail to an otherwise sweet look.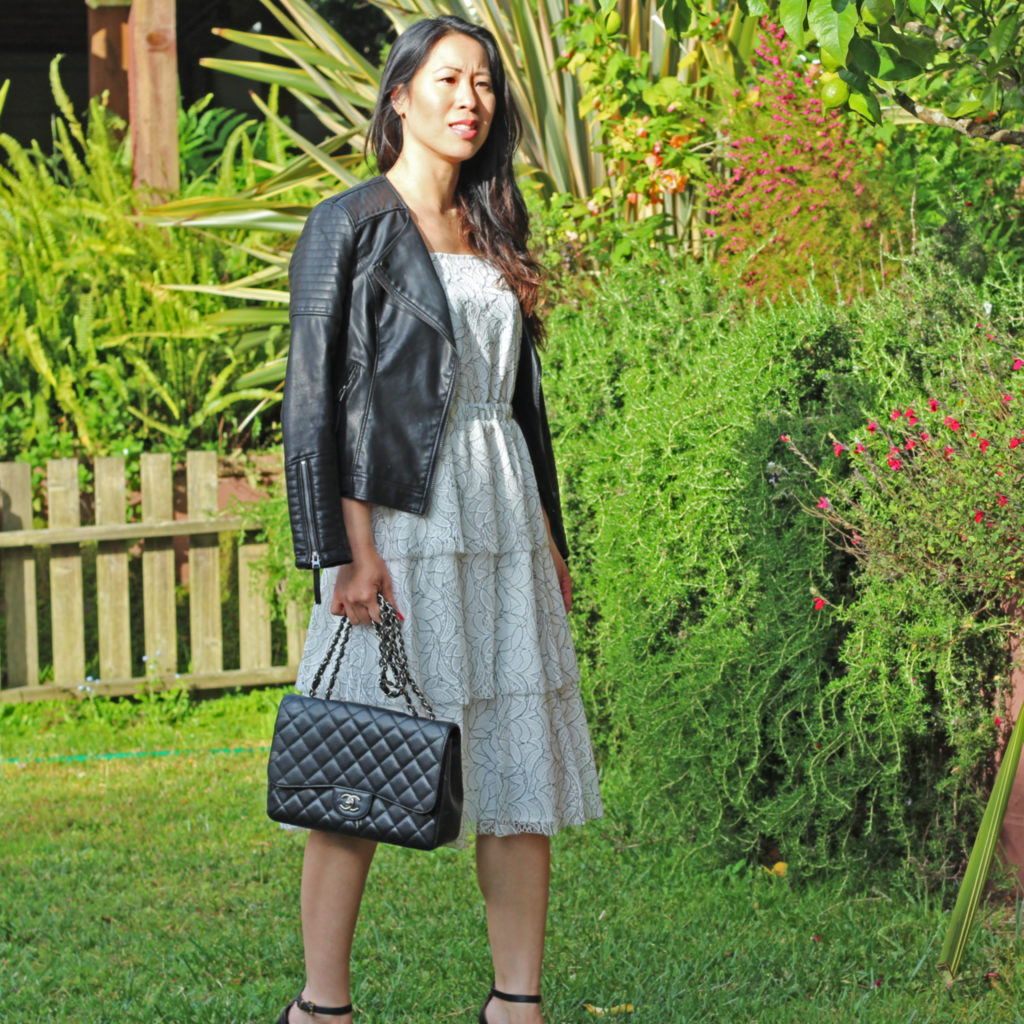 Leather Jackets for Summer
Although I love the color black, the great thing is that nowadays leather jackets come in a variety of colors, prints and cuts, so it's perfect for any season, including summer.  You can also try a colored jacket instead for a lighter and more romantic look. I've picked some of my favorites below. You can even pick one with embroidery if you want a trendier look. Keep reading for more suggestions on where to buy the perfect leather jacket.
|| Shop Leather Jackets ||
Try a Faux Leather Jacket
If you aren't quite ready to commit to a genuine leather jacket because of the cost, try a faux leather jacket instead. Topshop makes a few faux leather styles for around $88. They make the black moto jacket that I am constantly wearing.
I also am a big fan of the brand BlankNYC. Their faux leather jackets are around $78-198 as well. They also come in a variety of feminine colors like light pink and light blue. BlankNYC is also a great brand for faux suede jackets. I am a huge fan, and wear their jackets in many of my instagram posts!

Splurge Worthy Leather Jackets
If you are ready to splurge for that perfect leather jacket, I would highly recommend checking out AllSaints. Their leather jackets are in the $200-600 range but are so soft and buttery. The quality will last you a lifetime of summers! Here's a few of my favorite leather jackets from AllSaints.

How do you plan on wearing your leather jacket this summer? Let me know in the comments!
You May Also Enjoy Reading: