[yoast-breadcrumb]
What Clients Want: Q&A with a Stitch Fix Stylist
Stitch Fix is a personal styling service for men and women. You pay $20 for a Fix and are sent five pieces. You can keep any number of pieces and the $20 styling fee will be applied to your purchase. If you keep all five pieces you get 25% off your total. It's a convenient service for those that need help putting together outfits, don't have time to shop, or just want to try some new trends.
This blog post contains affiliate links which means if you make a purchase through my links I will receive a commission at no additional cost to you.
If you're interested in trying Stitch Fix, you can use my referral link for $25 off your first Fix. In addition, be sure to follow my Facebook page, Styling Stitch Fix, or my instagram, @MyFaveHello, for inspiration on styling your favorite Stitch Fix pieces.
I got some time with a fellow Stitch Fix stylist for a fun Q&A.
What are Stitch Fix clients requesting for summer?
Clients are loving the embroidered trend right now, everything from jeans, shorts and button down shirts.  They are also loving floral prints, pops of colors, and distressed denim. There's also a ton of women asking to try the cold shoulder trend.
The great thing is that Stitch Fix offers a number of on-trend items mixed with this classic, basic pieces every girl needs in her closet!
Another advantage of Stitch Fix is that they do carry a lot of off-season inventory. So if it's summer but you are going somewhere cold, you can still request a sweater or jacket and chances are Stitch Fix will have something to send you
What is a common misperception about Stitch Fix?
I think that clients rely on Stitch Fix entirely and solely to build their wardrobe.  But you wouldn't go to the mall or shop online and only go to one store. I would continue to shop outside of Stitch Fix to complement my Stitch Fix pieces, and to find those similar pieces that are hard to get from Stitch Fix but might be readily available at other stores like Nordstrom, Target or Macy's.
In addition, sometimes Stitch Fix is a good way to try a trend, but Stitch Fix may not carry a particular piece in your size or fit. Use Stitch Fix as inspiration and find those same trends online at a popular site that may also carry it. Clients get so mad when we don't have an item in stock and I constantly think to myself, Nordstrom sells something so similar and they offer free returns and shipping, so why are they wasting time complaining when they can just buy it online themselves.
Your Facebook page, Styling Stitch Fix, is a perfect example of how easy it is to find similar or complementary pieces to Stitch Fix that you can buy yourself right NOW!
I have seen a lot of clients complain about their Fixes on the Facebook boards. How can clients get their best Fix?
I would recommend linking to a Pinterest board. It will give the stylist a good idea of their style and want they are currently loving. You just have to remember that you aren't likely going to receive the exact item you have pinned. A Pinterest board is meant to be style inspiration so expect pieces that are similar or in the same style family. For example, if you are pinning kimonos and bell sleeves then I will likely think you like boho-inspired looks and will send you items that are considered to be boho. Will I send you a kimono? Maybe, maybe not. Will I send you boho looking items? Yes, definitely.
Also, keep it up to date! I can't tell you have many times it's the middle of summer and a person's Pinterest board has sweaters and coats. I have to assume they aren't looking for sweaters and coats. Keep pinning new items at least once at the start of the season so your stylist has an idea of what kind of seasonally appropriate looks you want to receive.
I also think clients need to constantly be looking for style inspiration. Other than fit, most clients are not happy with their Fixes because they simply don't know how to style a piece. Follow fashion blogs to get ideas on what to pair your pieces with or how you can add a belt to a loose piece to transform the fit. Anyone that receives a bunch of pieces with no idea of how to put together is going to be happy. While we give you style advice, you have to remember we only have a limited amount of space to tell you how to wear something. It's really up to you to do your own research to come up with ideas. Again that's where you Facebook page, Styling Stitch Fix, or your Pinterest Board can help.
You May Also Enjoy Reading:
10 Ways to Style the Nordstrom Leith Dress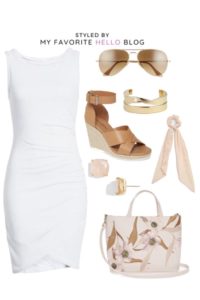 ---
12 Ways to Style Denim Shorts for Summer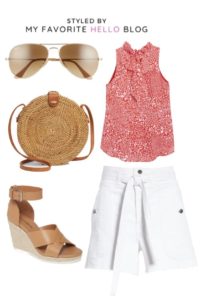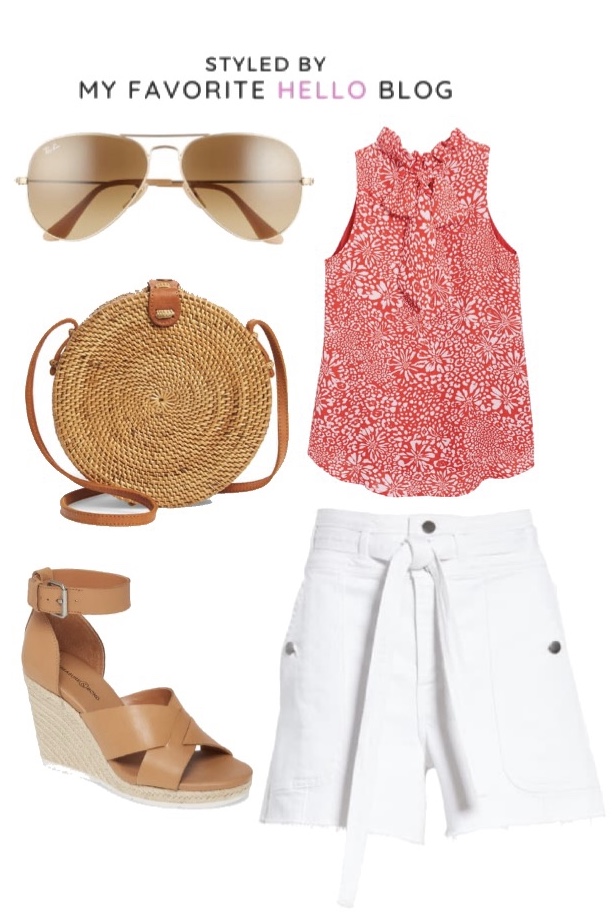 What is your most and least favorite things about being a Stitch Fix stylist?
The feedback. I get so excited and feel so good when a client tells me how much they loved a piece or how I helped them find their style. That's the whole point of this service, to help clients feel good about themselves in the clothes we send them. At the same time, it's also my least favorite. Sometimes people are just so mean! I don't think clients remember that it's a real person behind their Fix. We take a lot of care to send them pieces we think will like, and sometimes picking from very limited inventory which we have no control over. We are always trying to do our best to make sure they are getting pieces they will love!
Thank you to my fellow Stitch Fix stylist for your interview. As a stylist myself, I have to agree with everything she says. I think a key takeaway here is to not rely solely on Stitch Fix to build your wardrobe and style. It's a great way to try some new trends that you might not have otherwise, but you still want to keep looking for those complementary pieces that you can find at almost any online store.
Leave additional questions in the comments for a follow-up interview.
Details of each look can be found at facebook.com/styingstitchfix
You may also enjoy reading: