Alternatives to Rick Owens
If you're looking for brands like Rick Owens, check out these other clothing brands that are also known for a similar design aesthetic to Rick Owens. These brands are avant garde and minimalistic. This list includes brands for every budget, including a similar pricepoint, more affordable alternatives, or at a higher pricepoint.
This article includes affiliate links which means when you make a purchase using my affiliate links, I earn a commission at no additional cost to you. See my Privacy Policy.
What Rick Owens is Known For
Rick Owens Clothing is a high-end fashion brand that has become synonymous with luxury, edginess, and modernity. Founded by American designer Rick Owens in 1994, the clothing line is known for its avant-garde pieces that are often characterized by deconstructed silhouettes and minimalistic styling. The brand's signature look includes dark and muted colors such as black and navy blue paired with more neutral shades like white, gray, and beige. In addition to creating unique clothing lines for both men and women, Rick Owens also produces a range of accessories including handbags, shoes, jewelry, hats, sunglasses, belts and ties.
Although the Rick Owens aesthetic may not be to everyone's taste and isn't considered a streetwear brand, it remains one of the most sought after labels in the fashion industry today; celebrities including Rihanna have been spotted wearing pieces from the collection.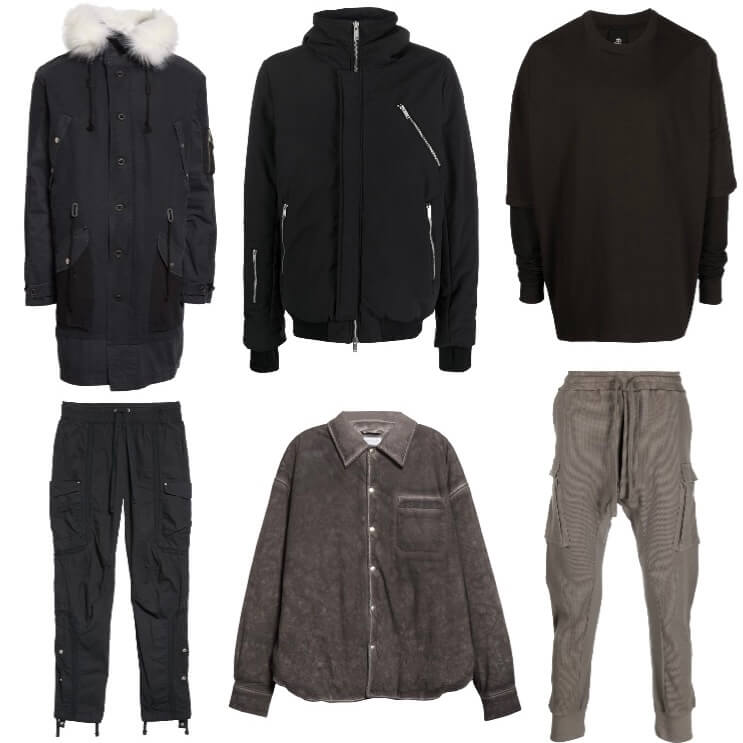 Is Rick Owens Clothing Worth the Price?
Like any other designer that is popular and well-known for signature pieces and looks, Rick Owen's designs come with a high-end pricepoint to match. You may ask yourself is Rick Owens clothing worth the price?
Rick Owens uses only the highest quality materials when constructing his garments. From luxurious leather to fine Japanese fabrics, he ensures that each piece is made with comfort and durability in mind. All of these components add up to create items that can last for years if properly cared for. Furthermore, the attention to detail that goes into each item guarantees an individual look that stands out from other designers on the market. 
Rick Owens prices reflect his commitment to craftsmanship and artistry.
Buying Rick Owens for Cheaper
If you are looking to buy Rick Owens for cheaper, I've been able to find various pieces on sale at retailers like Nordstrom, SSENSE, and Farfetch, so it's worth checking these sites frequently for markdowns.
In addition, if you are willing to buy pre-owned, you can usually find some good deals. Check out Vestaire Collective and The RealReal.
Brands that are Similar to Rick Owens
For those looking for an alternative to Rick Owens' avant-garde designs, there are plenty of other designers who offer pieces that are just as unique and stylish for every budget. Here I will explore some of the alternative designers to Rick Owens and their signature styles.
1. Yohji Yamamoto
Yohji Yamamoto is a fashion designer renowned for his unique and unconventional approach to menswear. His collections are characterized by their timeless elegance, minimalist aesthetic, and attention to detail. One of the key features of Yohji Yamamoto's menswear is its fusion of traditional Japanese elements with modern Western style. He often incorporates flowing silhouettes, asymmetrical cuts, and draping fabrics into his designs while still maintaining a sense of functionality. This blending of cultures creates garments that are both avant-garde and wearable in everyday life and is my favorite of brands like Rick Owens.
Men's clothing is priced around $830 to $3,000.

2. Julius
Julius was founded by Tatsuro Horikawa. Horikawa's designs are known for their edgy, dark and futuristic aesthetic that often incorporates elements of punk rock culture. His collections typically feature oversized silhouettes with a focus on voluminous fabrics such as leather, wool or denim. Tatsuro's inspiration comes from various sources including music, art and architecture which adds depth to his designs.
Most pieces are priced from $240 to $1,320.

3. Aesthetic Noir
Aesthetic Noir is a clothing brand that has taken the fashion world by storm. It offers a unique blend of edgy and elegant designs that are perfect for those who want to make a statement with their attire. The brand was founded in 2017 and has quickly become one of the most sought-after clothing labels on the market as its both sustainable and affordable. Aesthetic is a self-proclaimed brand like Rick Owens and Yohji Yamamoto, but cheaper.
Men's pieces are priced from $25 to $350.
4. John Elliott
John Elliott is heavily inspired by Los Angeles culture and pays homage to the city's diverse style. The brand offers an extensive collection of staple clothing items such as jeans, t-shirts, sweatshirts, jackets, and more. John Elliott can be considered more of streetwear brand, but does have some pieces that are similar to Rick Owens.
Men's pieces are priced from $98 to $1,800.

5. Rosenrot
Rosenrot is an independent brand that is known for its futuristic and architectural designs in colors like black, navy, and grey. Their designs are bold and edgy but at a pricepoint that is cheaper than Rick Owens.
Men's pieces are prices are from $259 to $1,129.
6. Haider Ackermann
Haider Ackermann is an internationally acclaimed fashion designer known for his signature style of intricate draping, luxurious fabrics and bold color combinations. His eponymous clothing brand was launched in 2001 and has since become a favorite among fashion enthusiasts worldwide. Haider's designs are often described as effortlessly elegant, with a focus on the perfect balance between structure and fluidity.
Men's pieces are prices are from $380 to $2,450.

7. The Viridi-Anne
The Viridi-Anne is designed by Japanese artist Tomoaki Okaniwa, known for his asymmetrical construction and distressed styles inspired.
Men's pieces range from $190 to $1,320.

8. Nid De Guepes
Nid De Guepes is a French clothing brand founded in 2014 by designer and creative director, Theo Motte, draws inspiration from streetwear and high-end fashion to create unique pieces that appeal to both men and women. From distressed denim jackets to oversized hoodies, every piece in their collection exudes an effortless coolness that has made them a favorite among celebrities.
9. Damir Doma
Damir Doma was founded by Croatian-born designer Damir Doma in 2006 and has since become one of the most sought-after labels in the industry. One of the standout features of Damir Doma's designs is his focus on draping and layering. He often uses unexpected fabric combinations like silk with wool or leather with cotton to create pieces that are both innovative and wearable. Another signature feature of his work is his use of muted colors like black, gray, navy blue, and olive green.

10. Daniel Patrick
Daniel Patrick was founded in 2011 and has since grown to become one of the most sought-after names in contemporary fashion known for combining luxurious materials in his streetwear designs that exude a cool and effortless look for all that wear them.
Men's clothing ranges from $75 to $400.
11. Boris Bidjan Saberi
Boris Bidjan Saberi was founded by Boris Bidjan Saberi, an Iranian-born designer who moved to Germany at a young age. His multicultural upbringing has heavily influenced his designs, creating pieces that are both unique and timeless. The brand's aesthetic can be described as dark, edgy and avant-garde, with a focus on draping and layering techniques.
Men's pieces range from $135 to $3,500.

12. Thom Kron
Thom Kron was founded in 2017 with a mission to create timeless pieces that are both fashionable and eco-friendly. The brand is known for its minimalistic designs that come in several neutral colors, making it easy to mix and match them.
Men's pieces range from $81 to $836.

Which brands like Rick Owens do you recommend?
Creator of My Favorite Hello and Author of this Article
Amy has 10+ years of experience in fashion and beauty launching digital products for global brands Fenty Beauty, Glossier, Marc Jacobs, Men's Wearhouse and Stitch Fix. She also worked previously as a Senior Stylist at Stitch Fix, and currently as an independent virtual stylist, styling men and women for various occasions from everyday outfits, special occasions, to curating a complete closet. Amy is using her styling experience, fashion and beauty expertise to provide style inspiration and outfit ideas so you can shop for yourself and put together stylish outfits that make you feel confident and beautiful. @styledbymyfavehello
You May Also Enjoy Reading:
24 Brands like Aime Leon Dore that are Slept On: Street, Preppy, and Cool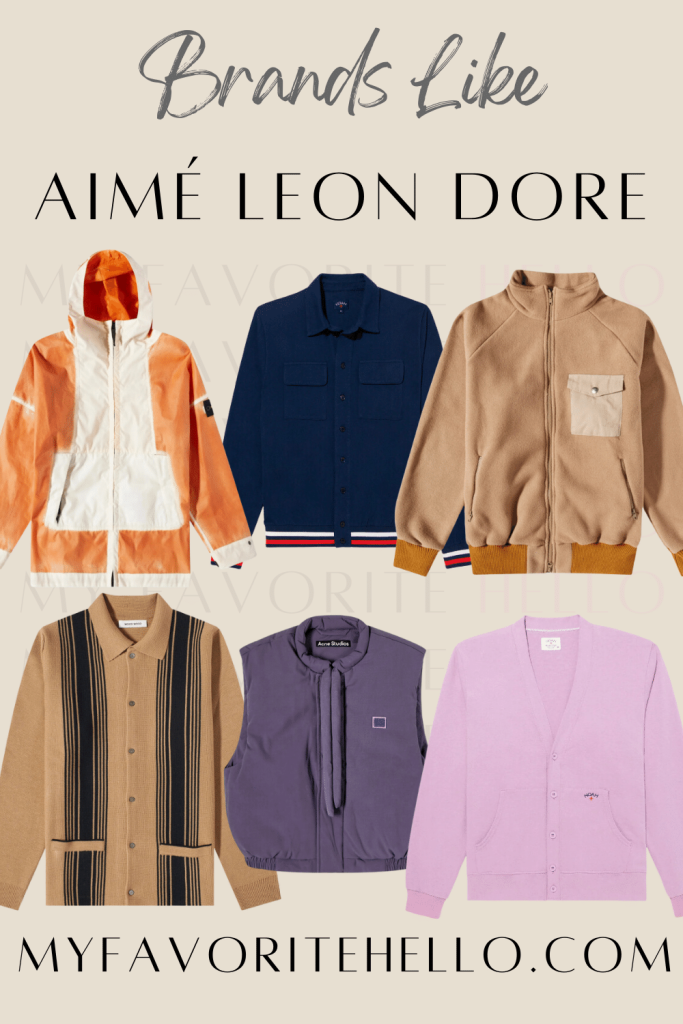 You May Also Enjoy Reading:
10 Brands Similar to Von Dutch: Iconic, Nostalgic & Influential