Mini UGGs Boots Outfits
If you are looking for style inspiration on how to wear mini UGG boots outfits, keep reading. These mini UGG boots are an influencer favorite and for good reason – they are stylish, cute, and cozy. As your personal virtual stylist, keep reading for 10 mini UGGs boots outfits.
This article includes affiliate links which means when you make a purchase using my affiliate links, I earn a commission at no additional cost to you. See my Privacy Policy.
What to Wear with Mini UGG Boots
UGG boots are a closet must-have if you love cozy and warm pieces. UGG came out with the mini style which are so versatile. There are a couple of heights that I am featuring in my outfits, and also a few different colors.
As a virtual stylist, I am sharing how you can wear your mini UGG boots for every season.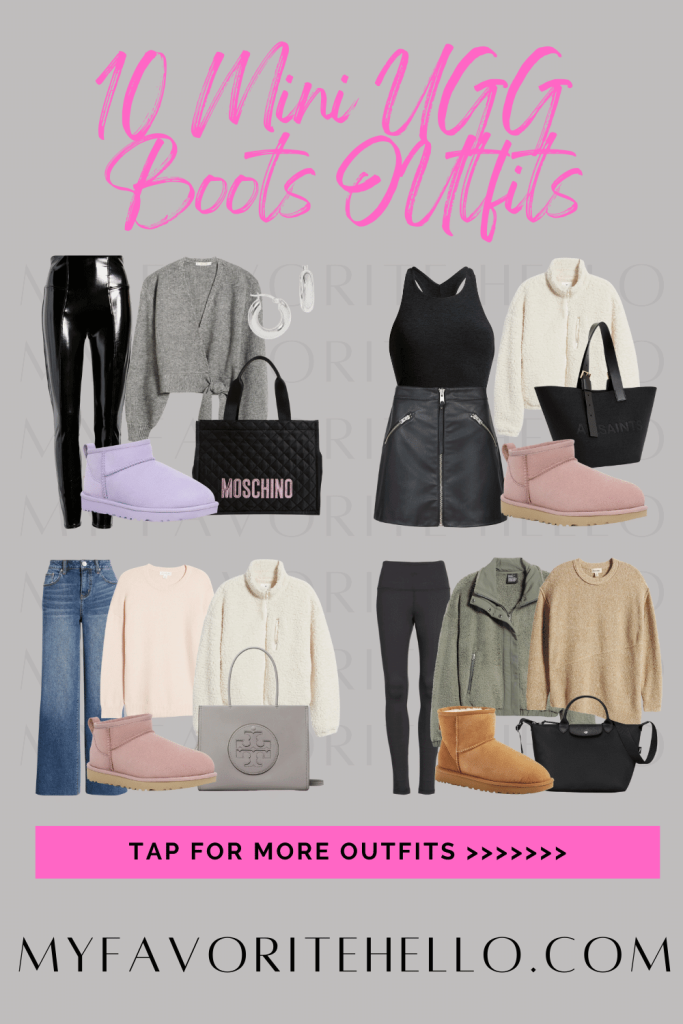 Where to Buy a Pair of Mini UGG Boots
I really love shopping at Nordstrom for my UGG boots. They offer many different styles, colors and sizes. In addition, Nordstrom has a generous return policy, free shipping and returns, and always deliver in the estimated time, so they are easy and convenient to shop online.
If you like the different colors of Ugg boots featured in the outfit ideas below, you can find them here.
Mini UGG Boots in Neutral Colors: These neutral colors can go with almost everything.

Mini UGG Boots in Pastel Colors: I love UGG boots in these girly colors like Sage Blossom and Rose Grey. They are perfect for transitioning from winter to spring.

Mini UGG Boots in Basic Black and Grey: If you are looking for more basic colors, the black and grey UGG boots will fit the bill, and are perfect for winter outfits.

Mini UGG Boots Outfit Ideas
These 10 mini UGG boot outfits will be all the style inspiration you need for creating outfits to complement your UGG boots.
1. Cozy Fall Outfit

I love these Chestnut colored UGG boots because they go with almost anything, and they look so cute and cozy. Try a layered look with a sweater and in-style fleece jacket for a cozy winter outfit or casual fall outfit.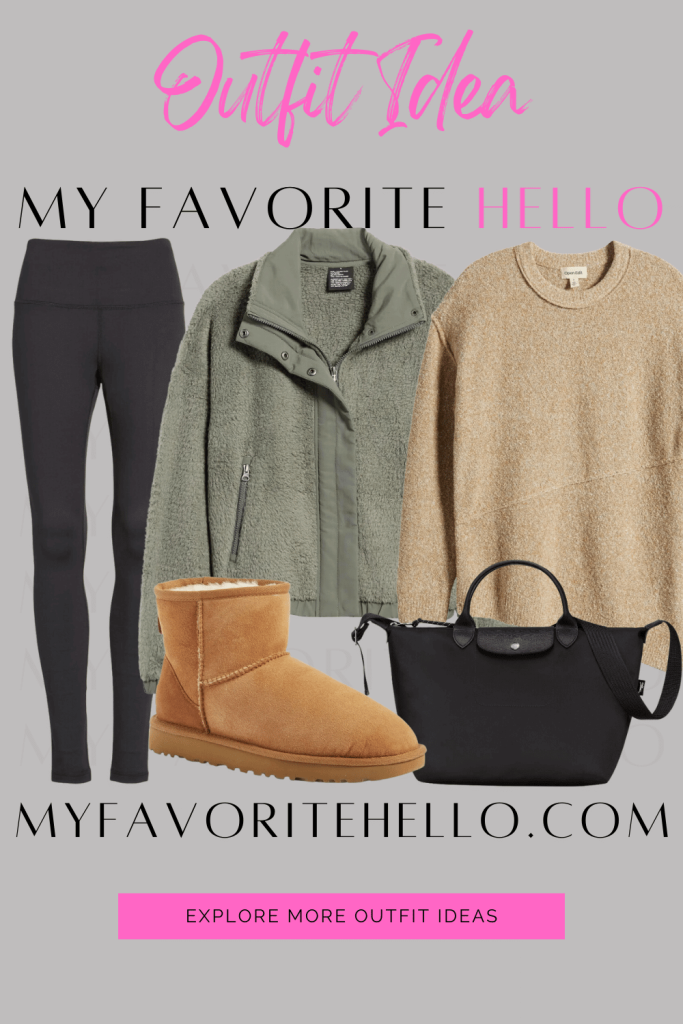 2. Casual Weekend Outfit
These pink mini UGG boots are perfect for outfits that can transition from winter to spring. Try a pair of casual jeans and light layered sweaters for the perfect casual weekend outfit. A grey tote to carry all your errand-running essentials completes the look.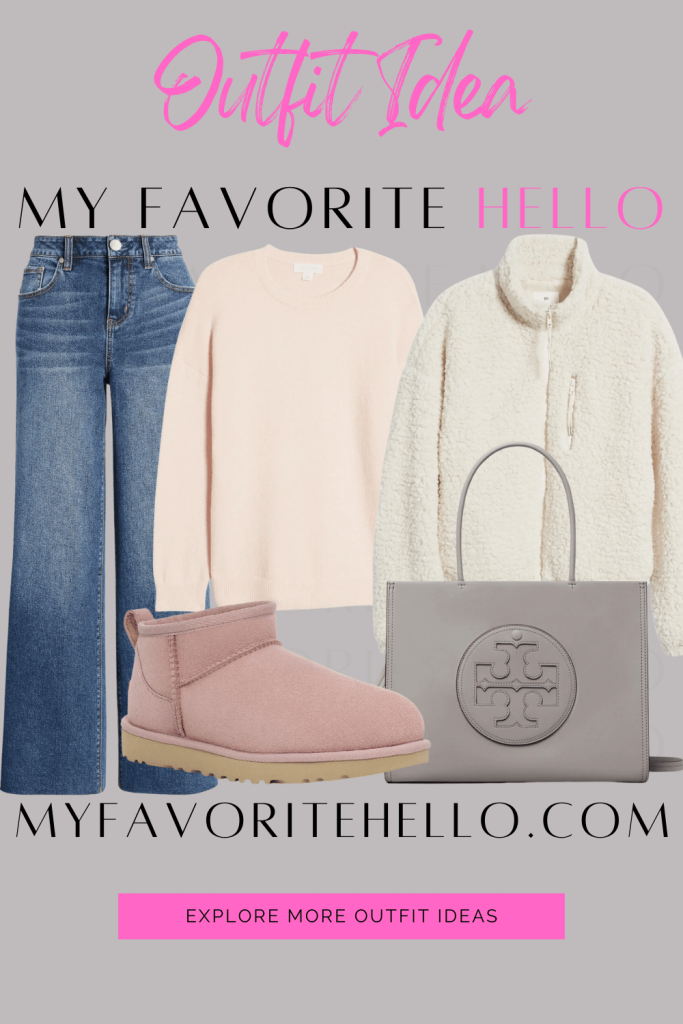 3. All Black UGGs Outfit
For an edgy all-black look try these patent black leggings with a pair of black UGG boots.. This look is perfect for a chilly evening out, and will be sure keep you warm and stylish.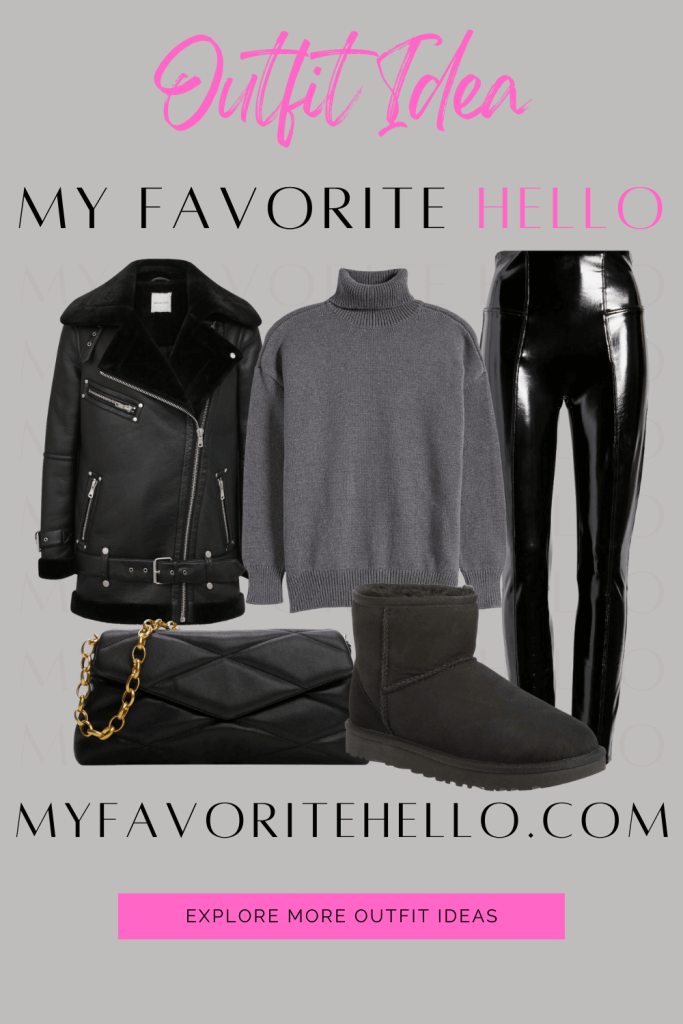 4. Spring Sweater Outfit
This sweater outfit is perfect for spring, and these Sage Blossom mini UGGs are so cute for spring outfits. For a casual outing, try this retro floral sweater with jeans. The puffy silver backpack adds a fun element to complement the light purple UGG boots.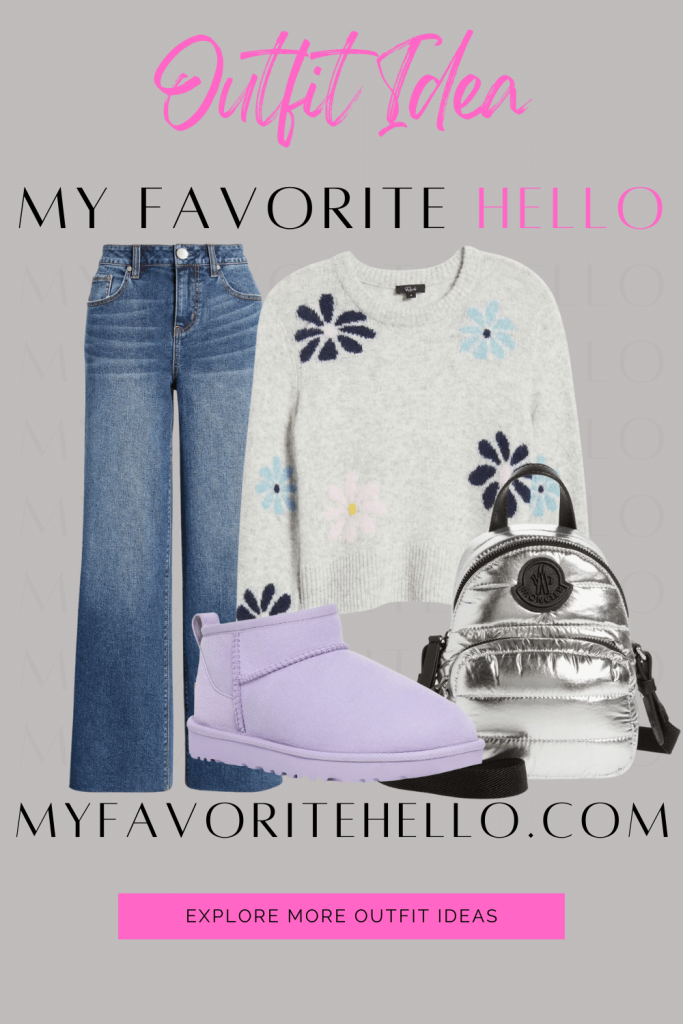 5. Winter to Spring Transition Outfit
These chestnut colored UGGs work for every season, and here's how I would wear them when transitioning to spring. Try light beige layers for a neutral outfit that will keep you cozy and comfortable the whole day while keeping you stylish and on-trend.

6. Mini UGGs Outfit With a Skirt
UGG boots don't always have to be worn with jeans and leggings. They are also super cute with dresses and skirts. In this outfit, I paired a black mini skirt with a pair of pink mini UGG boots for a fashionable and cute look that can easily go from day to night.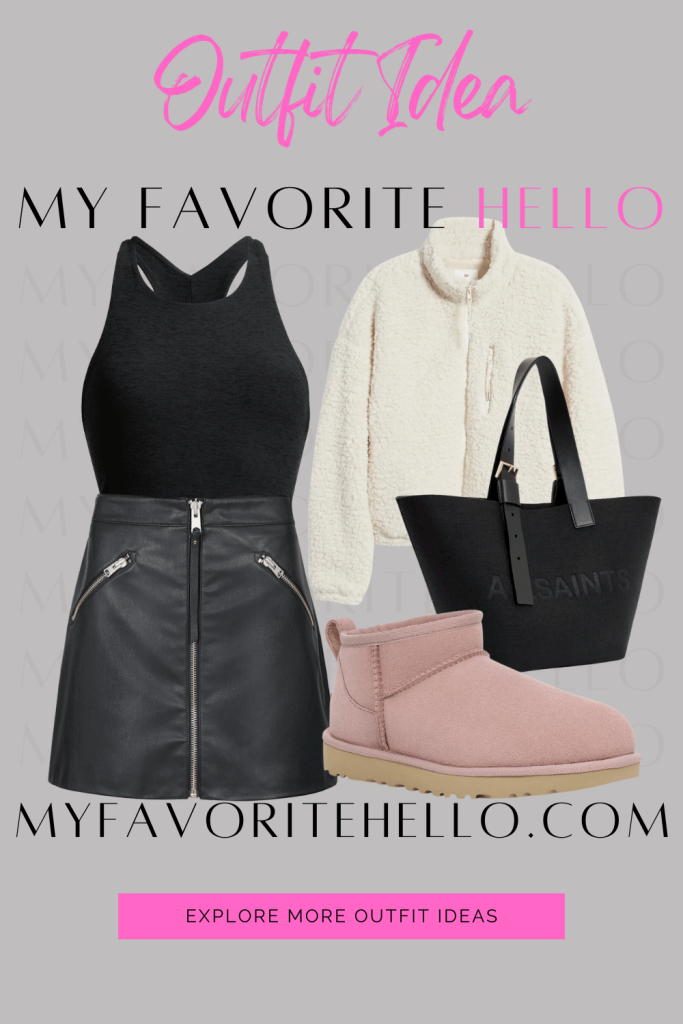 7. Sporty Athleisure Outfit
Sporty athleisure looks are a go-to when wearing UGG boots. Try this layered look in different shades of olive for a casual and sporty look that is easy to wear for running all your errands. The patent leather tote bag adds a fun and unexpected texture and shine to your outfit.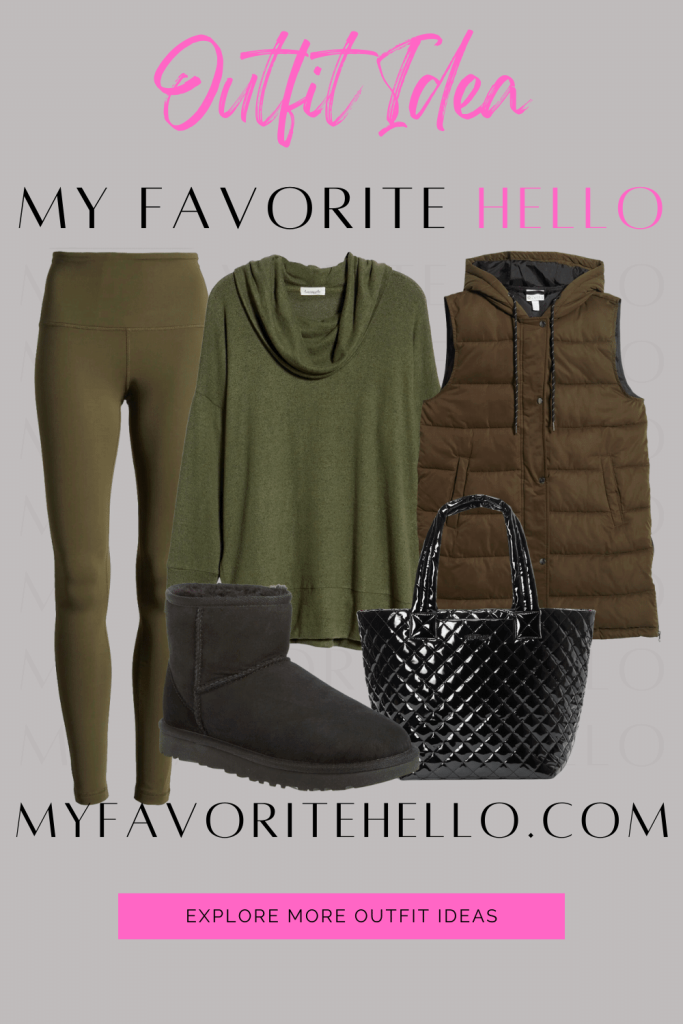 8. Grey UGG Boots Outfit
I styled this look can be worn any day of week by anyone. It's just a no-fuss sweater look that looks pulled together and cute, but is absolutely effortless to pull off. These grey UGG boots are very versatile for every season, as well, and you can pair them with jeans for fall, winter, spring and summer.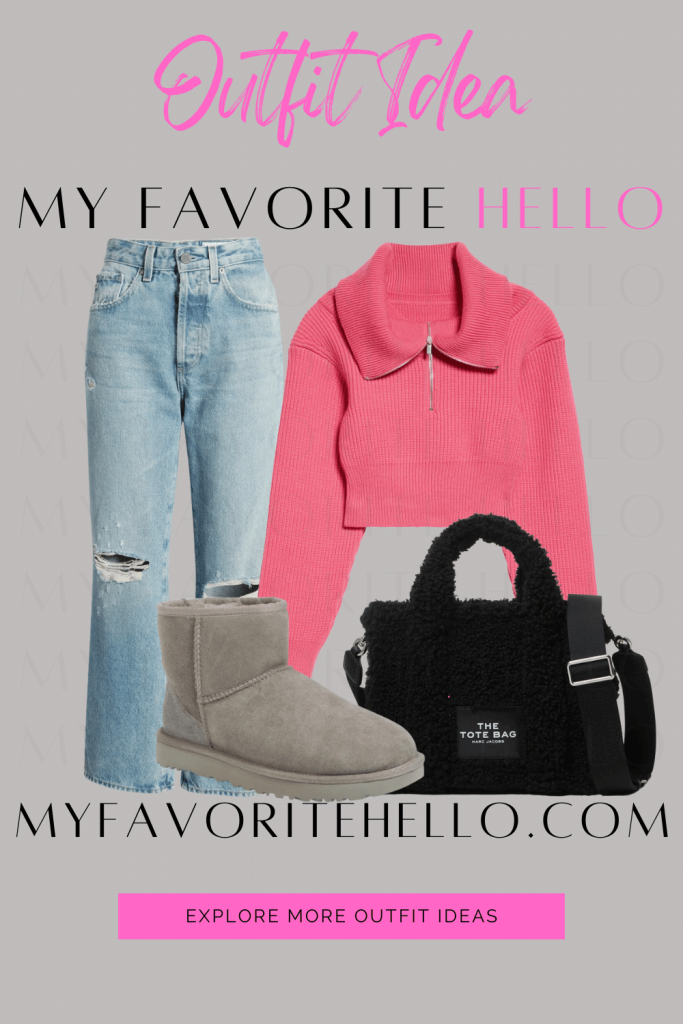 9. Comfy Fall Outfit
I love styling an oversized sweater with jeans for a cozy outfit with a pair of UGG boots. Add a trendy purse and gold earrings to elevate this comfy fall outfit.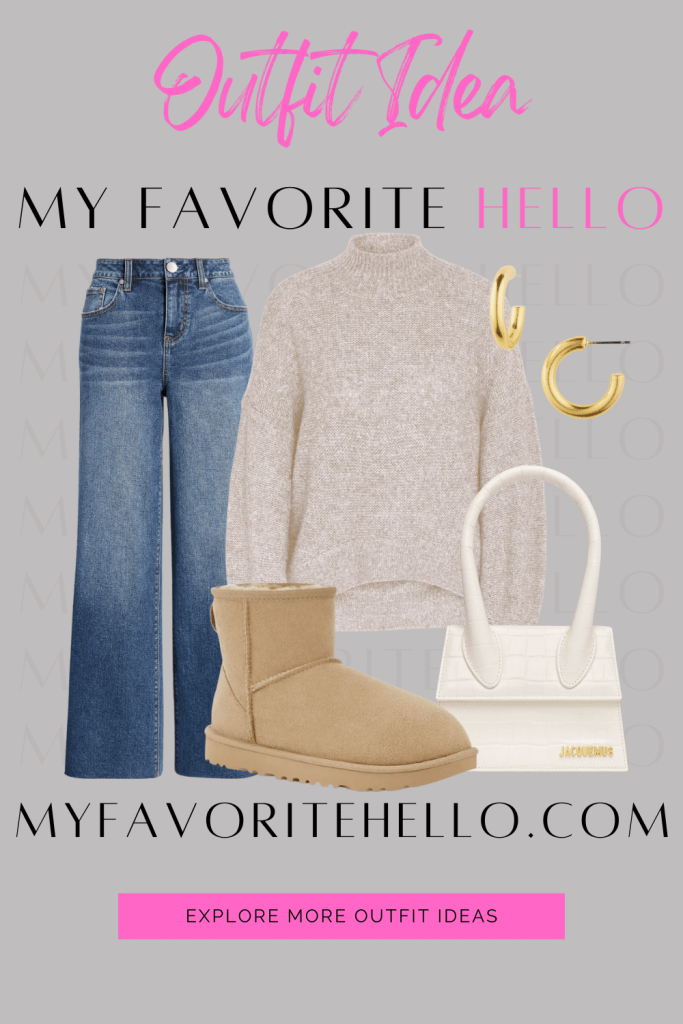 10. Edgy Sweater Outfit
I love this stylish and edgy outfit I styled with these black patent leggings and lavendar UGG boots. Try a designer tote and silver earrings for a cute look that is casual and comfy but also stylish and trendy.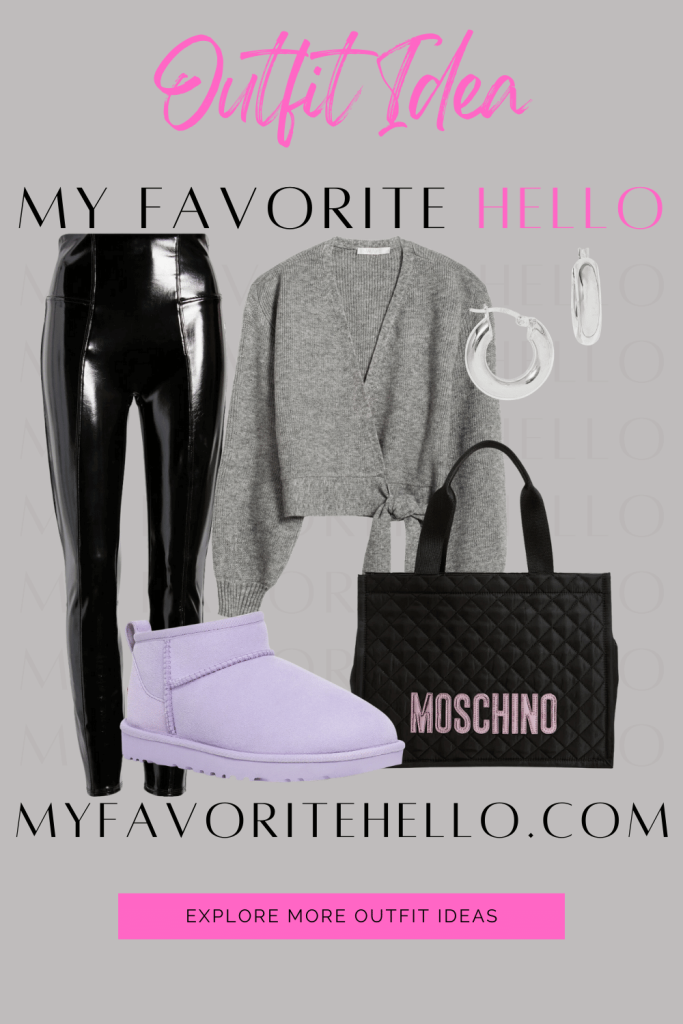 Which mini UGGs boots outfit is your favorite?
Creator of My Favorite Hello and Author of this Article
Amy has 10+ years of experience in fashion and beauty launching digital products for global brands Fenty Beauty, Glossier, Marc Jacobs, Men's Wearhouse and Stitch Fix. She also worked previously as a Senior Stylist at Stitch Fix, and currently as an independent virtual stylist, styling men and women for various occasions from everyday outfits, special occasions, to curating a complete closet. Amy is using her styling experience, fashion and beauty expertise to provide style inspiration and outfit ideas so you can shop for yourself and put together stylish outfits that make you feel confident and beautiful. @styledbymyfavehello
You May Also Enjoy Reading:
10 Outfit Ideas: What to Wear with White Boots
You May Also Enjoy Reading:
Transition from Winter to Spring Capsule Wardrobe: 30 Outfits with 21 Pieces
You May Also Enjoy Reading: