[yoast-breadcrumb]
My First Allume Styling Service Experience & Review
I have been a long-time client of Stitch Fix, an online styling service, and recently tried a few boxes from Fashom. Since my Fixes with Stitch Fix have been a bit monotonous and while the boxes from Fashom, I am always looking for a styling service with a balance of classic and trendy looks. I came across Allume and was excited to use the personalized styling service. Here is a review on my experience with Allume and why I would recommend you try it if you like online styling services. (Spoiler: It's a must try!)
Keep reading to find out why I highly recommend Allume, and how you can receive a discount on your first Allume styling service.
My Experience with Allume
Allume is a styling service where you work 1:1 with a stylist to have personalized looks curated just for you. Each of the looks are curated with a combination of established and emerging brands, with an assortment of timeless and trendy, at various high and low price points. Here's a breakdown of my experience with Allume.
Allume is a must-try for anyone building their closet!
When I signed up for Allume, I filled out a styling profile that was pretty robust compared to other styling services I have tried. The style profile included the following:
Picking from a selection outfits I would wear for work, casual and a night out.
How trendy I am
How I describe my personal style
Style influencers or celebrities I take style inspiration from
Stores I shop from
Jean styles I like to wear
Color and items types I don't wear
Height, weight, bra size, body shape
Tops, bottoms, dresses, shoes sizes
Ability to link Pinterest and upload a photo
Price preferences
When I was ready to be styled, I submitted a request to book a stylist. To book a stylist, I had to schedule a 15 minute text session from a list of available time slots. A single styling session is $30, or you can purchase 3 months of sessions at $20/session. The cost of the styling session is applied to your order.
Try Allume with my referral link! Use the code FAVORITEHELLO for $10 off a single session, or $20 off any multi-month membership.
Immediately after I requested a session, I received a text where I could drop looks that I liked, make any requests or provide any other information. I provided a couple of my favorite fashion bloggers' instagram and told them I was looking for jeans, tops and second layers. At the time of my scheduled session, my stylist texted me my Lookbook of 3 different looks. We then proceeded to text back and forth I what I liked and didn't like from the looks, and why. I also favorited the looks I liked so that she would know what didn't need to be changed. After our 15 minute session, the next day she swapped out many of the items I told her I wasn't interested in.
Many of the items she picked were pretty spot on, but since I can be picky I had her switch out things like a bodysuit, cropped length jeans, and too high heels that I know I wouldn't wear or buy.
After she swapped out more looks, she texted me again to let me know my updated lookbook was ready. Later that night I took a look at the lookbook. My stylist continued to check in to see if I wanted to continue switching out looks. I was pretty busy so I told her I would take a look later, and that I didn't need further swapping of pieces.
Later when I had some time to shop, I was able to go into my lookbook, and click on the different pieces to find out more about the item.
With Allume, you buy directly from the store but all within the same checkout of Allume. Therefore, you will need to check each store's shipping parameters, and discounts. Allume will automatically give you the store's discounts, however, it doesn't combine the shipping across stores. I would say that was the only negative of the service. Otherwise, it was fairly easy to buy and return, shopping from various stores with one checkout.
A Preview of What I Received
When I got my lookbook, I was really satisfied with the outfits that she had created for me. They were definitely spot on with the fashion bloggers that I had provided, and I could see myself wearing almost every item she had chosen.
I also really liked that I received three complete outfits, including accessories and shoes. The looks were a range of different brands, and the prices remained in my price point with a few higher designer pieces mixed in.
Here is what was curated for me!
My first complete look from Allume: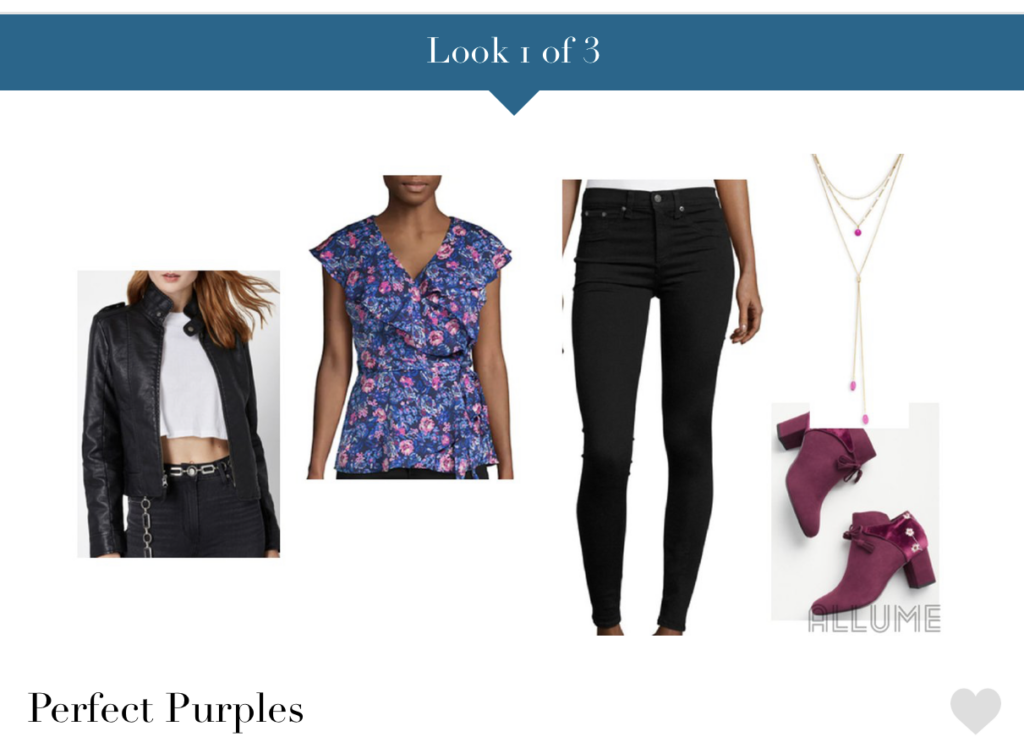 My second complete look form Allume: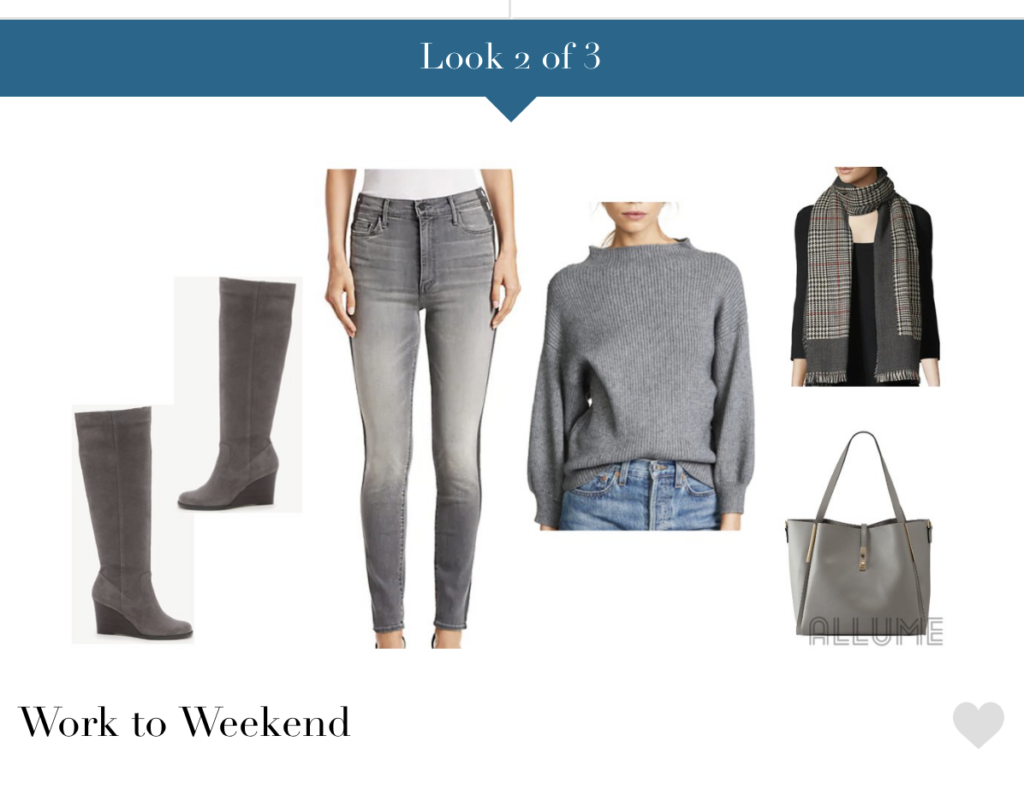 My third complete look form Allume: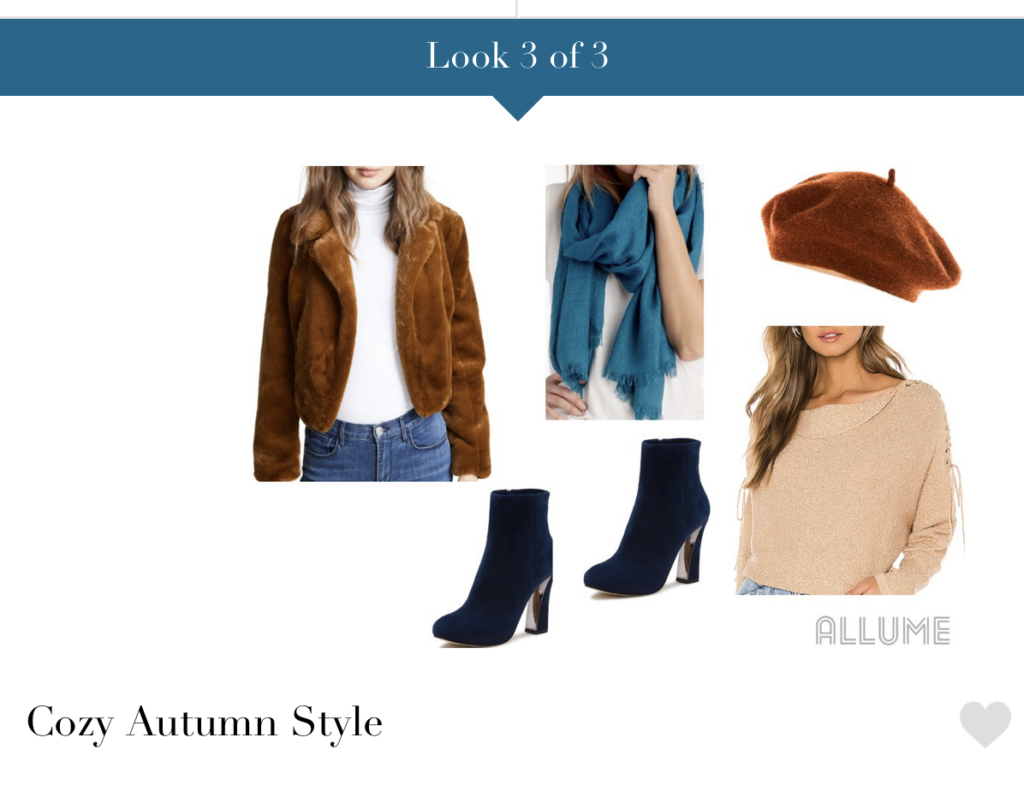 Keep scrolling to the end to see more details on the looks picked for me, including the price points.
You May Also Enjoy Reading:
Stitch Fix vs. Fashom | How They Compare
My First Fashom Box | My Experience & Review
Try a New Subscription Box (and Get a Discount!)
My Review of Allume
I think Allume did an excellent job of interpreting my style and choosing outfits for me. I knew she was inspired by the fashion bloggers I sent her because she linked me the exact Instagram pictures she drew inspiration from when we were texting. I loved everything that was picked for me!
Because most of the items were from stores I would shop from, it really felt like I had a personalized shopper that went online for me and chose pieces from various stores they knew I would love.
I also loved the one-stop checkout process. The only thing I didn't like was having to pay attention to shipping costs, and having to reach the free shipping threshold across various stores. The good thing is that my stylist chose various pieces from a store, so that I would have multiple things to order to meet the threshold.
The prices were all very reasonable and probably at a cheaper price point then I would normally pay. It was so nice to have the store discounts automatically applied to the looks so that I didn't have to track down promo codes.
At first, I thought I wouldn't like having to meet with my stylist over text for 15 minutes. But I actually felt it was so helpful to be able to tell her in real-time what I didn't like and why, and she was able to ask more questions. It was definitely worth the 15 minutes of my time.
Overall, I was SO satisfied with my experience with Allume and would highly recommend trying it. It's almost risk-free because I guarantee you will buy at least one thing to cover your styling fee.
I can honestly say there isn't anything I would change for my next Allume styling session.
I'm excited about Allume, and look forward to trying them again! Check it out for yourself here.
Support this blog and try it now by using my Allume referral link! Use the code FAVORITEHELLO for $10 off a single session, or $20 off any multi-month membership.
Here are details of the brands and prices for the looks chosen for me by Allume: