Shop the Best Natural, Rattan and Wicker Home Decor
I've rounded up the best picks for natural, rattan and wicker home decor. From natural furniture, rattan pendants, wicker baskets and more, I found the cutest home accessories. Check out the best of Ikea, Target, Anthropologie, and Target. Shop these home decor ideas now!
This article includes affiliate links which means when you make a purchase using my affiliate links, I earn a commission at no additional cost to you. See my Privacy Policy.
Why are rattan home accessories so popular?
Rattan and wicker home accessories, or natural weave home decor, is so popular right now because they add style to your home while being inexpensive. This natural home decor is great for a home with a boho, beachy, or minimalist design. These home accessories are also perfect for storage and a great alternative to plastic.
Now is the perfect time to buy this style decor as you can almost find anything in a rattan and wicker style, from storage boxes, rugs, chairs, and even baby decor.
Check out some home design style inspiration with these natural, rattan and wicker finds!

How To Style Rattan and Wicker Decor in Your Home
Storage
Storage is the easiest and most useful way to add rattan and wicker to your home decor. Wicker baskets easy to find and inexpensive. They add a natural and earthy feel to your home.
Try using wicker or rattan baskets as storage in the bathroom for toilet paper, the kids room for toys, or in the living room for blankets.
Here's a few more baskets I love. I bought the Pottery Barn Charleston Handwoven Seagrass Sorting Basket for the kids toys and I absolutely love it! It's so easy for my kind to throw their toys into the three different compartments to easily sort blocks from trucks from legos. Best of all, the sorting basket is on wheels so my kids can easily roll it around from room to room on their own!

Outside Deck or Garden
Rattan outdoor furniture is definitely making a comeback in modern and fresh designs. Try some classic chairs for effective seating that feels lightweight and airy. Or jump on this fun trend and try a hanging swing or egg chair.
Shop these egg chairs to add a fun, boho chic look to your outdoor space!

Home Accents
Add rattan and wicker home decor subtly throughout your home for fun accents. Try a rattan mirror in the entry way, a wicker charger for the dining table, or a natural ottoman in the living room.
Check out some more decor by scrolling down!
Best of Amazon
Try these stylish rattan home decor ideas from Amazon. From rattan baskets, plate chargers, and rugs, Amazon has you covered in natural home decor. I love the variety of rattan and wicker baskets they carry!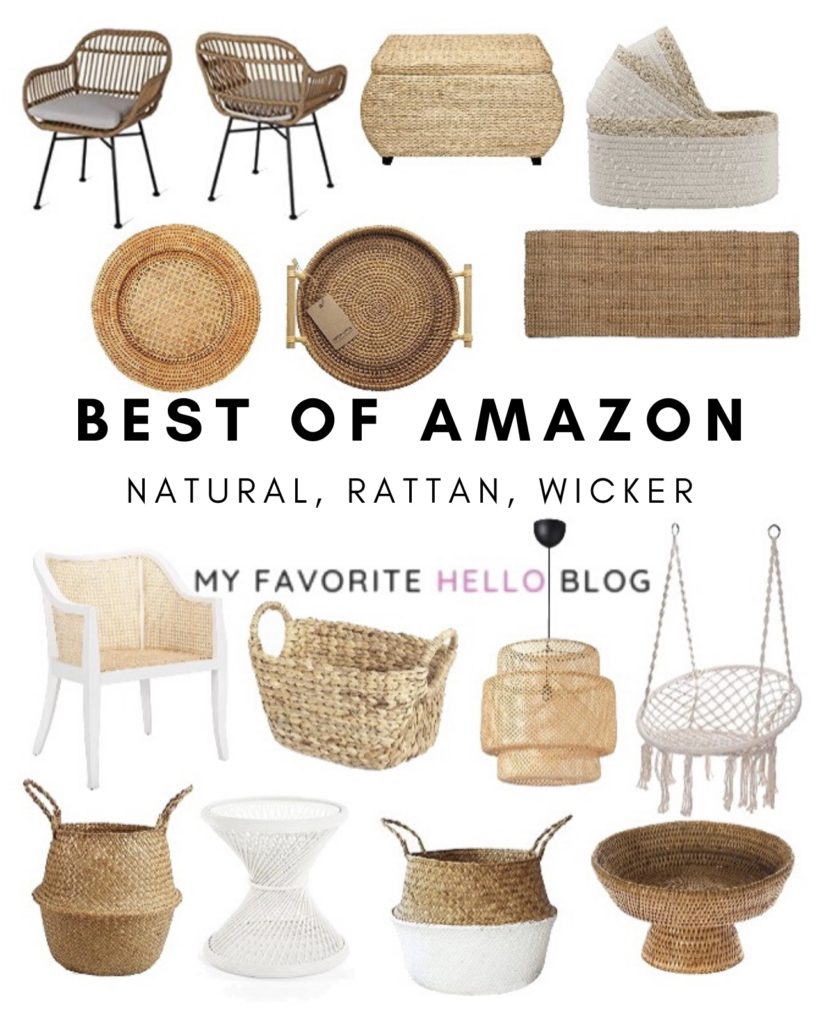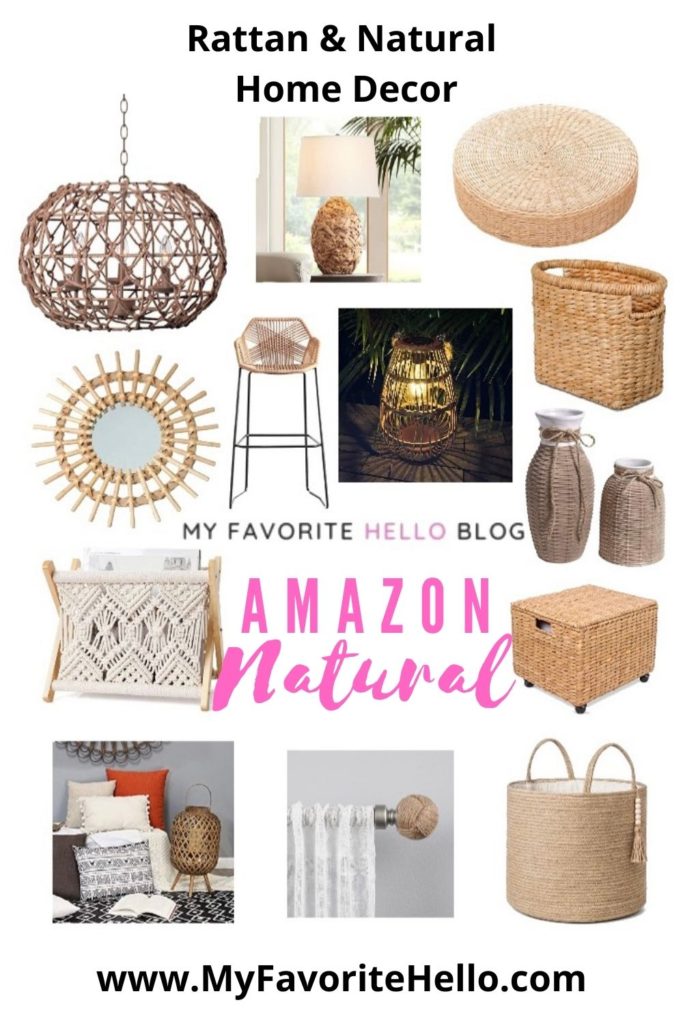 Best of Target
Check out these natural decor finds from Target. Target has really stepped up it's home decor game, especially online. Find all these cute and unique rattan and wicker home accessories at Target and shop them now!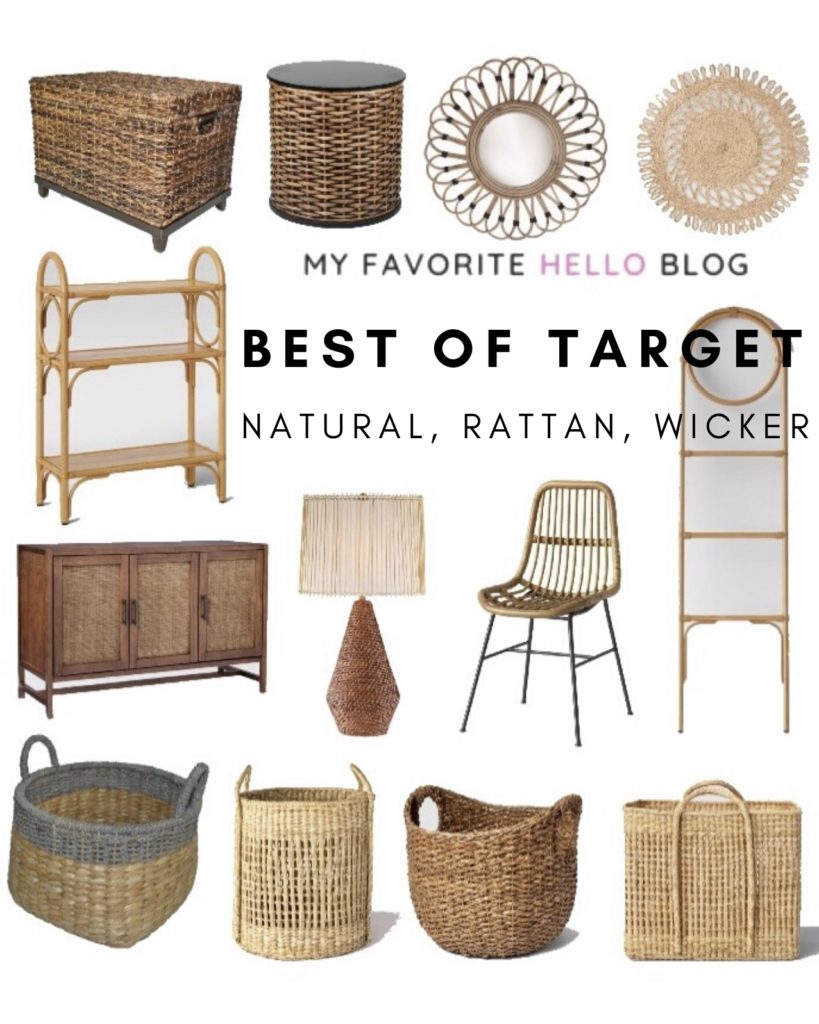 Best of Ikea
Ikea is known for their inexpensive, yet stylish home decor and accessories. They sell a variety of natural and rattan home design decor, including chairs, picnic baskets, rugs and benches. Check out these cheap finds, and add some serious style to your home.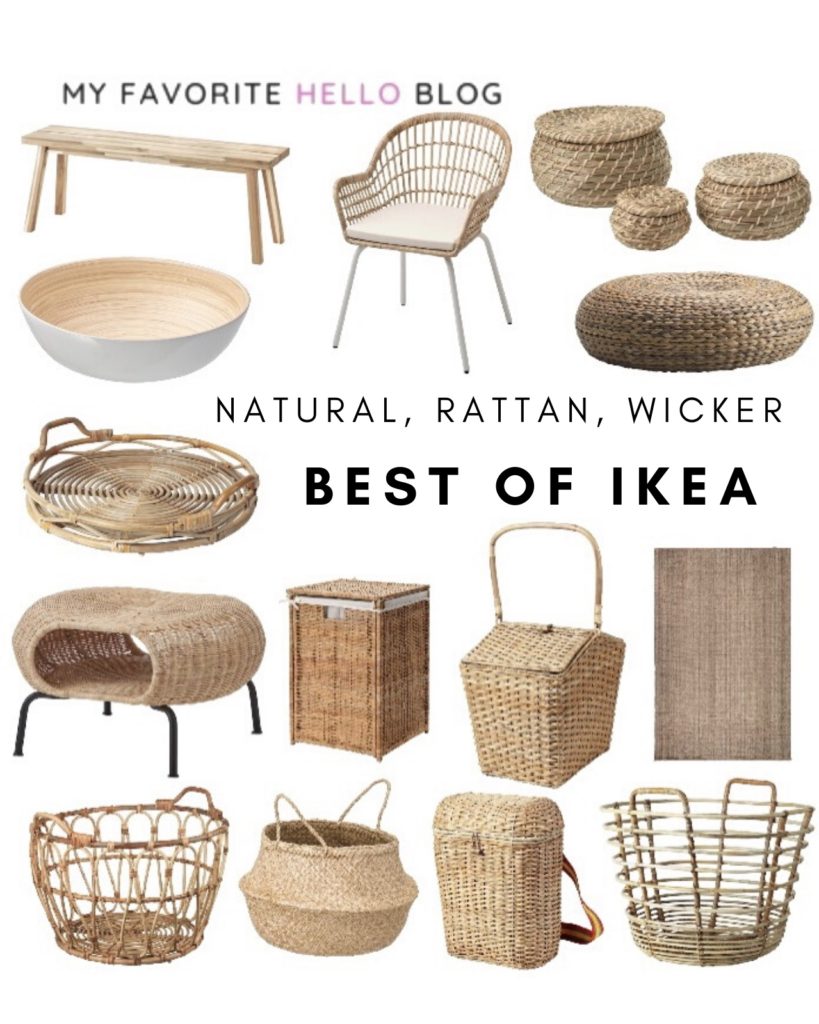 Best of Anthropologie
Anthropologie is definitely on the pricier side, but they have the carry the cutest and stylish home decor looks. The natural, rattan, and wicker pieces they sell are so unique and worth every penny. Splurge and shop these now!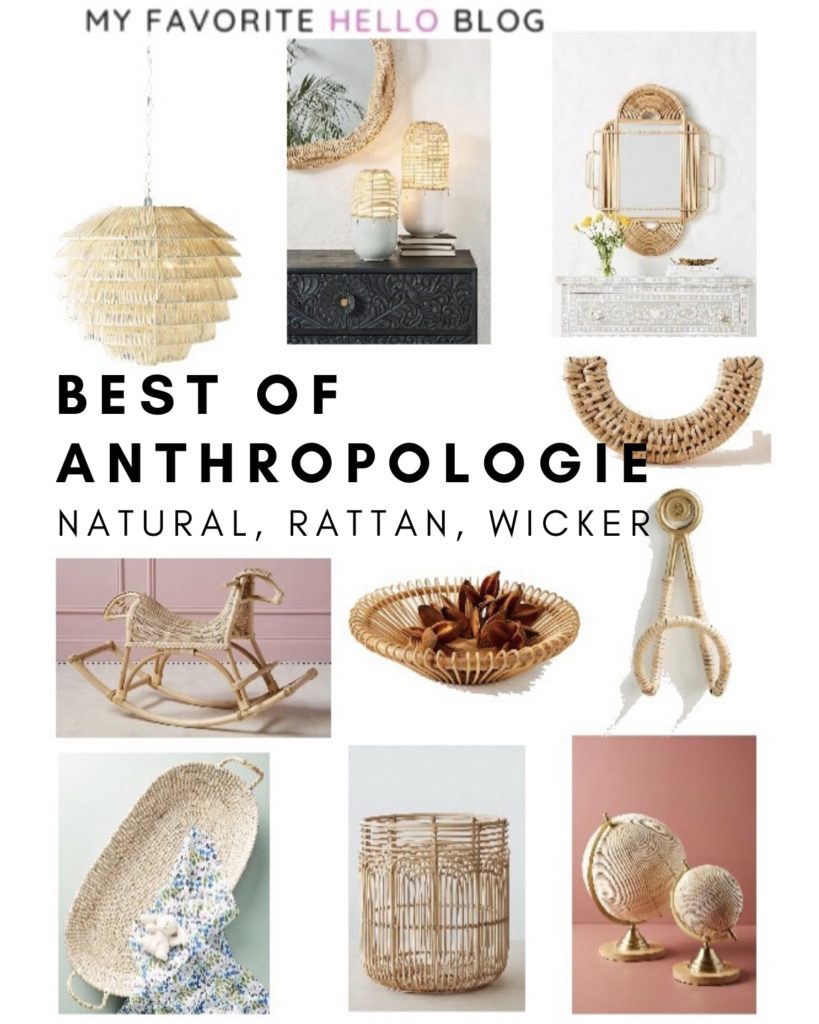 Creator of My Favorite Hello and Author of this Article
Amy has 10+ years of experience in fashion and beauty launching digital products for global brands Fenty Beauty, Glossier, Marc Jacobs, Men's Wearhouse and Stitch Fix. She also worked previously as a Senior Stylist at Stitch Fix, and currently as an independent virtual stylist, styling men and women for various occasions from everyday outfits, special occasions, to curating a complete closet. Amy is using her styling experience, fashion and beauty expertise to provide style inspiration and outfit ideas so you can shop for yourself and put together stylish outfits that make you feel confident and beautiful. @styledbymyfavehello
You May Also Enjoy Reading: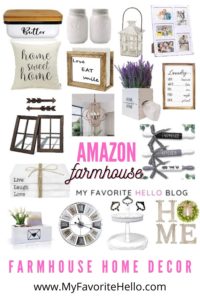 You May Also Enjoy Reading:
The Best Wall Planters for Succulents, Air Plants and Cactus